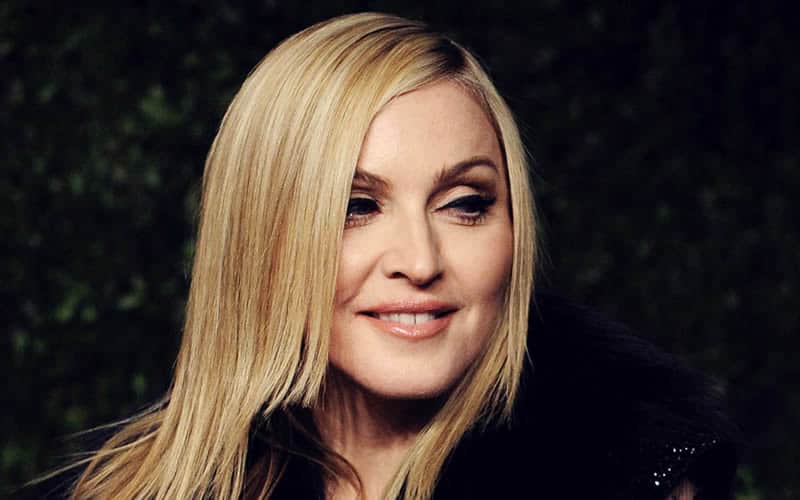 Madonna, the Queen of Pop, has a long and illustrious career as a music artist and fashion icon. Since she became popular in the 1980s, the "Material Girl" hitmaker has been challenging boundaries in both music and style.
Controversies followed the "Vogue" singer in her heyday but this didn't stop Madonna's star from shining even brighter. To thrive in the entertainment business, she smartly reinvents herself in both her music, outfit, and appearance.
Following decades of makeovers, styles, and looks, fans have often wondered if Madonna ever had plastic surgery. Her pointy bra back then often triggered rumors of a boob job. Similar noises became even louder as she's now pushing 60.
Despite launching her own skincare line called MDNA as a non-surgical skin anti-aging alternative, there have been talks about the superstar having facelift and botox to combat aging. Some even believe that Madonna has had an eye lift procedure to maintain her youth.
So what cosmetic enhancements has Madonna undergone?
Let's try and find out!
Before & After Photos
In order to determine if Madonna had cosmetic surgery, we've analyzed many of her photos before and after she became famous. Here's what we found:
Did Madonna Have A Facelift?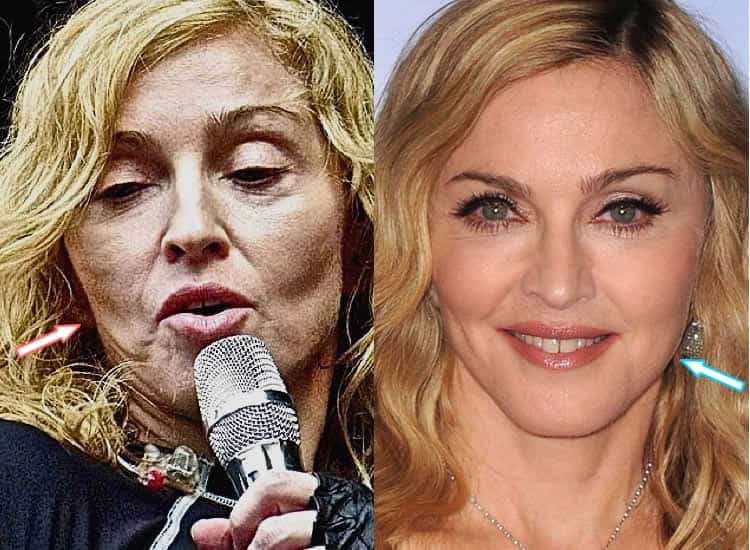 Madonna's face has had some rejuvenation over the years. It's hard to deny she had a facelift when there are times her skin looks wrinkled, but it becomes tightened and without wrinkles a few weeks later.
Plastic surgery experts like Dr. Aamer Khan and Dr. Andrew Douglas said via Daily Mail that Madonna might have gotten regular temporary hyaluronic acid fillers or a fat transfer to give her face some volume.  With aging, the skin tends to lose that volume so facial fillers can help mature women like Madonna get younger and smoother looking skin.
The experts also said that Madonna had signs of scars on the skin just behind her ears, which suggested a facelift. It was also rumored that Madonna might've had a ribbon lift, a type of neck lift procedure, to give her neck a smooth appearance.
Has Madonna Had Botox Injections?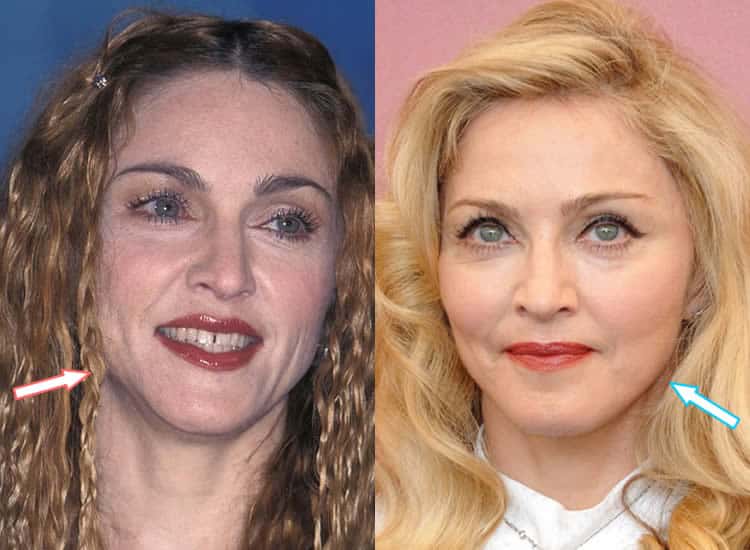 Cosmetic Surgeon Dr. Douglas thinks Madonna gets frequent botox treatments. Despite her age, the lines around her mouth area are less prominent, and the puffiness usually only happens with facial injections.
Dr. Kevin Hancock of the British Association of Aesthetic Plastic Surgeons also speculated the same about Madonna's botox and added that she seemed to be the type who has face fillers on the regular, too.
Even TV celebrity Sharon Osbourne, who confessed she gets her cheeks puffy through frequent clinic visits, believes Madonna gets her face done, no matter how much the "Like a Prayer" singer denies it. On her talk show, Osbourne said that Madonna has the telltale signs of a pillow face, where doctors put fat in the cheeks.
Did She Get An Eye Lift?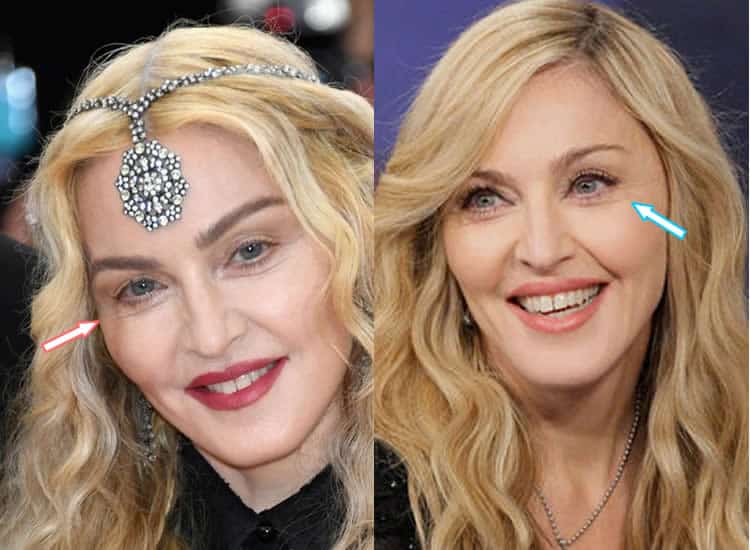 If you look at the "BEFORE" picture above, it appears that Madonna's eyes were aging quite badly with sagging eyelids and heavy eyebags. Compare that with the "AFTER" photo on the right, you can clearly see that her eyes had been lifted and appears wider, rounder and younger!
This tells us that there's a good chance Madonna had an eye lift or a blepharoplasty procedure to correct the aging.
Does She Have Breast Implants?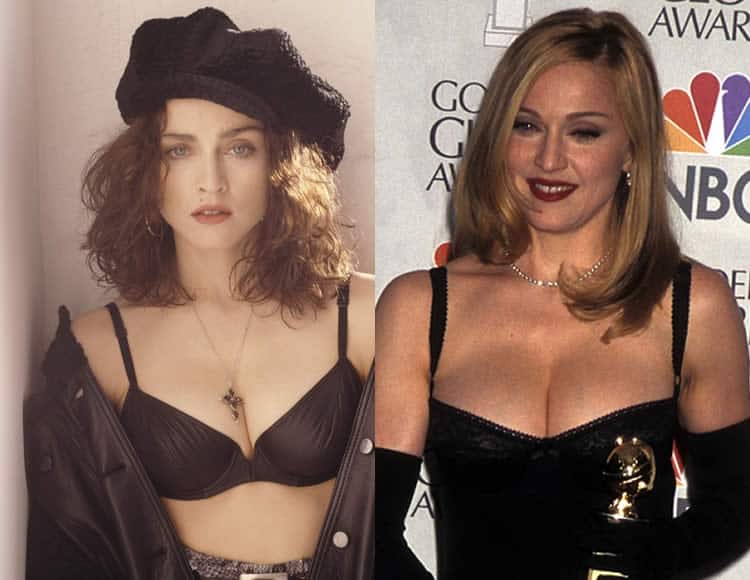 Madonna's breasts seem to have changed in cup size over the years. If you look at the comparison photos above, her boobs used to be quite small and pert, with a small base. However, her bust size has increased as you can see from her cleavage.
Given that Madonna has similar fat ratios on her body in both of these pictures, so this tells us that she may have gotten a boob job. In fact, since weight loss and high impact exercise seem to have only given her a fuller chest, so we have good reasons to believe that those are breast implants instead of fat transfer.
What Happened To Madonna's Hands?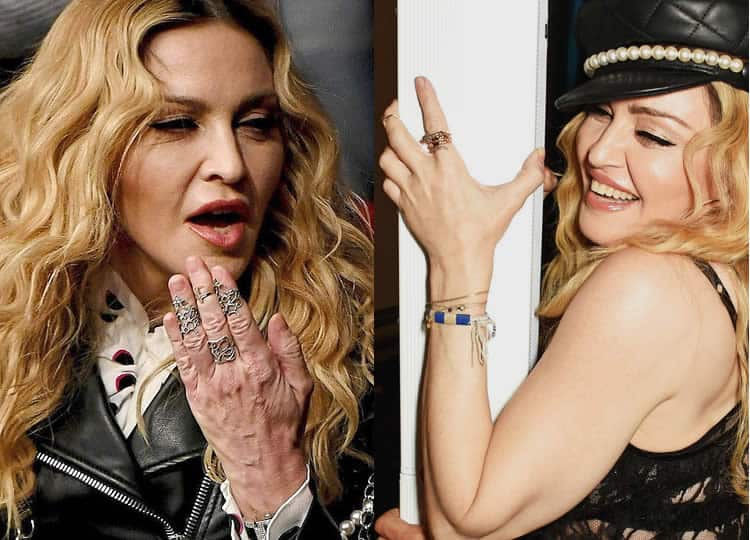 One of Madonna's early signature style was wearing gloves. Apparently, it had another purpose, as it was meant to cover her veiny hands. For the last four decades, people close to Madonna said that she was always insecure about how old her hands looked and her publicists have to make sure those wrinkles were cleaned out in her photos.
If you look at Madonna's hands above, you can clearly see a lot of improvement over the years. While we don't doubt that photoshop was used in some ways, but the veins have miraculously disappeared. So, how did she do this?
According to some experts, Madonna had regular redermalization mesotherapy sessions. It is a treatment originated in Russia, which involves injecting hyaluronic acid and vitamins to help the skin on the hands to produce more collagen to reduce wrinkles.
Madonna's Beauty Transformation
Let's take a look at how Madonna's looks and styles have transformed as she worked her way to success. We may even spot other clues of plastic surgeries.
Baby Days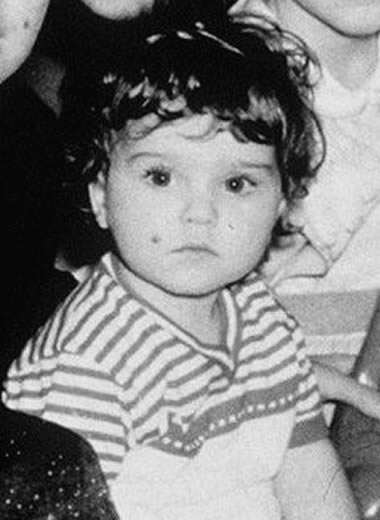 Source: Reddit
An old baby picture of Madonna shows just how cute she is as a little girl. She had a big mole on her face, which made her look more adorable.
Early Childhood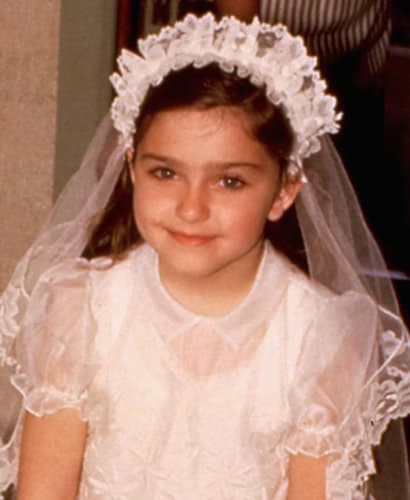 Source: Facebook
Young Madonna was obviously a pretty girl as a kid. Here she was in an all-white dress that reminds fans of one of her signature looks as a rising pop star. Yes, Madonna wore a wedding gown just like this when she debuted "Like a Virgin" and that image would later turn her into an icon.
Teenager Years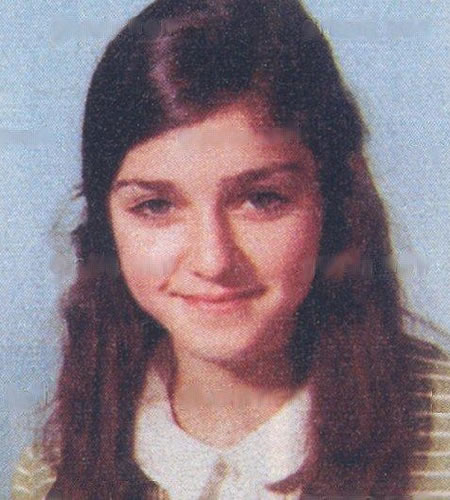 Source: Pinterest
Madonna had plain looking brown hair as a teenager. Despite the baby fat on her cheeks, she had a small face shape, which actually emphasized her gorgeous big eyes.
Year 1976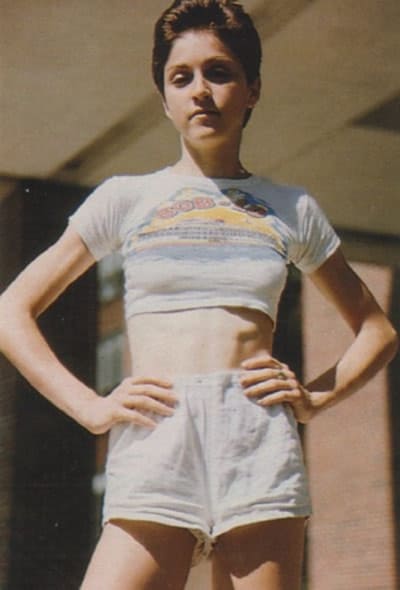 Source: Twitter
As an 18 year old, Madonna had a skinny body shape and flat bust size. She kept her hair short in the '70s and already had this cool air about her, don't you think?
Year 1982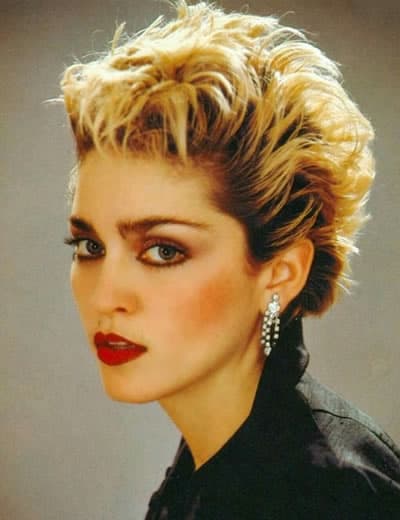 Source: Pinterest
The drastic transformation begins. While still cropping a short hairstyle, Madonna dyed her hair blonde in the '80s and wore heavy makeup that emphasized her cheeks and gave her a strong jawline.
Year 1985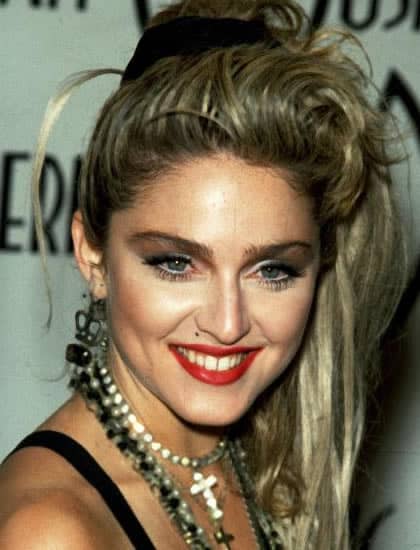 Source: Pinterest
The year "Like A Virgin" released in the 1980s, Madonna became one of the most popular pop stars in the world. She grew long hair and wore a lot of jewelry as part of her style. She kept the red lipstick and dark eyeshadows, though.
There have been talks about how she actually penciled the mole above her lips to make it more visible. Years later, this beauty mark would disappear as part of her reinvention.
Year 1990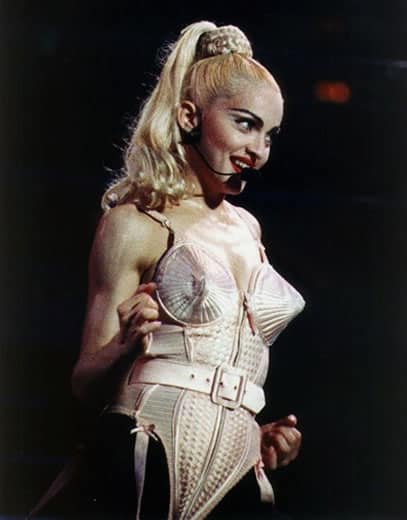 Source: Pinterest
The cone bra costume became Madonna's signature look for the '90s and she wore this outfit with the release of "Vogue." Madonna also made waves for displaying the muscles on her body in her videos and performances on her Blond Ambition tour.
She became known for her rigid workouts. It's been said that even at her current age, Madonna can outlast and outpace the dancers on her tour because she has maintained a strong fitness regimen over the years.
Year 1995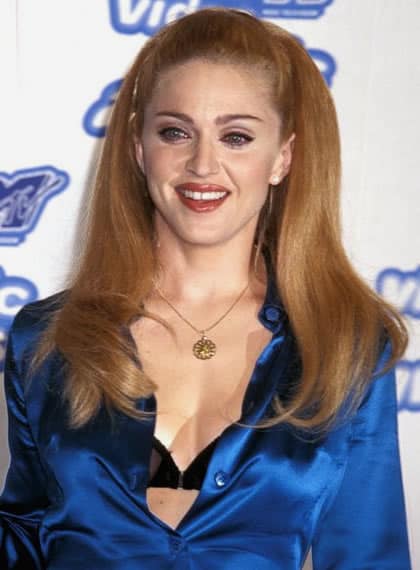 Photo Credit: Getty
The superstar looked stunning at 37 years old when she attended the MTV Video Music Awards in New York City. She changed up her look again by dying her blonde hair a bit darker. Her 1990s look was all about the bra size and chest-baring outfits.
Year 1998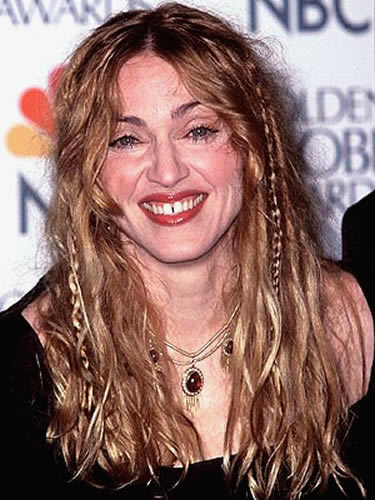 Source: Reddit
Madonna marked turning 40 years old by landing on the Guinness Book of World Records as the lone female artist to have sold over millions of records. Her aging look, however, has slightly changed her face as the wrinkles have started appearing around her cheeks and eyes.
All these years, she has never made any attempts to close her prominent teeth gap, too.
Year 2005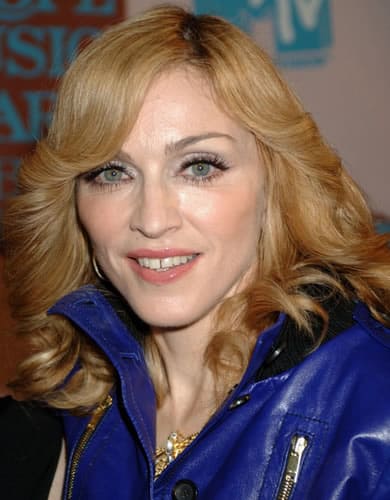 Credit: Getty Images
Madonna appeared at the MTV European Music Awards with a possible facelift because her skin looked so stretched, smooth and tightened. Gone are the wrinkles around her eyes too, thanks to an eye lift procedure?
She wore a classic hairstyle in this photo to punctuate her new image as a middle-aged woman.
Year 2009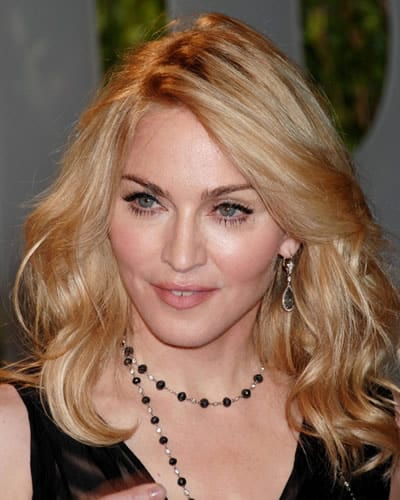 Image Credit: Getty
Madonna arrived at a Vanity Fair Oscar party looking like she never aged. The "Who's That Girl?" hitmaker managed to appear like her glamorous 20-year-old self with the right earrings and necklace, too.
Botox seemed to have done wonders to her smooth skin and her lovely fuller face appeared to have gotten cheek implants. Rumors of Madonna's nose job have also followed her since the 1990s and experts suggest she had this procedure because her nose looks more sculpted now than before. Can you see it?
Year 2012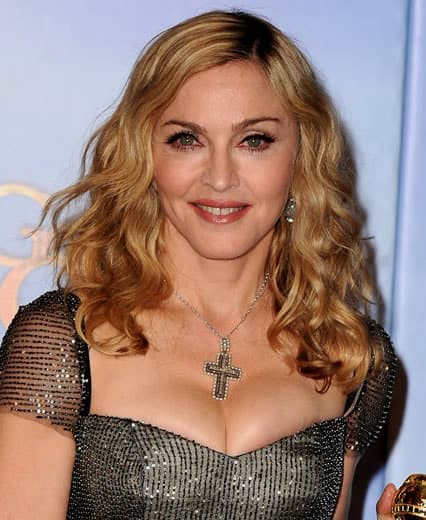 Picture Credit: Getty
At 54 years of age, Madonna looked ageless at the Golden Globes Awards. Her busty frame had people wondering if she had breast implants or could she have gotten help from a push-up bra?
Madonna never talked about a boob job before and she likely never will.
Year 2015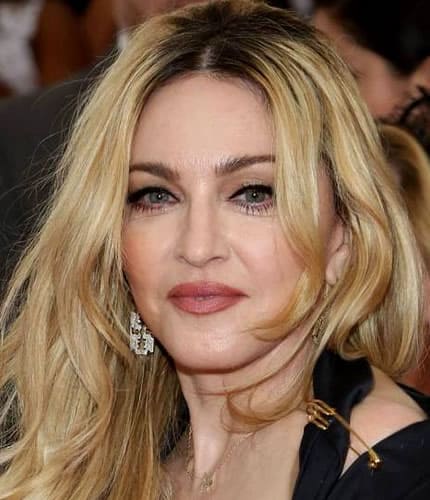 Credit: Getty Images
Madonna's gorgeous Met Gala look became another point of discussion at fan communities. She wore lighter eye makeup than she's used to but the eyeliners on her upper lids delivered the drama.
Her unkempt eyebrows made her look natural but people wondered about her fuller lips. Some fans think Madonna had lip injections but there are other fans who said it's her lipstick application that made the difference. Where do you side in this debate?
Year 2017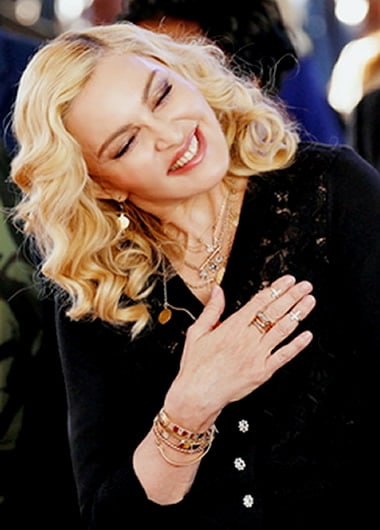 Photo Credit: Getty Images
Madonna graced the opening of a children's hospital in Malawi. The pop singer has been actively supporting charity work in this region for years.
Onlookers can't help but notice how her hands are getting less and less wrinkly. Madonna also had prominent veins on her hand and arms, even when she was younger, so this prompted more speculations of cosmetic surgeries.
Year 2018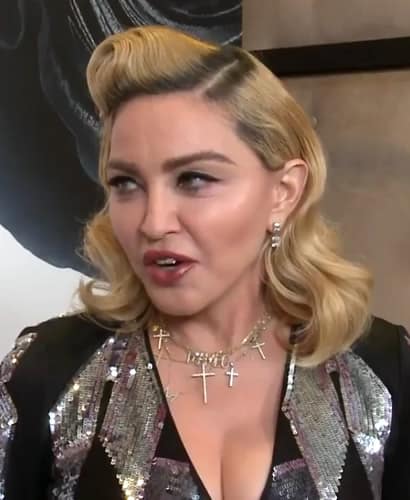 Source: Youtube
Madonna launched her skincare line MDNA Skin in New York. At 60 years old, the "Material Girl" apparently wanted to promote how she's managing skin aging with beauty cosmetics.
Some of her critics, however, said that she's using her skincare line as a ruse because she actually gets face fillers to look younger. Experts echoed the sentiment after they pointed out her possible neck lift and browlift procedures.
More Information About Madonna:
Real Name: Madonna Louise Ciccone
Birthday: 16th August 1958
Star Sign: Leo
Birth Place: Bay City, Michigan, United States
Nationality: American
Race / Ethnicity: Italian, French-Canadian
Occupation: Singer, Songwriter, Businesswoman, Record Producer, Actress, Film Director, Author
Net Worth: $590 Million
Relationship: Unknown
Children: Lourdes Leon, Rocco Ritchie, David Banda Mwale Ciccone Ritchie, Mercy James, Estere Ciccone, Stella Ciccone
Height: 1.64 m (5 ft 4 in)
Average Weight: 54 kg (119 lb)
Body Measurement: 34-26-34 Inches
Bra Size: 32C
Dress Size: 8 (US)
Shoe Size: 8 (US)
Natural Hair Color: Dark Brown
Natural Eye Color: Blue Green
Conclusion
More than one surgeon has attested that Madonna had two or three major plastic surgery procedures to her face in her entire career. They can tell she had a facelift and regular botox procedures. One top cosmetic doctor even named an eyelift procedure after the pop superstar.
Face surgery aside, however, it's unclear if Madonna had made cosmetic changes to her body. Though she might have a breast augmentation, Madonna could never have bigger breasts because it would be unnatural for her fit and thin frame. Besides, the singer would only have a hard time dancing and performing if she's top heavy.
Critics, however, say that Madonna seems to want to show the world she's aging gracefully with just diet and exercise. And by coming up with a cosmetic line, she seems to send a message that she has never gone under the knife to maintain her looks.
Real or fake, what people really love about Madonna isn't her procedures but the fact that she constantly reinvents herself. No other artist can say they've remained relevant in the pop culture for the last four decades but the Queen of Pop herself.
(Featured Image Credit: Getty)