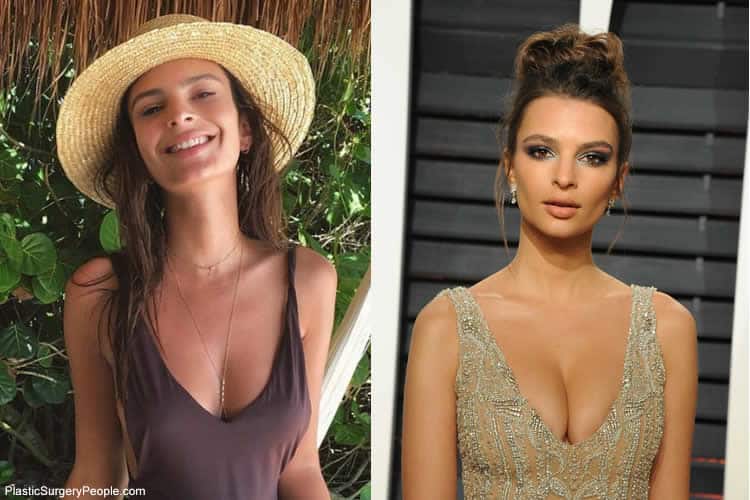 There's been many plastic surgery rumors surrounding Emily Ratajkowski with critics claiming that the pretty British-American model and actress has had a boob job, nose job and lip injections to enhance her beauty.
But the real question is…how did Emily go unnoticed for so long with that beautiful face and gorgeous body?
Born in Westminister, London, but raised in the US. Emily's parents decided to move to San Diego, California when she was 5 years old. Soon after settling in the states, she became obsessed with theatre and eventually got into modeling when she attended the University of California in Los Angeles. However, she didn't really get anywhere…
Sure, she's done a few non-scripted movie roles and also appeared in Nickelodeon's iCarly for 2 mere episodes. But it wasn't until she took her clothes off and posed for an artistic magazine, Treat!, that she 'finally' became known and even won her a role in Pharell William's 2013 music video, Blurred Lines.
Guess what they say about Hollywood is true…if you want to make it, you've got to show it!
For Emily, fame also came with a lot of noise, judgment and criticisms, especially when your audience only cares about one thing: Your Looks! Some people say she's got fake boobs, while others are certain that she's had cosmetic procedures done on her nose, lips, and butt.
So how much of these are true?
Well…let's find out!
Before & After Photos
In order to find evidence to prove that Emily Ratajkowski has had cosmetic surgeries, we have gone through some of her past and present photos. This process allowed us to compare her facial and body features including her eyes, nose, mouth, neck, as well as her upper and lower body.
See below for our "exclusive" before and after photos.
Has Emily Had A Boob Job?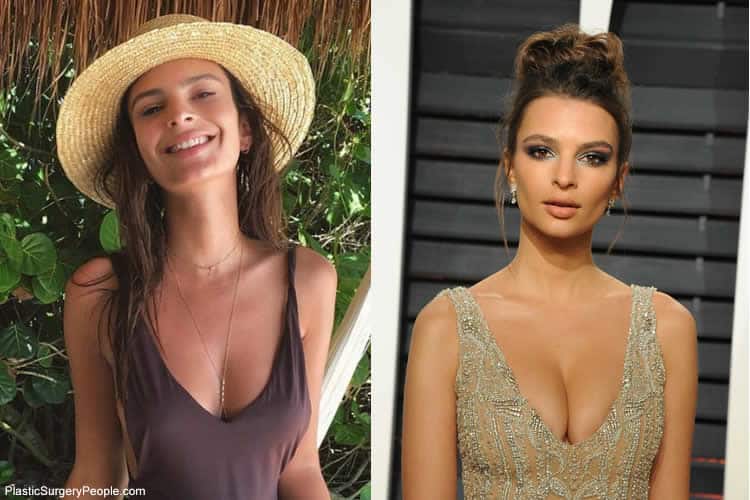 When it comes to the 'blurred lines' video girl, the question has always been…are her boobs real? The way she's exposed herself in the video led to many people speculating about her cup size and whether or not they are breast implants. From what we can see in the photo comparison above, it does seem like she may have gone through a breast augmentation procedure, but then it could also be a push-up effect. What do you think?
Did She Get A Nose Job?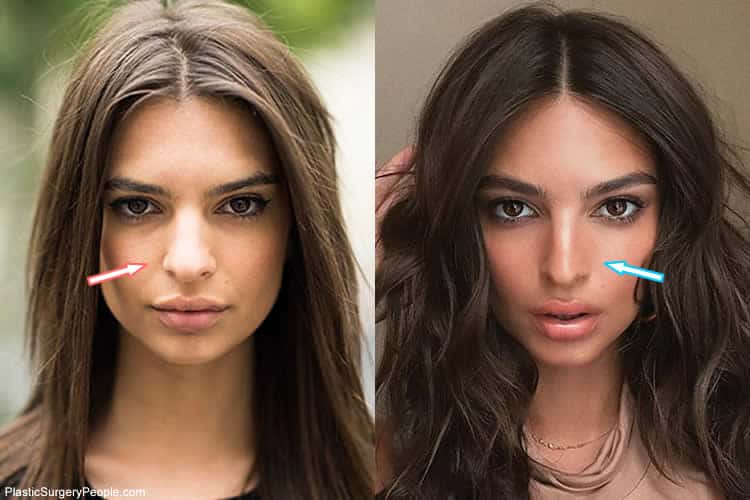 If you look at the 'after' photo above, you can clearly see that Emily's nose appears to be visibly thinner. Her nasal bridge is narrower and more refined so it does appear she may have had a minor rhinoplasty surgery to achieve that nose contour. Regardless, her nose looks beautiful now so if it was indeed a nose job, then we must admit that her plastic surgeon has executed this procedure to perfection!
Does Emily Ratajkowski Have Lip Fillers?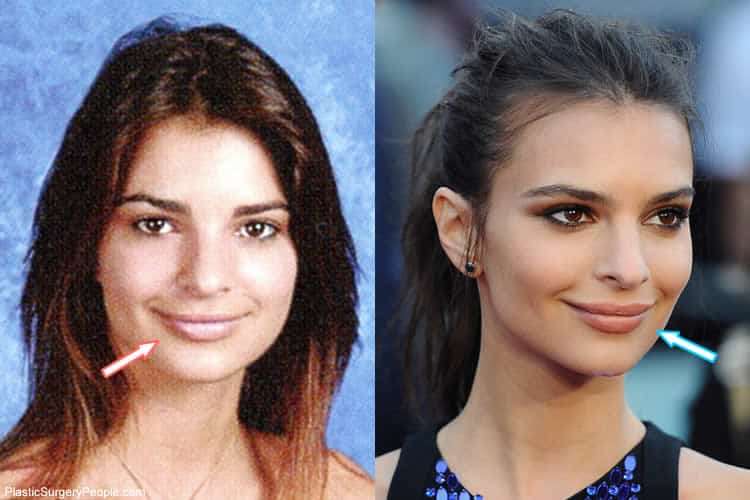 One of the most attractive features on Emily Rata's face has to be her plump and luscious lips. Based on the "before" photo from her Year Book, it appears she's had these thick lips since she was young. After comparing with her more recent photo, we have good reasons to believe that she's never had lip fillers or injections. With lips like these, you can easily make them even more blossom by using lip plumper and liners via simple makeup techniques.
Emily's Beauty Transformation
Year 2006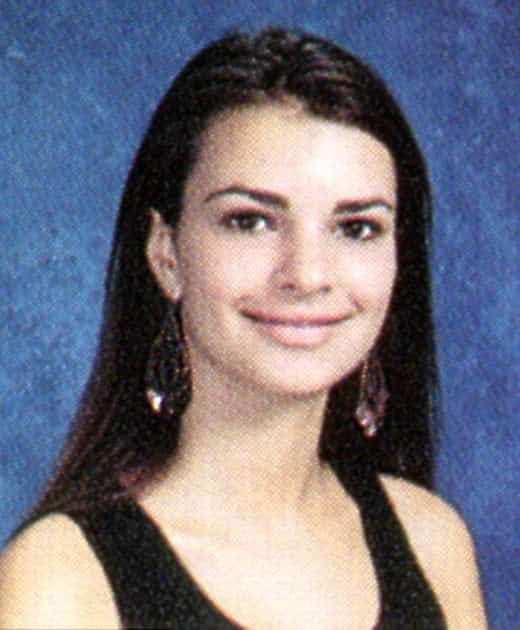 Credit: Seth Poppel Yearbook Library
This was Emily when she was just 15 years old. Although the photo is a little blurred, you can see that she has really big eyes, nice eyebrows, and full pudgy lips.
Year 2009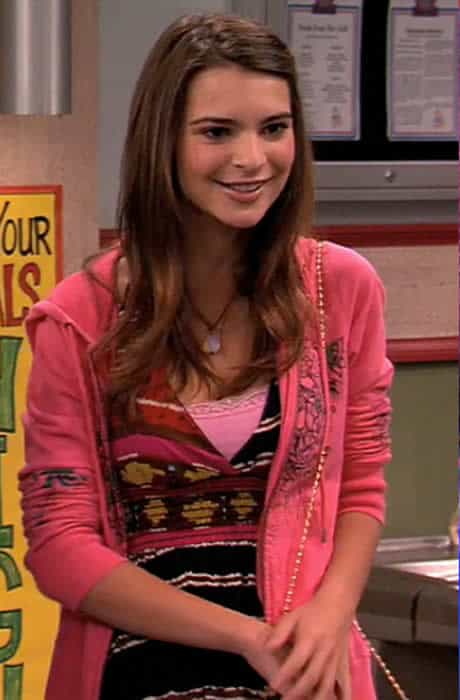 Source: iCarly
Emily appeared in 2 episodes of the 3rd season in Nickelodeon's iCarly playing the role of Gibby's girlfriend, Tasha. She attended the University of California, Los Angeles for 1 year, before deciding to pursue full-time modeling.
Not sure if you noticed, but Ratajkowski's jawline appears to be fairly wide here and her chin looks pretty large too, it's almost as if she's had a chin implant. Therefore, we feel she might've had a jaw contouring and possibly a chin reduction surgery later on in life to alter her face shape.
Year 2012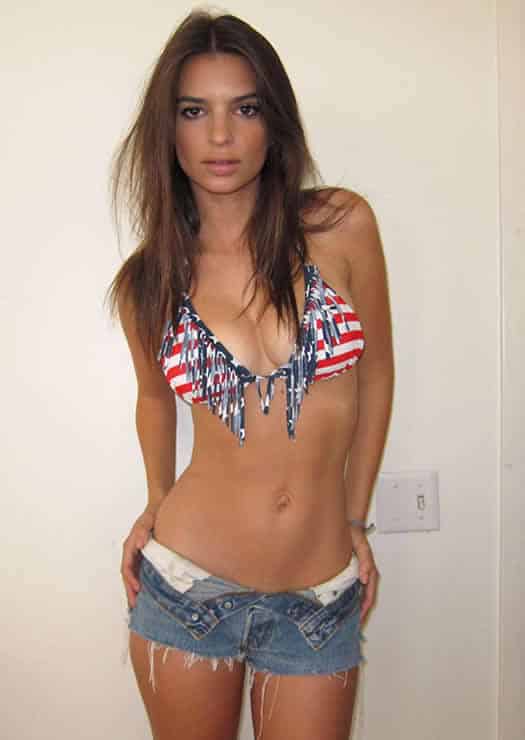 Who could forget this look when Emily appeared in Carl's Junior Burger commercial showing off her toned body and juicy bites. From looking at her waistline, we highly doubt this had anything to do with a tummy tuck. It seems like she's put in a lot of effort into her workouts and stuck to her diet plan.
This was also the year she got featured in the "Treat!" magazine, which opened the door to many other opportunities including casting in the music video of "Fast Car" by Taio Cruz and "Love Somebody" by Maroon 5.
Year 2013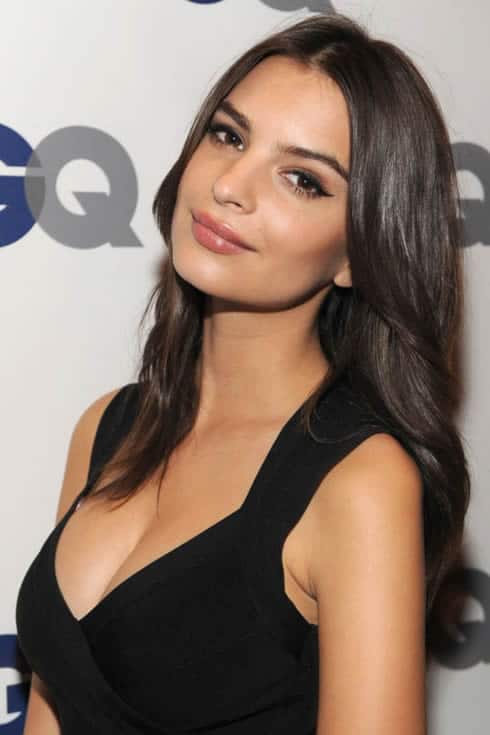 Photo Credit: Getty
This was the breakthrough year for Emily when she appeared in the MTV for Robin Thicke's T.I., but what captured the nation's heart was her sizzling performance in Pharrell Williams's 2013 video, "Blurred Lines". She was sexy, hot, dancing and flirting throughout the video. Her busty body became the talk in town and suddenly, everyone wanted to know who the Blurred Lines girl with the big boobs was.
Of course, Emily Ratajkowski's breast size was under a lot of scrutiny with many people claiming that the England born model had breast implants to increase her overall bra size.
Year 2014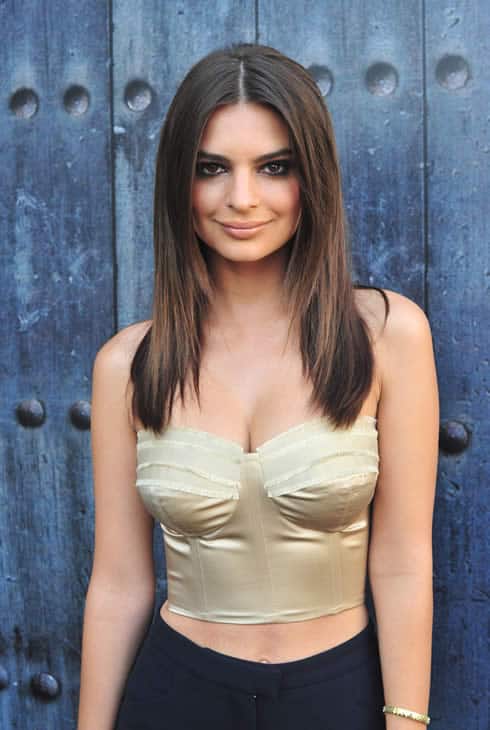 Here she was attending the Spike TV's "Guys Choice 2014" at Sony Pictures Studios in Culver City, California. This was another great year for Emily as she was given the supporting role playing the mistress of Ben Affleck in the hit movie, "Gone Girl". Soon after, she became the front cover model for the Cosmopolitan 2014 issue.
Year 2015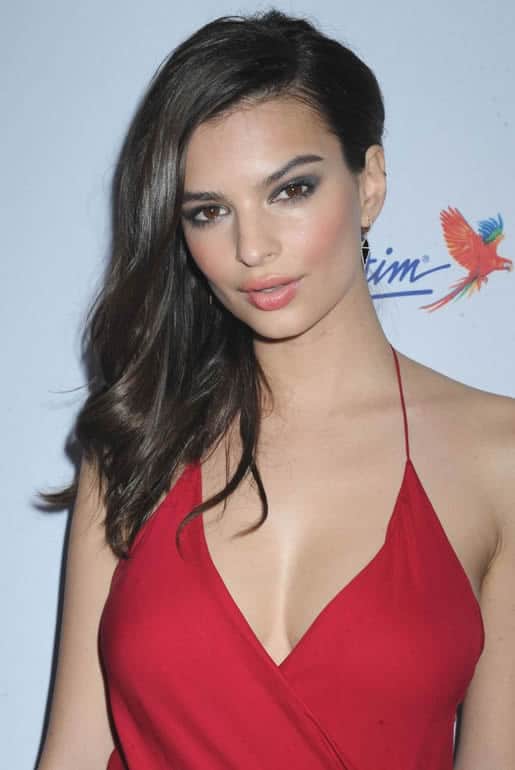 At the Sports Illustrated Swimsuit Issue Celebration in New York, Emily was looking fantastic in this red dress. Her skin is smooth, radiant and her eye makeup truly stunning matching perfectly with her pink plump lips. No wonder why people keep saying that she's had lip injection, but after seeing her earlier photos, we already dismissed the claim.
Year 2016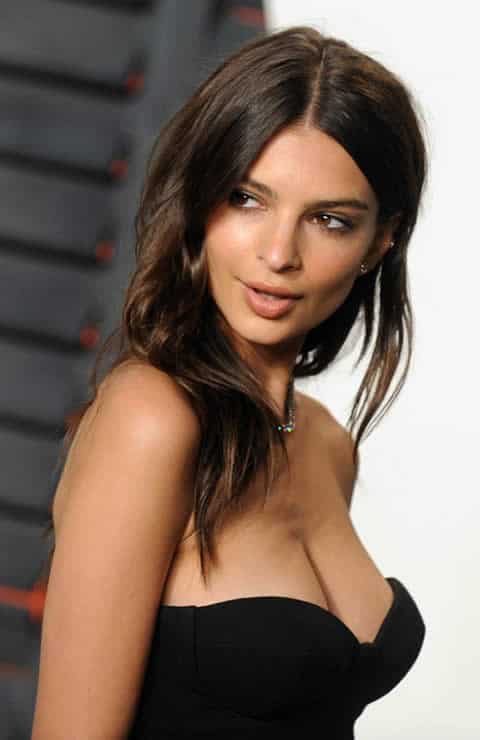 Ratajkowski stunned the crowd at the Vanity Fair Oscars bash in Beverly Hills wearing a strapless black bodysuit paired with an Italian embroidered tulle skirt by Australian designer Steven Khalil. Not surprisingly, her breasts and cup size became the center of attention in that outfit and rumors of a boob job started circling again.
During this year, Emily earned her first leading role alongside Zac Efron in a musical drama, "We Are Your Friends". She also appeared on the covers of many top magazines including British GQ, Grazia France, Harper, Instyle UK, and Australia.
Year 2017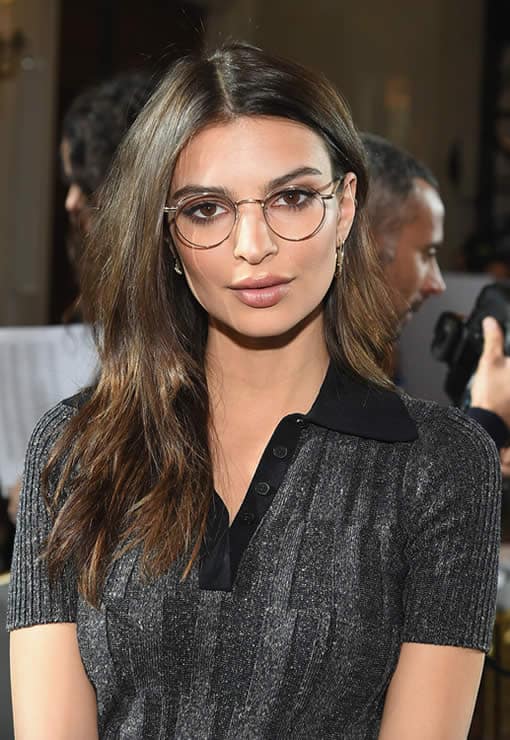 Picture: Getty Images
It's not often we get to see the conservative side of Emily wearing glasses and in case you didn't know, she's actually quite a feminist in nature. Here she is attending the New York Fashion Week after coping some harsh criticisms for her spaghetti pasta video for Love magazine. If you haven't seen it, just do a search on youtube.
2017 also proved to be a busy year for her as she's done various cover shoots for Vogue, US Instyle, and American Marie Claire. Now tell us something…does her nose appear to be bigger to you here? Take a look at the nose bridge and you'll know what we meant. Perhaps she didn't have a nose job after all and it was just makeup all along…
Year 2018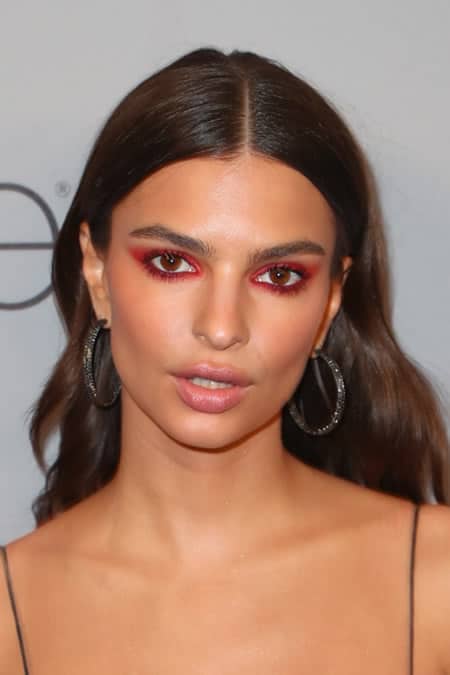 Credit: Getty Images
Emily attends the Golden Globes after party letting her eyeshadows do the talking! The pink-red eye makeup looks totally chic while the rest of her face remained surprisingly minimalist, complimenting beautifully with her nude pink lip gloss.
At just 26 years old, she's got a long way to go before we'll see any aging signs or wrinkles. So there's no need for her to even consider any type of botox injection, facelift or brow lift….at least not in the next 10-20 years.
More Information About Emily Ratajkowski:
Real Name: Emily O'Hara Ratajkowski
Birthday: 7th June 1991
Star Sign: Gemini
Birth Place: Westminster, London, United Kingdom
Occupation: Model, Actress
Net Worth: $2 Million
Nationality: American, British
Race / Ethnicity: Irish, German, Polish
Relationship: Dating with Jeff Magid
Children: None
Height: 1.70 m (5 ft 7 in)
Weight: 54 kg (119 lbs)
Body Measurement: 35-24-34 Inches
Bra Size: 32C
Dress Size: 2 (US)
Shoe Size: 9 (US)
Natural Hair Color: Dark Brown
Natural Eye Color: Dark Brown
Social Media: Instagram, Facebook, Twitter
What Does Emily Have To Say About Plastic Surgery?
When Emily spoke with Cosmopolitan, there was something she needed to get off her chest:
Yes! They're real.
Although she didn't elaborate any further, she was clearly talking about her large and perky breasts!
In fact, she hated people accusing her of having fake boobs that she went on twitter and posted the following photo showing her incredible bust size at 14.
For those meanies that insist I have had a boob job, here I am at 14 sooooo pic.twitter.com/MMZZvAMr

— Emily Ratajkowski (@emrata) January 11, 2013
Thanks, emrata! Of course, some of her followers didn't believe the picture and one comment even went as far as saying she looks like a 20-year-old. Hmmm…that's a good point!
Conclusion
After going through Emily Ratajkowski's before and after photos, there appears to be some evidence suggesting that she may have had plastic surgery to enhance her nose and lips. Although we have yet to conclude whether she's had a breast augmentation, which is what most people care about.
In terms of her lips, she did have rather plumped lips at a young age, however, we noticed that her upper lip doesn't seem to be as chunky as the bottom. So there's a good chance that she might've had lip fillers injected to the top lip to balance her sexy mouth shape.
As for her nose, we were certain that she's had a nose job, only to be confused again by the 2017 photo which clearly showed that different lighting and makeup can play tricks to our eyes.
So what do you think?
Do you believe Emily's had cosmetic surgeries?