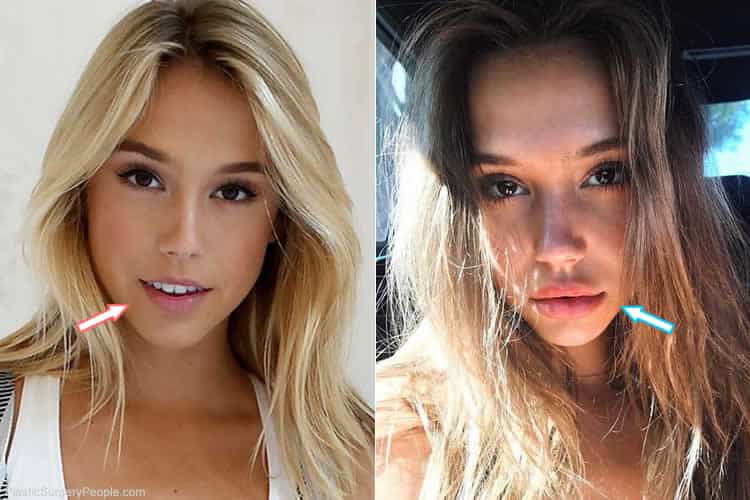 Alexis Ren is a social media star and fitness model who shot to fame due to her beautiful face and "who wouldn't want that" AMAZING body. With over 13 million followers on Instagram, someone will surely speculate her of getting plastic surgery.
If you have a quick browse on her account, you'll realize how many face selfies and body pics she's been posting online on a continuous basis. As time went on, people started noticing changes to her photos.
To be honest, whether she's had help from a cosmetic surgeon or not, we don't really care! In this day and age, especially when you're targeting a large market such as America, it's not unusual for models to seek beauty enhancements.
Before & After Photos
To save you time, we have gone through some of Alexis's past photos and analyzed her facial and body features. This allowed us to find out the type of cosmetic procedures she may have undergone.
See below for our "EXCLUSIVE" comparison pictures.
Did Alexis Ren have a boob job?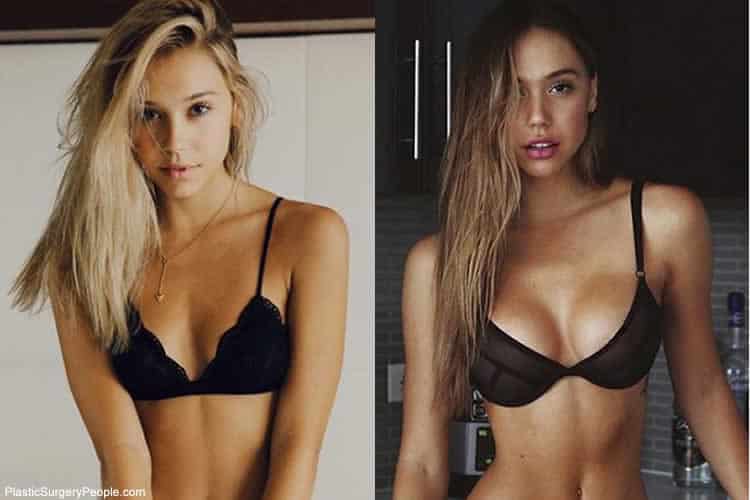 As you can see from the "Before" picture on the top left, Alexi's breasts weren't as firm and perky as it is today. In fact, if you had to compare, they are at least 1 bra size smaller than the photo on the right. This suggests to us that it's very likely that she's undergone a breast augmentation procedure to increase her cup size.
Unless that picture was photoshopped, otherwise from analyzing her cleavage, we can also assume that she's opted for breast implants instead of the fat grafting procedure, which requires fat collection (via liposuction) and then transfer into her boobs. What do you think?
Has Alexis had lip injections?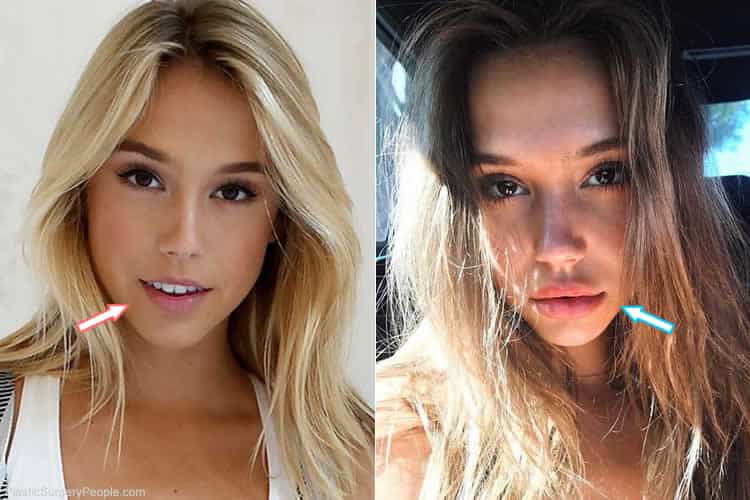 From the comparison above, it's quite evident that Alexis's "After" lips look twice as plump as it was in the past. Her lips now look sexier especially with that messy hair, makeup, and everything. But based on this, we have good reasons to believe that she's had lip fillers injected into both her top and bottom lip.
If it's true, then we really like the result!
Did she get a nose job?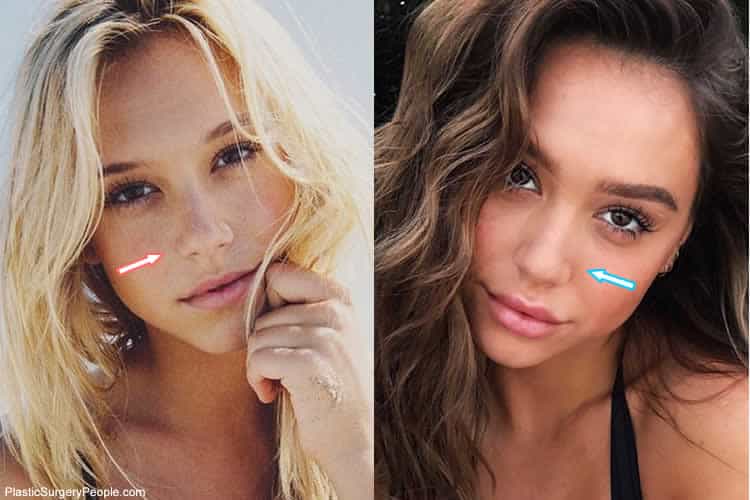 We haven't spotted any differences to Alexis's nose shape, not even minor changes. Her nasal bridge and nose tip appears to be very consistent in both pictures. So, it's very unlikely that she's gone through a rhinoplasty surgery or what the majority of us like to call, a nose job.
What about her butt?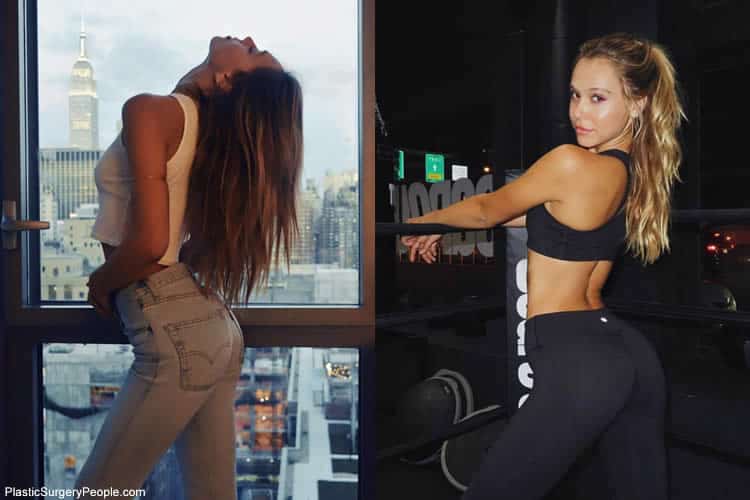 Without a doubt, Alexis has a hot body that many girls could only dream of. One of her valuable assets has to be her butt, but does she have any butt augmentation done to her bottom? Given the fact that she workout a lot so it's not unusual for these fitness models to have a firm buttock. So for now, we'll just dismiss any butt lift until we can see further evidence.
Alexis Ren: Then and Now
Let's see how this internet celebrity has changed since making a name for herself on the cyberspace. From what we know, she started posting pictures of her on Instagram since 2012.
Alexis in 2012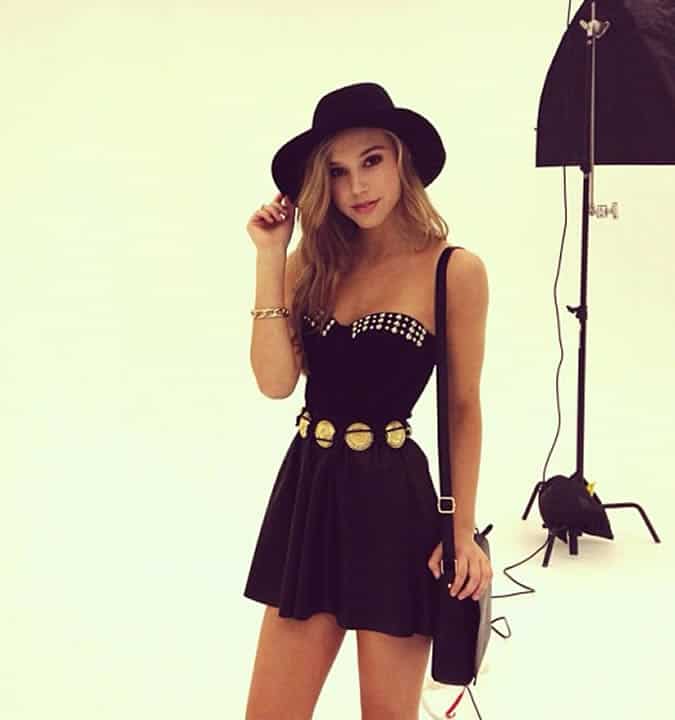 Back then, Alexis was just a nobody who started her own profile by posting pictures of herself online. Who would have thought that after 6 years, she'd amass well over 11 million followers who get their daily fix by looking at photos of her pretty face and curvy body? Obviously, their main focus is on her breasts, small waist, and toned butt.
Alexis in 2013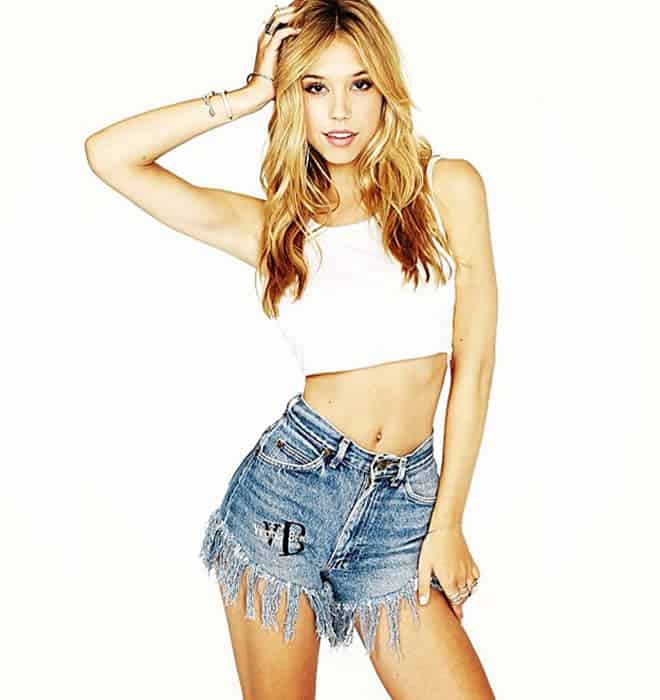 Alexis has gained plenty of recognition thanks to her great body. Her fans wanted to know about her diet and workout routines. Not only that, but they were also interested in the beauty products that she uses, the skincare brand she applies to her own skin, the makeup she puts on her beautiful face. She was slowly becoming an idol for many young girls.
Alexis in 2014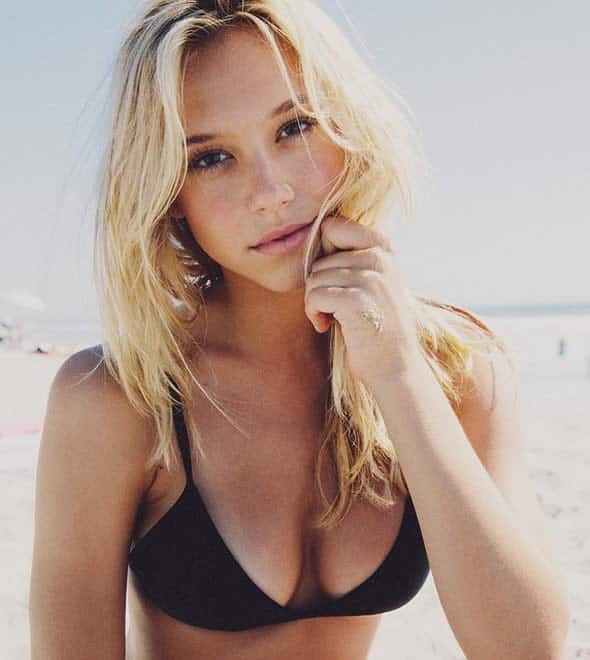 At 18 years old, Alexis endured her toughest year yet with the loss of her loving mother, Cynthia Gaylord (expert health nutritionist), to breast cancer. Soon after, she experienced an eating disorder which she later described as "a toxic state of mind". Thankfully, she met Jay Alvarrez, another Instagram and Youtube star, and since then this loving couple became an online fairy tale for many.
So far, we haven't seen any noticeable changes to her face nor body. Her boobs appear to be very natural in this photo. Nothing's been done to her eyes, nose, cheekbones, jawline or chin. As a matter of fact, Alexis has a beautiful chin by birth that it almost looks like she had a chin implant.
Alexis in 2015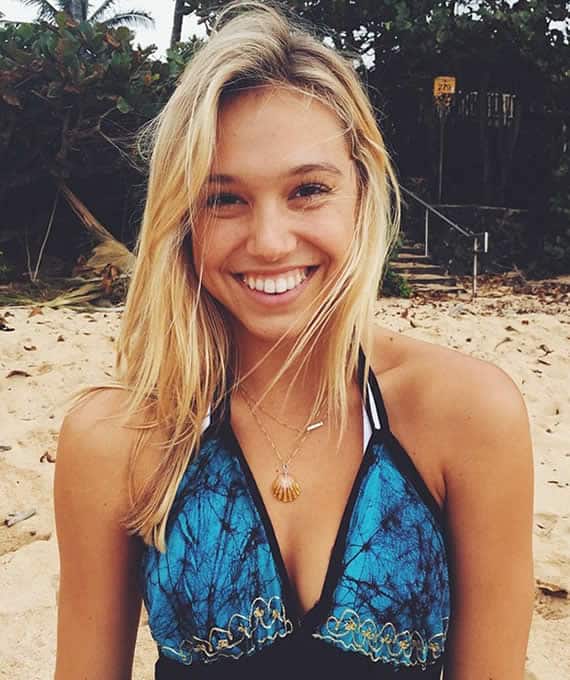 Here she was showing us her "Beach Chic" look with those golden blondes with the dark scalp. One of the qualities that makes Alexis so likable has got to be her smile. This lady has a gorgeous smile although her teeth prettiest you've seen. However, her teeth and gums can be easily corrected with cosmetic dentistry such as gum reduction surgery.
Alexis in 2016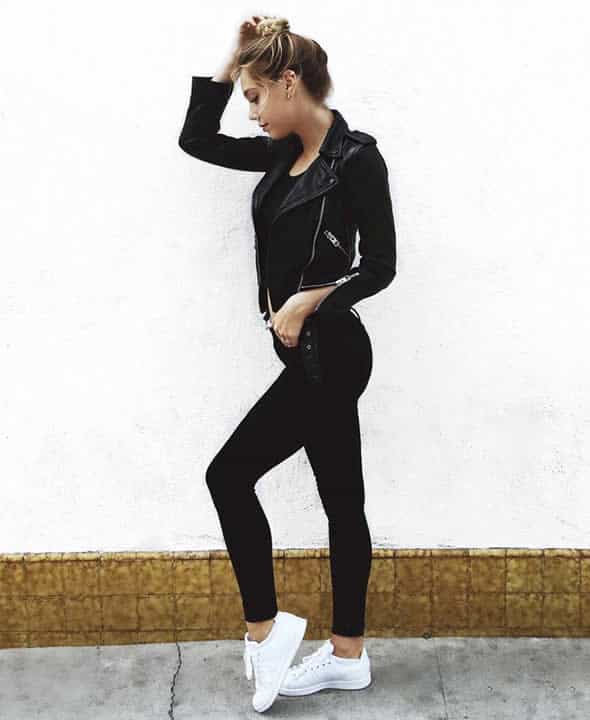 Ever since the Jay Alvarrez and Alexis Ren romance came to light, they drowned the internet through their photos and videos captured from striking vacations, mainly in swimwear based scenes. Unfortunately, their relationship had come to a shaky road towards the end of 2016 and the breakup became quite messy when Alexis announced the news on her Twitter account in early 2017.
Despite the heartbreak, it hasn't stopped Alexis from focusing on her workout. Just look how slim her legs are here and we are absolutely certain plastic surgery had nothing to do with it.
Although we couldn't say the same about her chest and bust size…
Alexis in 2017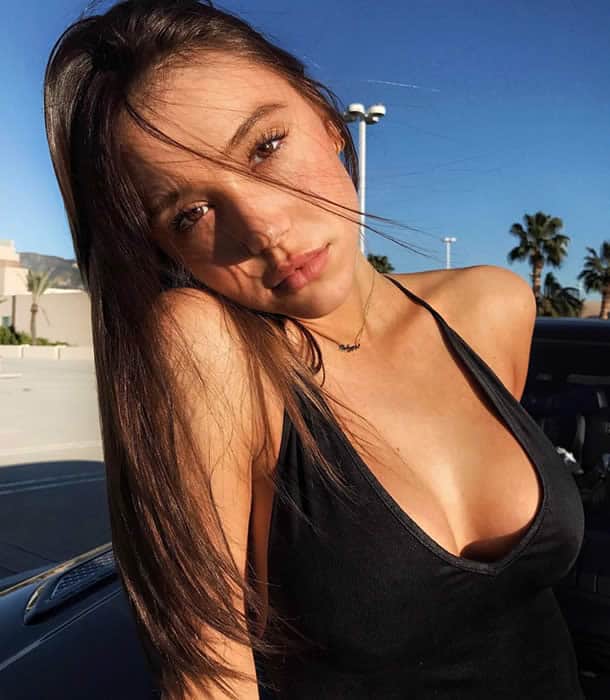 2017 proved to be a good year for Alexis as she became the cover girl for Maxim's August issue. She also worked on numerous advertisements for the popular video game, Final Fantasy XV: A New Empire. If that's not enough, she also launched her own activewear line called the Ren Active.
This was the year we noticed something chunky about Alexis's lips. Of course, whether she's really gone through a lip injection procedure, we'll leave that for you to decide.
Alexis in 2018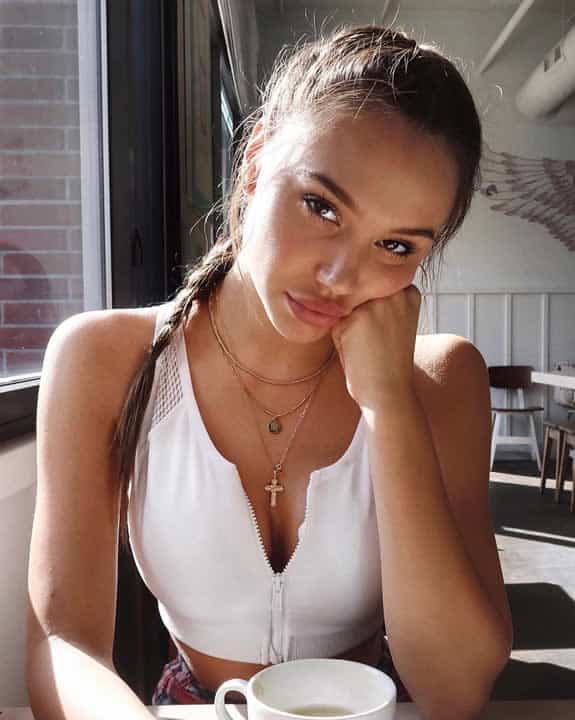 At 21 years old, Alexis is currently living her prime. She's fit, she's firm and she's looking like an absolute babe! At this stage, it doesn't even matter if she's used cosmetic surgery to enhance her beauty because she's been voted to become the 2018 Sports Illustrated Swimsuit Rookie of the year! Congratz!!!
Alexis in 2020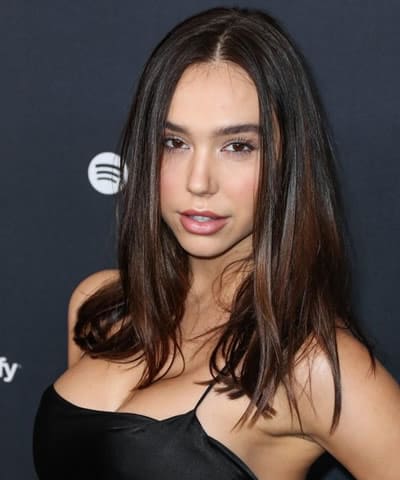 Here we see Alexis attending the Spotify Best New Artist 2020 party.
Doesn't she look gorgeous?
Alexis in 2021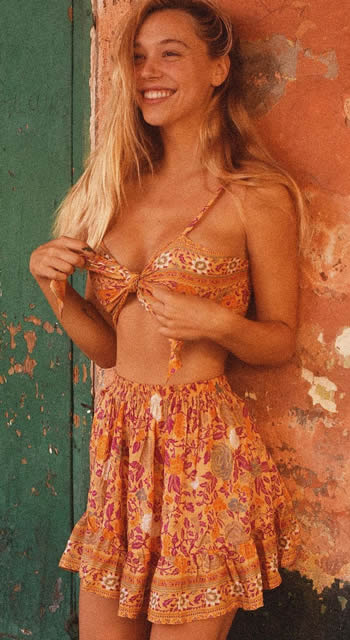 It looks like Alexis has gone back to the surfie look with this gorgeous blonde hair and head-turning beach dress. I must admit she looks great!
More Information About Alexis Ren (Bio):
Real Name: Alexis René Glabach
Birthday: 23rd November 1996
Star Sign: Sagittarius
Birth Place: Santa Monica, California, United States
Occupation: Model, Youtuber
Net Worth: $900,000
Nationality: American
Race / Ethnicity: Serbian, German, English, Irish
Relationship: Single
Children: None
Height: 1.74 m (5 ft 9 in)
Weight: 52 kg (114 lbs)
Body Measurement: 34-23-35 Inches
Bra Size: 32C
Dress Size: 4 (US)
Shoe Size: 8.5 (US)
Natural Hair Color: Dark Blonde
Natural Eye Color: Brown
Social Media: Instagram, Facebook, Twitter
Conclusion
Whether you're one of her followers or not (well…you should be!), you can expect to hear the name "Alexis Ren" for many years to come. While this girl has earned a decent living posting photos online, we are certain that she will make it in the fashion and modeling industry too. She's just a babe.
Now, in case you wanted to see how hard she trains for that incredible body, here's a little fitness video for you where she'll show you how to get a waistline like hers…
Not sure about you, but that's some tough workout.