OMG!! Would these photos make or break Selena Gomez's year?
We don't have a clue!
What we do know is that this American sweetheart has been filling a lot of headlines lately, with rumors suggesting that the 25-year-old singer has had plastic surgery at some stage in her career. From lip fillers, botox to breast implants, Selena has heard them all.
But are these speculations real or fake?
Well…we're about to find out!
Born and raised in the US, Selena has a Hispanic family heritage. Her father is Mexican and her mother has Italian ancestry. She grew up in a poor family and was often taken care of by her grandparents when she was young.
While overseeing her mother preparing for a stage production, Miss Gomez began her interest in the world of entertainment. She later went for an audition for a kid's TV show, Barney and Friends, which she succeeded and since then…her life has taken a dramatic turn for success.
Before and After Photos
So the big question here is…did Selena have cosmetic procedures? One of the best ways to find out is to go through all the pictures before she became a full-on celebrity. Let's take a quick look…
Year 2002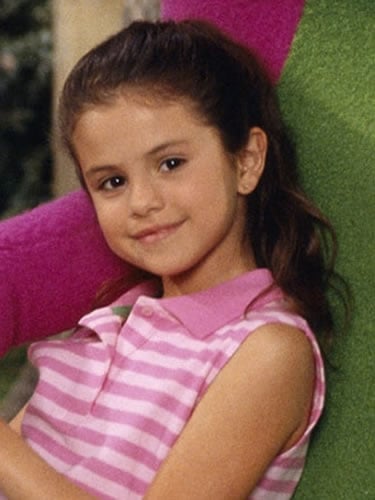 Here she was appearing on TV with Barney and his furry friends. Doesn't she look cute and adorable? Now if you look closely, Selena had a rather clear double eyelid and wide jaw bones ever since she was young.
Year 2007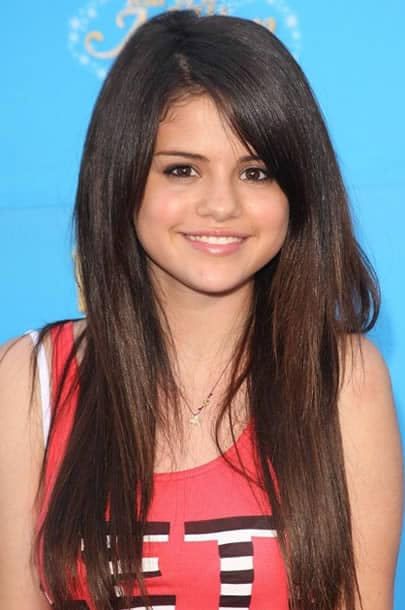 Photo Credit: Getty
2007 was the breakthrough year when Selena's acting career took off. She was granted a recurring role on the popular Disney Channel series, Hannah Montana. She was 15 years old at the time and you can see her face shape was pretty much set. While some may think she has a fat face, but it's simply baby fat and we think it's pretty cute!
Year 2009
This was the year Selena landed mainstream success by starring in the "Wizards of Waverly Place", which she first tasted singing by recording the theme song for the series. Due to her jawline and her full cheeks, it does kind of give her a big face. Luckily, she doesn't have a double chin otherwise it'll shorten her neck.
Year 2010
Credit: Getty Images
Selena won four awards at the 2010 Teen Choice Awards and here she is wearing a silver dress with smokey eye shadows. She seems to have lost weight which gave her a really pointy chin. This is probably when people started speculating her of getting a chin implant. But remember, she was only 17 years old.
Year 2011
At the 2011 Grammy Awards held at the Staples Center in Los Angeles. Selena is looking absolutely stunning with pink lips, wavy hairstyle along with her beautiful smile. This event was in January so technically, she was only a few months away from being the legal age to get plastic surgeries in the United States.
As you can see from this photo, her bust size wasn't really that much to be envied about. Now if she was to consider going through a procedure the moment she reaches 18, it'll most likely be breast enlargement given her current boob size. And you'll know why we said this if you look at the next pic.
Bang!! Selena shocked everyone when she did this photoshoot for her fragrance brand back in December 2011. Take a look at her new boobs! After seeing this, you can almost feel the media screaming boob job from all different parts of the world. And she literally just turned 18 a few months ago too.
Let's compare both pictures again side by side…
Yup…there is definitely a very fine line on her chest and we've spotted a mole too! But if this isn't a push-up bra effect, then we've got to give her plastic surgeon a big wrap for doing such an amazing job on her upper body.
Honestly, if this is a pair of silicone then you'll definitely want to compare it with Nicki Minaj's implants (possibly) because these just look so much more natural. Like really really hot!
Here's another shot from the same album. Did you notice anything suspicious on her face? Maybe under her nose and near her mouth? Yes!! Her lips looked totally augmented and we can definitely see signs of lip injections here.
Don't take our words for it…
You see, there's a drastic difference between the two lip size here. We feel that Selena might be trying to explore her adulthood here by manipulating her face and body. It does seem like she's testing dermal fillers here to achieve a fuller and more luscious lips.
Of course, some might say that it's just the lipstick playing tricks. What do you think?
Year 2012
Gomez arrived at the 25th Annual Kid's Choice Awards where she won both the Favorite TV Actress and Favorite Female Singer awards. This was also the same year when she released her first solo music album "Come & Get It".
So far, we haven't seen any signs of a nose job. Her nose shape pretty much stayed the same throughout her previous years. Luckily she does have a wide and at times chubby cheeks, otherwise it'll make her nose look big.
Year 2013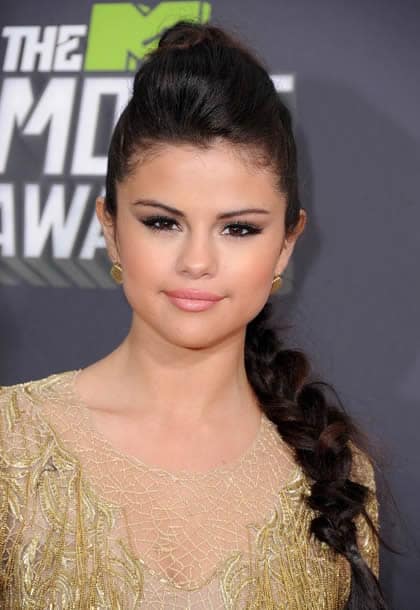 At the 2013 MTV Movie Awards inside the Sony Pictures Studios in LA. Selena can be seen with gorgeous fishtail braid complemented by subtle smoky eye and nude pink lips. She really does have this Mexican aesthetic appeal about her.
Year 2014
Here she is wearing a silver sparkling deep and wide V dress showing off her perky cleavage. Now please remind us again that she didn't have breast enhancement…we're not even sure anymore!
If you have a look at her eye brow shape here, it seemed like the start of her brows are curling down towards the top of her nasal bridge or nose bone. Didn't she have straight eye brows before? Maybe she forgot to trim it…
Year 2015
Selena Gomez is looking fabulous in the AMA at the Microsoft Theatre. She stunned everyone with this beautiful open back dress showing off her curves. You have to wonder whether she's had a butt augmentation though.
Year 2016
At 24 years old, Selena is enjoying the nightlife at the Las Vegas Club wearing a very elegant, yet sexy silver dress. She appeared to have lost a lot of weight and probably in the best shape of life. Is this the result of good diet, hard work or liposuction?
Furthermore…what happened to her trademark jawline? Did she do a jaw or cheek reduction surgery? Perhaps they just disappeared because she's lost all that baby fat off her face. It's really hard to say.
Year 2017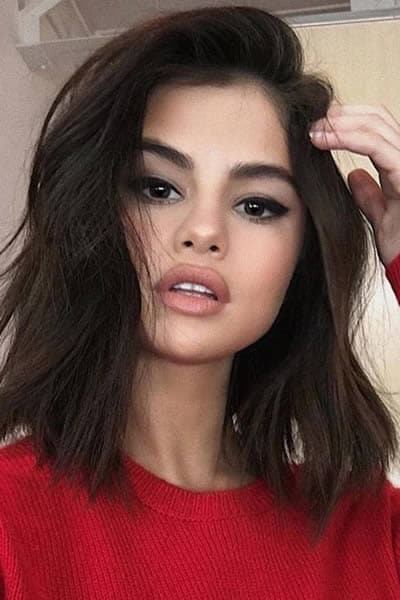 If anyone wants to see Selena Gomez looking like a plastic doll, then this has got to be it! Her lips looked like it's filled with injectable fillers and it seemed like she's had a rhinoplasty surgery to narrow the bottom of her nose. Just look at her nose tip near the nostrils. Sure…it could just be the makeup, we heard ya!
More information about Selena Gomez:
Real Name: Selena Marie Gomez
Occupation: Model, Singer, Songwriter, Composer, Actress, Voice Actor, Producer, Businessperson
Networth: $50 Million
Nationality: American
Race / Ethnicity: Hispanic / Mexican
Birth Place: Grand Prairie, Texas, United States
DOB: 22th of July 1992
Relationship: Single (Rumour: Justin Bieber)
Children: N/A
Height: 1.65 m or 5′ 5″
Weight: 59 kg or 130 lbs.
Measurements: 36 – 28 – 35 inches
Bra Size: 34B
Natural Hair Color: Dark Brown
Natural Eye Color: Brunette
What Do Cosmetic Surgeons Think About Selena's Face & Body?
While Selena hasn't come out and openly admitted nor denied her cosmetic surgery rumors, there are surgeons who reckon they know what the Hispanic singer has done.
According to a 2014 exclusive interview with HollywoodLife, Dr Jonathon Shifren from the Wave clinic offered his thoughts about Selena's breasts. Here's what he said:
It appears that Selena has had a breast augmentation. The breasts appear fuller and you can see the outline of the upper portion of the implant. They tend to sit high on the chest wall in the immediate post-operative period. My imprint from the picture is that she had the operation fairly recently
Now, this statement contradicted with our speculations back in 2011, but hey…he's the doc!
Conclusion
We did see several changes happening with Selena as the years passed by, particularly during the 2011 fragrance photoshoot which prompted the breast surgery opinions. But then, it could be the fact that her chest was simply maturing as she was reaching her adulthood.
There were also a few instances where changes were noticeable on her face, mainly her cheeks, nose, and lips. While these can be dismissed by mere makeup techniques and her rapid weight loss, the truth remains to be seen.
What do you think?