Forget 'Hannah Montana'.
Miley Cyrus's public persona has completely changed as she got older.
Following her infamous twerk at a music awards show, Miley today is known as the wild child with controversial behavior and a revealing sense of style.
That's why some people believe that Miley had undergone plastic surgery to improve her sexy image.
To be honest, it wouldn't surprise me if she did.
Before & After Photos
Of course, we have compared a lot of Miley's past and present photos find evidence. Let's take a quick look.
Did Miley Cyrus have nose job?
Let's face it, nose jobs in Hollywood are as common as breathing.
While some fans claimed that Miley got her nose fixed, it's hard to see from these photos.
There are very few changes to its size and shape here. The most obvious is her slightly thinner nose bridge but this can be easily done with makeup. Not to mention the fact that she has lost some baby fat from her "Party in the USA" days.
Shocking? I know. But I just don't see any nose job here.
Has Miley had breast implants?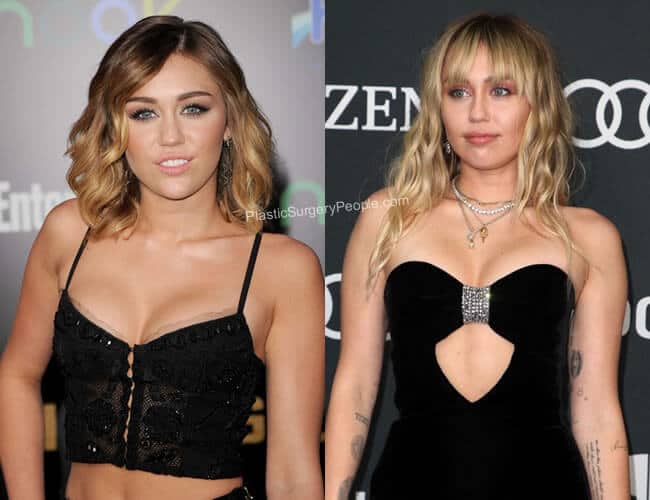 Miley has also been the subject of boob job rumors especially when she dresses so provocatively.
I believe her breast size and shape are all-natural though.
These photos has shown no evidence that her boobs are fake. I don't see any implants.
Did Miley get botox fillers?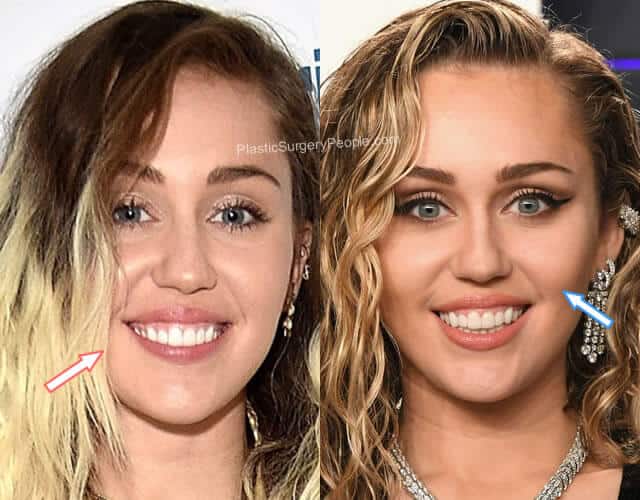 If you ask me, I think Miley is too young to get botox.
So, any rumors saying that she's had facial fillers are completely off the mark.
She's still in her 20s and don't have to worry about any lines and wrinkles. At least for the next 5 years,
In case you didn't know, she is also a vegan which may explain her flawless skin.
Does Miley have lip injections?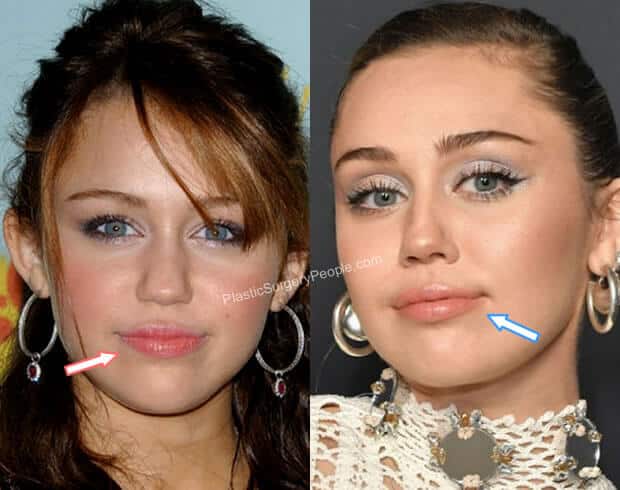 I remember seeing Miley on "The Voice," where she was one of the singing mentors. The thing that I noticed about her most, aside from her big round eyes and crazy outfits, are her beautiful lips.
I must admit that I have suspected her of getting lip fillers before.
However, after comparing these pictures, her lips just looks natural to me.
What about her teeth?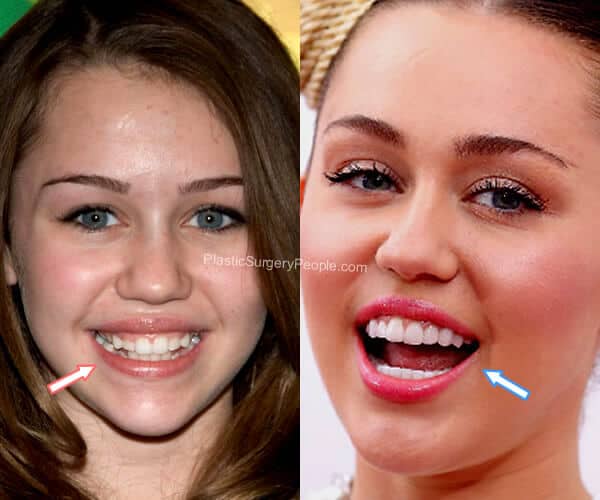 This girl seems to have undergone cosmetic dentistry.
She has much better-looking teeth now than before.
Her dental procedure looks extensive because of her prominent gums (see photo on the left) but that seems to have been fixed now.
You can also see signs of braces by looking at her bottom row which has clearly been straightened.
Miley Cyrus: Then and Now
Let's see how different Miley looks before she became famous. We will dive deeper into her transformation over the years.
Miley in her early childhood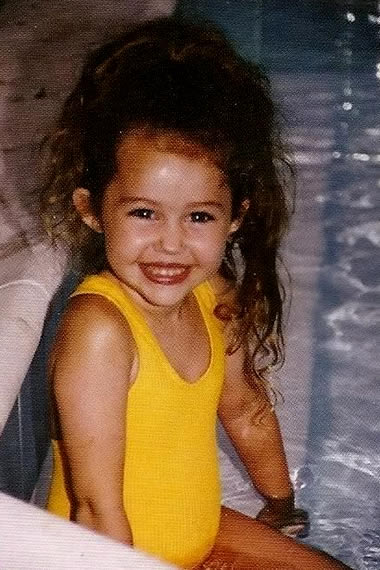 An adorable Miley Cyrus was nicknamed "Smiley" by her parents because she smiled a lot. Thus, the nickname stuck and was shortened to Miley.
Miley in 2004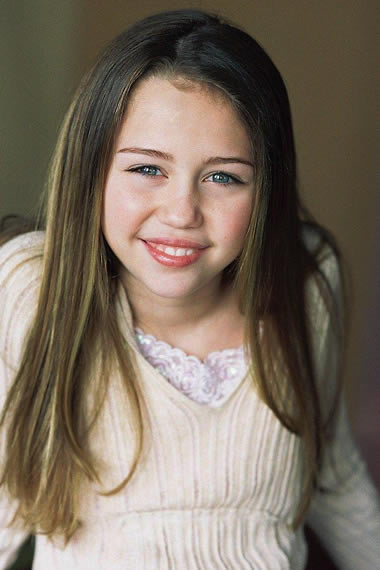 The actress was 11 when she auditioned to be Hannah Montana. She looks like a vibrant and spunky child and those eyes also smiled when she smiles.
Miley in 2006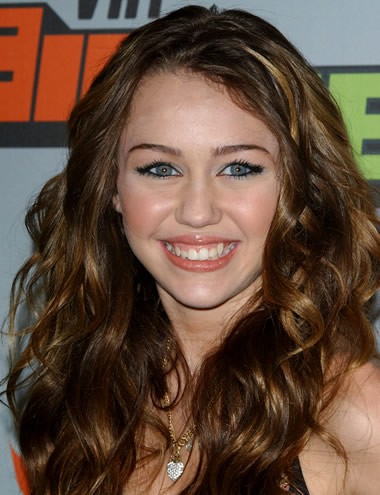 Miley became a certified teen idol following the massive success of "Hannah Montana." She has maintained that adorable smile and spark on her face, which was why young girls continued to idolized her back at the height of her Disney popularity.
Miley in 2008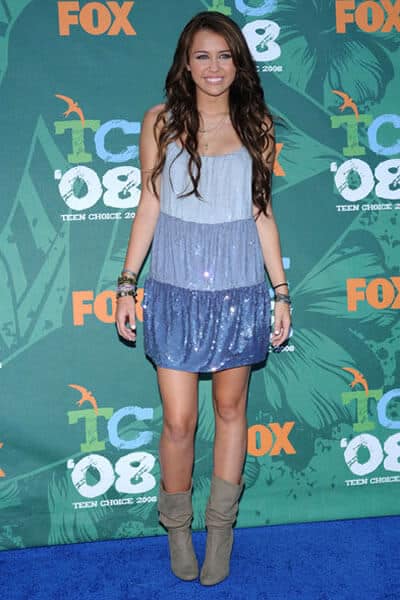 Slowly growing up, Miley kept her dark long curly tresses the way it was for years because of her "Hannah Montana" persona. I have to mention that Miley has nice long legs and she modestly showed it off in this outfit.
Miley in 2010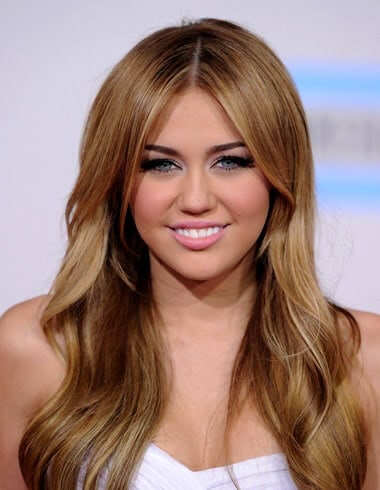 Hannah Montana is now a woman at 18 years old, which was hard to digest for some parents with young girls. I think her makeup here was nicely done and she tamed her curly looks by straightening out some of the waves while changing her hair color.
It made her look sexier.
Miley in 2013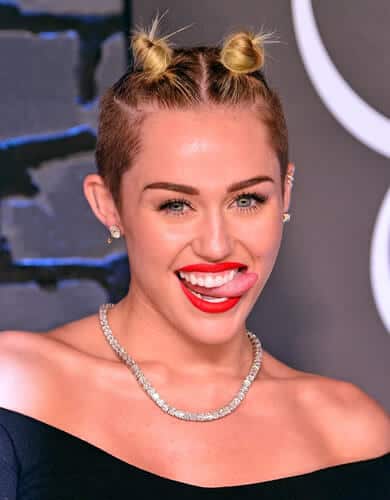 The drastic change began with Miley chopping off her locks. This "devil's horn" hairstyle made Miley go from "nice" to "naughty". Although she looked different, there were no signs of cosmetic surgeries anywhere on her face or body.
Miley in 2015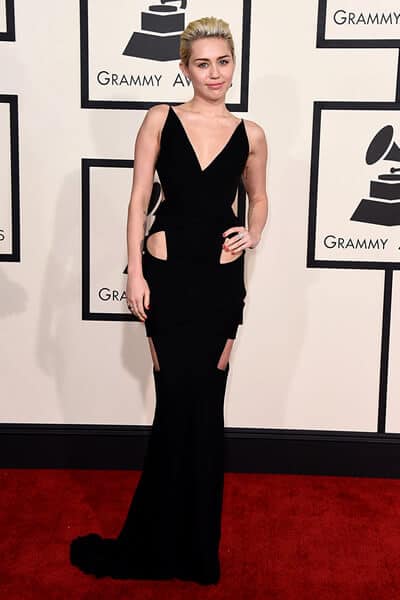 Miley was every-inch a grown-up in this black dress for the Grammys. The brushed-up short hair and no jewelry were a nice touch because the focus was on her dress with the asymmetrical cut. It hugged her shapely figure perfectly.
Miley in 2017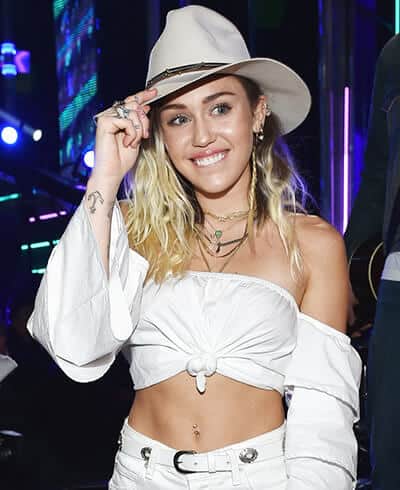 For some reason, I see some resemblance to a young Madonna in this photo. What do you think?
Miley in 2019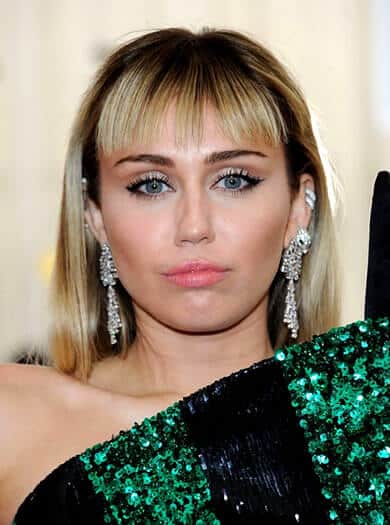 For some reason, Miley looks odd in this photo. It could be the over-styled hair or maybe the photographer just caught her in an odd pose. Still, her big round eyes drew all the attention. It's so blue and bright.
Miley in 2021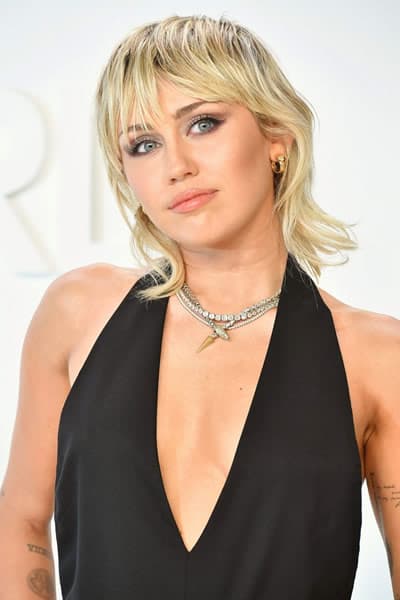 I don't know if any other female artist can carry a mullet as good as her. Do you?
She may be trying to make a statement with that deep V dress though.
What did Miley Cyrus say about plastic surgery?
In 2011, Miley, who was then 19, addressed rumors that she had a breast augmentation. Posting on Twitter, the superstar said:
"Thank you for the compliment but these babies are all mine. I wish they'd realize you don't have to be fake to be beautiful!"
Conclusion
I'm part of the unpopular opinion that Miley Cyrus is an all-natural beauty.
Apart from her dental fixes, I don't think she had any other procedures done to her face or body.
Not yet, at least.
More Info about Miley Cyrus
Real Name: Miley Ray Cyrus
Birthday: 23 November 1992
Star Sign: Sagittarius
Birth Place: Franklin, Tennessee, United States
Nationality: American
Race / Ethnicity: English, German, French, Irish, Scottish, Dutch
Occupation: Singer, Songwriter, Actress, Voice Actor
Net Worth: $200 Million
Relationship: Married to Liam Hemsworth
Children: None
Height: 1.65 m (5 ft 5 in)
Weight: 48 kg (106 lb)
Body Measurement: 34-23-32 Inches
Bra Size: 32B
Dress Size: 2 (US)
Shoe Size: 7 (US)
Natural Hair Color: Brunette
Natural Eye Color: Blue
(Featured Image Source: Facebook)