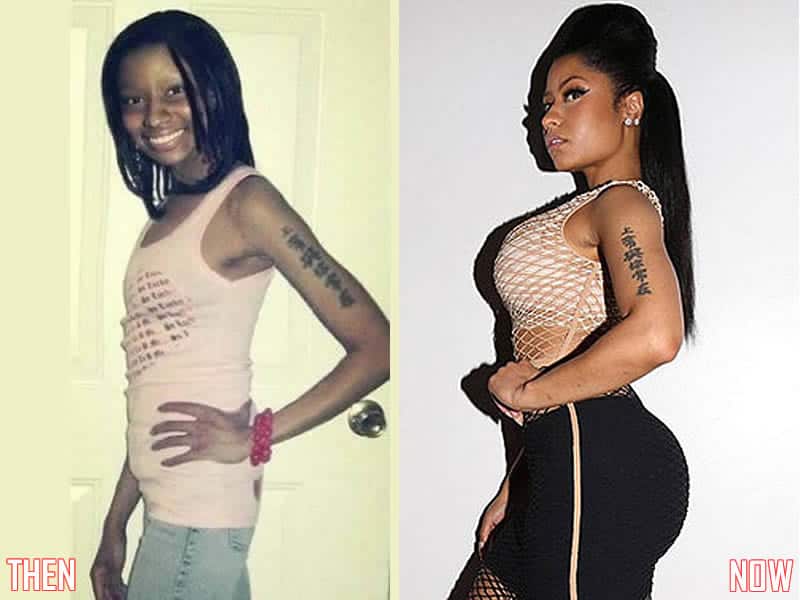 Many people know Nicki Minaj because of her outrageous body shape, namely her large breasts and big butt in a tiny body. She is, however, a really hard working girl whom shot to her fame through sheer dedication and hard work, not just because of her celebrity looks.
You may have heard of her hit songs, Super Bass, Anaconda, The night is still young and also the top mix with Jesse J and Goddess Ariana in their worldwide hit Bang Bang.
Nicki is one of the best female rappers in the industry who wears numerous wigs and sexy outfits in many of her MTV videos, which revealed more than any fans could hope for. Hence, the plastic surgery rumors started circling around suggesting that the rap star had indeed gone through a breast implants and butt implants procedures.
The truth is…they just don't look natural, especially given that she's not that tall of a person.
As usual, one of the best ways to see if these rumors are real is by checking some of her before and after photos, which should give us enough evidence to show if Nicki had indeed gone under the knife.
In order to do so, we must track down her photos from the very beginning, before she became an international star.
High School Years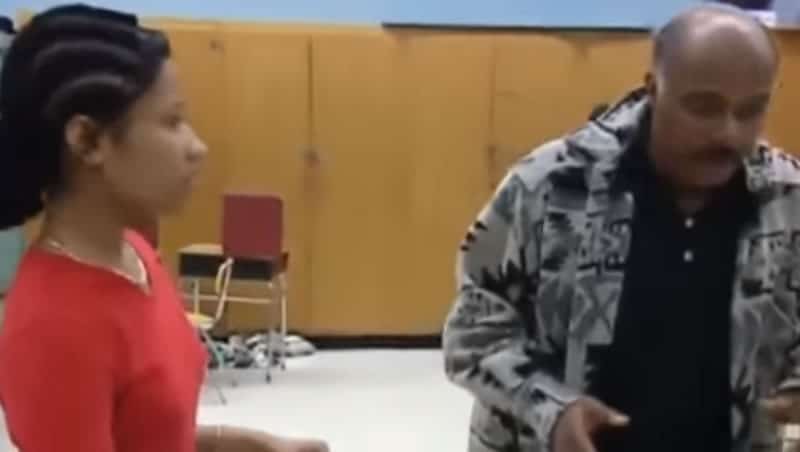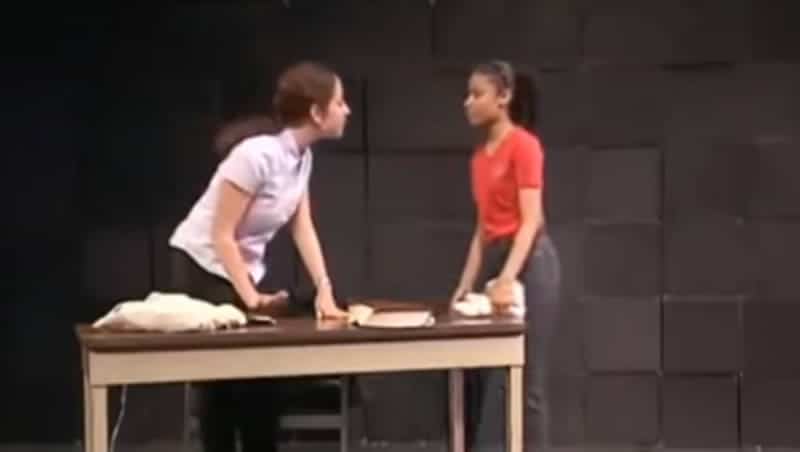 These video screenshots were taken from a high school video that surfaced online featuring Nicki Minaj in her high school years. Judging from her looks, we are guessing that she was probably around the age of 14 to 15.
Watch the video below:
We knew she could sing, but who would have thought that she'll be that good at acting too.
Yup…she would have made it either way…
Teenage & Early Adult Years
Several photos were found online which appeared to be Nicki in her teenage and early adolescence years. These pictures are really good indicators to compare in terms of her face, body shape, and body measurements.
So, let's get right to it!
Her Face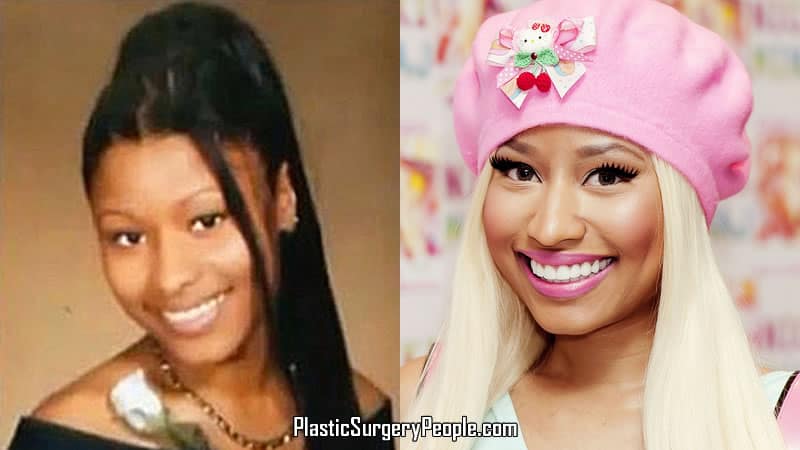 There has been a lot of noise surrounding Nicki's face, so we figure we'll take a look at this first by showing you photos before and after she became a success story. From what we can see, her face shape has pretty much stayed the same. So has she had any cosmetic surgery done to her jawline, lips, chin, cheekbones, and eyebrows?
We don't think so…
If you look at her nose as well, we can't really see any evidence suggesting that the star has had a nose job or any type of rhino surgery. Although the photo quality isn't that good, it's enough to see the overall contour. Then if you look at her eyes and that great smile, one is simply the grown-up version of the same person.
Her Body
Okay, before we show you this photo, we just want you to take a deep breath because this may shock you. In fact, if you have been wondering whether Nicki has a fake bum and boobs, then this may very well answer your question.
Check it out.

If this photo is not fake, then it would have been taken back in 2006 and given that Nicki was born in 1982, she would have been 24 years old when she took this picture. But somehow we are getting a sense that she is much younger in this picture, possibly somewhere between 18 to 20 years of age.
So the date shown in this image does make us question the authenticity of it. But then, the face and that tattoo on her arm tell us that it really is her. So if this photo is real, not photoshopped, or if the date shown was simply a reference as to when it was uploaded onto the internet, then that's a totally different story.
In other words, she had absolutely no boobs or butts that we are so used to seeing from her usual self. In fact, she was pretty much "flat" in both areas which does bring questions among many people's minds, including ours…
Another Teen Photo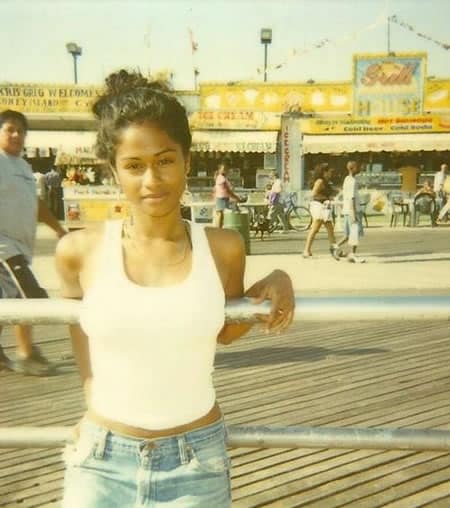 Here's another photo of Nicki in her youth years and you can see that she is still developing in her chest area, so one has to wonder what really happened during these times before she became a star. In saying that, if she really had done a breast augmentation, then it would have been somewhere after this…
So let's jump to the year where Miss Rapper first exploded into the music scene.
Nicki's Beauty Transformation
Year 2010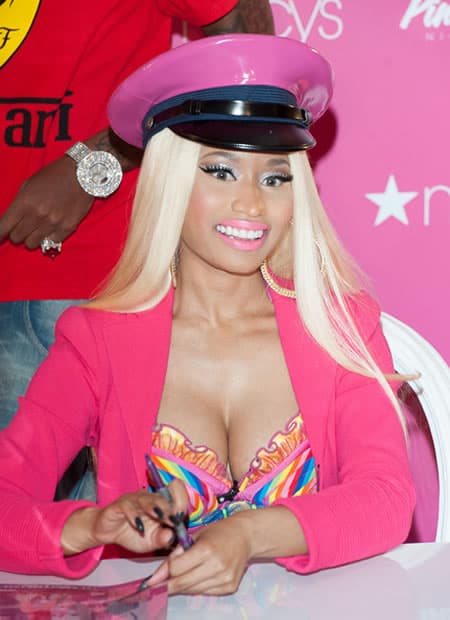 Nicki Minaj released her debut album in 2010, Pink Friday and her single, "Your Love" topped the chart bringing her to international success literally overnight. You can see that she has "grown" a lot in her chest area. This has led to many speculations about whether she had breast implants.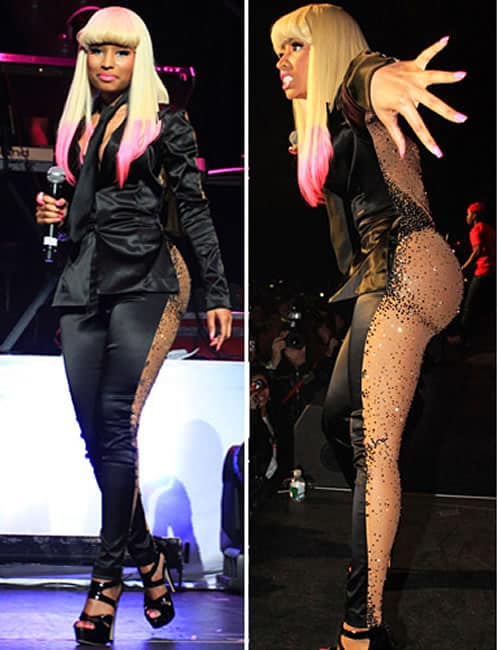 Not only that, her butt became really large in size too especially when she wore this revealing pants during a performance in the Hot 97 Thanksgiving concert at Hammerstein Ballroom in New York. That's when many people suggested that Nicki Minaj might have had butt implant surgery to enhance her bum size, as it appears that they never stopped growing.
Year 2011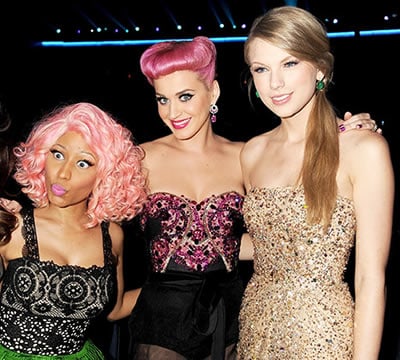 Here's a photo of Nicki attending the 2011 American Music Awards in Los Angeles, California with Katy Perry and Taylor Swift. Now we all know how busty Katy is and we are also fairly certain that Katy's breasts are the real deal. However, something is telling us that Nicki's cleavage is not as natural as Katy's, but we'll let you decide what their cleavages are telling you as they are photographed together in this pic.
Year 2012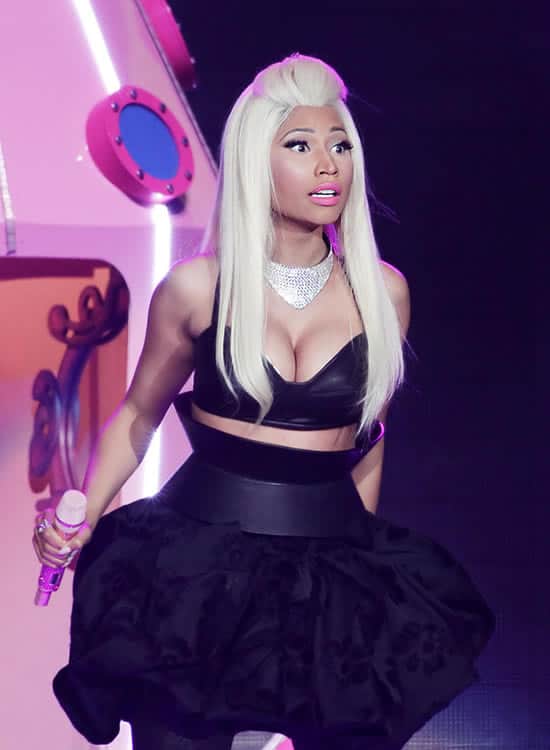 Here is an image of Nicki Minaj performing at the O2 Arena in London, England. She is wearing a black leather bra top pushing her bust size even bigger. Really…you've got to give her full credit to be able to perform like this because one has to wonder how she's able to breathe with boobs like hers.
Regardless, she does look absolutely gorgeous in this picture. And did anyone notice how straight Nicki's nose look in this one? We are not saying that she had a nose job or rhinoplasty, in technical terms, but it just seems that her nasal bridge bone looks very thin. Makeup perhaps?
Year 2013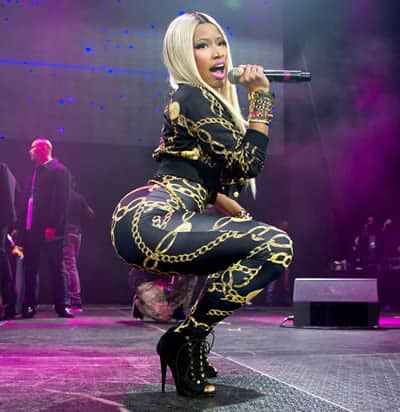 Her butt size is definitely a feature of hers that catches people's attention. Here's Nicki performing in the Power 105.1 Powerhouse at Barclays Center in the Brooklyn borough of New York City. Tight pants with gold chain patterns gave her buttock another lift which only adds to further speculation and that is, did Nicki Minaj ever had bum or buttock augmentation implants because they are really big….really!
Year 2014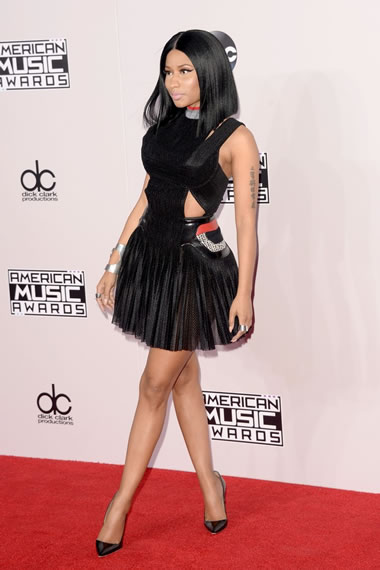 She arrives at the 42nd Annual American Music Awards held at Nokia Theatre L.A. Something doesn't quite add up in this one, either there's something wrong with her dress (design is great btw), but if you look at the top, it seems like her breasts are pointing slightly upwards.
By all means, she's at her early 30s now so this just doesn't really make sense. Like come on…you've got to give gravity a chance! In saying that, her legs look nice and thin though…
Year 2015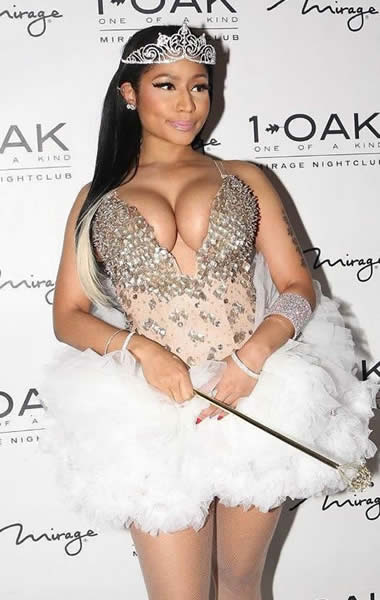 Nicki Minaj dressed as a rather "revealing" fairy princess as she attends a Haunted Funhouse Halloween party at 1 OAK Nightclub at The Mirage Hotel & Casino in Las Vegas, Nevada. Her "DEEP V" cut dress wasn't really helping her to knock off all the plastic surgery talks that are surrounding her headlines.
In saying that…she only got to where she is today because she's put in the effort, although there's no denying that her rather unnatural assets have helped to capture the attention of many.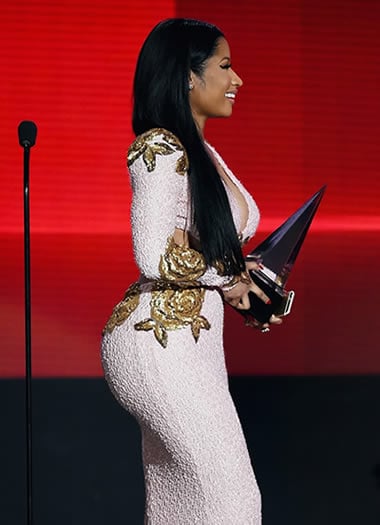 Regardless, her body does look amazing so if her cosmetic surgery rumors are indeed real, then you've got to give raps to her plastic surgeons for doing such an amazing job on her front and back side. Here's a shot of Nicki Minaj when she walked on stage during the 2015 American Music Awards at Microsoft Theater in Los Angeles, California.
Her bottom is absolutely enormous and if you add the front as well, it's no wonder why she works so hard to achieve her aesthetic appeal, whether artificially or not.
Year 2016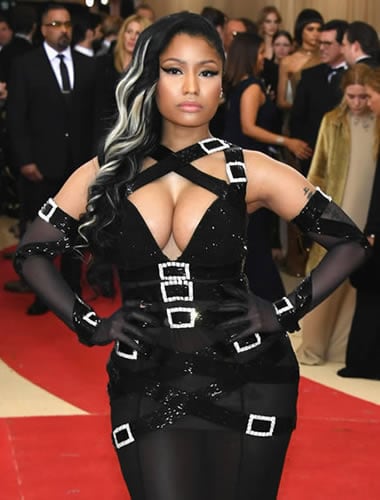 Nicki attends the Manus x Machina Fashion In An Age Of Technology, Costume Institute Gala at Metropolitan Museum of Art New York. Again it's no longer news that she is not shy in exposing parts of her boobs in this unique black outfit. We really like the blonde highlights in her black hairstyle though, but did she gained some weight?
Year 2017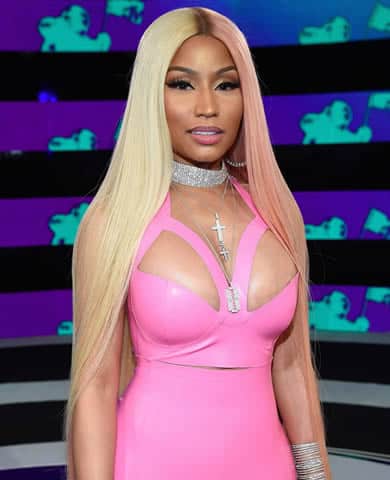 Here we see Nicki in 2017 wearing a strawberry pink latex dress, once again showing off her 34 F cup size. Not sure about you, but something seems very weird with this picture. Seriously, if you told us that this was a wax figure of her, we'll probably believe it.
Take a closer look! Everything on her face and her chest just seems a little too smooth…don't you reckon? We just hope that Miss Minaj here won't be using any Botox, facelift or any type of injectable fillers anytime soon.
Year 2018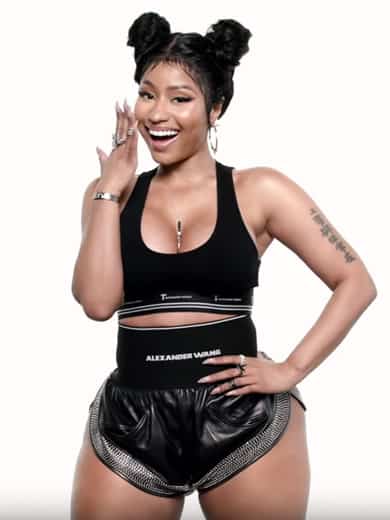 After disappearing for a few months (no, she's NOT dead!), Nicki came back with a series of new songs including Chun-Li, Barbie Tingz, FEFE with 6ix9ine, and also her new Queen album. We absolutely love this new look!
Did Nicki gain weight? Her thighs look bigger…
MORE INFORMATION ABOUT NICKI MINAJ:
Real Name: Onika Tanya Maraj
Occupation: Professional Singer, Rapper and Song Writer
Networth: 70 Million
Nationality: American, Trinidadian
Birth Place: Saint James, Trinidad and Tobago
DOB: 8th of December 1982
Relationship: Dating
Height: 1.57m
Weight: 60 kg or 132 lbs.
Measurements: 40 – 28 – 45 inches
Bra Size: 34F
Natural Hair Color: Black
Natural Eye Color: Dark Brown
WHAT DOES NICKI MINAJ HAVE TO SAY ABOUT PLASTIC SURGERY?
During an interview conducted by Extra TV, Nicki openly slammed rumors about plastic surgery on her "FACE", but then we couldn't help but notice that she didn't mention anything about her body. Here's what she said:
I've never had surgery on my face. They'll see contour and they'll think you had surgery on your nose, no no no, look at 'RuPaul's Drag Race' and you'll see how you can make your nose look any shape you want,
While Nicki has yet to come out to defend her body, many plastic surgeons from around the world had openly expressed their own opinions, including this one from Beverly Hills. Strangely enough, she has not commented on any of these speculations until a surgeon called Dr. Miami who said he had performed the butt implant surgery on Nicki himself, which lead to a Twitter slur when the star fought back.
Either way, this only added to more people wanting to look like Nicki Minaj, Kim Kardashian and even Jennifer Lopez as the Dailymail recently reported that more average people are enquiring about getting their butt done through either, implants, fat injection or a butt lift.
Do you think her boobs and bum are Real or Fake?
Since Nicki Minaj has yet to confirm her plastic surgeries, so we can only assume that those are her real assets. After all, we don't and will never defame anyone until they are either proven or the subject has admitted it otherwise. So we will let you decide for yourself.
We don't think she had any enhancement done to her face and remember, she does have a team who takes care of her hair and makeup. However, we're not so sure about her body.
As for anyone who wants to look like Nicki, especially those who wish to achieve the same look through surgical or non-surgical procedures. Please, never assume that you'll get the same level of fame or popularity as Nicki by simply having the cosmetic work done because this is NOT true!
Nicki Minaj has real talents that not many people possess and she works "very" hard to get to where she is today through her rap and R&B hits. While you may be able to replicate some of her body shapes, but never assume that you can achieve the same level of success or respect by simply paying a plastic surgeon.