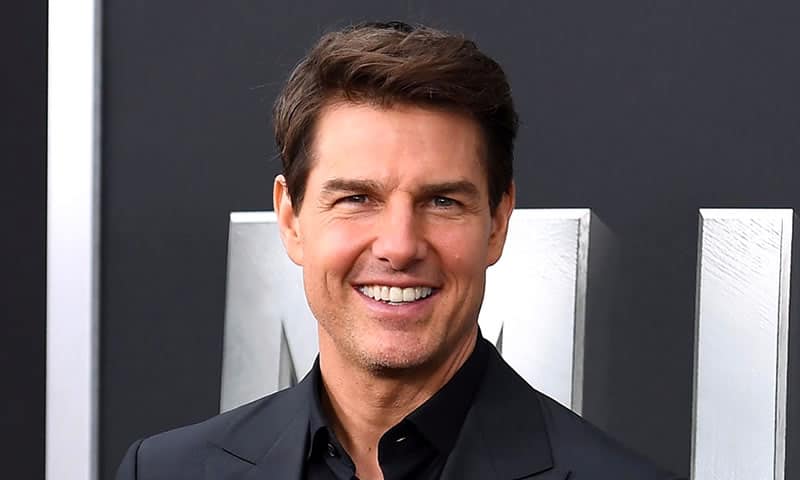 "Mission Impossible" actor Tom Cruise is one of Hollywood's most handsome superstars. He first made his mark in the early '80s as a charming leading man and teen heartthrob.
Tom's longevity in the business is legendary as he has made box office movies one after the other. But fame and prominence, apparently, has its price.
Behind his success and multi-million dollar movie deals, Tom has been the subject of controversies, such as his failed marriages to Mimi Rogers, Nicole Kidman, and Katie Holmes, as well as his ties to Scientology.
Rumors also abound about the actor's looks, as it seems the "Top Gun" star hasn't aged despite his more than four decades in the business. Apart from the expected dental work to fix his teeth, is Tom Cruise also a fan of plastic surgery? Did he get his face treated with face fillers? Did he undergo a nose job?
It's usually the female stars who ignite talks about facelifts and rhinoplasty but Hollywood is such a competitive business that even the actors have to make an effort to look appealing and attractive.
The "Jerry Maguire" lead, however, won't be the first male Hollywood star to resort to cosmetic enhancements or a hair transplant to maintain his looks, and he is definitely not going to be the last.
Before & After Photos
All the plastic surgery rumors surrounding Tom can't be helped as he's a widely photographed star. There are simply too many visual records to show how his appearance has changed.
So, we're going to look at his photos before and after he became famous just to see how far and how often he's invested in cosmetic surgeries. Let's get it on!
Tom Cruise's Bad Teeth…FIXED!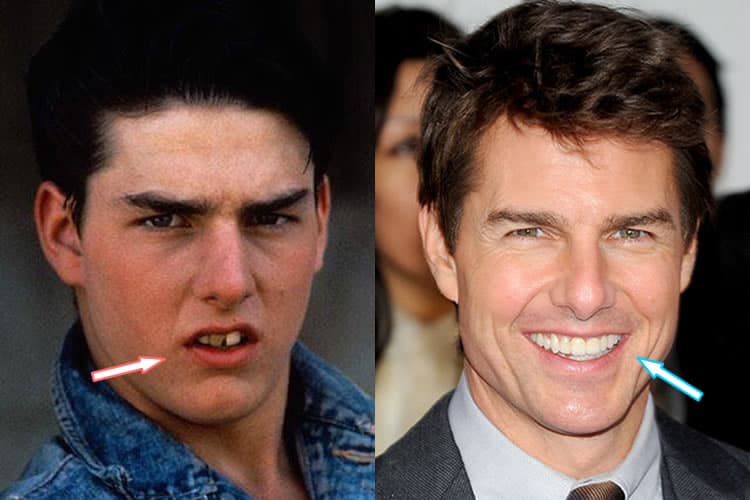 When Tom was filming "The Outsiders" over 35 years ago, he had such crooked teeth. We're not kidding when we say that this was not part of his character's appearance. Rumors were that Tom used to cover his old teeth with a cap because it looked so bad and he hardly smiled for the cameras in his magazine features until it got fixed.
But thanks to dental technology, braces, and a good dentist, Tom's teeth today is an even set. He has one of the biggest, brightest and warmest smiles in Hollywood, too.
His Front Teeth Alignment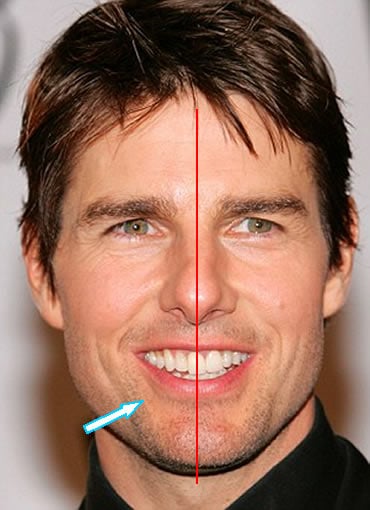 Tom's front teeth, however, still has its flaws despite undergoing a cosmetic dentistry procedure. If you look closely, the actor's mega-watt pearly grin — obviously the product of whitening and veneers — is not exactly symmetrical to his face. His middle tooth's alignment is slightly off to the center.
However, given how it looked when he was just a child, his smile makeover has been such a huge improvement.
Does Tom Have a Nose Job?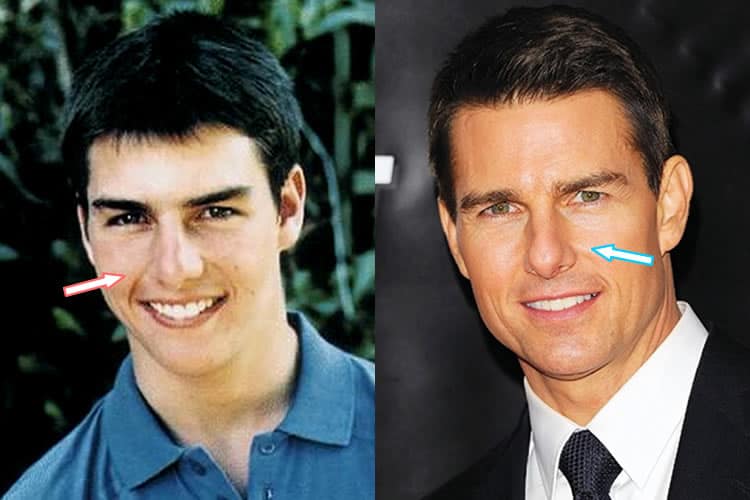 The actor has had more than one nose job, rumors say. Tom's nose used to have a wide nasal bridge with a large tip. Just look at his "before" photo. Now, however, his nose looks smaller and perfectly-shaped for his gorgeous face.
In 2016, Tom actually admitted he had rhinoplasty while talking to reporters at the BAFTA red carpet, but he didn't say when he first got it and how often since.
Did He Get Botox Injections?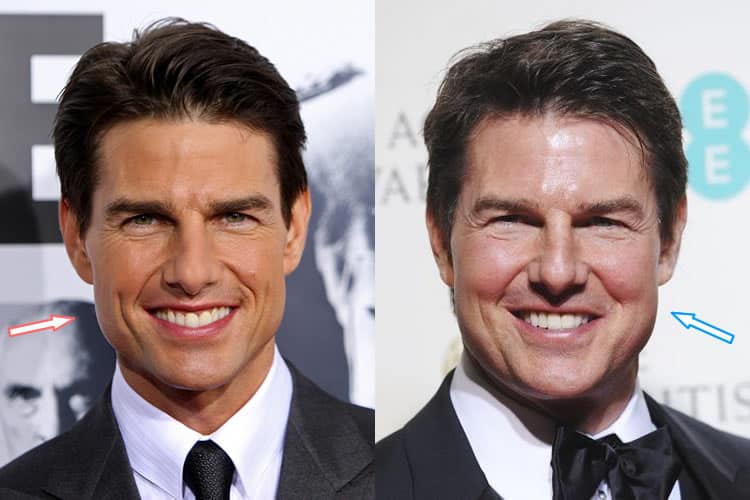 The Hollywood superstar also disclosed that he got botox on his forehead and fillers on his cheeks and chin. You've got to give him a big credit for being so open and admitting he's been getting cosmetic enhancements.
A friend and former co-star Cuba Gooding, Jr. revealed in one interview that he found Tom at his home one time in the middle of a session with his plastic surgeon. He simply isn't shy about getting a new face through plastic surgeries.
Fans, however, think that Tom may have gone overboard with the botox once. While promoting a film, the actor graced a premiere with swollen cheeks and puffy face, as seen in this "after" photo.
Has Tom Cruise Had a Face Lift?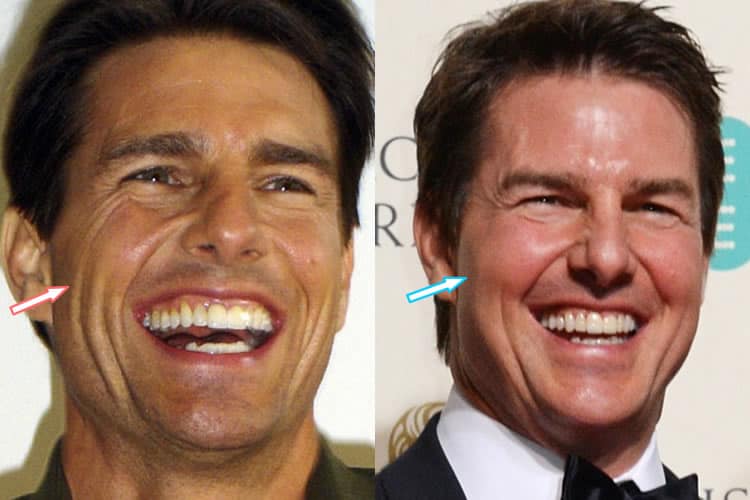 Despite his handsome face, Tom apparently isn't happy that he's aging and his wrinkles are starting to show, according to the grapevine. So, it's quite possible that he has gotten a facelift to fix what bothered him, as fillers and botox apparently won't do anymore.
While it's not clear what procedure was done to Tom's face, we assume he had it tightened to define his jawline. He might have also gotten face surgery to correct the droop of his brows — a definitive sign of old age.
What About Hair Transplant?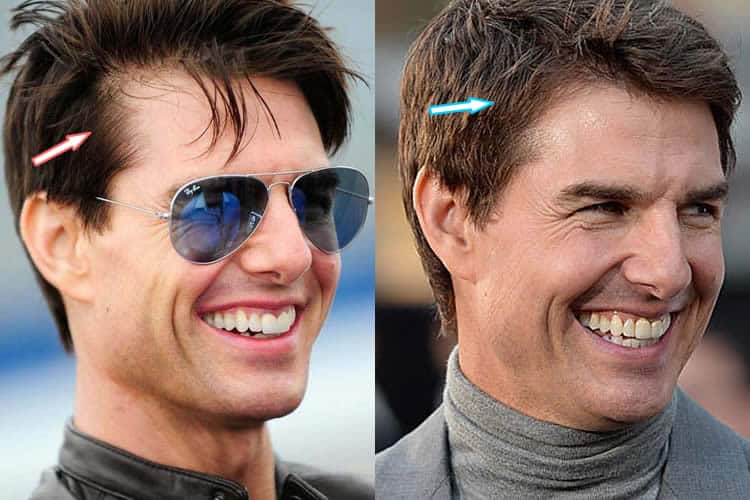 Why doesn't Tom have a receding hairline, you might wonder? As he's in his mid-50s, hair loss should be evident on his head by now. Is it his genes or is it the effects of a hair transplant? Sources told the National Enquirer in 2017 that Tom has been a fan of hair transplant for quite awhile.
While Tom has been open about the work done on his face, he's been mostly mum about this one and won't talk about the regrowth and transformation of his hair.
Tom's Transformation
Without a doubt, Tom Cruise's appearance has made him a dream man in many women's eyes. So let's see how his style, facial and body features have changed or evolved throughout the years.
Early Days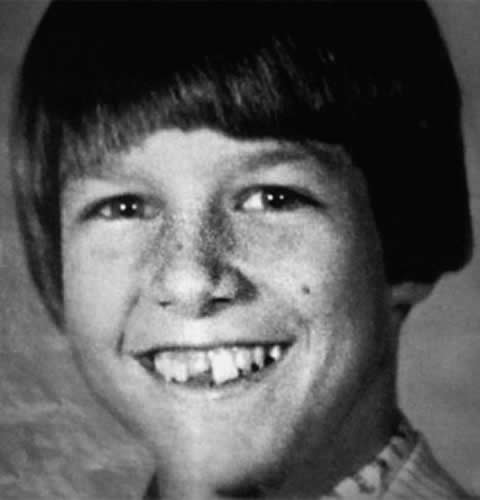 Here's a rare photo of Tom Cruise when he was young. He already had the confidence of a Hollywood star as a little man, as no one can smile this big with such a bad front tooth. It wasn't until he started acting that Tom made regular visits to the dentist.
Year 1981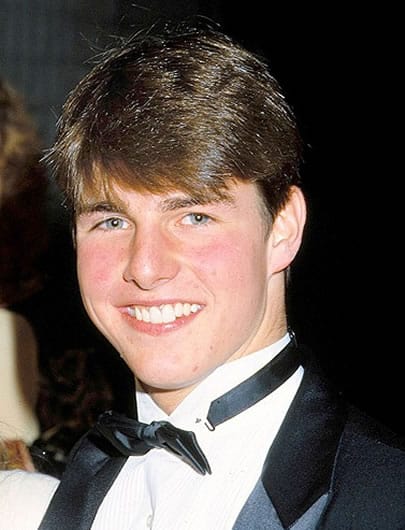 Thomas Cruise Mapother IV had an adorable pillow face that hid the definition of his jaw in his teenage years. Puberty was not kind to Tom because he also had flawed skin and had baby fat for quite awhile.
Year 1986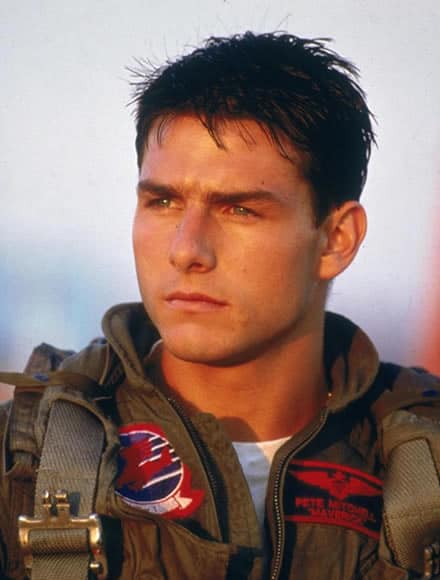 When "Top Gun" hit the screens, Tom's star power rose so fast. He became the poster boy for Hollywood idols in the '80s with his beautiful eyes and perfect face. This was also the same period that Cruise had a cameo in "Young Guns."
Year 1990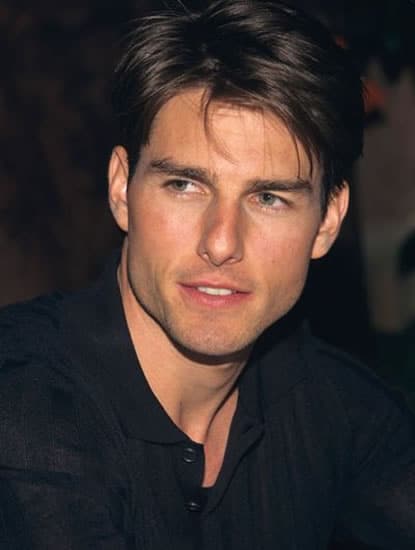 Nineteen-ninety's Tom was hailed one of the sexiest man alive. This was also probably the year he started considering a nose job and possible jaw implants, as there have been subtle transformations to his nose shape and jawbone.
Year 1994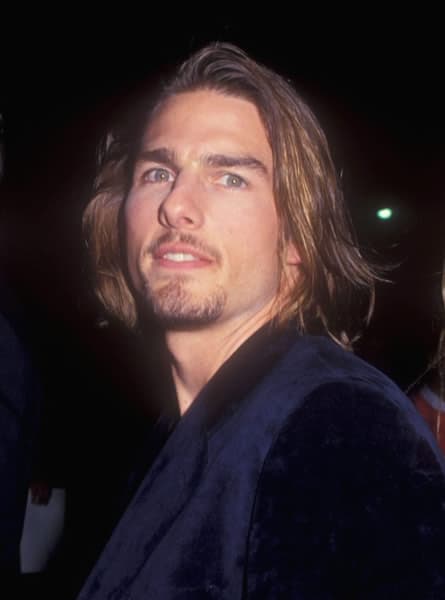 Tom grew long hair, a beard and a mustache for his role as the vampire Lestat in "Interview With the Vampire." Here he was spotted attending the movie premier located at the Mann Village Theatre in Westwood, California. Fans absolutely loved this new look.
Year 1996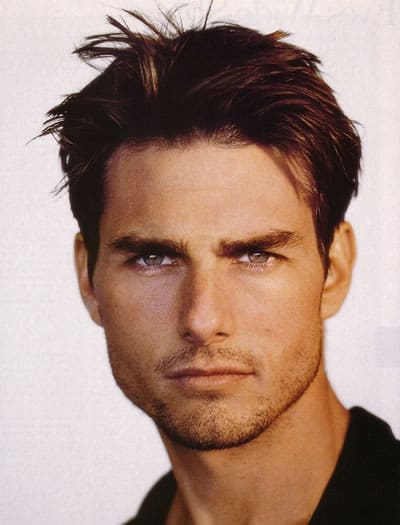 The was the start of the "Mission Impossible" franchise that sealed Tom's profile as a box office star. His smoldering eyes in this photo suggested that he's had eye surgery to lower his eyebrows and to intensify his image as an action star.
What do you think?
Year 2001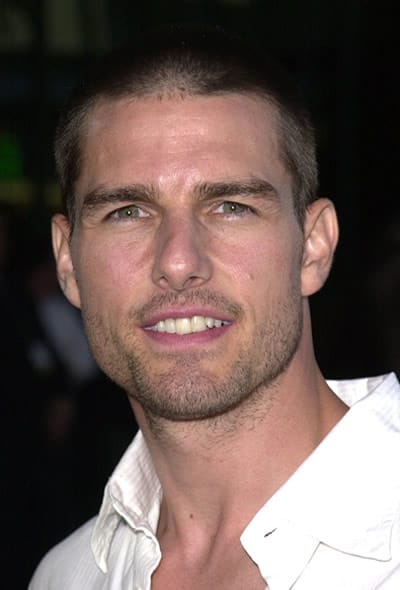 Tom sported a new hairstyle following his divorce from Oscar-winner Nicole Kidman. With a shaved head, the actor also opted to grow a beard and perhaps it's to hide the surgery done on his chin. We speculate he had chin implants as his face looks more proportionate and angular in this photo.
Year 2005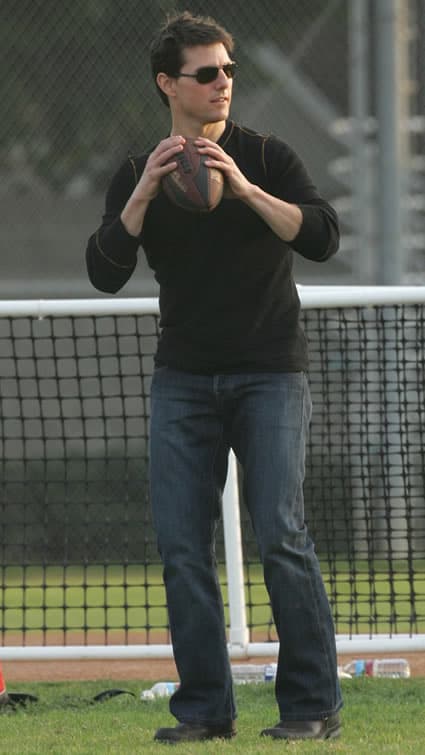 The Katie Holmes years saw Tom embracing diet and exercise in his lifestyle. He also needed to keep fit for his roles in action films, where he supposedly does his own stunts. To maintain an ideal body shape, however, Tom might have gotten liposuction for his flat abs.
Tom Cruise is not a tall man. The women he dates usually towers over his height but this has not shaken his confidence.
Year 2012
Tom sparked plastic surgery talk with this photo from the Vanity Fair Oscar Party because, at 50 years old, there were not many wrinkles on his face. The actor did share in interviews that he has a regimented skin care routine but he was also open about his skin's anti-aging secret, which includes botox and fillers.
Year 2016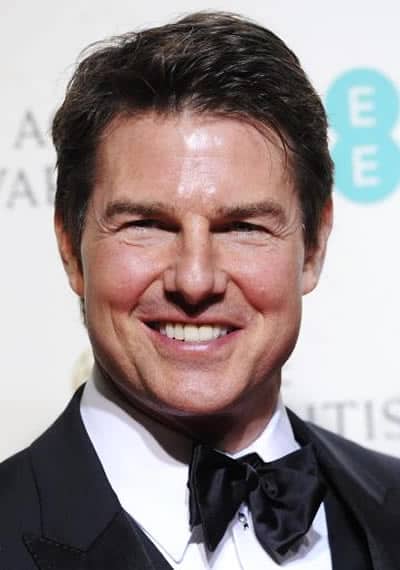 Tom probably overdid it with the face injections this time because of the puffiness on his cheeks. Twitterverse exploded with questions like, "What happened to Tom Cruise's face?" Doctors affirmed that he might have just gotten a fresh round of cosmetic surgery like botox when he hit the red carpet.
Year 2017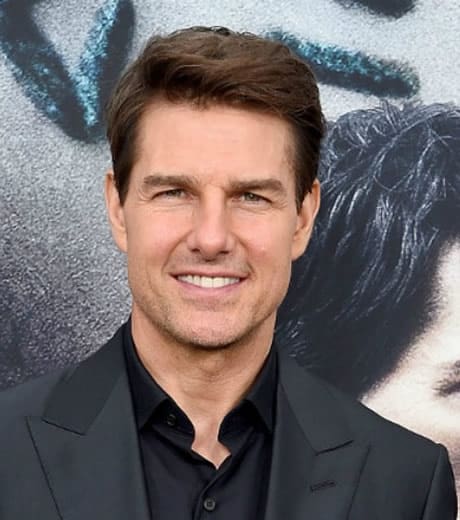 Finally, the fillers have worn off! Tom either lost some weight and or had a neck lift in this photo. At 55 years of age and with no white hair on sight, did Tom apply hair dye to make himself look younger?
Year 2018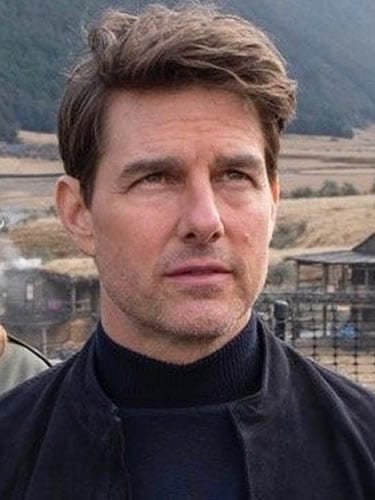 As Tom filmed his sixth "Mission Impossible" movie, the signs of aging are more evident. There are noticeable wrinkles on his forehead and crowfeet around his eyes, but there are no traces of a browlift. He's old but he still looks good!
Year 2019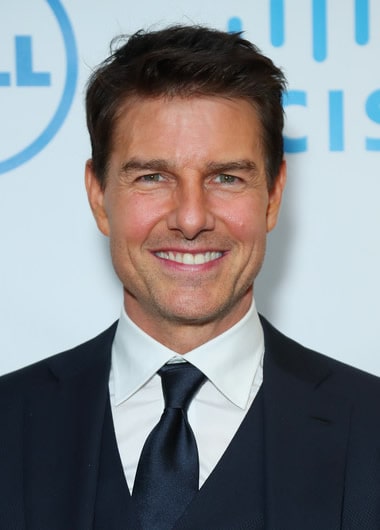 Has Tom found the secret to reverse his aging? Well, it certainly seems that way as the star attends the 10th Annual Lumiere Awards at Warner Bros Studios. I can even spot a pimple on his left cheek, which some claim is the sign of youth.
More Info About Tom Cruise:
Real Name: Thomas Cruise Mapother IV
Birthday: 3rd of July 1962
Star Sign: Cancer
Birth Place: Syracuse, New York, United States
Occupation: Actor, Film Producer, TV Director, Screenwriter
Net Worth: $550 Million
Nationality: American
Race / Ethnicity: German, Irish, English, Welsh
Relationship: Unknown
Children: Suri Cruise, Isabella Jane Cruise (Adopted), Connor Cruise (Adopted)
Height: 1.70 m (5 ft 7 in)
Weight: 67 kg (148 lbs)
Body Built: Athletic
Chest Size: 48 in (121 cm)
Arm Size (Bicep): 16 in (40 cm)
Waist Size: 30 in (76 cm)
Shoe Size: 9 (US)
Natural Hair Color: Dark Brown
Natural Eye Color: Green
Conclusion
As you probably know by now, plastic surgery has been part of Tom Cruise's life as a world-renowned actor. This was based on his own admissions and we can't blame him if he wants to maintain his handsome appeal (why would we?). We also know that he's a fan of botox injections and probably had procedures such as face lift as well.
Being one of the most familiar faces in Hollywood, Tom needs to keep an image and he can certainly afford to do this regularly with the help of a professional cosmetic surgeon.
He hasn't, however, admitted to a hair transplant but his before and after photos seems to be enough proof. The actor also hasn't been explicit about a nose job and we're not certain about his jaw surgery, despite the rumors.
We love, however, that Tom has been quite upfront about his teeth correction and he has to give his dental surgeon a bonus because the transformation has been nothing short of amazing!
What Do You Think?
Did Tom Have Beauty Enhancements?
(Featured Image Credit: Getty)