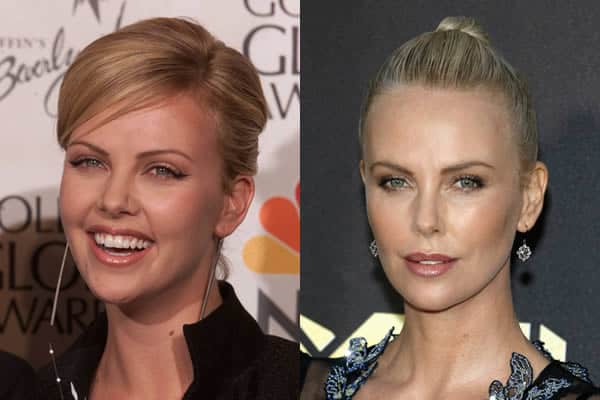 Those who've seen Charlize Theron's latest movie trailers, Tully and Gringo would most definitely have noticed how much different she looked compared to before. Perhaps some plastic surgery work has worn off or she's simply a natural woman who is starting to age gracefully.
Whatever the case may be…we're about to find out!
For over 2 decades, Charlize has starred in a number of Hollywood blockbuster hits such as Italian Job, Mad Max, Fast and Furious 8, Atomic Blonde and so on. While her success can be contributed to her incredible acting talent, but part of it has to do with just how beautiful she looks. She's just got this gorgeous face and body that naturally attracts fans!
As a successful celebrity, Charlize is no stranger to criticisms. Whether it is about her new hair, makeup or that dress she wore at that event, the list just goes on. What interests us the most though about this South African born actress is whether she's had any cosmetic procedures done.
Did she ever have a nose job, an eyelid surgery, a facelift? Were her eyes, her nose, and overall face shape always looked so perfect ever since she was young? In order to get the answers, we'll need to go through some of her before and after pictures to see if we can locate any evidence to support those claims.
Before & After Photos
Early Days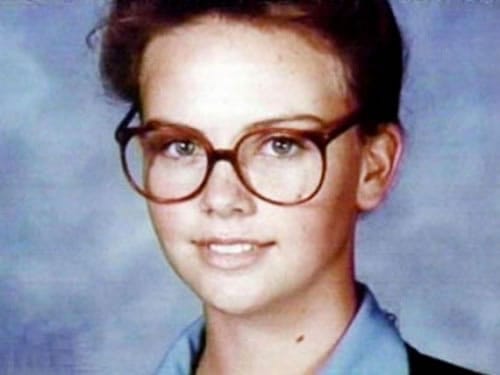 This was Charlize in her early high school years. Although she had glasses on, you can see that her facial features looked quite similar to how she was at her peak. She had a pointy chin, a high forehead, similar eye shape, but her nose does seem a little round and the tip looked wider compare to now.
Teenage Years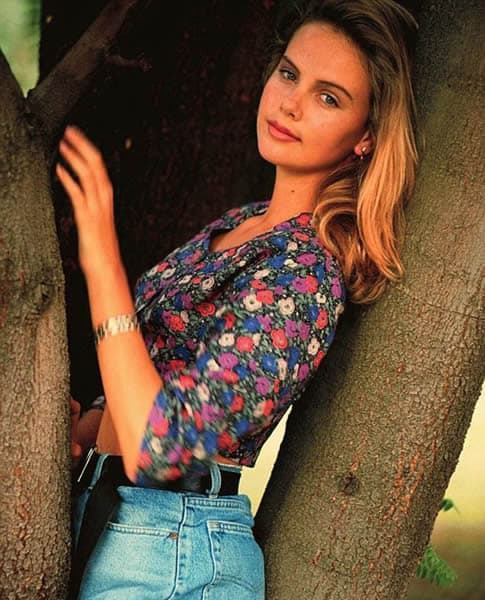 At 16 years old, Miss Theron began her model career and won a local modeling competition in Salerno. Here she is posing for a photograph in flower pattern shirt and blue jeans. Without the glasses, her nose seemed more narrow so it appeared she may not need a nose job after all.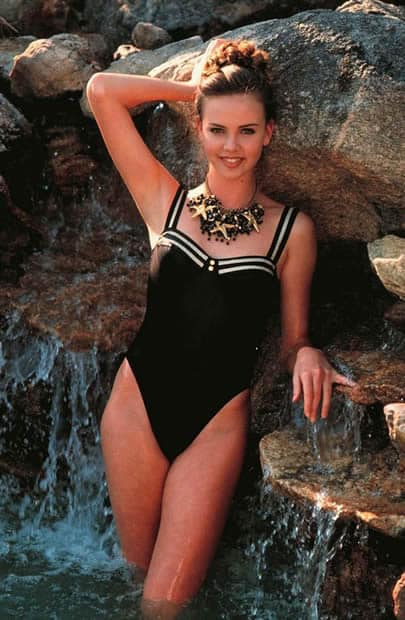 Here she is posing in black swimwear and star necklace for her model photographer. Even though this swimsuit isn't very revealing, but you can tell that she didn't have a very big chest.
Year 1993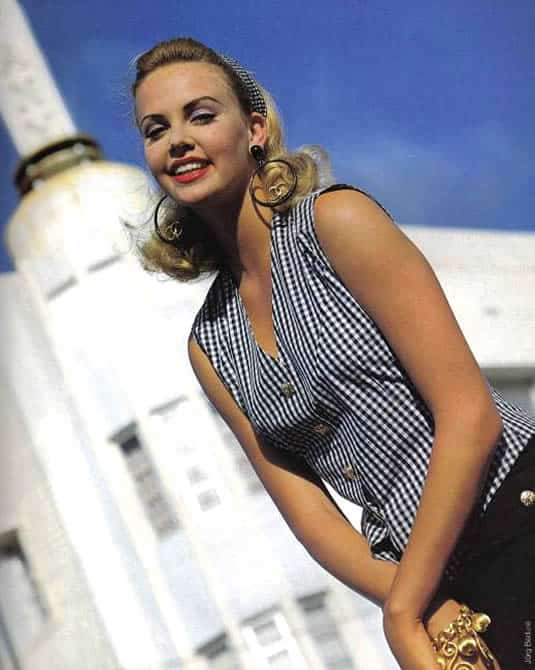 Credit: German Madame / Jörg Badura
Charlize moved to America when she was about 18 years old. Here she was modeling for the German Madame magazine dressing up as Marilyn Monroe (and she looks like her too!). You can clearly see why they chose her as their model and even though there are notable differences between Marilyn's and her bust size, perhaps this is the proof to show that she's never had breast augmentation since becoming an adult.
Year 1996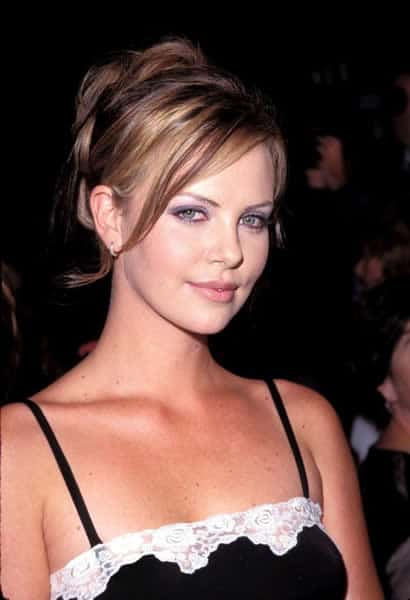 Photo Credit: Wire Image
While modeling, Charlize decided to pursue an acting career in Los Angeles. She landed a debut film starring in "2 Days In The Valley" and also an audition in "That Thing You Do" which she also succeeded. This is her at 21 years of age attending the film premier in LA. She's got a beautiful jawline and adorable round cheek bones.
Year 2000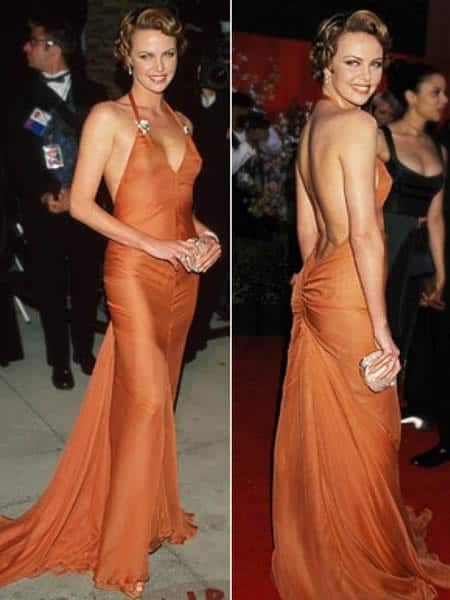 At the Vanity Fair Oscar party in West Hollywood, CA. She wowed everyone wearing this elegant orange dress while showing off her amazing curves. You can clearly see how beautiful Charlize's back is and she has a nice bottom to go with it too. The fact that she has long legs with such a slender and feminine body, we highly doubt that she'll want butt injections anywhere near her bum.
Year 2001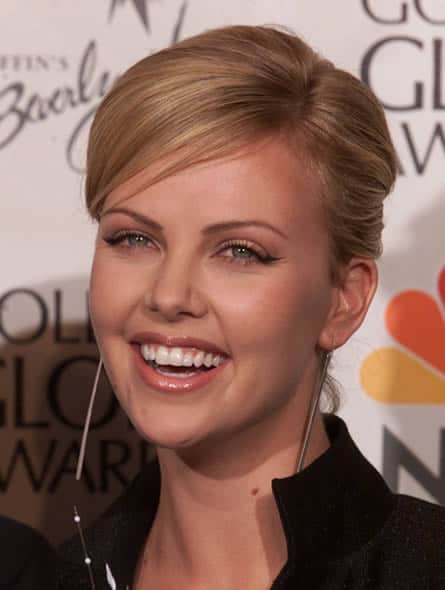 Credit: Getty Images
At the 58th Annual Golden Globe Awards in Beverly Hills. She has got to have one of the most beautiful cheeks out of all the actresses in the entire Hollywood. Just look how full they are, it's almost like she's had Botox to help them out.
Year 2003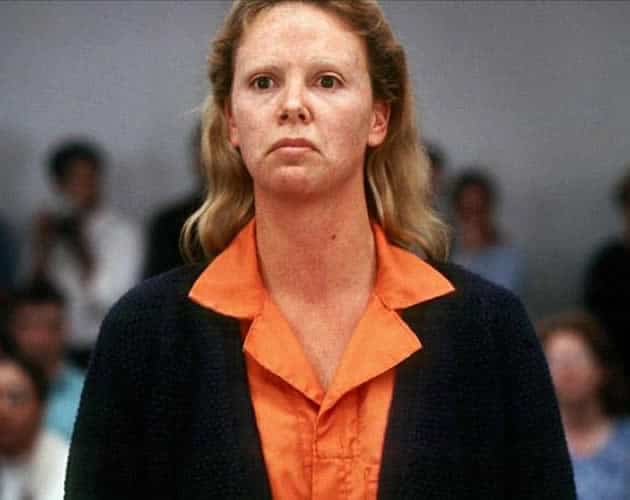 Ever want to see Charlize Theron with no makeup? Well here is your chance and you can watch all you like for the whole duration of the "Monster" film. It's shocking how different she looks without eyebrows, eyelashes, and eyeliners.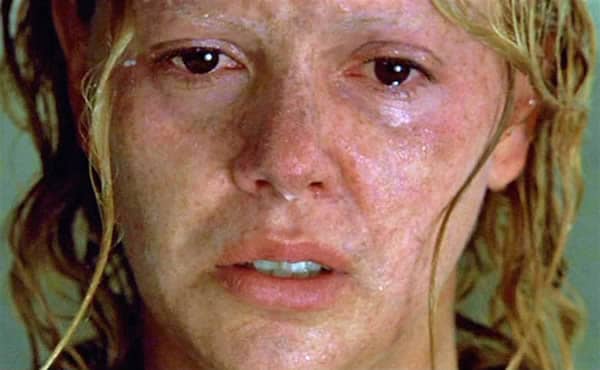 Here's a close-up shot of her without makeups and foundation to hide her natural skin. Apparently, she does have a lot of freckles on her face. We wonder if she'll consider laser freckle or pigmentation removal treatment?
Just kidding! Those were airbrush makeup effects. (Got ya!)
Year 2004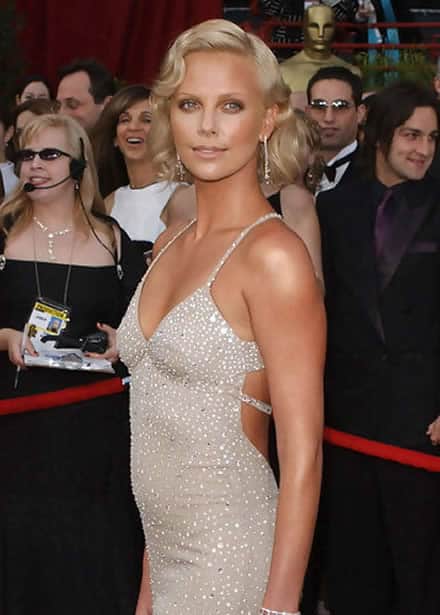 Photo Credit: Bauer Griffin
Here she is attending the 76th Annual Academy Awards at the Kodak Theatre in Highland, Hollywood. Charlize is wearing a glittering Gucci gown while accepting the Best Actress award for her serial killer role in the movie, Monster. It looks like she's got herself a bit of a tan here, although we're unsure if it was spray-tan or sun tan.
Also, if you have a look at her nose this year, her nasal bridge appears to be thinner and her nose tip towards the nostrils seemed narrower. We're not 100% certain if it was just the makeup effect, but if Charlize had indeed done through a rhinoplasty surgery, then it would definitely be somewhere in 2004.
Year 2005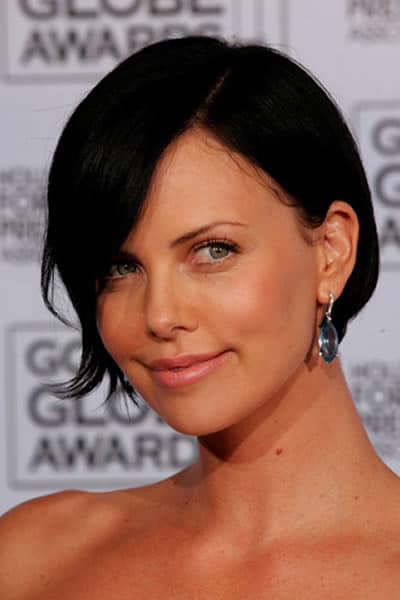 This blonde beauty changed her hair color to full black because of the movie, Aeon Flux. It kind of matches her pink lipstick and blue earrings. In saying that, her lips look pretty and full as usual so no need for fillers at this point.
Year 2007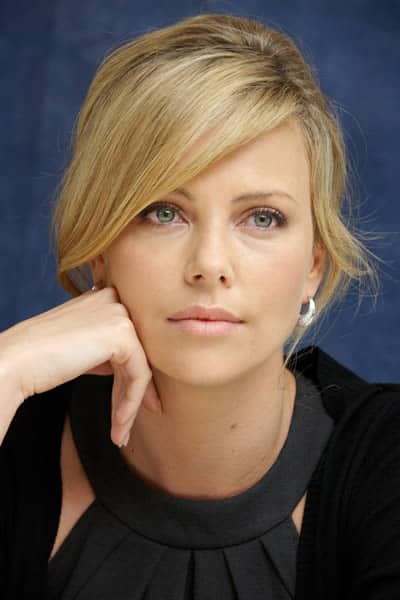 Source: Wire Image
Here she is at the 'In Valley of Elah' press conference at the Four Seasons Hotel in Beverly Hills. You can see that her eye bags are becoming more visible. At 32 years old, a good eye cream should be enough to treat it, so blepharoplasty may not be what she needs at this age.
Year 2009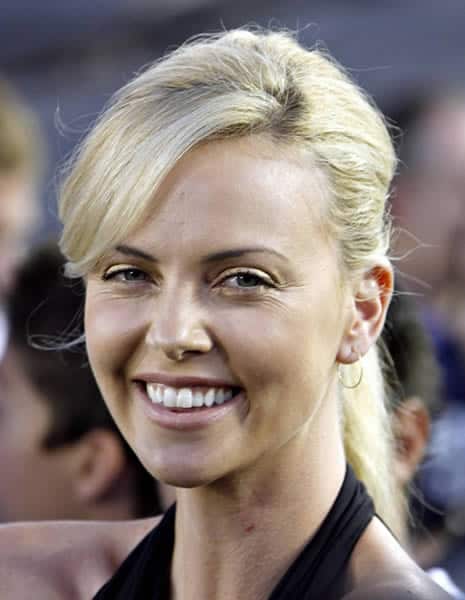 She was seen watching the 2009 World Football Challenge match between Chelsea FC and Inter Milan at the Rose Bowl. With minimal powder, you can easily see all the fine lines and wrinkles appearing under and around her eyes. Youth is definitely slipping away from her as the years passed by.
Year 2011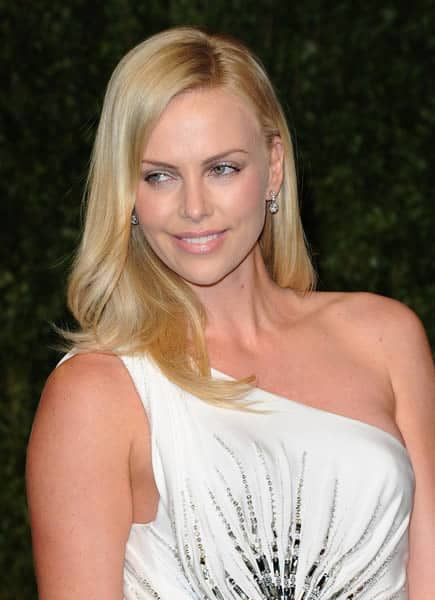 At age 36, Charlize Theron walked onto the red carpet at the Vanity Fair Oscar party looking like a hot babe. Although we can see from her arms and shoulders that there might be some weight gain happening here, overall there's not much to be concerned about.
Year 2013
Here she is spotted enjoying the sun at the Miami Beach wearing a rainbow strip bikini. Although you wouldn't exactly call her body "firm", but one thing we know for sure is that she's definitely not had a boob job. If she did, then that would just be…sad and you've got to wonder who her plastic surgeon is.
Year 2015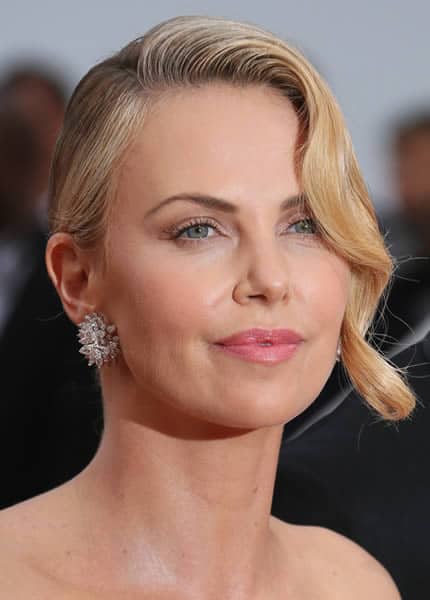 Photo Credit: Tony Barson / Getty
Charlize is at the 2015 Cannes Film Festival for the hit premier of "Mad Max". Not sure about you, but there seemed to be some puffiness to her face which isn't too natural. She is 40 years old after all so could this be the first sign of her using Botox injection? Or is she simply getting fat which is altering her face shape?
But then…what about her neck?
Year 2016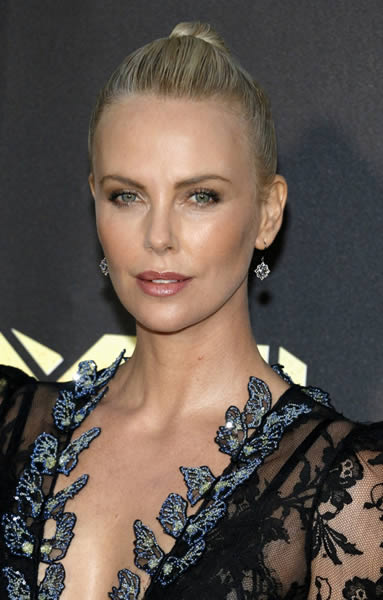 Here she attends the 2016 MTV Movie Awards at Warner Bros in Burbank, California. The US actress is seen wearing a sheer black dress with lace patterns followed with an updo hairstyle.
Something is definitely not right about her eyebrow here. Did she have a face lift or a browlift that is narrowing the gap between her eyebrows? Or is her face simply changing because she is getting older? Help us out here!
Year 2017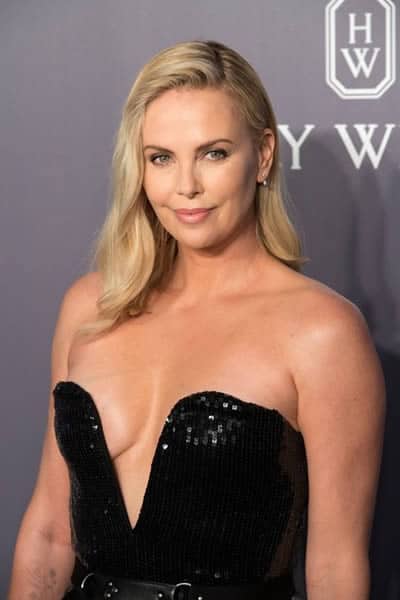 Image Credit: AFP
Charlize heads to Hong Kong for the 2017 American Foundation for AIDS Research (amfAR). She definitely has put on some weight here and doesn't mind revealing her cleavage in this black evening dress. With the way how her boobs sag downwards, this is another fact that tells us her breasts are real.
By the way, is that a tattoo on her forearm?
More information about Charlize Theron:
Real Name: Charlize Theron
Birthday: 7th of August 1975
Star Sign: Leo
Birth Place: Benoni, Gauteng, South Africa
Occupation: Actress, Voice Actor, TV / Film Producer, Model, Spokesperson
Net Worth: $110 Million
Nationality: South African, American
Race / Ethnicity: Dutch, French, German
Relationship: Single
Children (Adopted): Jackson Theron, August Theron
Height: 1.77 m (5 ft 7 in)
Weight: 55 kg (121 lbs)
Body Measurement: 36-24-36 inches
Bra Size: 34B
Dress Size: 2 (US)
Shoe Size: 9.5 (US)
Natural Hair Color: Light Brow / Chestnut
Natural Eye Color: Green
What does Charlize have to say about plastic surgery?
Back in 2012, ths South African beauty told Interview Magazine about the challenges she's facing when it comes to her physical appearance.
I look in the mirror and my face is changing, and I have a different relationship all of sudden with myself. Your face changes, things change – that's just kind of what happens.
At the time, she was only taking things one day at a time.
I can't foresee myself ever going under the knife, but then again, I'm only in my mid-thirties. Maybe it's different when you're in your mid-sixties.
Although she wasn't interested in cosmetic surgeries at the time, she hasn't outright rejected it either…
I don't know…..so I don't want to make statements about where I'm gonna be in 30 years. But as of right now, I have a different relationship with the way I look.
Conclusion
After going through all of her photos on a year to year basis, we found some subtle evidence to suggest that Charlize Theron may have had some cosmetic procedures done. Most notably on her nose, face cheek, forehead, but especially the area between her eyebrows towards 2016.
According to Star Magazine print edition, Dr. Norman Rowe reckons that the American actress has had a lot of Botox because he couldn't see any wrinkles on her forehead and that her skin looked dried when up close.
Whether these statements are true or not, it still wouldn't change the fact that Charlize is a professional actress with superb talent and a beautiful heart. Just look at the children she's adopted. But if the rumors are true, then we just hope that she wouldn't go overboard and turn herself into another plasticky face,
What do you think?