Meghan Markle, also known as the Duchess of Sussex and the wife of the Duke of Sussex Prince Harry, grew up in a biracial family. With a Caucasian father and an African American mother, Meghan knew early on that she looks different from most of her peers, even without plastic surgery.
The former actress, who might have gotten a nose job or a boob job to help her career, starred for seven seasons in USA Network's "Suits." She attended an all-girls Catholic institution in Los Angeles until high school and revealed in an essay she wrote for Elle in 2015 that her curly hair, big round eyes, freckled face, and light skin made her stand out among her schoolmates.
Her appearance, also triggered an identity crisis when she was in seventh grade as she did not want to classify herself as solely a Caucasian or solely an African-American in a school census. Finding no box for mixed or biracial, she said she left a blank space on the form and admitted that this opened a lot of questions about who she really is.
When her relationship with Prince Harry made headlines in 2016, Meghan became one of the most searchable celebrities on the internet. Apart from her royal love affair with then Britain's most eligible royal bachelor, people got curious about the TV star's unique looks.
Some people said she's gotten a nose job. Others believe that her boob size is the result of a breast augmentation procedure. Then, there were also theories about her legs.
Speculations about Meghan's appearance are literally endless.
Before & After Photos
To be clear, the former actress never mentioned ever getting any cosmetic enhancements in interviews. A photo of the younger Meghan Markle, however, revealed that she had a less refined appearance compared to her sophisticated royal beauty today.
So, let's examine Meghan's photos carefully before and after she became famous to determine if she has ever had any types of cosmetic surgery.
Has Meghan Markle Had A Nose Job?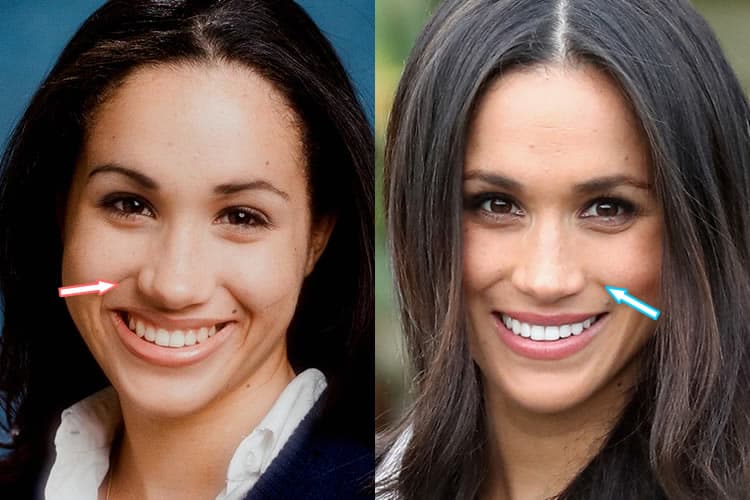 Experts assumed that if Meghan had work done on her nose then the procedure, also known as rhinoplasty, was quite understated and could go unnoticed to the untrained eye. Comparing Meghan's nose in these two photos — one that was taken in high school and the other taken when she announced her engagement to Prince Harry in 2017 —  showed a slight difference.
Her nose tip appears more turned up in the most recent photo. Her nasal bridge also appears narrower compared to her younger self, although we're not discounting the fact that it could be the result of good makeup techniques.
Incidentally, following her attachment to the royal family, Meghan's nose became the most demanded rhinoplasty request among plastic surgeons. A number of women apparently love that, but while her nose structure is refined it also has its imperfections.
Does Meghan Have Breast Implants?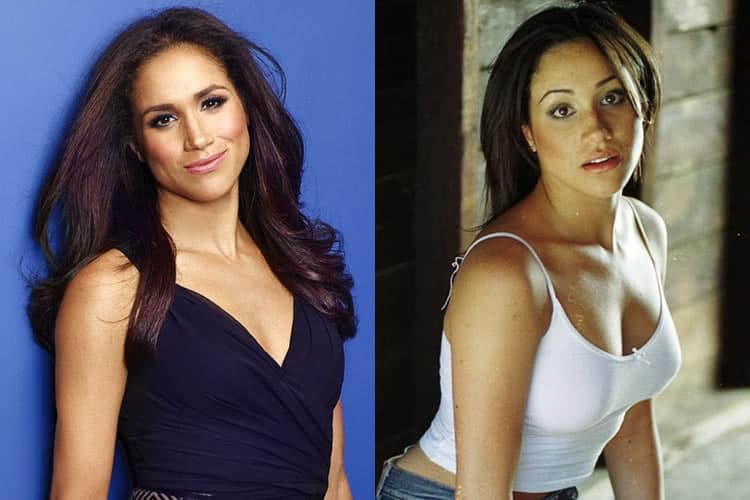 Meghan's career path in Hollywood began with a gig as a Briefcase Babe in the TV game show "Deal or No Deal." Part of her contract required her to wear revealing clothes that accentuated Meghan's boobs and she also had to wear push-up bras to give the illusion of a bigger breast size.
Rumors are that Meghan decided to get fake breasts to boost her chances in Hollywood. The choice might have been well-worth it as shortly after "Deal or No Deal," she landed a job on a long-running television series for the USA Network as one of its main cast.
Did she Get Liposuction On Her Legs?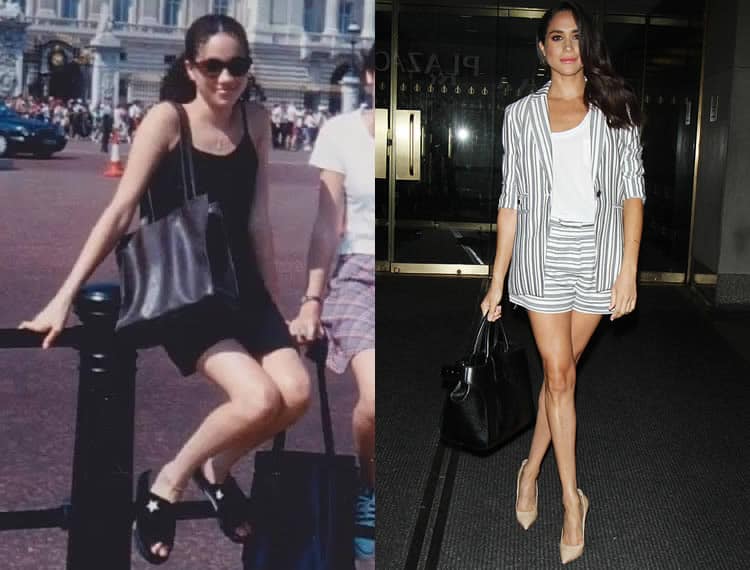 Fans and royal watchers have remarked about Meghan's legs as she's slowly becoming one of the most frequently-photographed women in the world. Thin and long for her tiny frame, speculations have cropped up about the royal actually getting leg liposuction to get rid of the cellulites.
As a teenager, Meghan's legs, though naturally long, appeared fuller and thicker. Here she is in a photo sitting at the gates of Buckingham Palace more than three decades ago when she had no clue she would one day become related by marriage to its resident, the Queen of England.
What About Meghan's Teeth?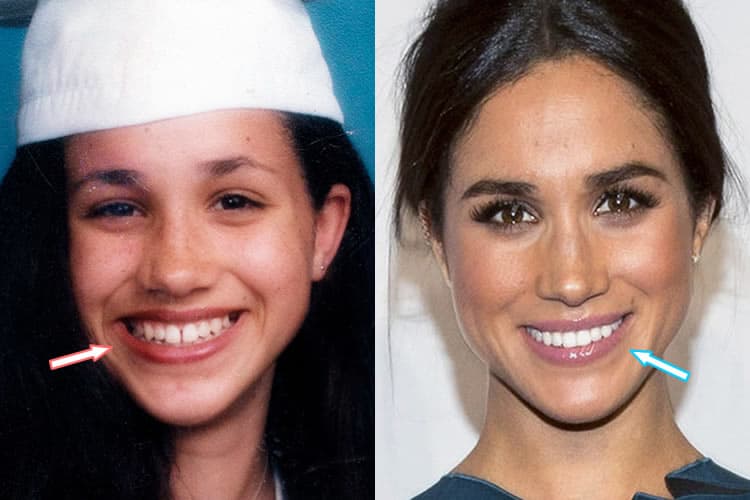 Part of Meghan's appeal is her beautiful smile and she always seems to be ready to show her perfect set of pearly whites for the cameras. But Meghan as a student had gaps in her teeth. Once she became an actress, however, the gaps disappeared, which suggested she got it fixed with braces or dental veneers.
One dentist remarked that Meghan's smile — the Markle sparkle, if you will — is refreshing to look at because her teeth appear naturally white despite potentially undergoing teeth whitening procedures. Like her nose, women have been desiring to get their teeth fixed because of the Meghan Markle effect. In fact, a London-based dentist used the Duchess' image for a billboard to advertise his services.
Meghan's Beauty Transformation
As the most popular woman in 2018, it's only natural that we want to see how Meghan's looks and styles have evolved through the years. There could be other plastic surgeries that we may have missed, too.
Early Childhood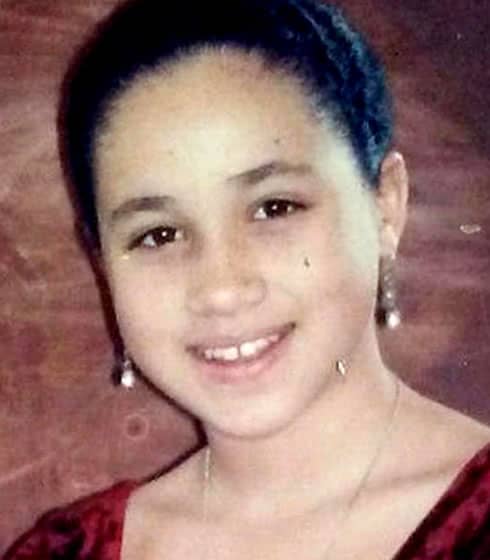 Source: Pinterest
The Duchess of Sussex had an awkward phase like everyone else when she was young around 12 years old. She had a teeth gaps and a thicker nose, as evidenced in this photo.
Teenager Days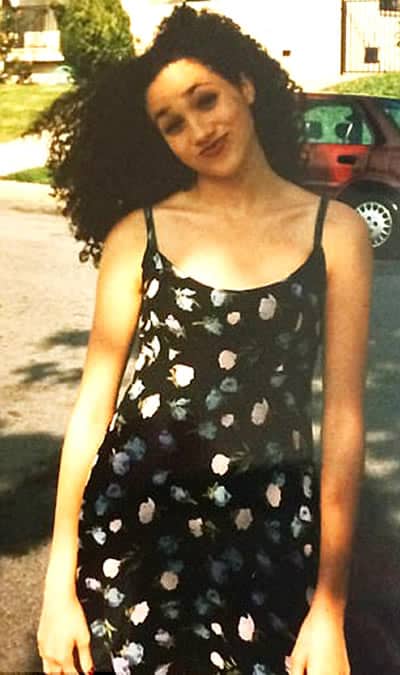 Source: Facebook
As a teenager, Meghan kept her natural curly hair long and untied. As she slowly blossomed into a young woman with a slender body and long arms, Meghan perhaps gave credit to her mother, Doria, for her thin frame. Doria used to be a yoga instructor and would always do routines with her daughter.
Year 2003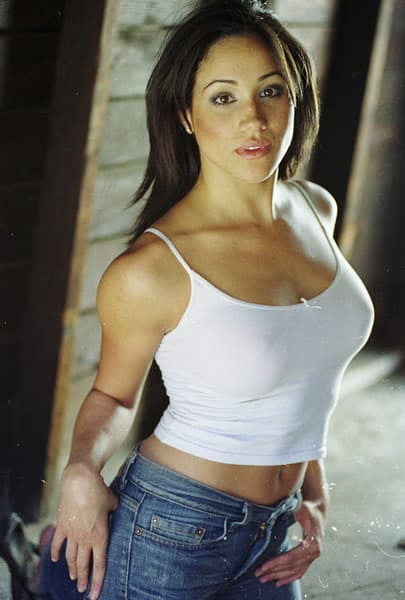 Source: Reddit
After graduating in college at Chicago's Northwestern University, Meghan landed modeling jobs and had a short stint in the daytime drama "General Hospital." In this photo, Meghan has completely embraced straight hair over her curly lock and her busty frame isn't hard to notice at all.
Charting a career in Hollywood meant that she needed to change her appearance. This may have prompted her to get cosmetic surgeries such as a nose job or breast implants to increase the size of her boobs.
Year 2006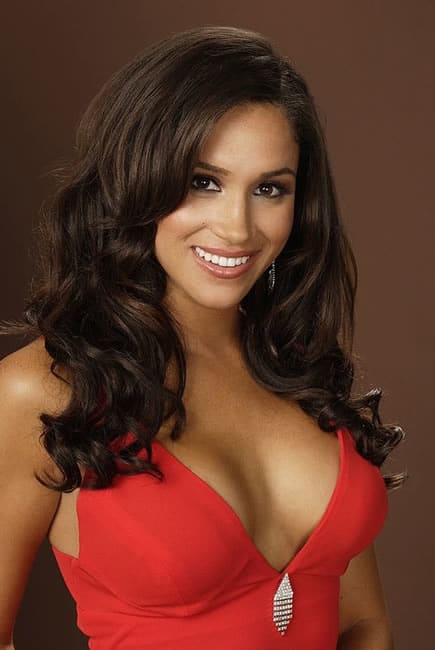 Source: Pinterest
Meghan made her cleavage and bust size work for her as she became a Briefcase Girl on "Deal or No Deal." Of course, it helped that she already had a gorgeous body shape to go with that lovely face. She might have also had treatments at a tanning salon so she can look like the quintessential California girl.
Year 2009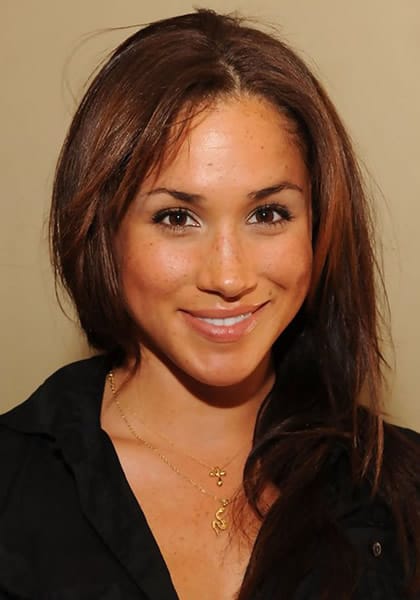 Photo Credit: Getty
Meghan appeared at a red carpet event with almost no makeup on and she still looked phenomenal.
Freckles are this actress' trademark, which she doesn't make any attempts to hide at all. Her eyelids also open up her eyes so well that it makes her face even more appealing and approachable.
Year 2011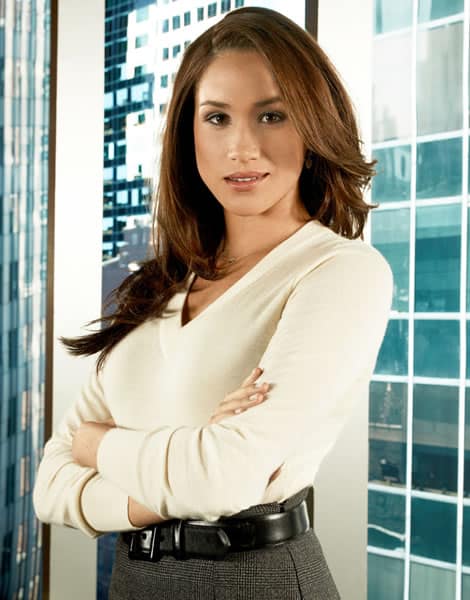 Source: Twitter
As Rachel Zane on "Suits," Meghan exuded confidence and smartness as the paralegal working alongside powerful TV lawyers. Noticeably, her eye makeup was skillfully applied to make her character look more like the kind of girl you have to take seriously. Her makeup also emphasized her strong jawline and chin, as Rachel Zane was a feminist on the show.
Year 2013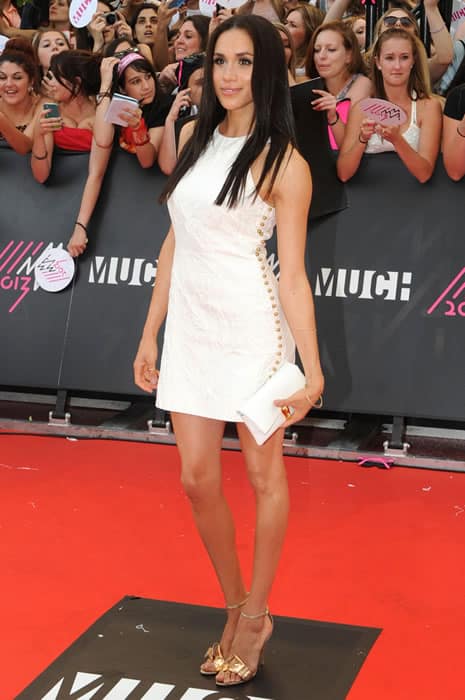 Credit: Getty Images
The former TV star turned heads at a music awards red carpet event in Canada with a wardrobe that accentuated her hot legs, feet, and skinny frame.
Meghan maintains her figure by sticking to a vegan diet during the weekdays and she still does yoga for exercise. She confessed in an interview, however, that her weekend diet plan involves a few food indulgences. The royal also said that she keeps a healthy lifestyle not to lose weight nor look good but because taking care of one's body is of basic importance.
Year 2016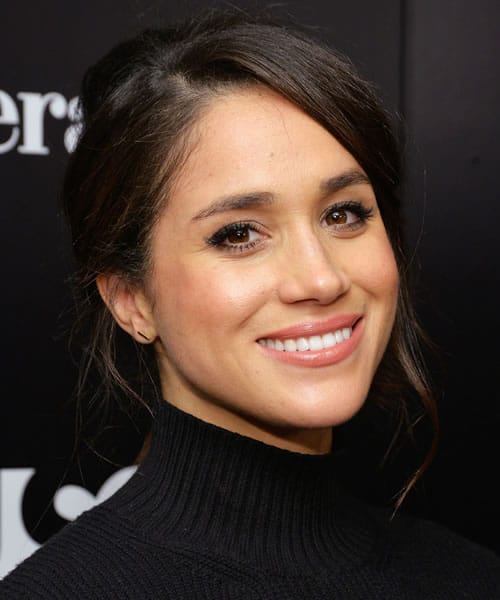 Image Credit: Getty
By this time, Meghan started dating her dashing prince though they've kept their relationship hidden from the press for at least six months.
In this photo, the actress and future royal appeared to have had lip injections to intensify her lips. A face with no wrinkles in her mid-30s also suggested that she might have had botox. There are hardly any lines around her eyes.
Year 2017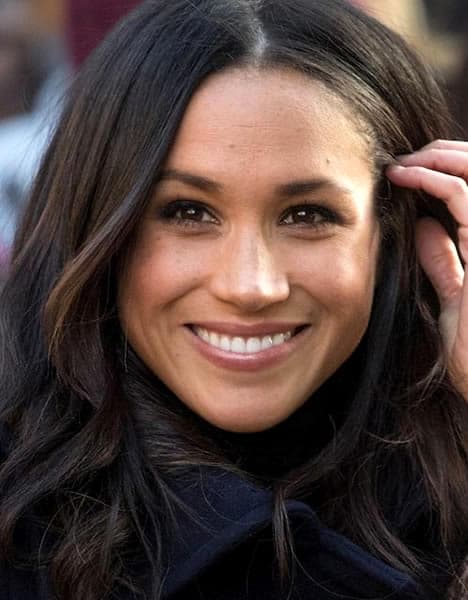 Picture Credit: Getty Images
Meghan was a picture of happiness during her engagement announcement and the laugh lines were a dead give-away. Facing the press that day with Prince Harry, Meghan wore eyeliners that accentuated her friendly soul. Her face cheeks and nose shape were also properly contoured with professionally-done makeup.
Having beautiful cheekbones and a gorgeous chin obviously helped a lot so one has to wonder whether the newly wed had any implants in those departments.
Year 2018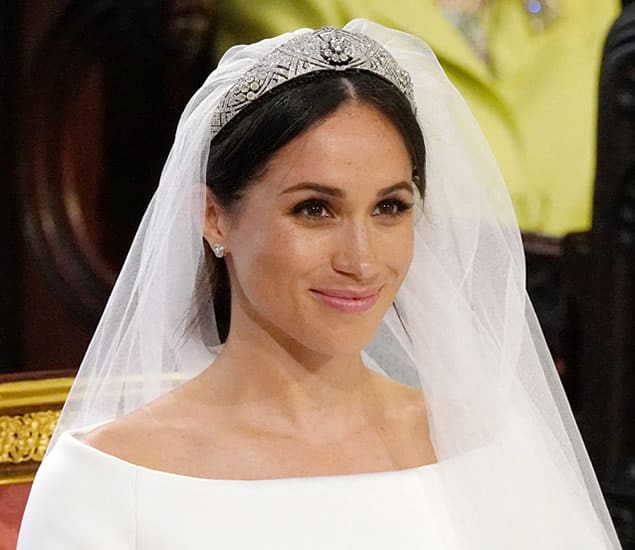 Photo Credit: Jonathan Brady / PA Wire
Meghan's big royal wedding was mostly simple and elegant, as she graced the entire St George's Chapel in Windsor Castle. Wearing a Silk Cady Royal Wedding dress designed by British designer, Clare Waight Keller, she wore natural makeup that highlighted her face's perfections and imperfections.
The former actress' pale complexion, which is the complete contrast to her skin color during her days as a Briefcase Girl, might be the result of skin bleaching.
More Information About Meghan Markle:
Real Name: Rachel Meghan Markle
Birthday: 4th of August 1981
Star Sign: Leo
Birth Place: Los Angeles, California, United States
Nationality: American
Race / Ethnicity: African-American, Dutch-Irish
Occupation: Former Actress & Promotional Model
Net Worth: $7 Million
Relationship: Married to Prince Harry
Children: None
Height: 1.71 m (5 ft 7 in)
Weight: 56 kg (123 lb)
Body Measurement: 34-25-34 Inches
Bra Size: 34C
Dress Size: 4 (US)
Shoe Size: 8 (US)
Natural Hair Color: Dark Brown
Natural Eye Color: Dark Brown
Conclusion
The Duchess of Sussex hasn't made any drastic changes to her looks but that's not to say she didn't have any cosmetic procedure done at all. Our best gauge is that Meghan might've had a subtle nose job and minimal breast augmentation as a career decision.
Meghan also seemingly had a cosmetic correction on her teeth and work done to her legs, albeit conservatively. She didn't seem to have gone overboard with any plastic surgery procedures, unlike other Hollywood aspirants. Of course, if these claims are true, then she has her surgeon to thank for with such beautiful work.
The former actress, who now carries a royal title, still embraced her biracial roots, especially in her thoughts, advocacy, and action. Given the spectacular moments the royal couple shared with the rest of the world, we're certain that Prince Harry will continue to show Meghan the love that she deserves.
What Do You Think About Meghan's Beauty?
Which Part Of Her Features Do You Like?
(Featured Image Credit: Getty)