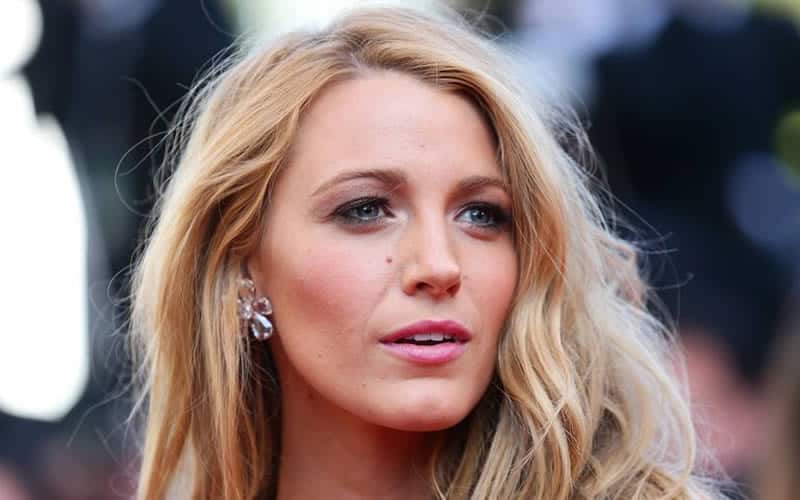 From a pretty Gossip Girl to a hot female surfer who's had her moments with a killer shark, Blake Lively isn't your typical girly kind of actress. But this hasn't stopped people from speculating her of getting plastic surgery.
Born and raised in LA, California, Blake has had her fair share of rumors surrounding her attractiveness. From nose job, boob job, eye surgery to lip injections, the speculations have never ended on both her face and body.
Despite calling herself a foodie and a cook, she has managed to keep and maintained her gorgeous figure throughout the years. This includes after giving birth to 2 children with her Green Lantern hubby, Ryan Reynolds.
So one has to wonder how she's managed to stay so youthful throughout these years and whether or not she's actually had help from a cosmetic surgeon?
Well, let's find out!
Before & After Photos
One of the best ways to determine whether Blake Lively has had cosmetic enhancements is by checking photos before and after she became famous. Here's what we've found.
See below for our "exclusive" picture comparison:
Did Blake Lively get a nose job?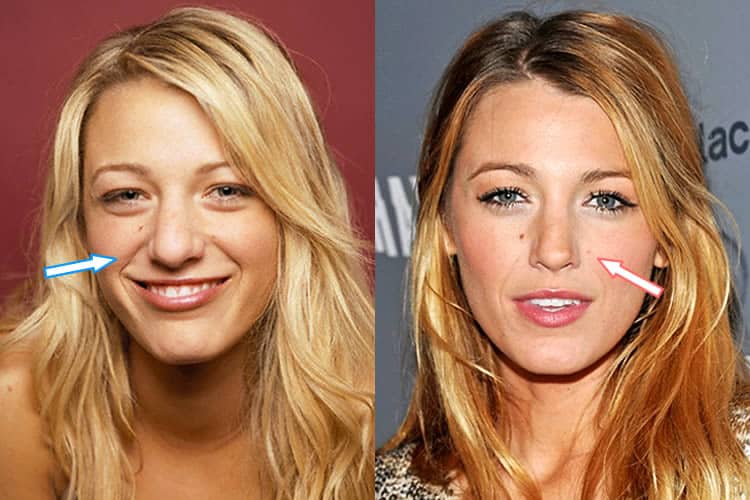 Blake's nose has been the center of attention for a number of years and you can probably see why. From the BEFORE picture on the left, her nose was much larger than it is today. This includes her nasal bridge, the nose tip and both sides of her ala. Now compare that to the AFTER pic, you can clearly see the difference.
This tells us that some contouring work may have been done, so it's quite possible that Blake has had a rhinoplasty procedure to thin her nose shape. In other words, we think it's very likely that she's had a nose job.
Does Blake have breast implants?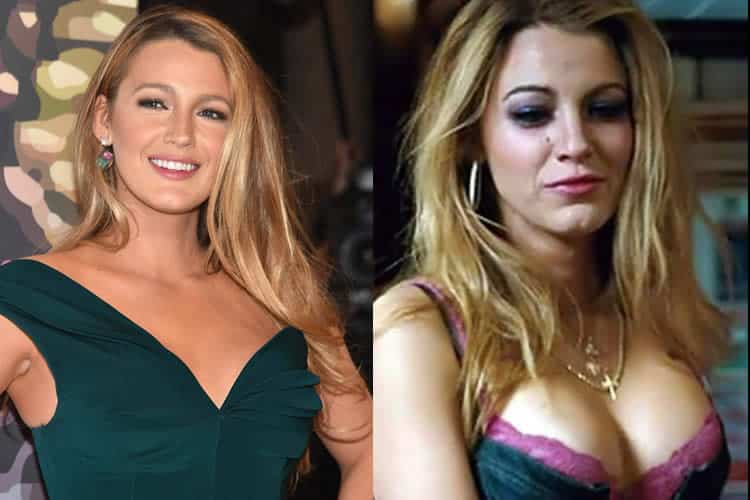 Those who have followed Blake's career would know that she's always had a decent boob size. Although her breasts appear to be larger at times, but after analyzing a number of her photos, we feel that it has a lot to do with the way she's dressed. So it's not unusual for people to think that she's had a boob job.
Furthermore, we noticed her cup size actually increased during her pregnancy so this indicates that Blake's boobs are real and not fake. And if you pay attention to her cleavage, you'll see that those are not breast implants in there.
Has she had braces & dental veneers?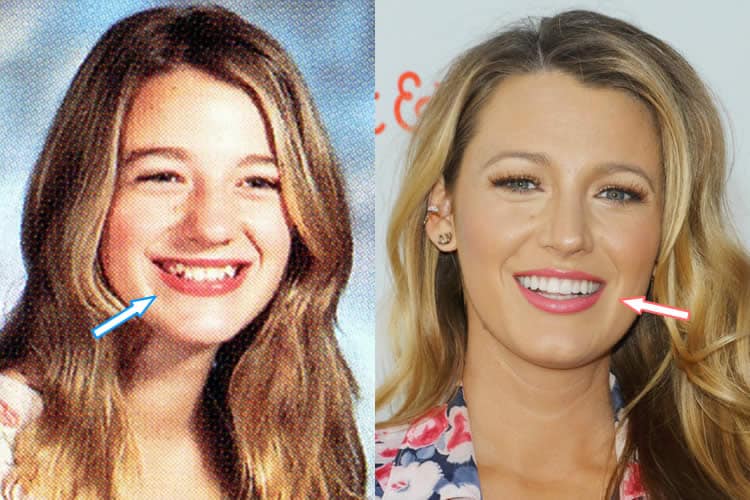 The photo on the top left was taken during her high school years and you can see that her teeth needed a lot of dental work done back then. Based on this, we think Blake has had braces during her early teens and possibly have gotten veneers before her acting career took off.
What about her eyes?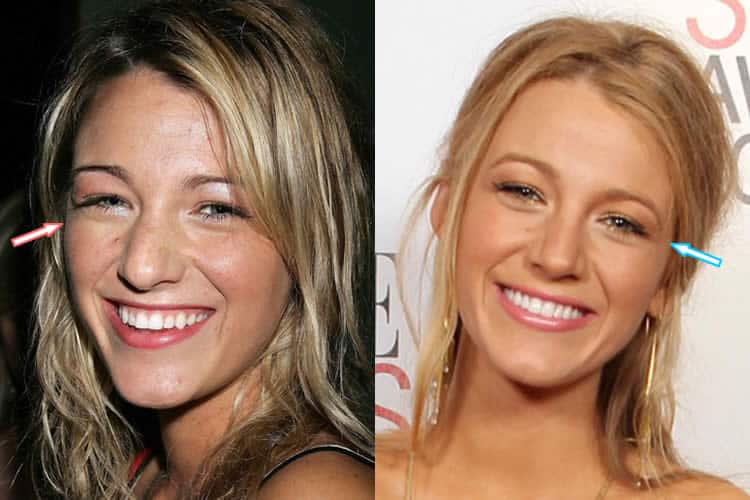 Blake Lively has what most people would call 'hooded eyes'. This has a lot to do with her eye shape and her double eyelids. After comparing pictures of her younger years, we haven't found any evidence suggesting that the Shallow star has had any work done to her eyes, including eyelid surgery.
Blake's Beauty Transformation
Now let's take a look at how Blake has transformed over the years. We'll take a closer look at her facial features including her hair and makeup, as well as her body shape and how it's been evolved.
Early Days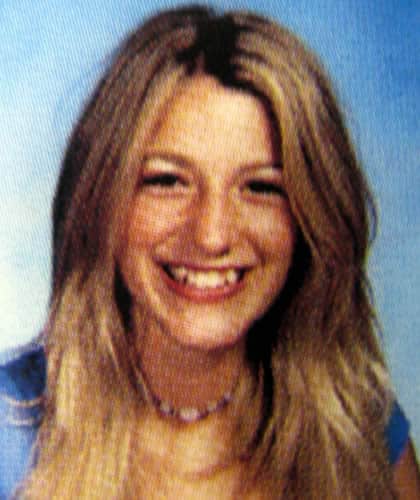 Source: Pinterest
Here's a rare picture of Blake in her early school years. Even though the quality isn't very clear, but you can tell that she used to have some crooked teeth. So whoever was her dentist back then has done an excellent job in fixing them.
Year 2005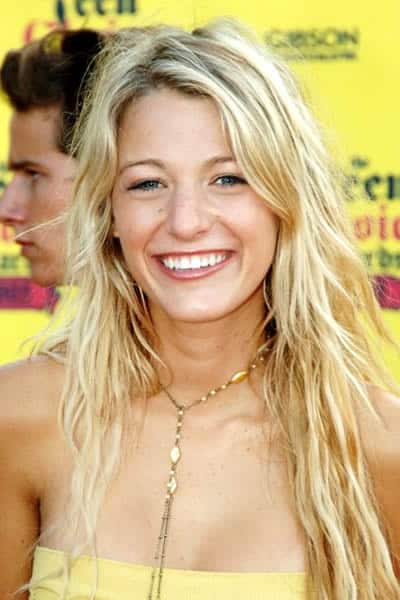 Source: Twitter
This was the year Blake experienced a breakthrough in her acting career after starring in the film adaptation of the novel "The Sisterhood of the Travelling Pants". Here she looks so fresh and young with beautiful golden blonde hair along with sweet thin lips giving us that sunny beach look.
Year 2007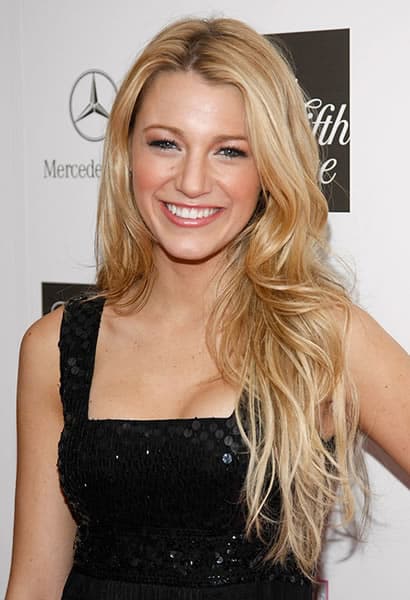 Credit: Getty Images
At 20 years old, Lively was cast in the TV hit drama, Gossip Girl, which had earned her incredible fame for many years to come. Looks like she still hasn't done anything to her old nose here so this would have been taken before she visited a nose doctor if the rumor is true.
Year 2008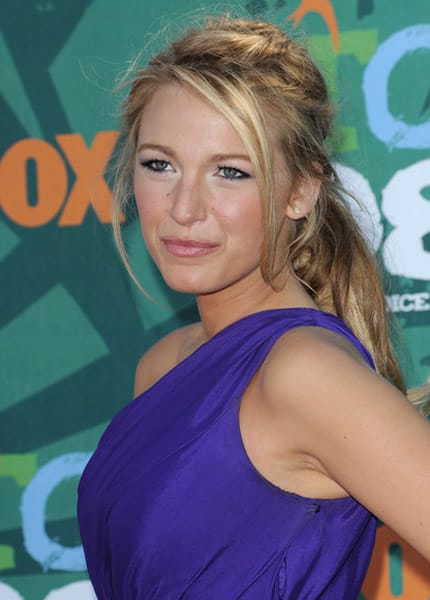 Photo Credit: Bauer Griffin
Blake attends the 2008 Teen Choice Awards at the Gibson Amphitheatre in Universal City, CA. This was the year people started noticing changes to the shape of her nose. Her nasal bone definitely looks thinner compared to last year's photo. So if she really had gotten a nose surgery, then the operation would have been somewhere between 2007-2008.
Year 2012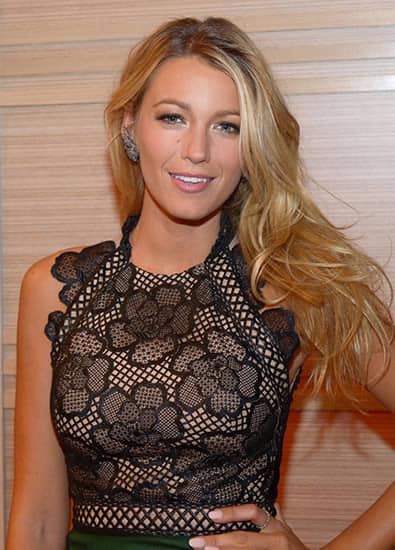 Credit: Getty Images
After dating Ryan for 2 years, they finally tied the knot and got married in 2012. Blake's face shape has remained the same throughout her youth till now, so there have been no signs of any facial contouring procedures done thus far such as jawline reduction or chin implant.
Year 2013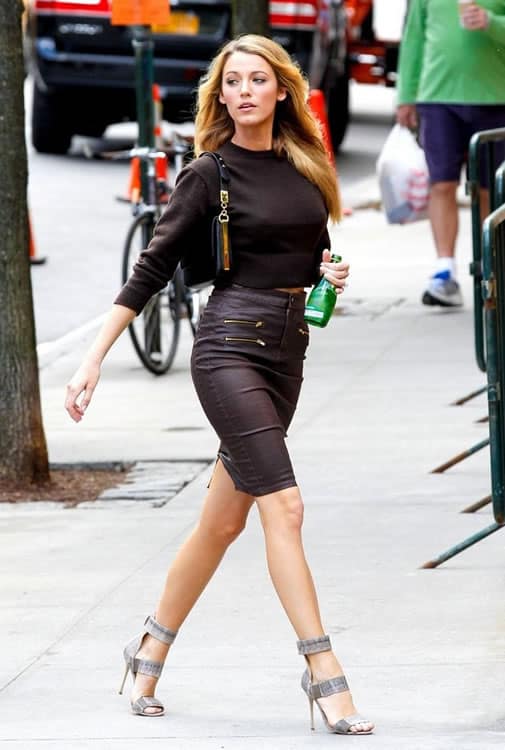 Picture Credit: Getty
Since parting ways with Gossip Girl, Blake became the new face of L'Oreal for their makeup campaign. Here she was taking a walk down town showing off her incredible body figure. And you'd wonder why some critics think she's had breast and butt augmentation. Just look at those curves!
Year 2014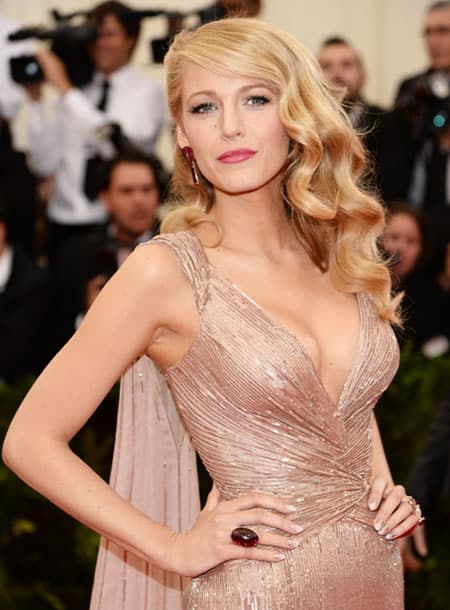 Photo Credit: Getty
The American actress stuns the crowd as she enters Met Gala in New York City wearing a deep V Gucci dress. This was after she gave birth to their first Daughter, James. While it's not unusual for celebs to undergo liposuction and tummy tuck treatments after giving birth, but did Blake take that route?
Her body certainly looks incredible for a new born mother. So is it good diet, exercise or cosmetic surgery?
Year 2015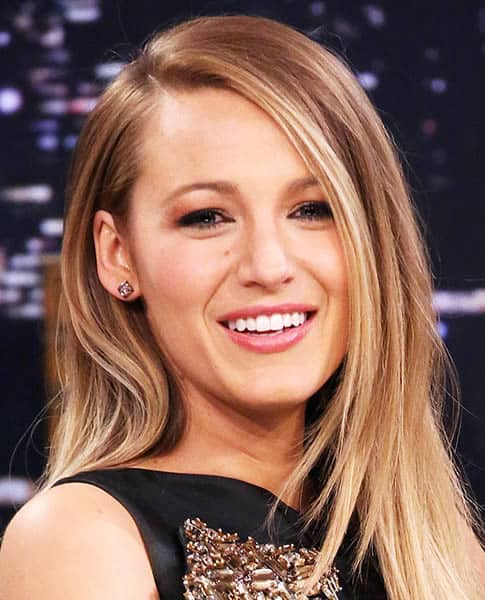 Photo Source: Getty Images
Blake Lively attends the Jimmy Fallon show looking absolutely fabulous. Her eye makeup and lipstick totally matches her hair style. So far, we haven't spotted any signs of lip fillers or injections either. Got to love that mole on her face though, it's literally become her trademark.
Year 2016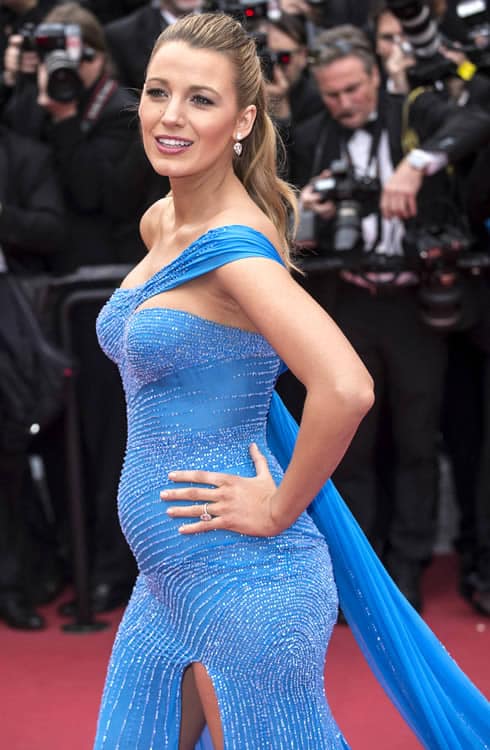 Photo Credit: Getty Images
Despite carrying their second child, Blake showed everyone what a beautiful pregnant mother look like when she rocked up with the baby bump at the Cannes Film Festival in France. Her cup size appears to have enlarged, which is normal due to the milk being developed, so this tells us that her breasts are natural.
Year 2017
Credit: Getty Images
Blake wears her funky big earrings as she attends the Michael Kors Fashion Show in New York. Ditching the long curls, she's back with the straight hair style complimenting her sparkling white smile. And yes, it's not unusual for celebrities to get teeth whitening at this day and age.
Not sure if you noticed, but she doesn't have many wrinkles on her face. Could she be using botox at such an early age? Surely…it'll be a long time before we even need to think about a facelift or a brow lift. What do you think?
Year 2018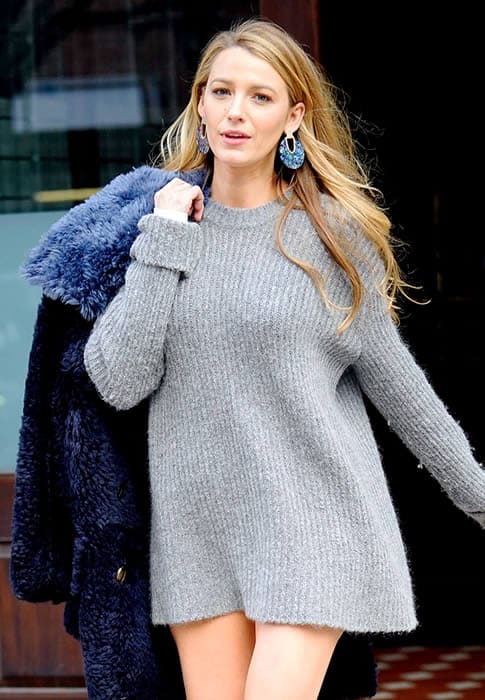 Photo Credit: Getty Images
Back to her fit and slim body, Blake was seen doing some shopping while showing off her beautiful legs and thighs. You'd have to wonder how Blake has been able to keep her weight off without plastic surgeries. What's her secret?
More Information About Blake Lively (Bio):
Real Name: Blake Ellender Lively (Brown was birth surname)
Birthday: 25th of August 1987
Star Sign: Virgo
Birth Place: Tarzana, Los Angeles, California, United States
Nationality: American
Race / Ethnicity: English, Irish, German
Occupation: Actress, Model
Net Worth: $16 Million
Relationship: Married to Ryan Reynolds
Children: Ines Reynolds (Daughter), James Reynolds (Daughter)
Height: 1.78 m (5 ft 10 in)
Weight: 63 kg (139 lbs)
Body Measurement: 35-26-36 Inches
Bra Size: 32C
Dress Size: 6 (US)
Shoe Size: 9 (US)
Natural Hair Color: Blonde
Natural Eye Color: Blue
Conclusion
After analyzing many of Blake Lively's before and after photos, we found a number of images that supported certain plastic surgery claims. So yes, we do think there's a good chance she's opted for cosmetic procedures to enhance her beauty.
While her teeth straightening and gap fixing procedures were nothing out of the ordinary, there were more than enough indications which led us to believe that she might've had a nose job. You can clearly tell the difference between her nose size in several comparisons.
Other than that, her eyes and boobs appear to be natural, and we haven't spotted any proof suggesting that the American movie star has had any lip injections. She's also a bit young to use face fillers so we'll just leave that out of the equation, at least for the time being…
So what do you think?
Has Blake Lively Had Cosmetic Surgeries?
What Procedures Do You Think She's Done?