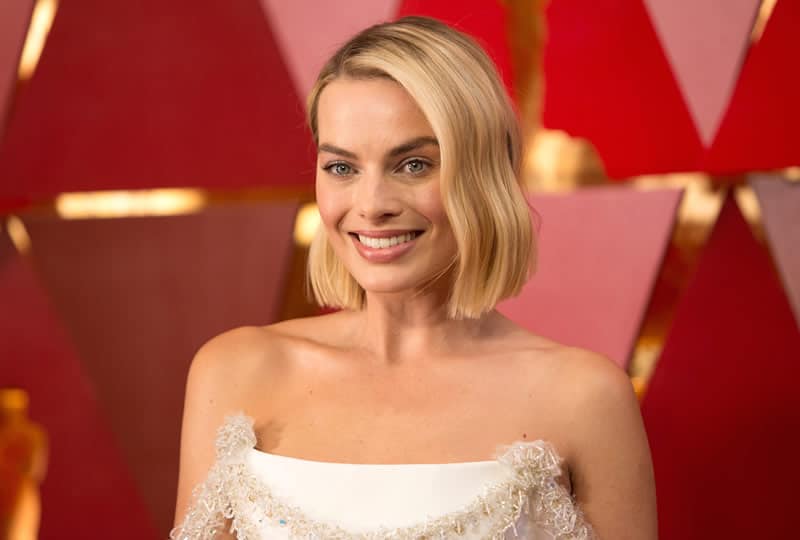 Australian actress Margot Robbie charmed Hollywood and the world after appearing on "The Wolf of Wall Street" with Leonardo DiCaprio. Since then, this actress with such a likable girl-next-door appeal has been nominated left and right at the awards circuit. She recently won Best Actress at the Critic's Choice Awards for the film "I, Tonya."
As an A-lister, Margot is vulnerable to plastic surgery rumors. While already possessing a beautiful face and a hot body, fans still suspect that the actress had breast implants, some face fillers treatment, and a procedure done on her nose to improve her looks.
Undergoing a cosmetic enhancement is common in tinsel town, but Margot's alleged procedures have been hotly debated. Some of her fans don't think she needs the help of science to get ahead in Hollywood and that may be true since the "Suicide Squad" star has managed to reap success before she's even 30.
However, it's also not unusual for gorgeous movie stars to get plastic surgeries to look even more dazzling and beautiful on screen. After all, looks are an investment in this industry and perfection is the only standard.
Margot, however, has never discussed to the press if she's had augmentations. So, whether she's a natural beauty or not remains in question and the talks about her looks continue.
Before and After Photos
In an attempt to figure out if Margot Robbie's beautiful features are natural or cosmetically enhanced, let's look at some of her before and after photo transformation. It's known that she sees a cosmetic surgeon and top dermatologist Dr. Harold Lancer, but what treatments did he give her?
Let's try to found out below.
Did Margot Robbie Have Nose Job?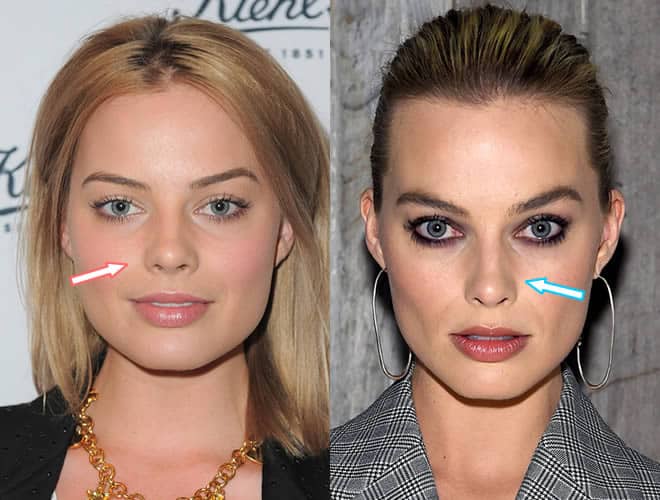 A big point of debate about Margot Robbie's cosmetic enhancement is her nose. Fans don't think she needed a nose job as Margot's nose looks fine the way it is, as seen in this before photo. But there seems to be a slight difference in the tip if you look at it closely in the after photo. The nose shape appears smaller, while her nasal bridge looks more defined. We're inclined to go with the argument that she might've got her nose done.
Did Margot Get Botox Injections?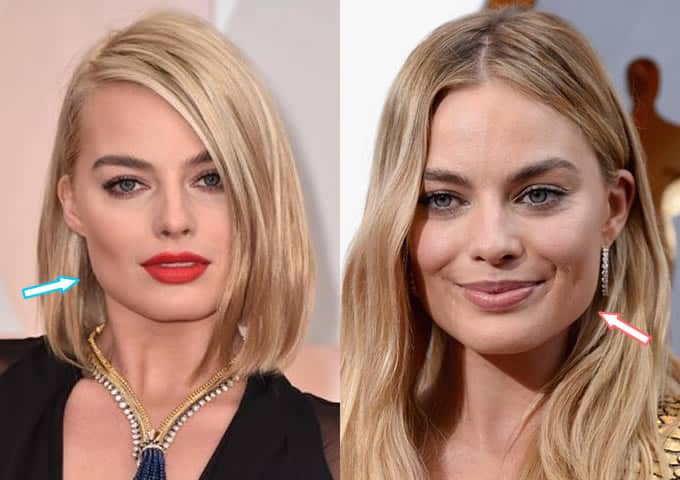 Margot's face shows no signs of age yet but people suspect she got face injections before. In this photo to the left, her skin looks rigid and so pristine that she couldn't even crack a smile. It drew criticisms that botox might have been the reason. In the after photo, Margot looks more relaxed and as if the botox has worn off. What do you think?
But since she's still young, we assume she would avoid facial injections. The star apparently has a disciplined skincare routine, so that might be why her skin is perfectly free of wrinkles.
Has Margot Robbie Had Boob Job?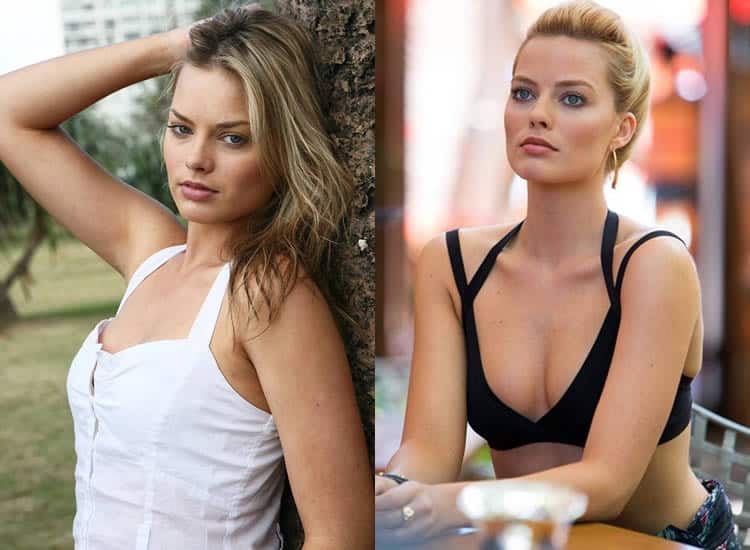 Margot boldly exposed her breasts in "The Wolf of Wall Street," her first major Hollywood movie and fans believe that she got a boob job in preparation for the role.
Looking at these before and after photos, however, Margot's boobs are just the right shape and size — not too big, not too small and with a substantial hint of cleavage. So, we don't think she had breast implants as there's no noticeable difference. They look natural to us, do you agree?
Margot's Beauty Transformation
There's no doubt Margot has a gorgeous face and a sexy body. Let's see how these assets have changed through the years and this might help us decide if cosmetic procedures played a role.
Childhood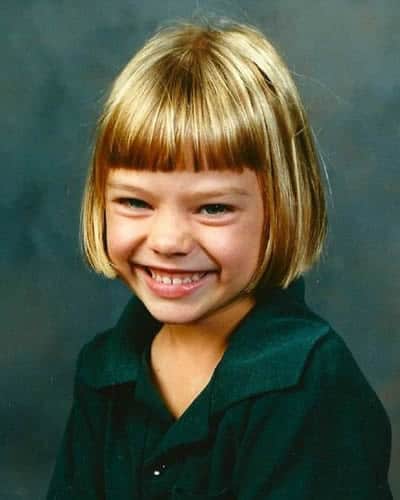 Source: Gold Coast Bulletin
Young Margot looked so mischievous in this photo as a child. We suspect this look, with her hair and fringes cut so short, gives the actress the smile and giggles today. But here's proof that Margot is a natural blonde.
Teenager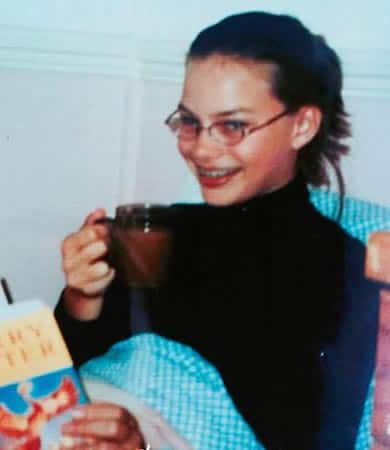 Source: Jimmy Kimmel Show
As a teen, Margot wore glasses and braces to correct her crooked teeth. Despite looking dorky, as many teenagers do, we still think she looks pretty.
Year 2007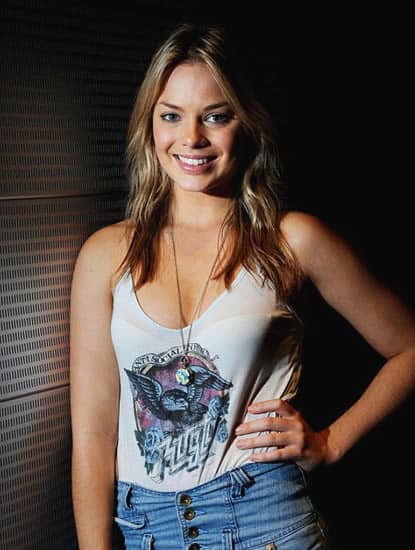 Source: Pinterest
Here's a 17 year old Margot Robbie in the early years of her professional acting career. She used to have fat arms and a fuller body but her chest is flat.
Year 2009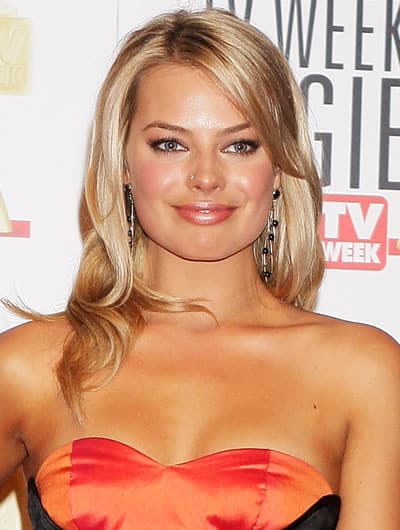 Photo Credit: Getty Images
Margot's popularity in Australia rises but far from her glamorous style in Hollywood, Margot used to wear a nose stud and had piercings. Rumors of lip injections have cropped up even then because of her full lips. We love this whole look on her, with her flowing and relaxed hairstyle and sun-kissed cheeks.
Year 2011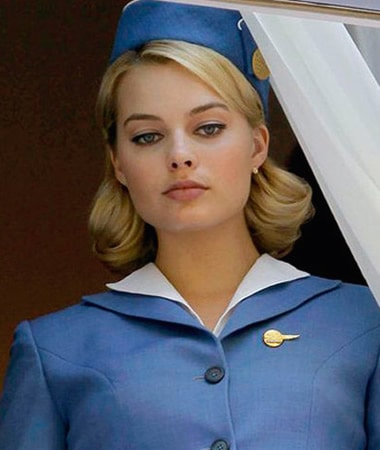 Photo Credit: ABC
Margot moves to Los Angeles to work in the TV drama "Pan Am." Here she is in her costume, a flight attendant uniform. Wearing minimal makeup, Margot's beauty still shines through. She does have a lovely face shape and a jawline that can make every female star in Hollywood envious.
Year 2013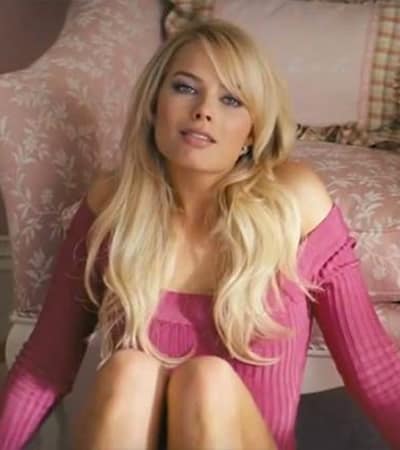 Source: Youtube
This was one of her famous scenes in "The Wolf of Wall Street," where she played the sexy wife. She was unforgettable in this pink dress with her hot wavy hair.
Year 2015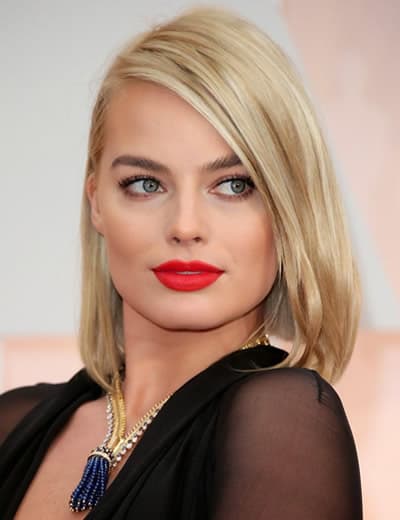 Credit: Getty Images
Margot arrives at the Oscars red carpet, ready to slay the public with her oozing red lipstick, newly cut medium hairstyle, and impressionable necklace. The prominent shape of her chin sparked rumors she got a chin implant. Of course, this was never proven.
Year 2016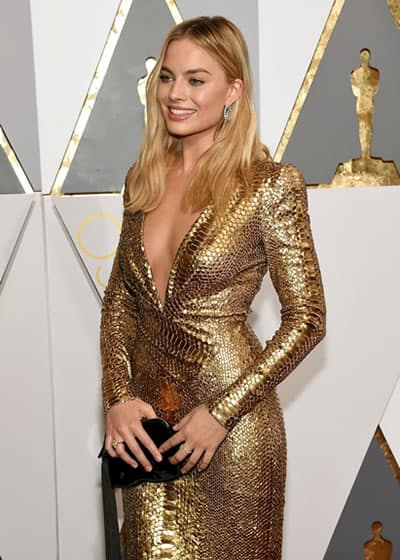 Picture Credit: Getty
Margot shone in this gold dress for another Oscar appearance. This was the year she went on a regulated diet and workout for "Suicide Squad." A slimmed down body shape really made a big difference. But people did wonder — if she lost weight, why didn't her cup size change? Talks of breast augmentation grew louder.
Year 2017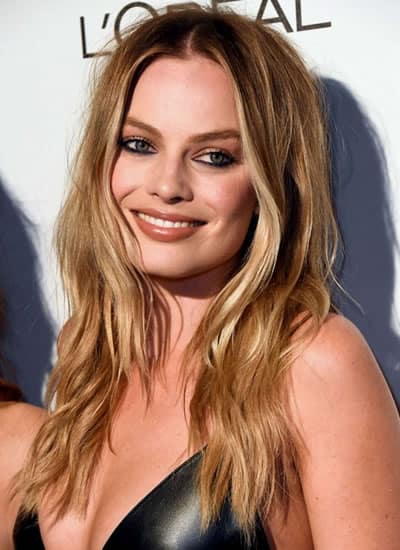 Photo Credit: Getty
Margot attends a Marie Claire event donning a Pamela Anderson hairstyle that lent a California beach-girl vibe to her look. Her choice of eye shadows emphasized her gorgeous eyes. It looks as if she had facial fillers, with her face cheeks so prominent.
Year 2018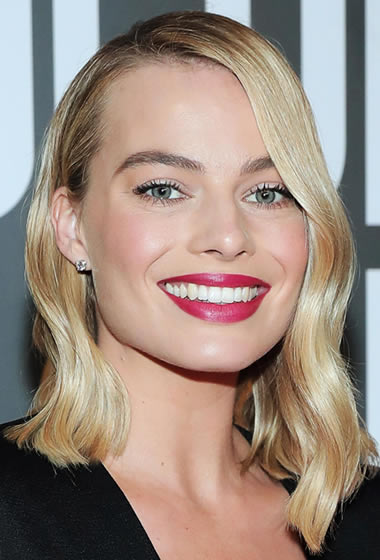 Photo Credit: Getty Images
Margot graced the Golden Globes Awards looking so ravishing. She barely has makeup on her face in this photo. We see a touch of mascara for her eyelashes, polished eyebrows, some blush and a statement red lipstick. How does this 29 year old blonde beauty have such radiant skin? Apparently, she's into a lot of skin care cosmetics.
What Did Margot Say About Plastic Surgery?
Though she has not said anything about plastic surgery per se, Margot Robbie admitted she still wears retainers to maintain that camera-ready smile:
"I actually have two retainers, one for my bottom teeth which is for grinding my teeth and one for my top teeth which is just so my teeth don't move."
She also surprised fans when she revealed the beauty secret for her lips on Elle:
"I use Bepanthen, which is actually a nipple cream for breastfeeding mothers or diaper rash cream for babies. I have a conspiracy theory that lip balms actually have additives in them to dry your lips out so you keep buying them. But because Bepanthen is just a cream for dry skin, it works."
As for her flawless facial skin, Margot told Harper's Bazaar:
"I use [cosmetic surgeon] Dr. Lancer's cleanser. When I get out, I dab on some La Prairie eye cream. There's a dermatologist in Australia who has a skin-care line called Bloc Cosmetics; I like the day-night moisturizer. So that's my beauty regiment."
More Information About Margot Robbie:
Real Name: Margot Elise Robbie
Birthday: 2 July 1990
Star Sign: Cancer
Birth Place: Dalby, Queensland, Australia
Nationality: Australian
Race / Ethnicity: Scottish
Occupation: Actress, Model, Film Producer
Net Worth: $8 Million
Relationship: Married to Tom Ackerley
Children: None
Height: 1.68 m (5 ft 6 in)
Average Weight: 57 kg (126 lb)
Body Measurement: 34-24-34 Inches
Bra Size: 32B
Dress Size: 2 (US)
Shoe Size: 7 (US)
Natural Hair Color: Blonde
Natural Eye Color: Blue
Conclusion
Without any admission that Margot Robbie had cosmetic surgery, we really can't say for sure if the rumors about her botox injections and boob job are true. Based on the photos that we've analyzed, we actually see little differences to her transformation, if at all.
We think her bra size has remained the same all these years. We also believe her body changes are simply due to diet and exercise. She's definitely not someone who needs liposuction. Margot also follows a strict skincare routine, so that satisfactorily answers why her face looks so lovely and wrinkle-free.
We do speculate, however, that she may have gotten a minor nose job. But whether her beauty enhancements are natural or fake, one thing remains certain: Margot Robbie has one of the most beautiful profiles in Hollywood. No wonder she's already a star at such a young age.
(Featured Image Credit: Getty)