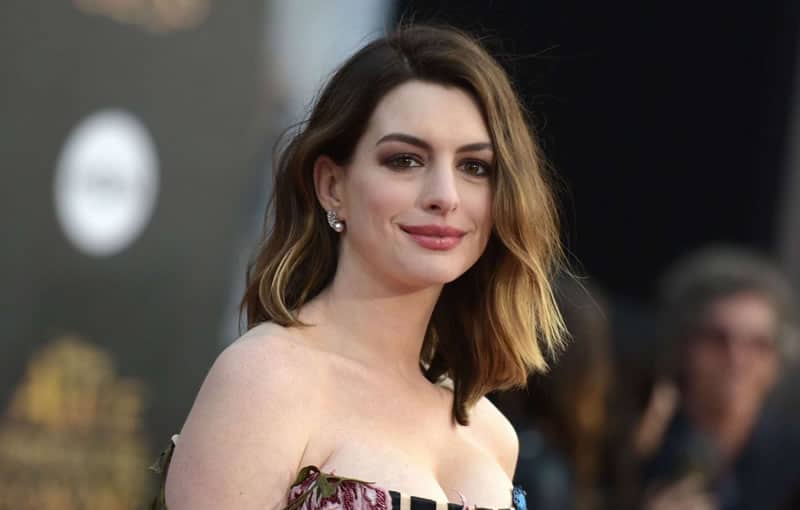 Hollywood golden girl Anne Hathaway made two popular movies about beauty transformations. As a teen, she was an ugly duckling who turned into a beautiful swan in Disney's "The Princess Diaries." In her late 20's, Anne played the unremarkable editor's assistant who worked hard and gave herself a makeover to make a big impression in "The Devil Wears Prada."
But does life imitate art for this Oscar-winning actress? Did she have plastic surgery to get ahead in her career as a movie star?
It's never easy to be in the public eye and like most celebrities, Anne has been the subject of rumors about having beauty enhancements and cosmetic procedures. Fans suspect that Anne got a nose job early in her career to fix the imperfections on her overall face contour. Others think she also sought a plastic surgeon's help to get breast implants to have bigger boobs.
And now that she's a lot older, there are whispers that Anne has botox to hide the signs of aging. People also think she has lip fillers to enhance one of her best features — her mouth.
Only, Anne hasn't confirmed any cosmetic surgeries to her face or her body. Despite the talks, some of her fans believe she's a natural beauty.
Before & After Photos
To find out whether someone as beautiful and stunning as Anne Hathaway had plastic surgery or not, let's take a look at her before and after photos. Let's figure out which of her features are real or fake by going through some photographic evidence below.
Did Anne Hathaway Have Nose Job?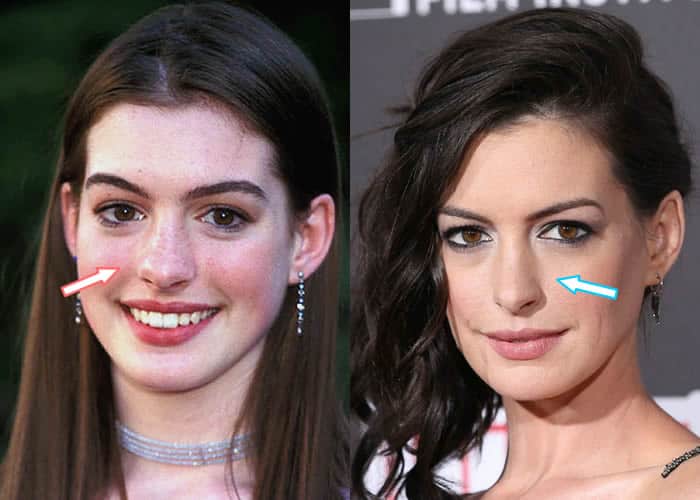 One of the first things people notice about this "Les Miserables" star is her nose because it's too big for her small face. But as Anne matured, it looked as though she had rhinoplasty. Though the change in the shape and size is subtle, if you look carefully, you can apparently detect the difference.
Anne's nose used to be bigger and wider when she was a teenager, as this before photo will show. But as a grown-up, her nasal bridge looks thinner and the tip looks smaller. We don't suppose contouring makeup alone can bring this transformation to her nose, do we?
So this suggests to us that it's likely Anne had a nose job early in her career.
Does Anne Have Lip Injections?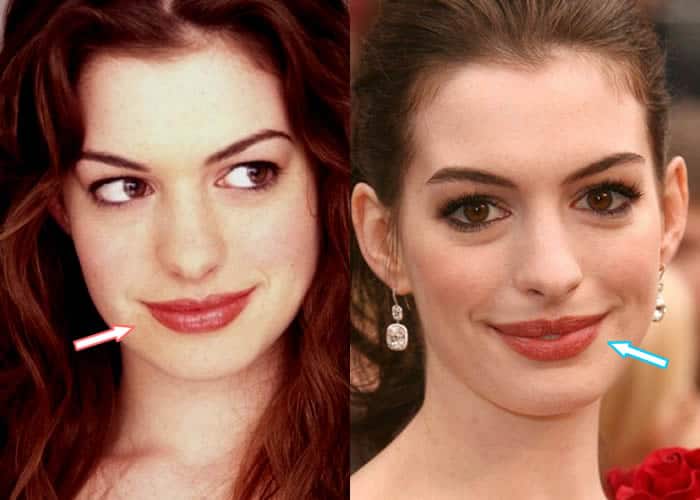 Observers say Anne had lip injections because of one telling feature: her upper lip. It used to have that visible center dip but she allegedly lost that definition due to fillers. The thickness of Anne's lips apparently also changed her mouth shape.
However, after analyzing numerous images, we actually don't think she had any work done to her lips. She always had pouty lips growing up so we believe the changes are simply because of a lipstick or lip liner enhancement.
Has Anne Had a Boob Job?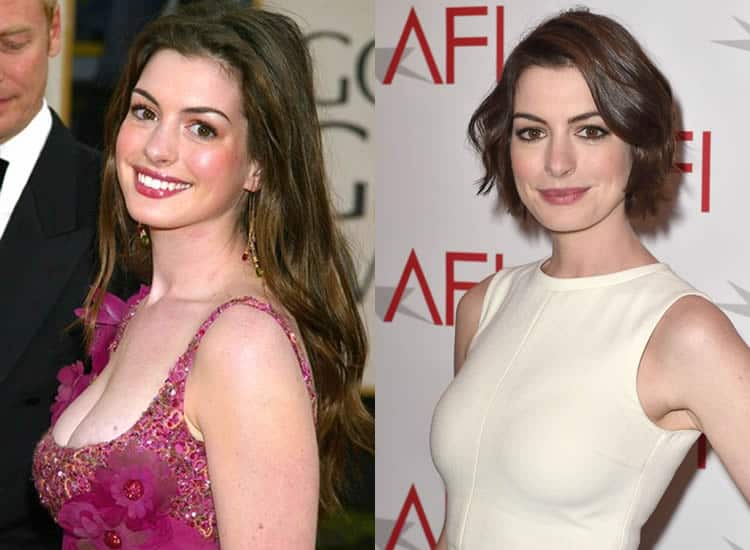 Anne has fuller breasts even as a younger actress, so we don't think she got a boob job to increase her cup size. This was clear when she showed off her cleavage at one of the earlier red carpet events. From one of her teen photos, which you can see below, it was also evident that she had a large chest.
If anything, she might have actually done something to make her boobs smaller in her later years, which could be a breast reduction surgery that many large breasts women get.
Over the years, Anne's weight fluctuated and it showed on her face and upper body. This was also reflected in her bust size so for us, we believe her assets are real and natural.
Did Anne Get Botox or Facelift?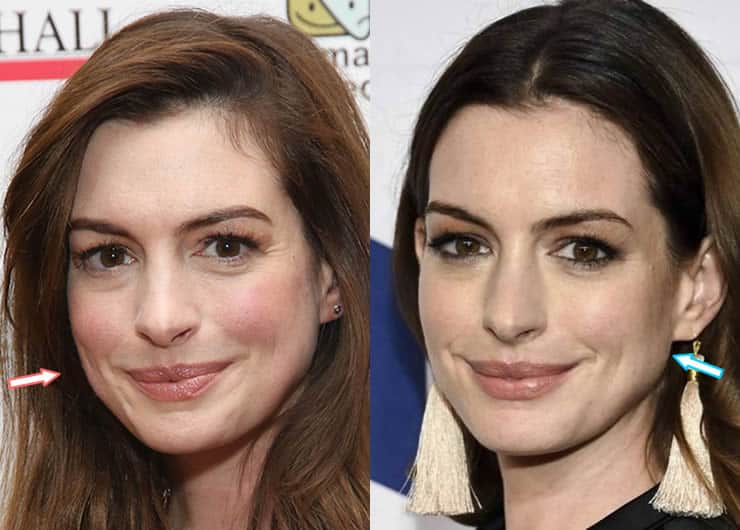 Does Anne Hathaway even need to get botox in her '30s? Comparing these before and after photos, it doesn't look like she worries about the wrinkles and lines yet — it's present and visible in both. We think it will be a while before she would consider a facelift.
Anne reportedly consults with a facialist often for her skincare management, which explains her porcelain skin. People who've seen the actress up close say she has flawless pores. What a lucky girl!
Anne Hathaway's Beauty Transformation
Let's now take a closer look at how Anne's face and body have changed throughout the years.
Early Childhood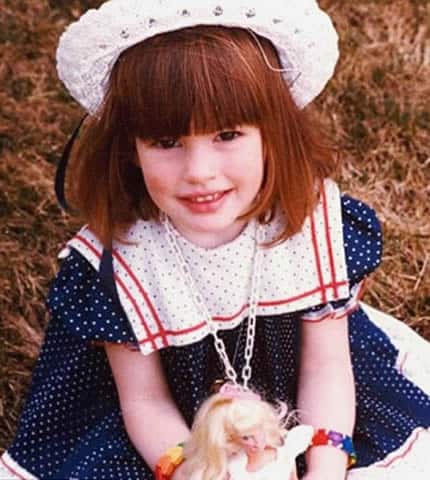 Source: Instagram @ annehathaway
New York-born Anne Jacqueline Hathaway looks so precious and cute with the heavy fringes on her hair. Wearing a classic red, white and blue polka-dotted outfit, young Anne clutches a doll showing her playfulness in this photo.
Teenager Days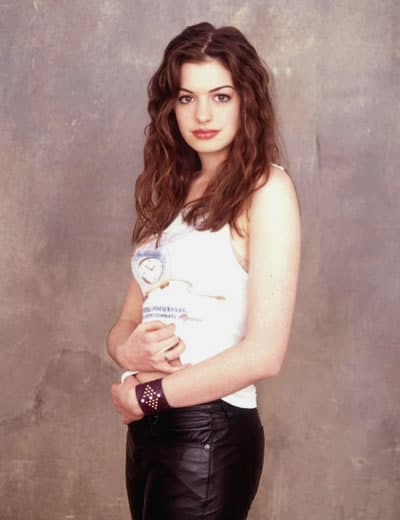 Source: Pinterest
Growing up, Anne already had a larger than average bust size, but because she's tall so her chest area and body seem proportional. Her lips already looks lush and full while the curly hair really suited her.
Year 1999
Source: Twitter
If rumors were true, then this must have been Anne's pre nose job phase when she appeared in the TV show "Get Real." She had a lovely face shape, freckles on her nose, big teeth and thick eyebrows.
Year 2001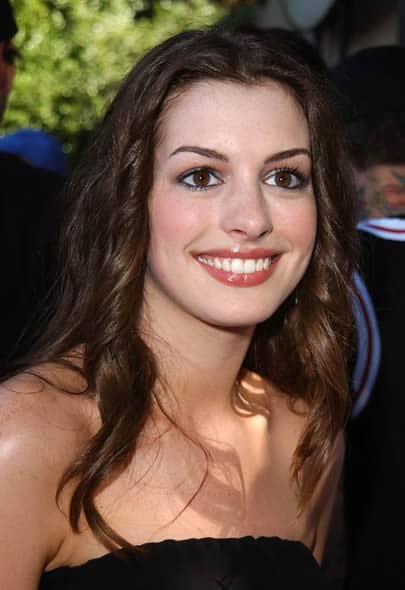 Photo Credit: Getty
After making a splash in her first film "The Princess Diaries," Anne's star power rises. She appears thinner in this photo, thus amplifying her big doe eyes and nose. She kept her looks real and appropriate for her age with subtle eye makeup, a touch of lip gloss and relaxed hairstyle.
Year 2003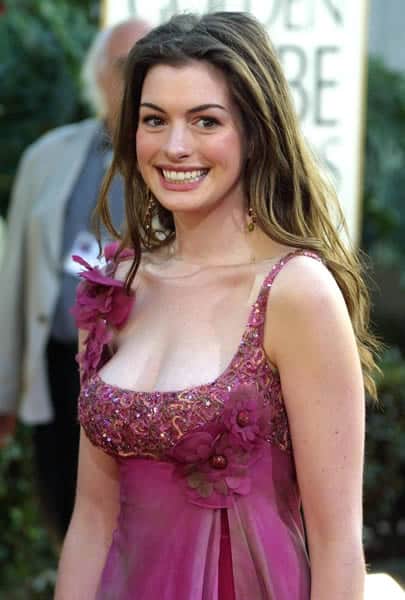 Image Credit: Getty
Anne attends the Golden Globes wearing a purple beaded dress that couldn't hide her breast size. Her boobs definitely look real based on the way it sloped and fell on her dress.
Year 2005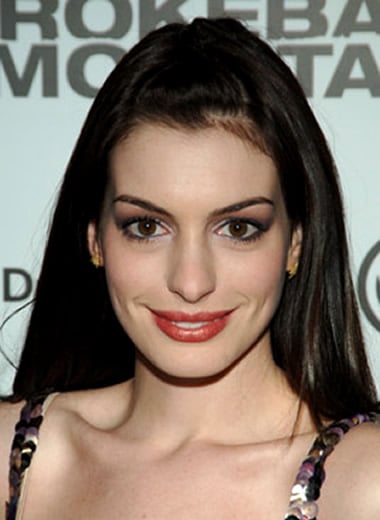 Photo Credit: Getty
Hathaway moves on to more mature roles and appears in the gay-themed film "Brokeback Mountain." Rumors of a rhinoplasty became ripe when she faced the public with a smaller and slimmer nose. Did she drop more pounds during this phase? Her jawline looks so rigid. Meanwhile, her eyeshadows opened up her eyes even more.
Not trying to pick things, but are those dimples on her cheeks or laugh lines?
Year 2009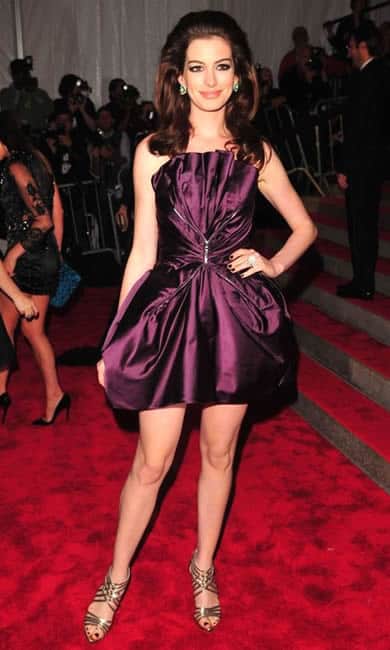 Picture Credit: Getty
The actress wore a short gown at the Met Gala to reveal her shapely legs. We're not particularly fond of the hairstyle and makeup because it made her look older. Nevertheless, this superstar definitely has a healthy body shape that's maintained well through good diet and exercise.
Year 2012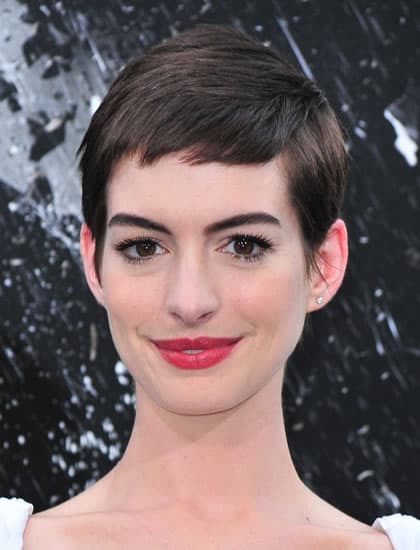 Photo Credit: Getty
Anne kept her short hairstyle after doing "Les Miserables." She got a haircut for playing a career-defining role as Fantine. The hair suited her and we love this whole look with her thick eyelashes and bright red lipstick.
Year 2015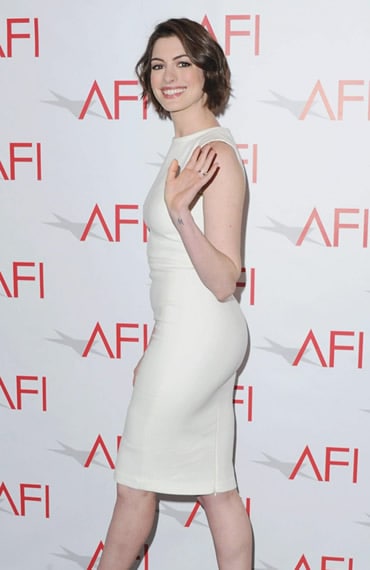 Photo Credit: Getty Images
Here she attends an AFI Awards luncheon wearing an off-white dress that accentuated the curves of her great body. Her clothes also hugged her bum shape really well but we doubt she had butt implants. Anne apparently has a grueling workout and fitness routine to keep her muscles toned. It obviously showed!
Year 2017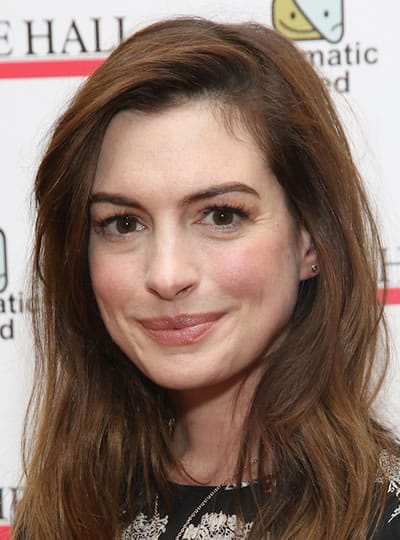 Photo Credit: Getty
At 35 years old, Anne Hathaway has become a new mom. The signs of aging, however, are showing on her face with some visible crows feet and wrinkles.
Year 2018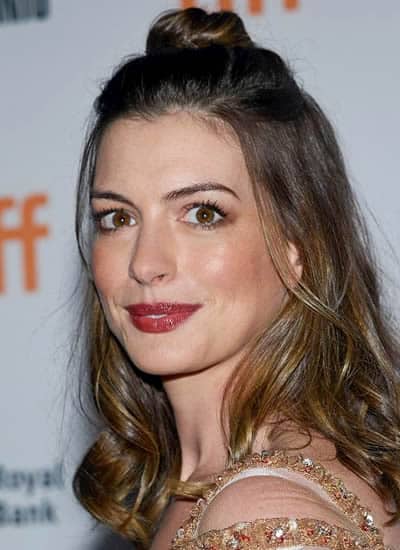 Photo Credit: Getty
Anne attends the premiere of "Ocean's 8," where she starred alongside other Hollywood big shots, Sandra Bullock and Cate Blanchett. Looking slightly plumped, it seems she gained weight. Her facial skin looks slightly smoother in this photo. Did she finally get botox?
What Did Anne Hathaway Say About Plastic Surgery?
In 2008, Anne Hathaway talked to the British press about her insecurities with her nose.
Growing up, there's a lot of pressure on young women when you first become aware of your own looks in relation to other women's looks. You just want to be cookie-cutter beautiful. And sometimes you think, 'Maybe I could change something about myself to fit that mould.' I'm no exception to that.
When I was growing up I wanted a nose job because I didn't think my nose was good. And my nose is now, I think, what lets me change my face a lot and lets me be glamorous.
In a feature on Elle UK in 2010, Anne talked about refusing botox.
I had someone offer me Botox at 23. From the age of 25 to 27 – and this is a little embarrassing to admit – I looked under my eyes every single day, because I thought, 'It's going, it's going, it's going!' And then I realized the other day they're not wrinkles; they're smile lines. If you look at pictures of me from a young age, I've been smiling the same way since I was little. And I had that wonderful moment when you realize, 'That's who I am.' Botox would erase that.
More Information About Anne Hathaway:
Real Name: Anne Jacqueline Hathaway
Birthday: 12 November 1982
Star Sign: Scorpio
Birth Place: New York City, New York, United States
Nationality: American
Race / Ethnicity: Irish, French, English, German
Occupation: Actress, Singer, Voice Actor
Net Worth: $35 Million
Relationship: Married to Adam Shulman
Children: Jonathan Rosebanks Shulman
Height: 1.73 m (5 ft 8 in)
Average Weight: 56 kg (123.5 lb)
Body Measurement: 34-25-35 Inches
Bra Size: 32C
Dress Size: 4 (US)
Shoe Size: 8.5 (US)
Natural Hair Color: Dark Brown
Natural Eye Color: Hazel
Conclusion
Though plastic surgery rumors followed Anne Hathaway throughout her career, it doesn't look like she had a lot of procedures to enhance her body and her looks. We don't think she had breast augmentations; her boobs are untouched. We also have some reservations about those alleged lip injections or face fillers; we doubt she got them too.
We reckon Anne could have had a nose job when she was younger. However, it's also possible she had a good makeup artist, who simply expertly used cosmetics and contouring makeup on her face to make her nose appear smaller.
Judging from her transformation photos and her pronouncements about plastic surgeries, we can basically conclude that Anne is a natural beauty. But like many women, Anne admits her biggest vanity is skincare and she works hard to get her body in shape.
(Featured Image Credit: Getty)