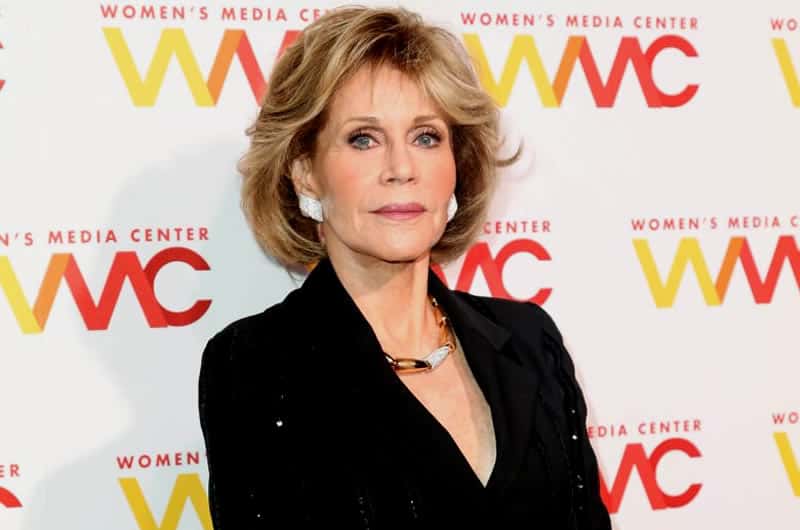 Jane Fonda has been in the acting business since the 1960s and became a cultural icon in the 1980s. Back then, Jane ushered a fitness revolution with the release of her exercise videos that sold millions of copies worldwide.
Now in the prime of her years at 80, the public often wonder how Jane Fonda looks so good. Her face doesn't age much and one could argue that she has a body of a 50 year old, at worst. This led to many speculations about having her plastic surgery.
Despite a few wrinkles on her face today, people speculated that the "9 to 5" actress had a facelift and gets regular botox from her plastic surgeon. There have also been rumors that Jane got an eyelift to keep her youthful look.
With an illustrious Hollywood career and a keen business sense, Jane certainly has the money to find a great doctor to make her look ageless.
So is her anti-aging secrets all natural or did she receive help?
Before & After Photos
Has Jane Fonda had cosmetic surgery long before it became the norm in Hollywood? Let's compare the before and after photos of the superstar to validate if she had any enhancements to her face and body.
Did Jane Fonda Have Facelift?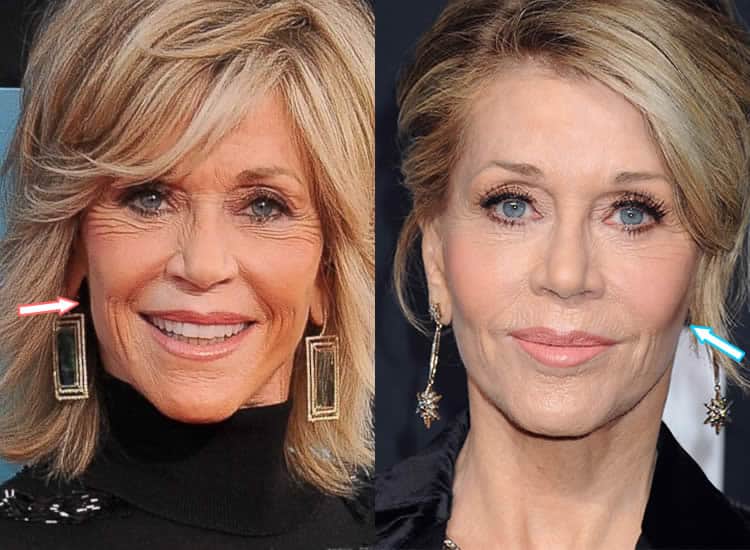 Jane's face has obvious lines and wrinkles, so it can't hide the fact that she's truly aging. But after comparing these before and after photos, we can see that the wrinkles around her eyes and mouth have greatly reduced. So this suggests to us that she might've had a facelift to smoothen those areas.
Her facial skin looked tighter and if we're honest, whatever she's done, have reversed her age by as much as 15 years.
Did She Get an Eye Lift?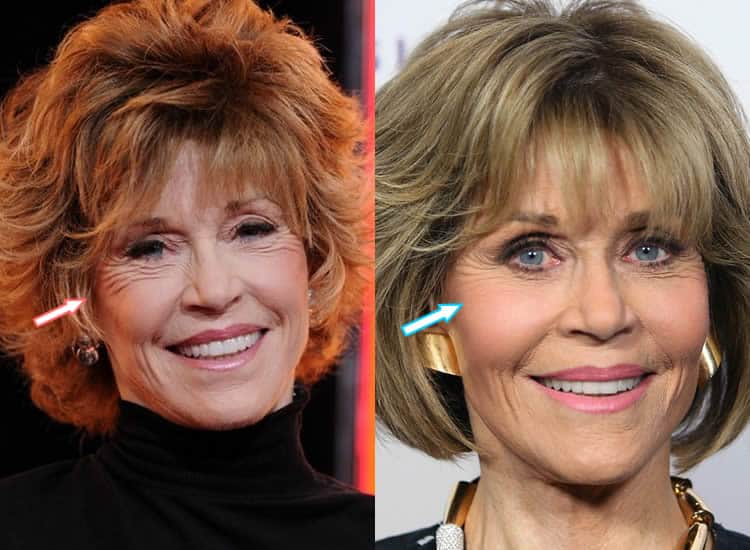 Based on this photo evidence, it's not hard to see that Jane might've had an eye lift to get rid of all those wrinkles and loose skin around her eyes. In fact, Jane's eyes appear to belong to a much younger woman in the after picture. She also seems to have her eye bags removed with the procedure.
If this is true, then her plastic surgeon didn't overdo it because her eye area looks natural with some leftover fine lines.
Has Jane Fonda Had Botox?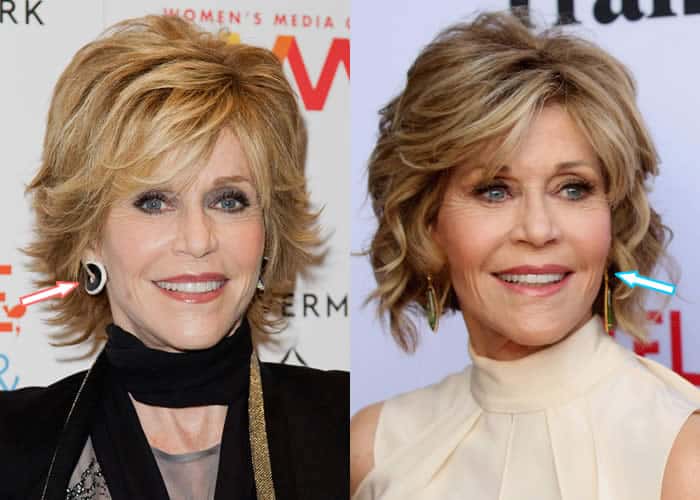 No doubt Jane may have had botox injections to keep her skin stretched and taut. At her age, her face cheeks should be drooping but you won't see that in these photos. If you look closely, she looks especially plump in the cheek area in her after pic. This suggests to us that she most likely have used face fillers as her anti-aging treatment.
What do you think?
Does Jane Have Breast Implants?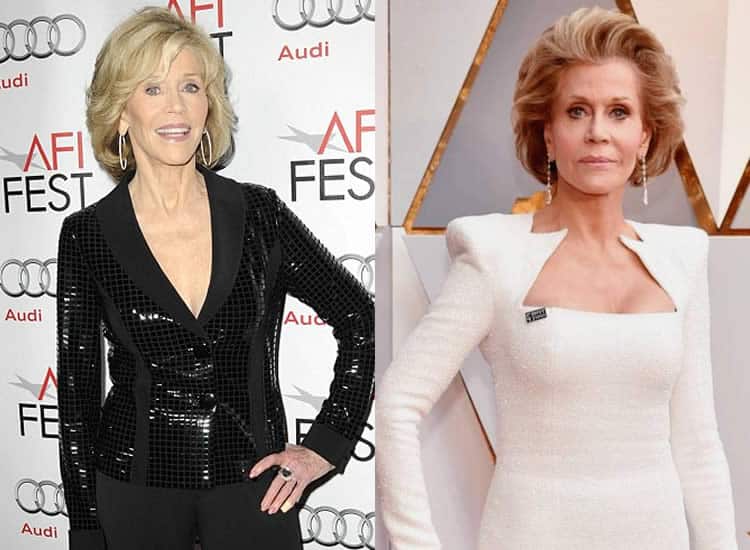 While it might be surprising for a woman in her 70s or 80s to get breast implants but this seemed like what happened to Jane's breasts. If you look at the comparison above, her after photo shows a much fuller chest than her before photo, where she hardly had boobs or a cleavage.
Some may argue that this could be her choice of outfit that shaped her body this way. We certainly wouldn't disagree because for someone her age to get a boob job is quite risky, don't you think?
Jane Fonda's Beauty Transformation
Let's see how Jane has transformed over the past 80 years of her amazing life. We'll take a closer look at her face and body to see if there are other "plastic surgeries" that we could find.
Early Childhood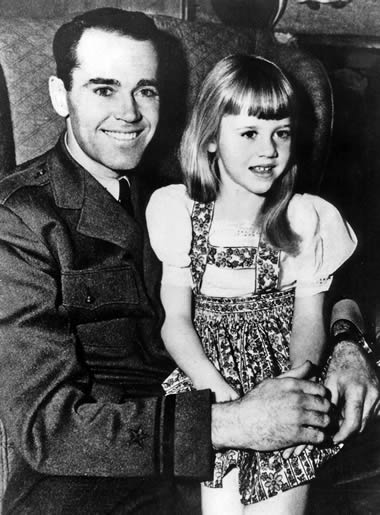 By Harriet Warren, Los Angeles Times
Here's a black and white photo of Jane Fonda when she was young, with her dad. As a child, she was not only cute, she was pretty!
1950s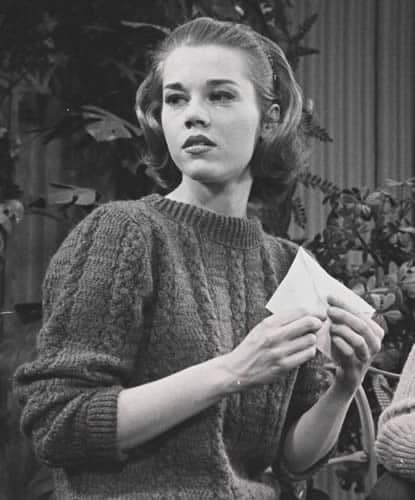 Source: Pinterest
As a young lady, beautiful Jane wanted to do stage work in the '50s. She looked great in this vintage hairstyle and look at those killer eyebrows!
1960s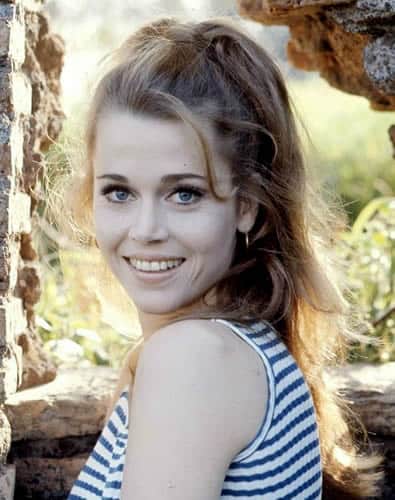 Source: Pinterest
During the '60s, Jane did at least two films a year and thus became one of the biggest stars of that decade. Color photographs became the norm then, which highlighted her beauty even more.
The actress with an attractive face shape looked so alluring this photo with her lush cheekbones and big beady eyes, which we doubt needed enhancement with eyelid surgery. Jane also has imperfect big teeth, which we think makes her smile look sexier.
1970s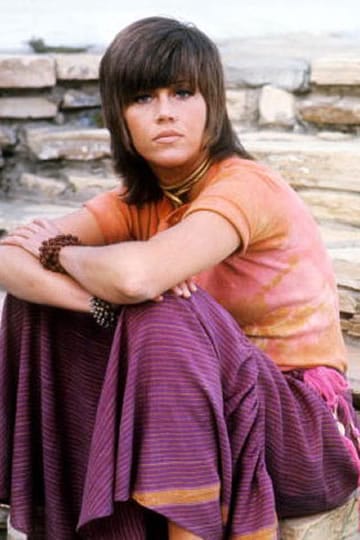 Source: Twitter
Fonda became an activist in the '70s and was called "Hanoi Jane" for supporting the end of the Vietnam Wars. She also won two Oscar Best Actress honors during this decade. With her hipster haircut and clothing choices, Jane had the look, fashion and style of the '70s down to pat.
1980s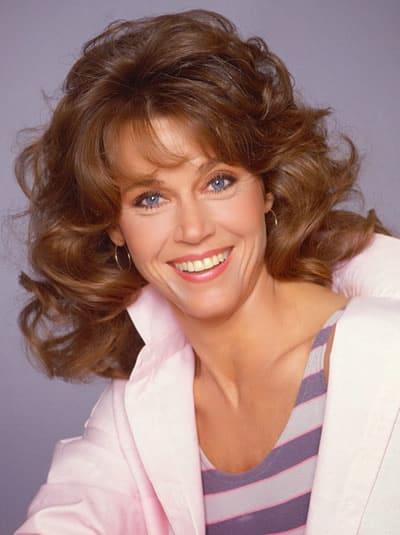 Source: Facebook
She had a mainstream movie hit in the '80s with "9 to 5," with best friends Lily Tomlin and Dolly Parton. This was also the year she launched her fitness empire, where she released a series of workout videos. Her wavy hair and gorgeous blue eyes were on most home's television as women everywhere followed her aerobics routines to obtain her look and body.
The actress had prominent laugh lines on her face even then. We think this made her look so authentic and approachable.
Year 1990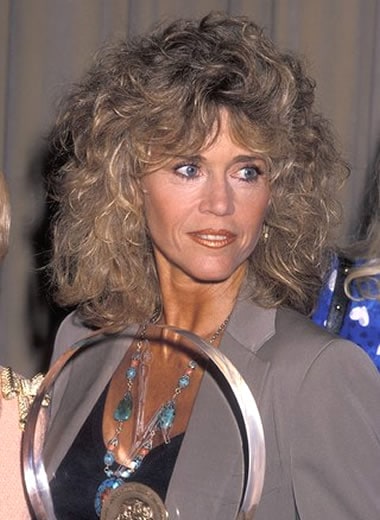 Source: Pinterest
This was the year Jane announced that she was retiring from the movies after three decades. At 53 years old, she still looks young for her age, however, the talks of plastic surgery became louder. People grew curious of Jane's skincare routine. Is good skin in her genes or did she get help from cosmetic surgeons?
Year 2000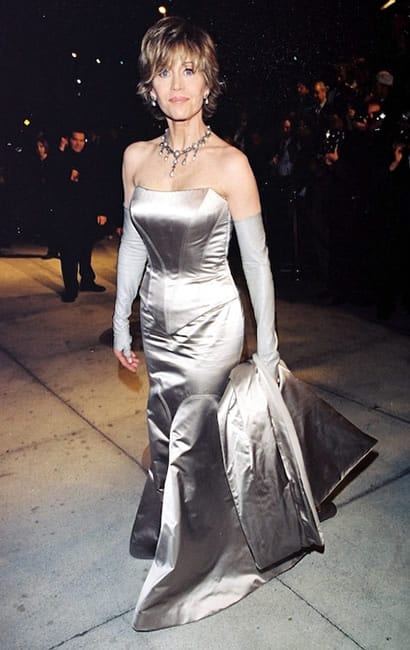 Source: Pinterest
At a Vanity Fair Oscar party, Jane toppled other stars when she graced the event looking so stunning. She wore a silver gown with an eye catching necklace to match. The dress that hugged her body shape sparked rumors of a boob job and a tummy tuck. But would Jane, the health buff, get a liposuction in her '60s?
Year 2005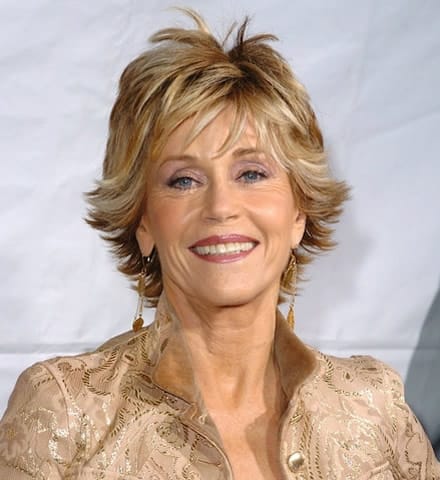 Photo Credit: Getty
Despite her retirement, Jane did another movie with Jennifer Lopez in "Monster in Law." She showed up at the premiere with a chic cut for her hair. Though she had fine lines around her eyes, Jane still managed to look younger than her 63 year old. Obviously, she had help from cosmetics and skincare products to look this great.
Year 2010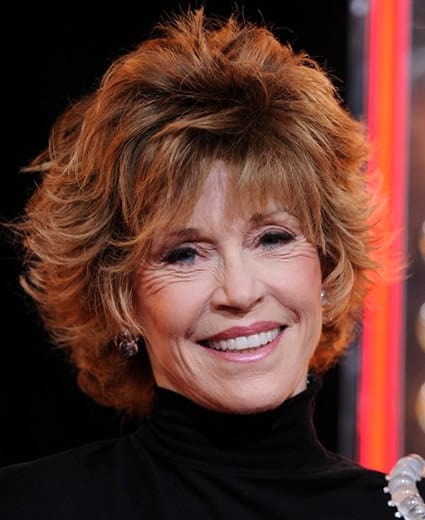 Photo Credit: Getty
Now 73 years of age, signs of aging on her skin has definitely caught up with time. Jane's face registered deep lines and wrinkles, as well as obvious crows feet all around her eyes.
Year 2013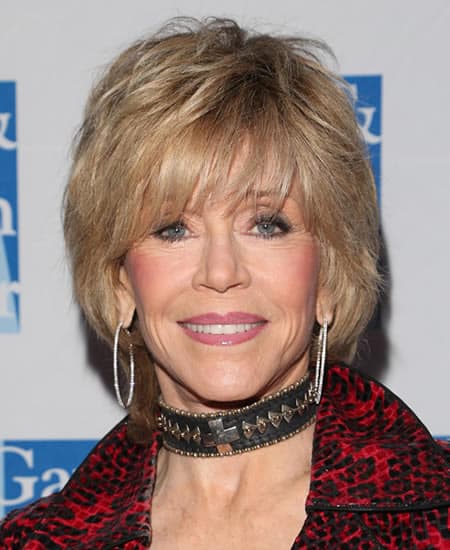 Photo Credit: Getty
But a few years later, Jane reversed her age by having her skin tightened with a possible facelift. Does this look like a 76 year old woman to you? Plastic surgery experts believe that Jane also had an eye lift and a neck lift to look younger.
It's possible she wore the collar in this photo to hide the scar from the procedure. Clever woman!
Year 2017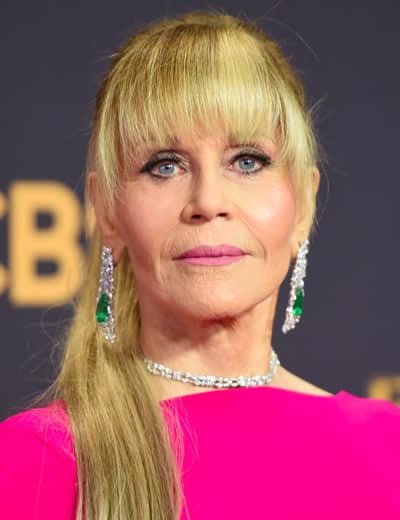 Photo Credit: Getty
Jane Fonda stunned the crowd when she attended the Oscars in a hot pink gown and ponytail hairstyle that belied her age. She also changed her hair color to a lighter shade, matched her lipstick to her dress and finished off her makeup with fake eyelashes.
It's amazing how a woman her age could get away with this look! Of course, we think the botox on her face and cheeks might have toned down the wrinkles. Jane also wore earrings and necklace that made her look like a million bucks.
Year 2018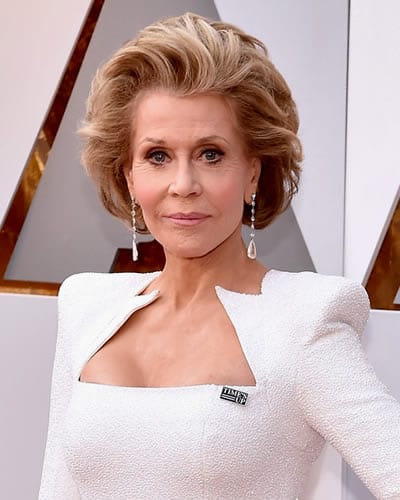 Photo Credit: Getty Images
At 80 years of age, Jane looks at least three decades young today. It's most likely because of the cosmetic procedures she has done on her face and neck, her skin looks nearly flawless, apart from some lines around her eyes. Some suspect she might have had done procedures on her upper body as well, particularly breast implants.
What Did Jane Say About Plastic Surgery?
Speaking with The Guardian, Jane Fonda admitted she had cosmtic procedures and she's grateful for it.
I wish I were brave enough to not do plastic surgery but I think I bought myself a decade.
But if people wonder why she's not completely wrinkle-free, Jane said she did not try to hide some of the lines on her face.
I made sure that they kept my lines. I didn't want to lose my wrinkles; I just wanted to lose the bags under my eyes. I don't like it when it's overdone, but we do live in a time when, if you can afford a good doctor, you can have subtle plastic surgery.
In terms of her breasts, she revealed she did not get breast implants in her '70s but she temporarily had protheses on her body. She loved the reaction she got from people for her fake breasts.
More Information About Jane Fonda:
Real Name: Jayne Seymour Fonda
Birthday: 21 December 1937
Star Sign: Sagittarius
Birth Place: New York City, New York, United States
Nationality: American
Race / Ethnicity: Dutch, English, Scottish, French-Canadian, Italian, German, Norwegian
Occupation: Actress, Writer, Activist, Film Producer, TV Producer
Net Worth: $200 Million
Relationship: Single
Children: Vanessa Vadim, Troy Garity, Mary Luana Williams
Height: 1.73 m (5 ft 8 in)
Average Weight: 58 kg (128 lb)
Body Measurement: 36-25-36 Inches
Bra Size: 34B
Dress Size: 6 (US)
Shoe Size: 10 (US)
Natural Hair Color: Blonde
Natural Eye Color: Blue
Conclusion
It's important to understand that Jane Fonda's anti-aging secrets include both natural and cosmetic enhancements. It's also commendable that despite her reputation as a fitness star, she doesn't hide the plastic surgery procedures from the public. She admitted she has indulged in facelift and botox for her youthful look.
However, Jane has never confirmed if she got a boob job or any other procedures on her body. And despite getting help from a plastic surgeon, Jane still tells her fans that the biggest secret to looking young and having great skin is to get a good exercise or workout every day.
For Jane, age is not the enemy. In fact, she said in interviews that she loves growing old because she feels more confident and secure about who she is.
(Featured Image Credit: REX)