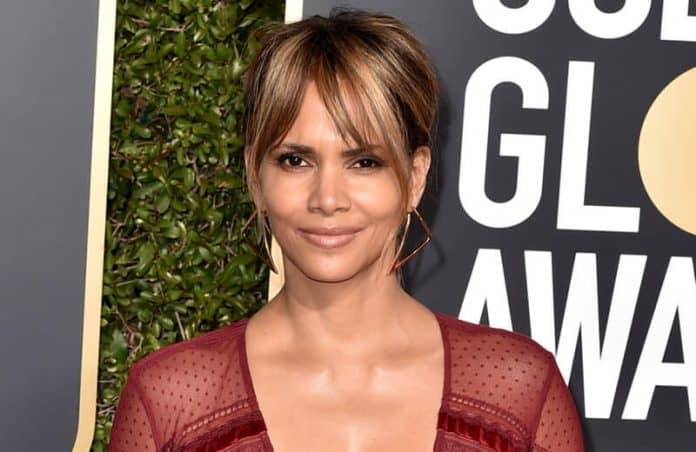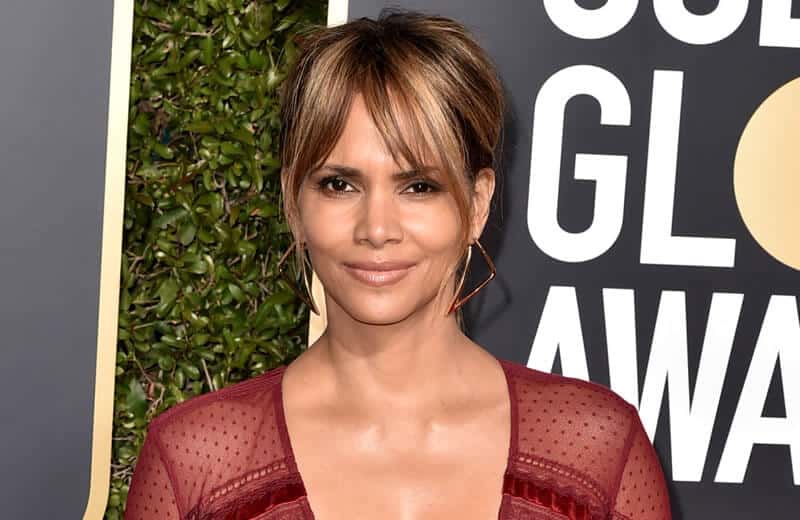 Before she became a Hollywood star, Halle Berry was a model and an international pageant queen. She was the first-runner-up at a Miss USA beauty contest and have also landed on the Top 6 of Miss World in 1986.
Known for roles like Storm in "X-Men", Jinx in the James Bond movies with Pierce Brosnan and Catwoman in the "Batman" franchise, Halle earned top-tier Hollywood pay in the early 2000s. She stood out not just because of her talent but also because of her mixed looks as a daughter of an African-American dad and an English-German mom.
Now in her early 50s, aging seems to be quite kind to Halle Berry. She has confessed in many interviews, however, that she feels a lot of pressure to look good in Hollywood because someone is always telling her to get cosmetic enhancements.
Has this pressure pushed her to get plastic surgery in her younger years?
Although Halle has denied getting her features altered, her smashing and gorgeous looks seem to tell another story! I just couldn't come to an all-natural conclusion….especially with these pictures below.
Before & After Photos
I'll say it beforehand — this actress is very lucky to have good genes. However, I have some evidence that may suggest she has had help from plastic surgeons.
Has Halle had a nose job?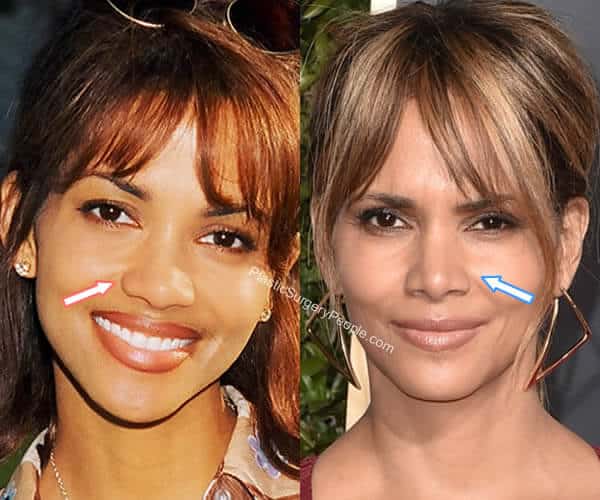 Well, well, well…it does look like Halle Berry had her nose done! It's a subtle change but you can definitely spot how refined her nose looks in the "after" photo compared to before, which looks plumper in my opinion. Her nose bridge is also higher, thinner and more prominent.
I can't blame her if she really had gotten a rhinoplasty though because she worked as a model at a young age. A flawless face is an investment in this business so I guess she did right by going with a nose job. It looks great, by the way!
Did Halle get breast implants?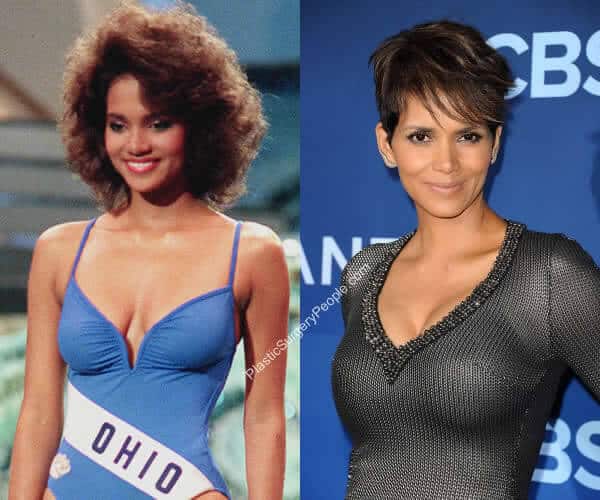 There were rumors saying Halle spends tons of dollars on her boobs every year. I think "every year" is an exaggeration but I do believe she has gotten her breast enhanced with implants.
She was not flat-chested by any means but her "after" picture clearly shows a much rounder and bigger breast size. The changes can be easily spotted around her cleavage area which were far apart. Now, I'm not 100% sure if her possible boob job was to increase size or firmness. I suspect both.
Did Halle Berry have botox?
The actress is blessed with good skin that I envy so much. She's in her 50s and unless she is smiling, you can hardly see any wrinkles on her face. She looks ageless but I don't think she has botox injections. Her face has an effortless and natural expression.
What about facelift?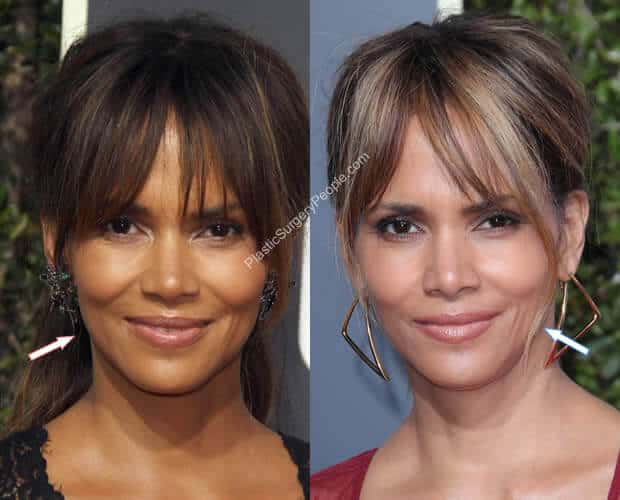 I doubt Halle had a facelift. There are lines on her face that appear on the same spot, especially around her mouth. Those would've disappeared or faded if she had a facelift.
I think her skin type helps her to look younger compared to purely Caucasian skin. Halle can still pass off as 30-year-old woman even if she's two decades older. Some women would sell their soul for this precious physical gift!
The perfect teeth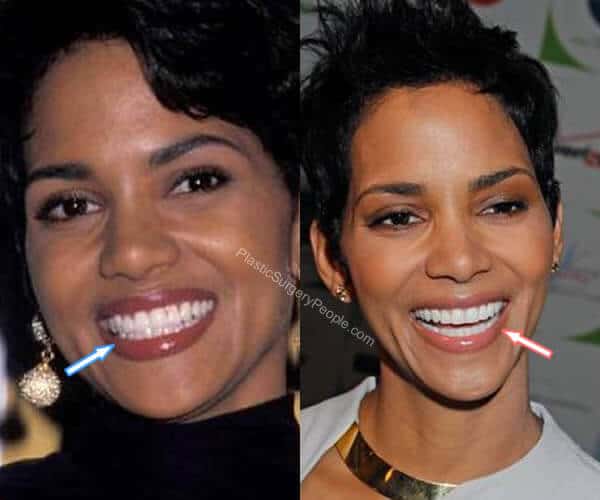 Her smile is one of her beauty trademarks. Halle's teeth are famously white, bright, and perfectly aligned, which is another cause for envy. Why do the beauty gods love you so much, Halle Berry?
I also think her mother ensured that Halle took good care of her teeth when she was still a child. You gotta start them early!
Halle Berry: Then and Now
Let's take a look at Halle's transformation over the years from a young innocent girl to the beautiful woman she is today.
Childhood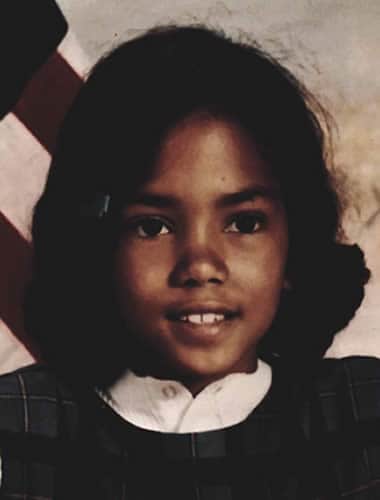 For me, Halle Berry was already a looker even as a young child. She is one pretty little kid with those big round eyes despite the small gap on her teeth. Perhaps she had braces when she was young.
High School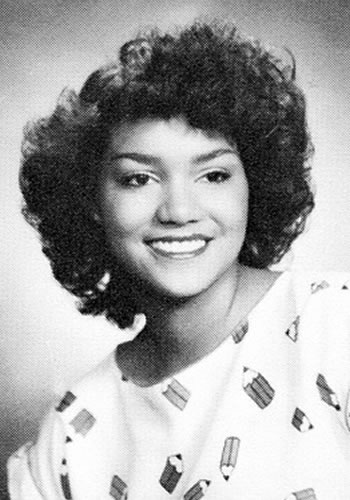 She couldn't have looked more "trendy '80s" in this photo with the big hair and the quirky printed blouse (I can bet that's a crop top!). But her alluring pretty eyes draw all the attention for me. Although, I can't also help but notice she had a chubbier and wider face as a teenager. And that nose…
Year 1986: Beauty Pageant Miss USA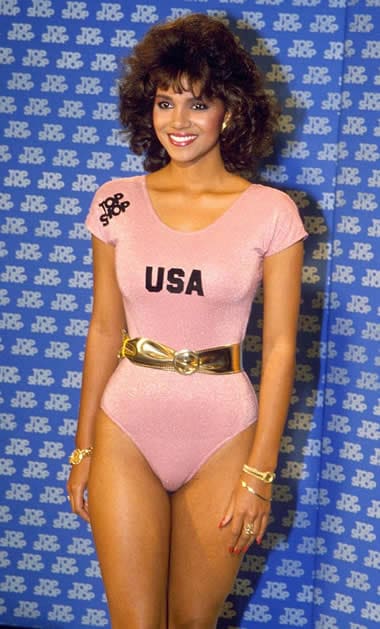 It's not hard to see that Halle would be known for her beauty — with her whistle-bait figure, beautiful smile, glistening skin, and gorgeous eyes. A perfect 10!
Year 1991: Film debut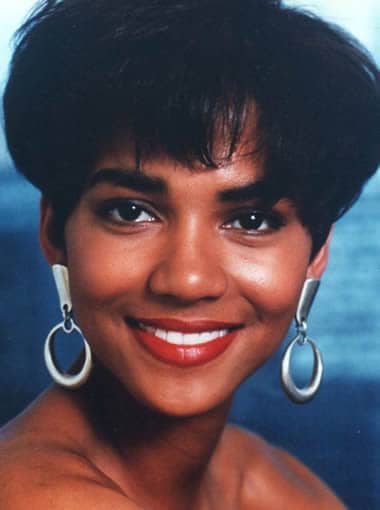 Halle embarked on a movie career wearing a chic haircut. She was introduced in Spike Lee's "Jungle Fever" with this sexy hairstyle, which was nothing like the Hollywood standard hair — long, wavy, and blonde.
I remember this look so clearly in "Boomerang," where she played Eddie Murphy's leading lady. I think the cut made her face unforgettable.
Year 1995: Looking different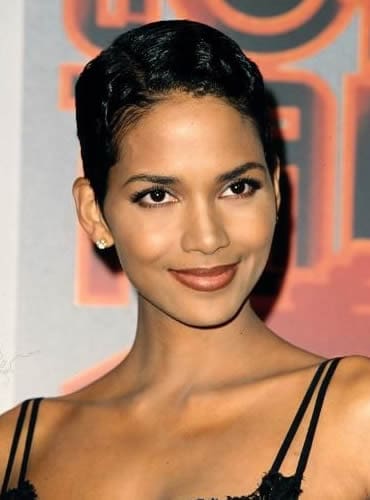 A couple of years later, Halle developed a more sophisticated look. The shorter hair suited her perfectly. The subtle eye makeup enhanced her best features and I believe she had her brows trimmed, too. The nose is definitely different now despite her denial that she has not gotten it fixed.
Year 2002: James Bond Girl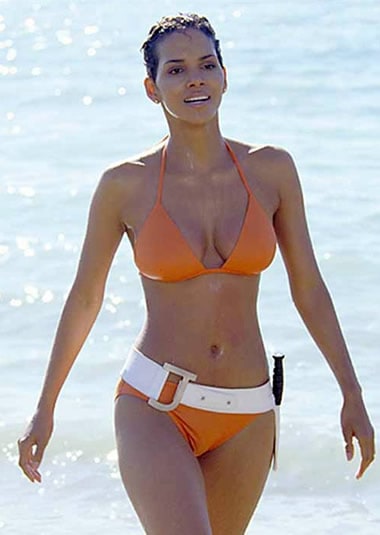 Deciding to play a Bond girl did wonders for Halle's career. By this time, she has made her mark in Hollywood. This photo of her wearing a tiny tangerine bikini (which complemented her skin, by the way!) with a white belt turned her into an iconic figurehead in showbiz.
Year 2008: Long hair look
People have been used to Halle wearing her hair short for over a decade. I think she reinvented her appearance when she decided to go with long hair this time. And you know what? She's still stunning!
They say that long hair makes people look older. Not Halle Berry. She can pass off as a 22-year-old with this hair and barely-there makeup. She was around 42 here.
Year 2014: Ageless body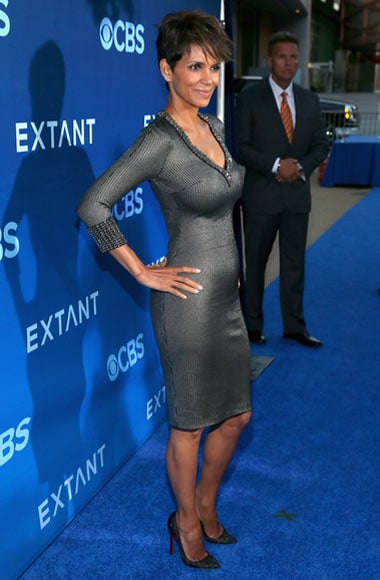 Halle went back to short hair while filming her TV show, "Extant." But it's not just her face that's ageless as she has maintained a slim body all these years despite having two kids.
We all know that Halle works out but I just can't help but wonder if she's had some assistance on her tummy, like say…liposuction?
Year 2019: The gorgeous assassin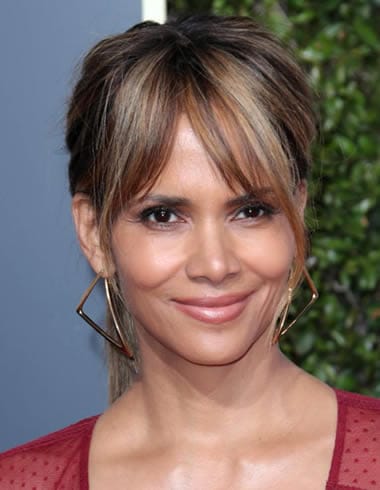 Halle played a gorgeous assassin Sofia next to Keanu Reeves in the movie "John Wick: Chapter 3 – Parabellum." Would you believe that she's now in her '50s?
Her appearance didn't change or age all that much despite a few wrinkles around her eyes. The lines on the corners of her mouth have gotten deeper though.
What does Halle Berry say about cosmetic surgery?
The one time Halle Berry spoke about it, this is what she said, as per FOX News:
"Somebody is always suggesting it to me, 'You know if you just a little bit of this and that, lift this up, then this would be a little bit better.' It's almost like crack that people are trying to push on you. That's what it feels like."

"I just have kept reminding myself that beauty really is as beauty does, and it is not so much about my physical self."

"I think when you do too much of that cosmetic stuff, you become somebody else in a way."
More Info about Halle Berry
Real Name: Halle Maria Berry
Birthday: 14 August 1966
Star Sign: Leo
Birth Place: Cleveland, Ohio, United States
Nationality: American
Race / Ethnicity: African-American, English, German, Irish, Dutch (distant)
Occupation: Actress, Film Producer, TV Producer, Voice Actor
Net Worth: $80 Million
Relationship: Unknown
Children: Nahla Ariela Aubry, Maceo Robert Martinez
Height: 1.65 m (5 ft 5 in)
Weight: 55 kg (121 lb)
Body Measurement: 36-26-37 Inches
Bra Size: 34DD
Dress Size: 6 (US)
Shoe Size: 7 (US)
Natural Hair Color: Black
Natural Eye Color: Dark Brown
Conclusion
Some critics think that Halle Berry is a hypocrite for saying she doesn't give in to the pressure to look good through plastic surgeries when it's very likely that she had her nose and breasts enhanced. I think that, while there is enough proof to show, Halle does know when too much cosmetic enhancement is too much.
Perhaps, it was all just a career move and her investment obviously paid off because look at where she is today. She is one of Hollywood's most recognizable and bankable stars.
While Halle may have been quite fortunate in the looks department. She knows exactly what to do with her beautiful face and shapely body. This is why she's a lot more successful than other stars. She has clear ideas of how to package her image to stand out in this business.