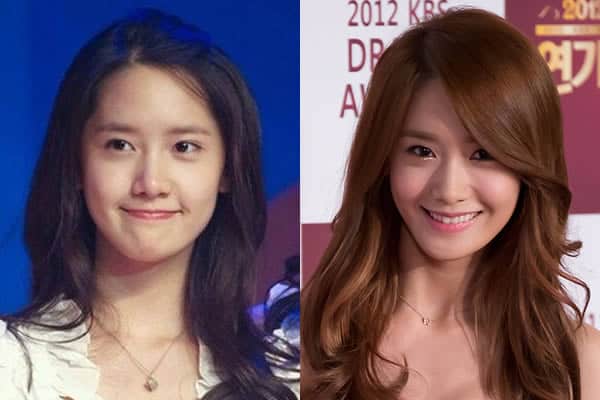 Yoona is a popular singer and actress in South Korea. Thanks to her debut with the SNSD (Girls Generation) group back in 2007, her fame has risen dramatically, hence prompting plastic surgery rumors.
Ever since joining the Korean girls group, Im Yoona has become one of the best selling music and TV artists in the country. While her voice is no doubt mesmerizing, her beautiful face and body have also proven to be pleasant among many live audiences and digital viewers.
You may remember her career defining performance in the 2008 Korean drama "You are My Destiny".
If not, this should refresh your memory 🙂
This opportunity led her to the world of Korean dramas in which she participated in a number of hits including 'Love Rain – 2012', 'Prime Minister and I – 2013', 'The K2 – 2016' and the more recent 'The King in Love – 2017'. This woman not only knows how to sing, dance, but she definitely knows how to act.
The more screen time she had on public television, the more people began to notice subtle changes on her face. They started questioning if she had a nose job, breast implants and worked on her forehead. They even suggested that Im Yoona had gone under the knife in order to get into SNSD.
But are these speculations true or not, we're about to find out…
Before & After Photos
Let's see how Im Yoona Ah's face and body have evolved throughout the years. We should be able to see evidence of cosmetic procedures by looking at the pictures before and after she became a Korean superstar.
Early Days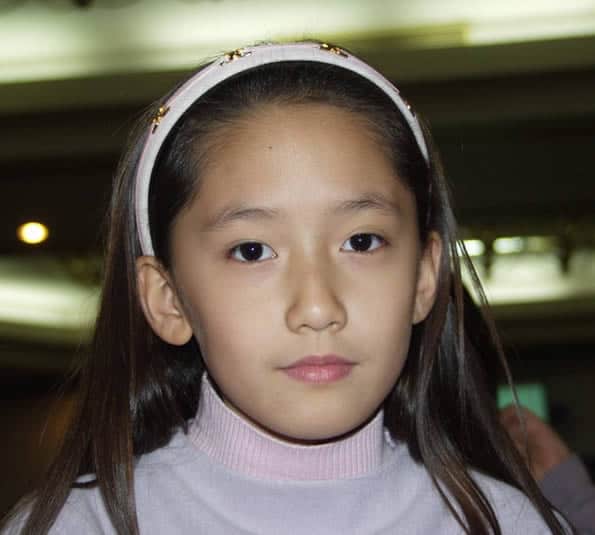 Source
Yoona has always dreamed of being a singer since growing up. When she was only 12 years old in 2002, she went for an open casting audition held by SM Entertainment. You can see shadows of Yoona here, but some of her facial elements seem quite different. She's probably too young at this stage and those features could have changed as she grew up.
Teenage Years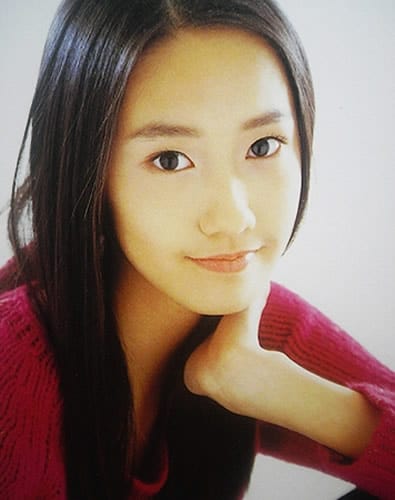 Photo Credit: Cyworld.com
After her audition, Yoona was picked and placed into professional singing, dancing, and acting training. Her eyes do look bigger in this photo, but it could simply be makeup instead of an eyelid surgery. Otherwise, her nose and face shape pretty much stayed the same.
Year 2007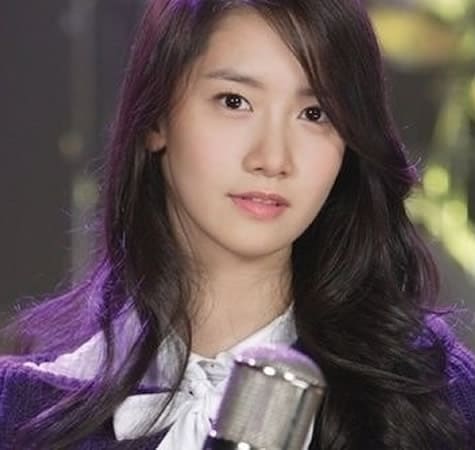 Photo Credit: Game Donga
After extensive training, Yoona was finally debuted into the Korean all girls group, SNSD (Girls' Generation) in 2007. Did you notice changes on her jawline and chin? It seemed like she may have gone through a chin reduction and jaw surgery to make her chin look more pointy.
Let's compare the 2 photos again…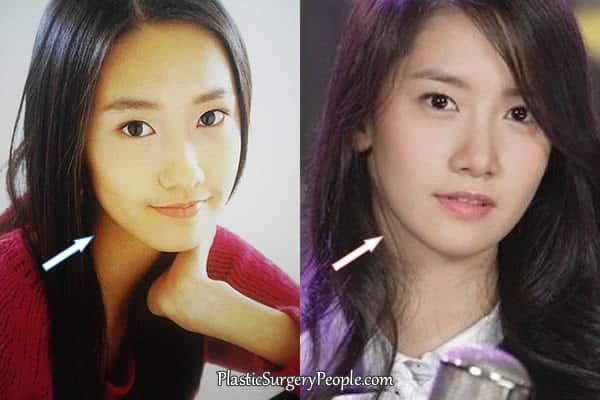 Can you see how the side of her jaw bone seems to have been shaved off? Now take a look at the tip of her chin. Something is definitely suspicious here and perhaps this was the only plastic surgery she's ever done before being placed into the famous girls' group…hmmm.
Year 2008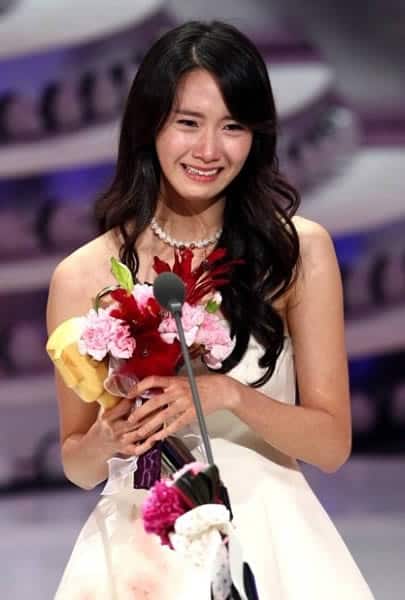 Source
This was the year when Yoona won both the Best Actress and Popularity Award in the 2008 KBS Drama Awards Ceremony. She's obviously a bit emotional here so we'll just leave her face alone.
Instead, we'll just mention how nice her shoulders are. They are broad, slim and the fact that she's a pretty tall Asian girl, so it's no wonder why she looks so gorgeous in all types of fashion clothing.
Year 2009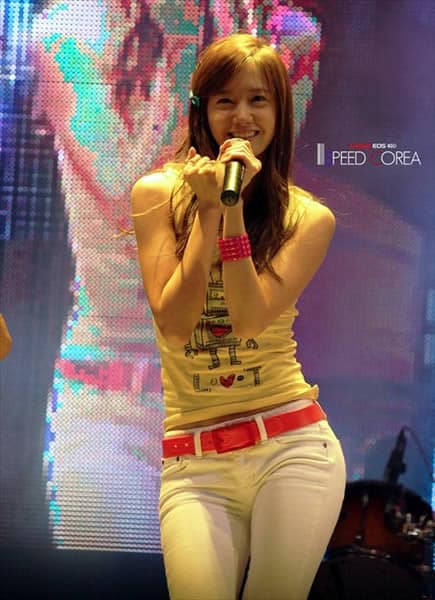 Here she is performing with Girls Generation when her group gained enormous popularity in 2009 due to their hit song, Gee. Yoona is looking skinny, but fit and because everything looks in proportion so she won't be needing any liposuction or butt injection any time soon.
Year 2010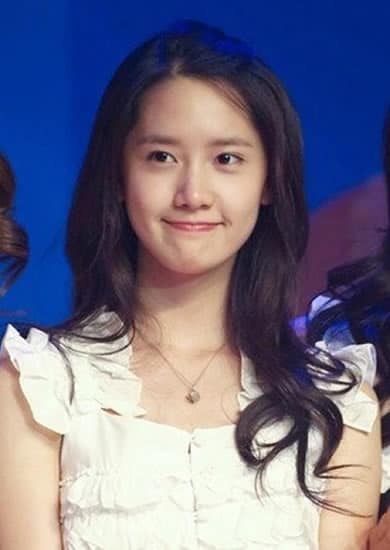 At the SBS Variety Show for Family Outing Season 2. There is something very pure and innocent about the way Yoona looks. Perhaps it's the dimples on her cheeks when she smiles or that little curve contouring on her forehead. No wonder people are suspecting that she's got a forehead implant. What do you think?
Year 2011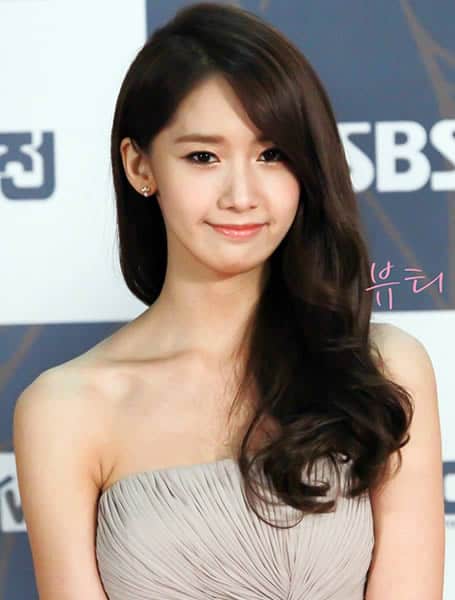 Here she is attending the SBS song festival in an elegant strapless dress. At 21 years of age, she's developed into quite a stunning woman with nice long neck and beautiful collarbones as you can see from this pic.
Year 2012
Source
Okay, let's forget Yoona's possible boob job here and focus on her cheeks. There is definitely something going on here. Yes, her cheek bones aren't usually that full and round. Serious!
Allow us to compare this with the previous year.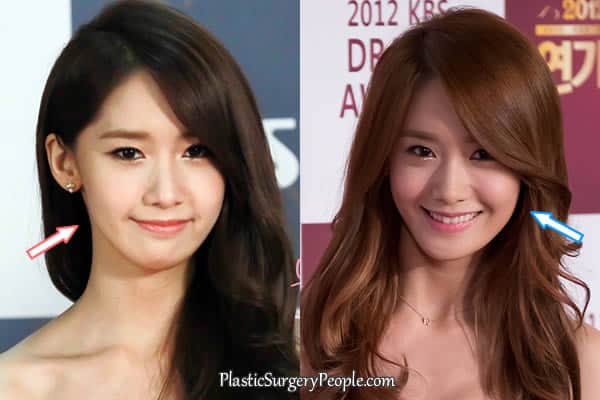 See the difference? Her cheek bones on the before photo was almost flat while the after photo is plump. It looks like Yoona may have had a cheek augmentation procedure here. Could this be a dermal filler injection such as Botox or a surgical implant that's placed within?
Year 2013
Source
Now we can't seem to take our eyes off Yoona's face. If she really has fillers in her cheeks then you've got to admire her plastic surgeon for doing such a sensational job. Absolutely gorgeous!
Year 2014
Source
Here Yoona is showing us her beautiful back while posing for Cartier's latest jewelry brand collection. At the moment, we still haven't seen any signs of rhinoplasty so unless it's really subtle makeovers, we can probably dismiss the claim.
Classy necklace and nice watch too by the way.
Year 2016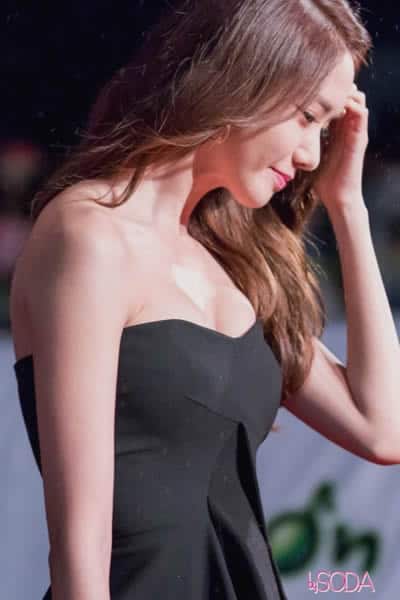 Source
It seems like we're able to see the top outline of Yoona's implants. The way her breasts are pushing up against her chest is a bit unnatural.
Year 2017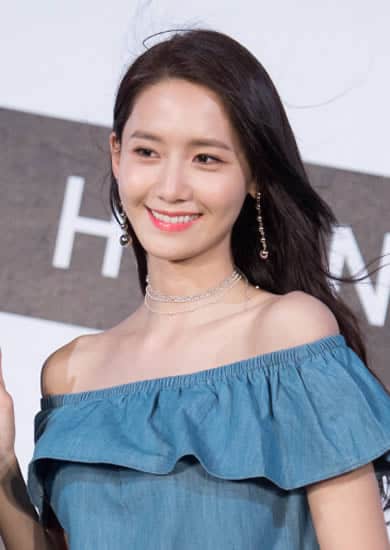 Source
While it's obvious that Yoona has matured at the age of 27, she's still adorable from every angle. Here she is meeting her fans in Taiwan and showing her beautiful teeth every time she smiles. Up until now, we haven't seen any indication that she's had lip injections so we'll dismiss this also.
More Information About Yoona:
Real Name: Im Yoon-ah
Korean Name: 임윤아
Occupation: Actress, Model, Singer, Dancer, Rapper, MC
Net Worth: $11 Million
Nationality: South Korean
Race / Ethnicity: Korean
Birth Place: Daerim-dong, Seoul, South Korea
DOB: 30th of May 1990
Relationship: Single
Children: N/A
Height: 1.68 m or 5′ 6″
Weight: 47 kg or 104 lbs.
Body Measurement: Unknown
Bra Size: 32B
Natural Hair Color: Black
Natural Eye Color: Dark Brown
Conclusion
There are definitely signs that suggest Im Yoona Ah has had some form of cosmetic surgery, but without the K pop star admitting to these claims, we can only provide the evidence for our readers to decide for themselves.
The 4 majors clues we saw were her chin, cheekbones, jaws, and her cup size. Although these are very subtle changes, they are often the hardest for surgeons to get right. So if these analyses are true, then whoever operated on her from the clinic is definitely worth every cent.
Again, these are only speculations and the photos that we sourced may have been manipulated also. In saying that, we'll leave the decision for you to decide.
Thanks for reading and don't forget to tell us what you think.