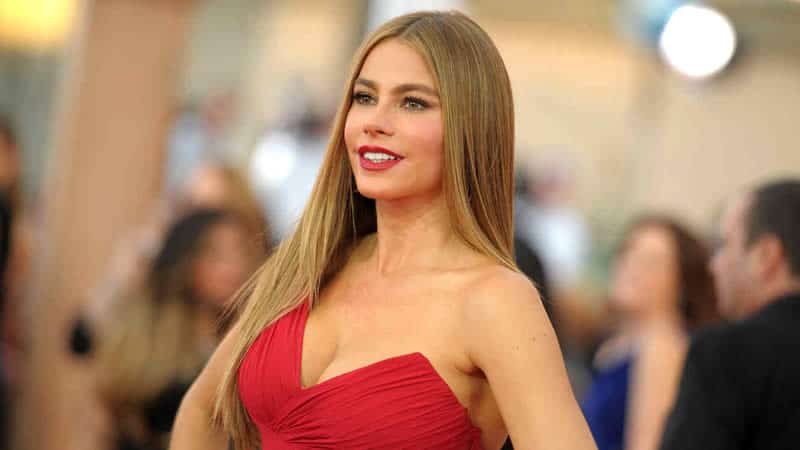 How does Sofia Vergara look so gorgeous at the age of 45?
Her face is absolutely glowing and please don't even get us started on her body because like yourself, we've also been wondering whether her breasts are real or fake. (But we will find out today!)
Ever since Sofia stepped foot onto the American filming industry, many people have been saying that Sofia had plastic surgeries. Most fingers were being pointed to her upper body, aka boob job!
And how can we blame them? Sofia's chest has always been one of, if not, her most valuable assets…right?
But were these breast implants rumors nothing but speculations or are there some truth to it?
One thing we know for sure is that she's definitely looking younger than her current age. Whether it's her good genes, the cosmetic skin care range she uses, the makeup or perhaps she's really visited a cosmetic surgeon for anti-aging treatments such as Botox or facelift, we can't really say…not yet anyway!
That's why we decided to open a new page for her today because she's simply too beautiful to ignore.
So let's "dig in", shall we? (Or you can jump straight to conclusion HERE)
Before and After
To find out whether Sofia Vergara had any cosmetic procedures done, we'll need to analyze her photos before and after she became a famous celebrity in Hollywood. We'll also look back at the early 1990s while the hot Colombian actress was still a host for the Spanish language TV network, Univisión.
Year 1988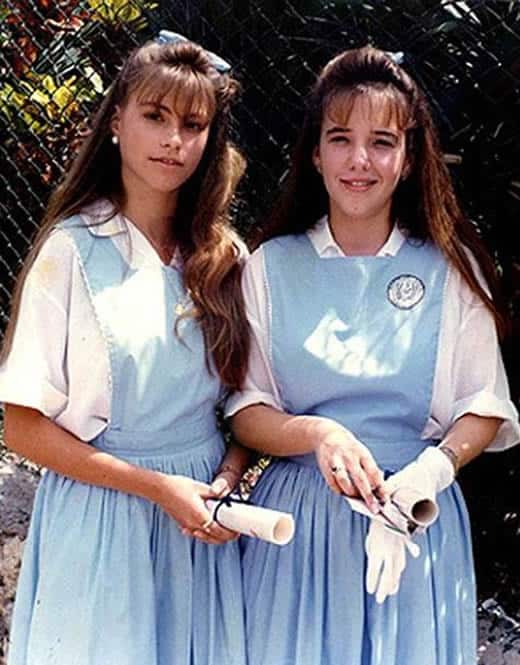 She has a very pretty face shape and pointy chin.
Here's a rare photo of Sofia when she was at her sweet 16. This was taken with a friend while they studied at the Marymount International School in Barranquilla. With long hair and no makeup, Sofia is looking as innocent as ever in her school uniform and you can see that she was naturally gifted with a beautiful chin and sharp jawline.
Year 1989
Sofia made her first TV appearance in a 1989 Pepsi commercial that was aired in Latin America. She was only 17 years old at the time and you can tell that her cup size was still developing. Nevertheless, she definitely had the body for it. And you wonder why Pepsi became such a popular brand…
Year 1991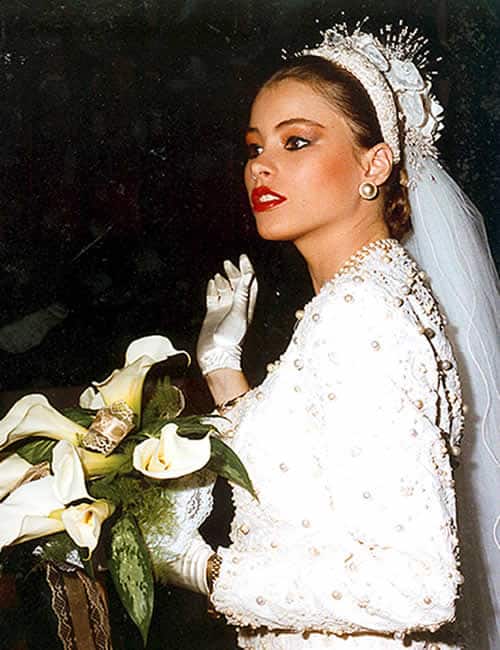 Source: Splash News
This may come as a shock to some but Sofia Vergara got married to her high school sweetheart, Joe Gonzalez, at just 18 years of age. She also had her first and only son in the same year, so that kind of explains things.
Regardless, she still looked gorgeous wearing those old fashion eye makeup and face blush. One thing that stood out for us in this photo was her pointy nose shape, which stayed the same throughout the years. So if anyone thinks that Sofia's had a nose job, this picture may be enough to put those rumors to rest.
Year 1992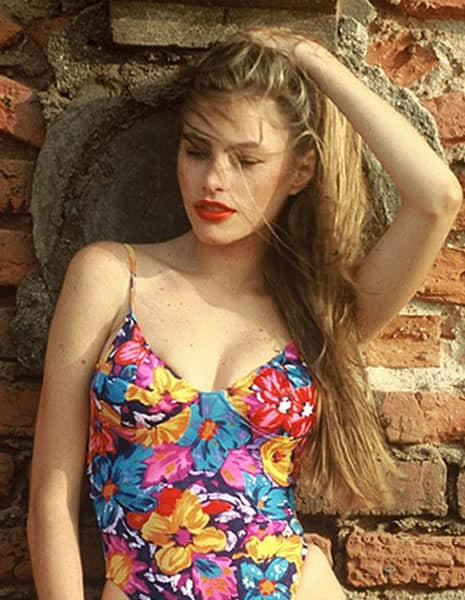 Could this be Sofia Vergara before she got breast implants?
Before she moved to America, Vergara spent some time in modeling while pursuing a career in the show business. Here she was posing for a modeling agency back in 1992. She was 19 years old at the time and in case you haven't noticed, something wasn't quite right here. Yes…we're talking about her bra size and it was nowhere near the volume it is today!
Year 1995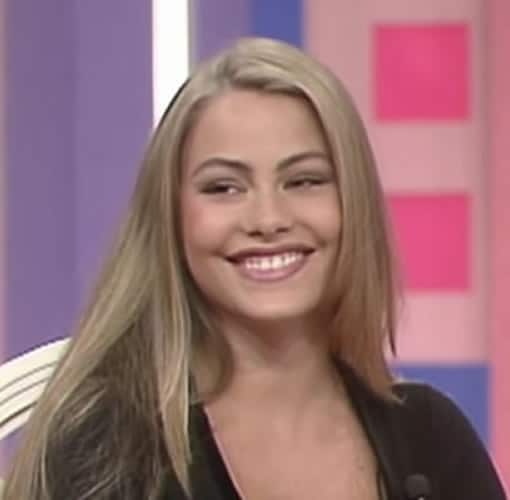 This was the year she became involved in her first professional TV series, Acapulco, cuerpo y alma. Although it wasn't a big hit, it was a step in the right direction. Sofia's mouth shape and beautiful smile has been one of her greatest attributes and is perhaps what distinguishes her from other celebrities (no…really!).
However, we did notice some differences between her teeth and gums. If you look closely at the gum area beside her two front teeth, you'll see that she had a low gum line, so this could be an indication that she's undergone a gum contouring or reshaping surgery later on in life.
Anyway, we'll do a before and after comparison towards the end of this post.
Year 1996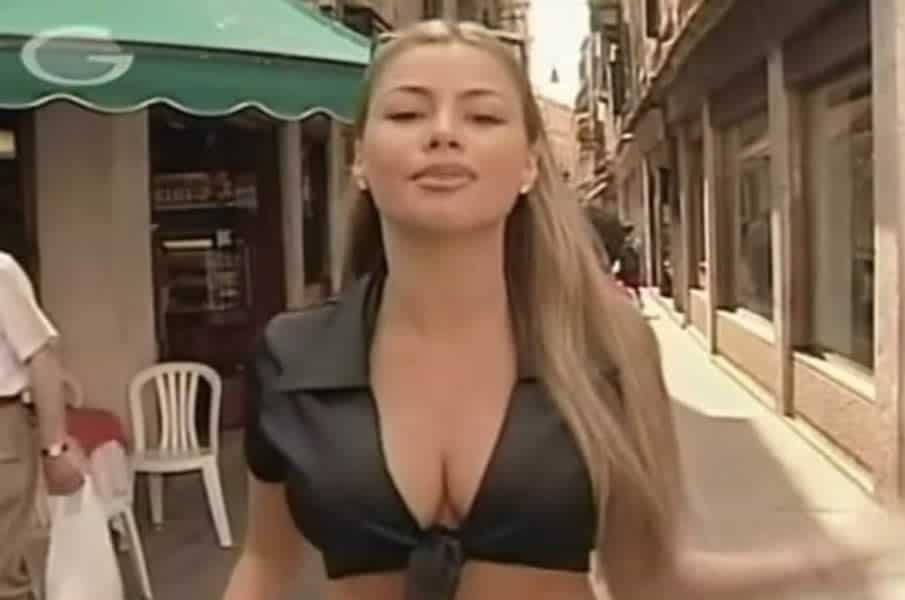 Source: Univision
During this year, Sofia enjoyed some good success in Latin America co-hosting Univision's Spanish travel show, Fuera De Serie. This was a screenshot from one of her episodes and you've got to wonder whether any procedures been done to her breasts because they certainly enlarged in size compared to her previous photos and videos.
So, from what we've gathered so far, if Sofia really had breast augmentation then it'll have to be somewhere between the year 1992 and 1996. Any time after that, well…she already became famous for having really big boobs.
Year 1998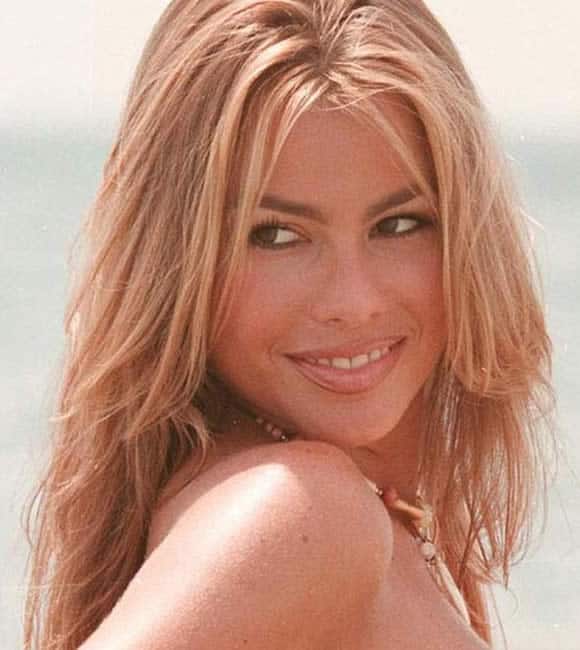 Did she have lip fillers?
In order to make a better living for her and her son, Manolo, Sofia decided to move to the United States where she gave herself every chance at the North America market. This picture was taken at a Florida beach and if you have been wondering why so many women are getting lip injections to look like Sofia, now you know why…
Year 1999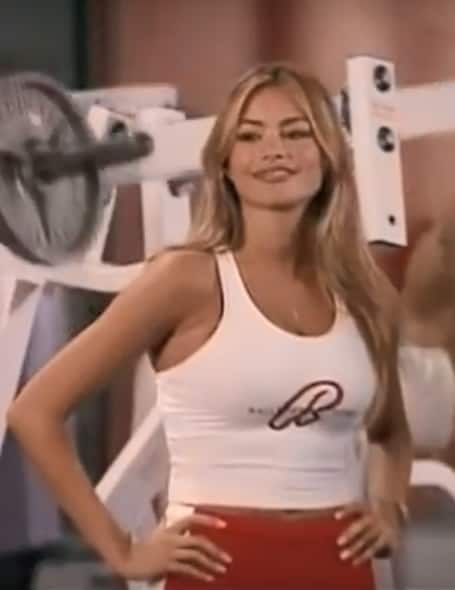 Source: Youtube
Many people didn't know this, but Sofia appeared for a few seconds in one of the episodes of Baywatch (Season 9, EP14). At the time, she was also the spokeswoman for Bally Total Fitness (later sold to 24 Hours Fitness). One thing we know for sure is that if Pamela Anderson wasn't casting back then, Sofia would have taken her C. J. Parker role with both…hands!
Year 2000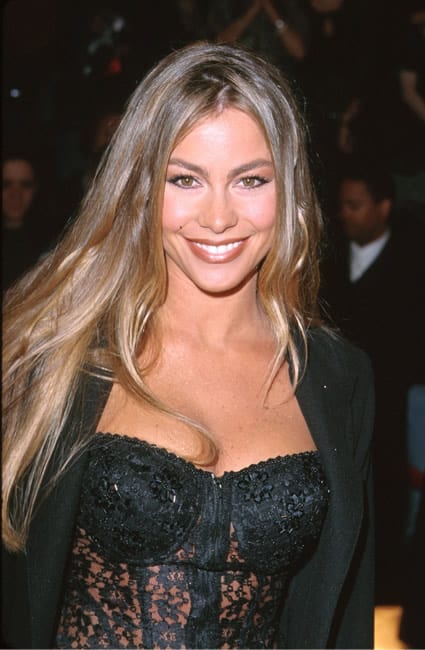 Photo Credit: SGrantiz / WireImage
Sofia made a statement when she appeared at the 14th Annual American Comedy Awards in 2000. Perhaps she's worked too hard to get here because she was diagnosed with thyroid cancer in the same year and had to have a thyroid removal surgery. Thankfully, she beat the disease, made a full recovery but needed to be on hypothyroidism medications.
Year 2002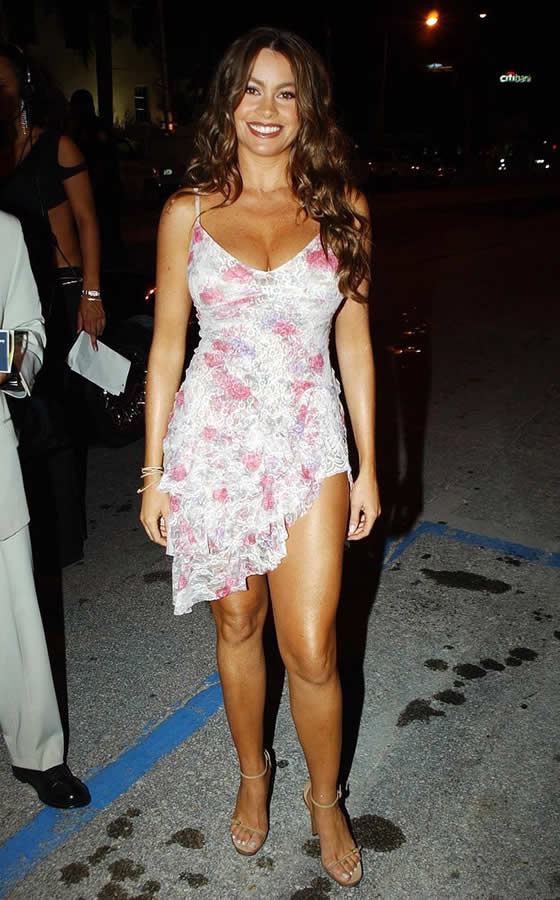 Credit: Getty Images / Jeff Kravitz
Sofia seemed to have gained some weight here and as a result, her thighs and bust size have also increased. So, is this proof that her breasts were indeed…natural? Her body proportion is excellent though but she better watches her diet because, otherwise, liposuction won't be out of the question.
Year 2003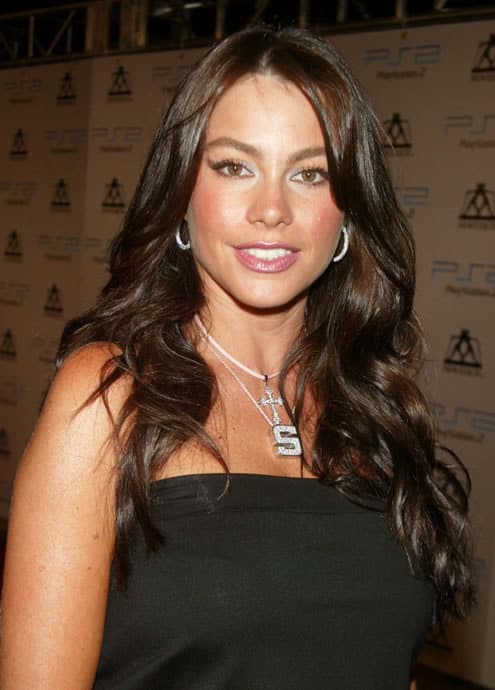 Image Credit: WireImage
2003 was a breakthrough year when Sofia landed her first English film in Chasing Papi. This happened after she deliberately dyed her hair color to brunette as her natural blonde wasn't helping her to land gigs.
At this point in time, we couldn't see any cosmetic surgery done to her face. No signs of rhinoplasty, chin implants or jaw reduction. Her skin and forehead looked silky smooth so she's been doing well to maintain her youth at age 31.
Year 2005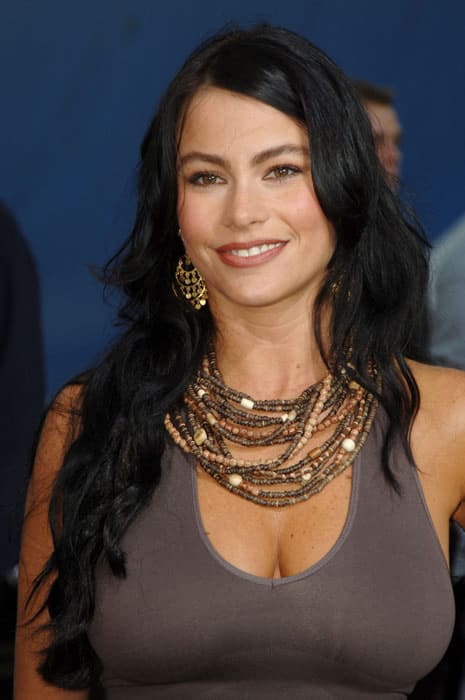 Picture Credit: FilmMagic
Here is Vergara at the premiere of Lords of Dogtown with even darker hair. Perhaps the traditional Latino look was having a positive impact on her because she landed a role in the American movie thriller, Four Brothers. Her black hair color actually went really well with her beautiful eyes and eyebrows, which both only required a little touch-up.
Year 2008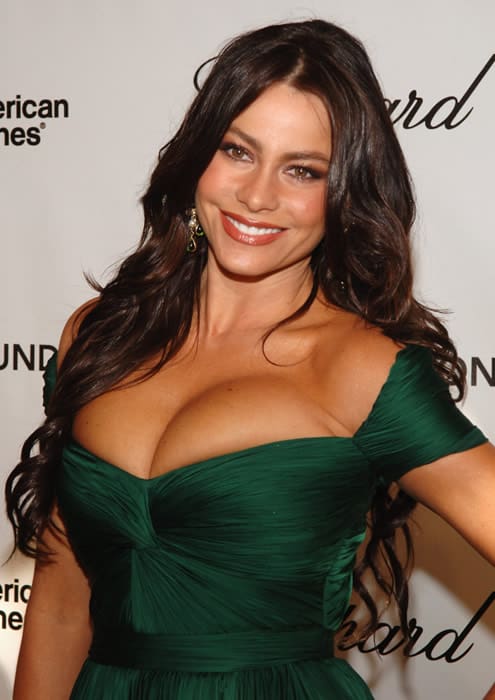 Photo Credit: WireImage
Sofia really "pushed it" in this deep V green dress while attending the Elton John AIDS Foundation Oscar Party. Her big personality was on display when she cast in the movie "Meet The Browns", which ultimately landed her a TV role that would change her Hollywood life forever.
Something tells us that those are not breast implants, purely based on the way they're able to be "pushed up" like that. So perhaps they are the real deal…OR they've been augmented using a very well planned fat transfer process.
Year 2009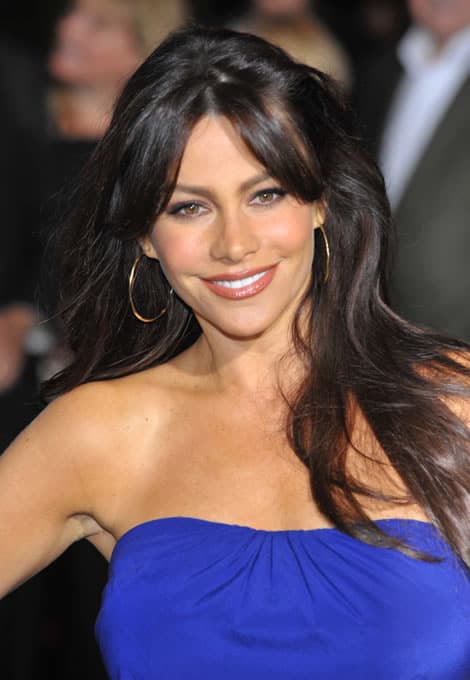 Photo Credit: WireImage
2009 has got to be Sofia's most successful year in which she totally owned the role of Gloria Delgado-Pritchett in the popular ABC series, Modern Family. Her hilarious personality, annoying ascent, and bubbly cleavage had won her the love of many audiences, fans and critics alike.
Not sure if you noticed, but her cheekbones appear to be more refined here. Although it is difficult to say whether she's had some dermal injections around those areas. If yes, then it has worked wonders to the lower part of her face because you can clearly see that the lines near her mouth have reduced or smoothed out.
Year 2011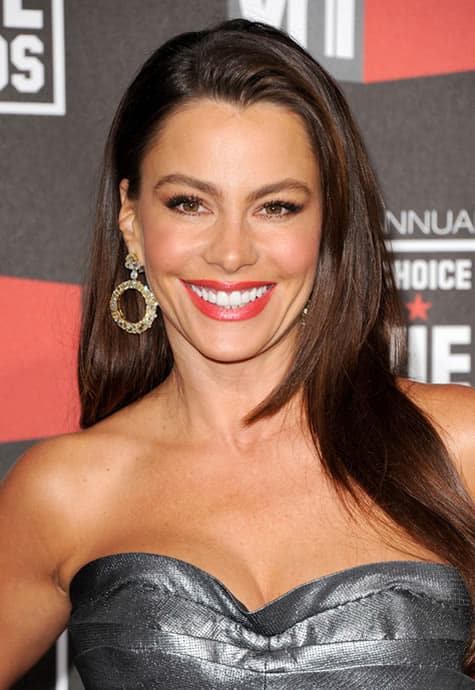 Image Credit: FilmMagic
This was the year Sofia tried to steal Gargamel's beauty secret in the hit movie, The Smurfs. It seems like she's succeeded too because if you look at her eye area, there are no wrinkles! She's smiling here and you can't even see any crows feet, which is rare for someone who's just 1 year shy from turning 40.
Look at it! There's no fine lines and not even eye bags. Seriously, whatever eye cream and beauty product Sofia has been using, we want some too! Or perhaps someone could just give us her plastic surgeon's number…?
Year 2013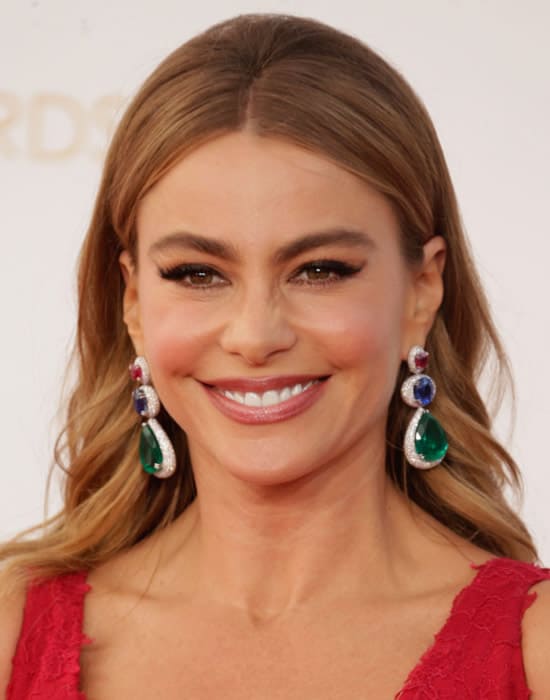 Has Sofia Vergara had a facelift?
Okay…here's a closeup shot of Sofia at the 2013 Emmys and if we didn't know who she was nor have seen any of her previous photos, then we probably wouldn't have noticed anything. But since we do, then there's no denying that something rather unnatural is transforming on her face.
Yes, she's literally reversed her age here and we suspect that she might've had a face lift and a brow lift procedure done. Her eyes have been lifted and her laugh lines, which used to be so obvious have totally vanished. There is also a level of puffiness to her face and this is noticeable on her cheeks, between her eyebrows and extended to the tip of her nose. So it seems like she might've had some Botox treatment here as well.
Year 2015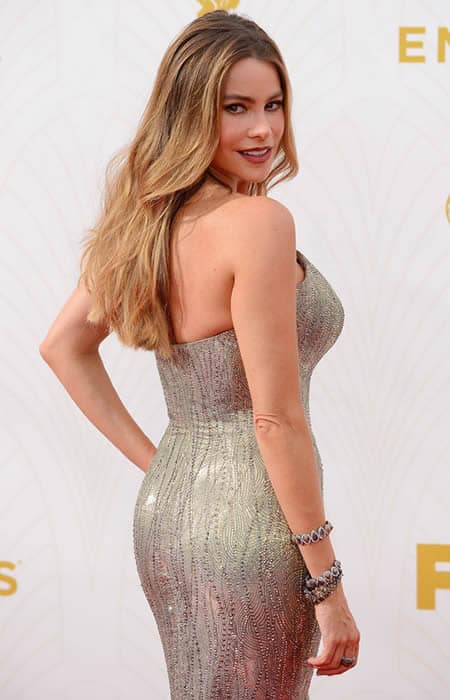 Does she need to lose weight?
This was Sofia at age 43 and although she's put on some weight around her arms, butt and stomach area, how can you complain when you are the top-earning TV actress in America?
Ok, not that she doesn't have a hot body, but she could really use some help on her bottom as it looks a little flat here. Perhaps a tummy tuck procedure, follow by lipo and a fat grafting process in which the collected fat can be transferred into her buttock area for a Brazilian butt lift?
Year 2016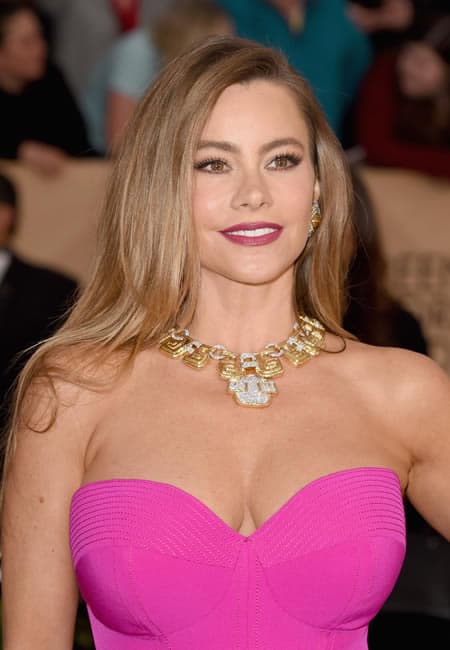 Credit: Getty Images
Here she arrived at the Screen Actors Guild Awards 2016 in Los Angeles looking fabulous wearing this hot pink dress and stylish gold necklace. At 44 years old, her skin is absolutely radiant and her light brown hair is matching perfectly with her plum lipstick.
Year 2017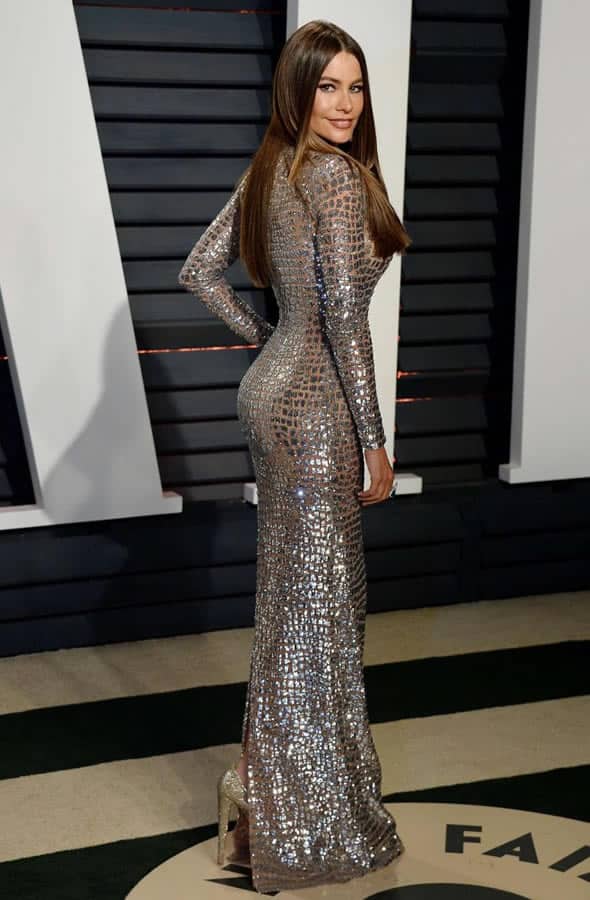 Wow…just WOW! Did Sofia Vergara take our advice and got a butt augmentation? And look at that gorgeous waistline! Either she's been on a really strict diet, been on a fitness work out binge and exercised like there's no tomorrow, or she's got plastic surgery. There's simply no other ways to achieve that amazing body!
More Information About Sofia Vergara:
Real Name: Sofía Margarita Vergara Vergara
Birthday: 10th July 1972
Star Sign: Cancer
Birth Place: Barranquilla, Colombia
Occupation: Actress, Voice Actor, Comedian, Model, TV Producer, TV Presenter,
Net Worth: $100 Million
Nationality: American, Colombian
Race / Ethnicity: Spanish, Latino, Italy
Relationship: Married to Joe Manganiello
Children: Manolo Gonzalez-Ripoll Vergara
Height: 1.7 m (5 ft 7 in)
Weight: 64 kg (141 lbs)
Body Measurement: 38-27-38 Inches
Bra Size: 32F
Natural Hair Color: Blonde
Natural Eye Color: Hazel
What Does Sofia Have To Say About Plastic Surgery?
During an interview with Self Magazine, Sofia said she's never liked her chest when she was young.
When I was 13, I got these ridiculous boobs. I wanted surgery. I told my mom…"As soon as I'm older, please take these boobs away."
Her mother explained to Sofía that everything will be different once she turns 18…but she still didn't get it.
I was like….why would I want these huge tits? I'm a 34DD. It's hard to dress. No matter what I wear, I look like a stripper. That said, I'm grateful I have them, and honestly, they've helped me a lot in my career. And I've always felt sexy.
In 2015, she went on a talk show, Watch What Happens Live, with her Hot Pursuit co-star, Reese Witherspoon. Sofia explained how difficult it was for her to face the fact that her breasts were sagging.
Believe me, I wish I had fake boobs. I lay down and they completely go down like all the way, like here…My whole life, buying a bra was a nightmare.
She admitted that she's gonna need a boob job sooner or later…
Yeah, eventually I'm going to have to have it. Something's going to have to be done. It's going to be really uncomfortable to walk with them hitting the knees.
So, if she isn't lying then sounds like she'll be going for a breast lift, reshaping or a reduction surgery in the near future.
CONCLUSION
Following our analysis and review, here are 4 cosmetic enhancements that we think she might've done:
1) Cosmetic Detistry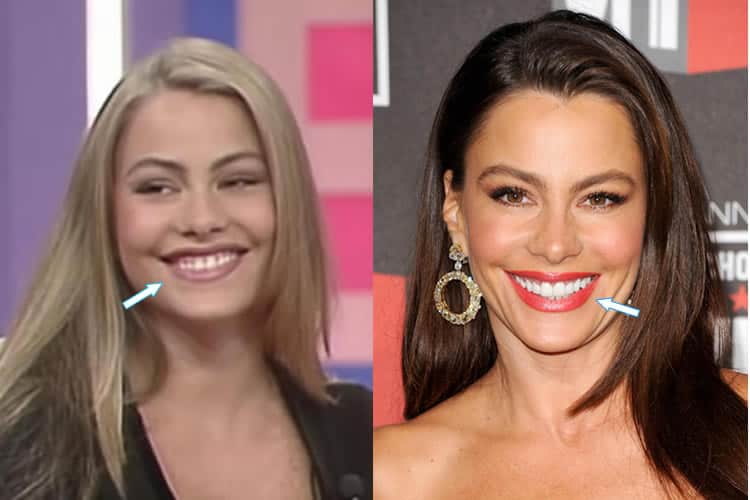 Beautiful smiles don't come easy. It appears Sofia might've had some dental cosmetic work done on her teeth and gums like gum contouring surgery. Also, her teeth are sparkling white here, so teeth whitening is a real possibility too.
2) Breast Enlargement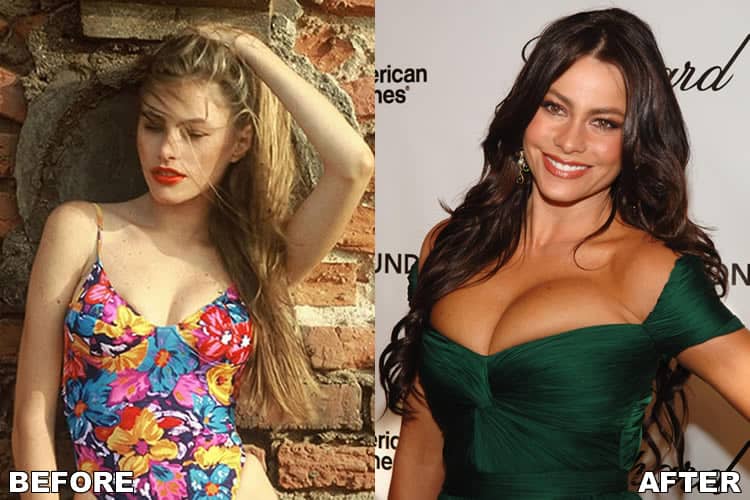 From 32B or C….to 32F? Although we don't think those are silicone or saline implants, we doubt 'THAT' could just happen naturally either! So if we had to choose, we'd say that this could be a very professionally done fat grafting breast augmentation procedure.
3) Facelift, Brow Lift & Botox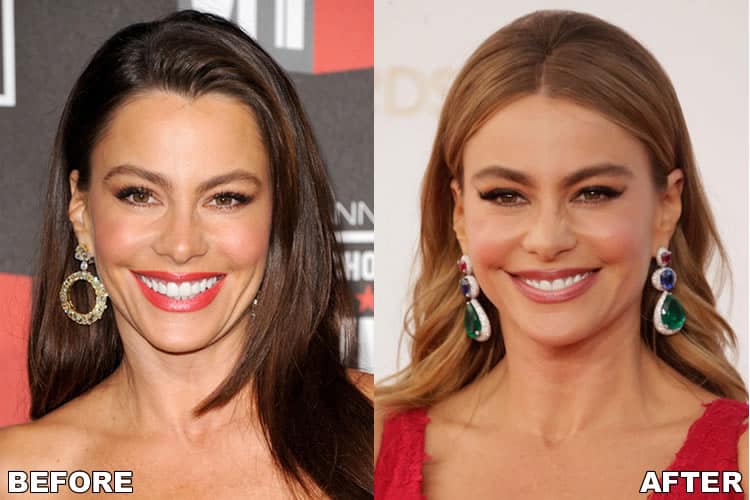 Okay…total of 3 treatments here but since they are all on the face, so we'll treat it as one. Look closely to her plump cheeks, between her brows, lines around her mouth and also how tight her skin looks…enough said.
4) Butt Augmentation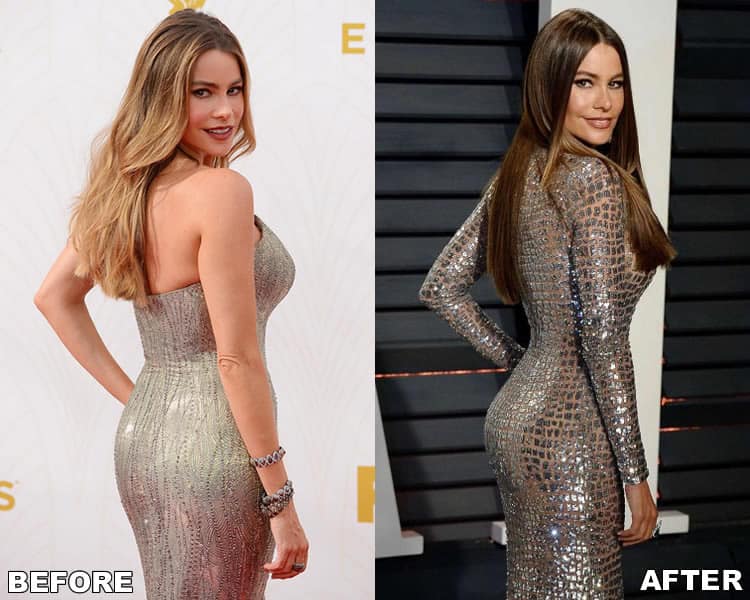 Could be the dress, but there are definitely some differences to her rear end. We are leaning towards a butt injection via a fat transfer procedure which gave her that "lifted" effect.

So there you go lovely people. There is no doubt Sofia Vergara is an incredibly hot and beautiful woman, but whether her beauty came from her doctor, her parents or 50/50….we'll leave that for you to decide.
Has Sofia gone under the knife?
What do you think about her looks?