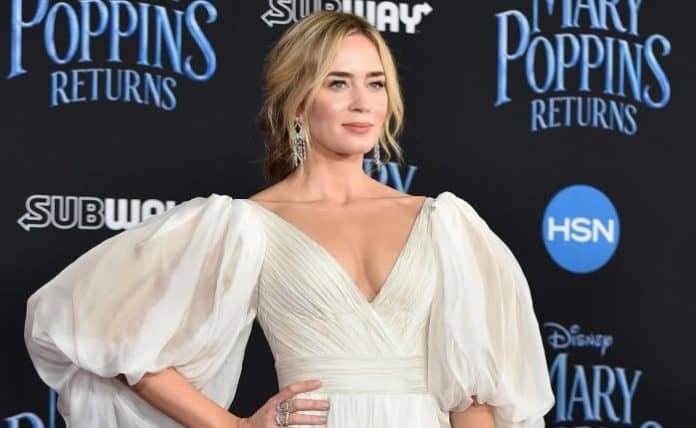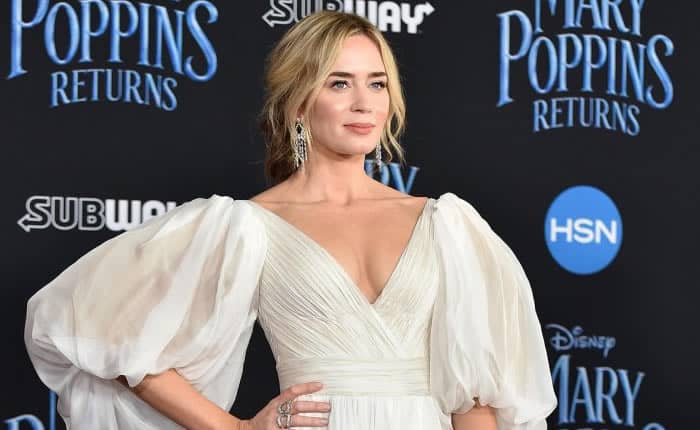 British actress Emily Blunt has starred in many critically-acclaimed movies making her one of the most talked about superstars today. Rumors alleged that the "Mary Poppins" star has gone under the knife to improve her beauty.
Specifically, people have said that Emily got rhinoplasty and lip fillers. She was also speculated to have sought the help of cosmetic surgeons to make her chin more prominent.
While I doubt that Emily needs a facelift, given her age, but after seeing her latest movie, I couldn't help but wonder if she gets regular botox to reduce fine lines. I mean, her face just looks so smooth and gorgeous.
Okay, she is an immensely talented star who can do all genres — drama, comedy and even thriller — but does Emily Blunt really need plastic surgeries?
I just need to find out the truth!
Before & After Photos
Has Emily Blunt had a nose job?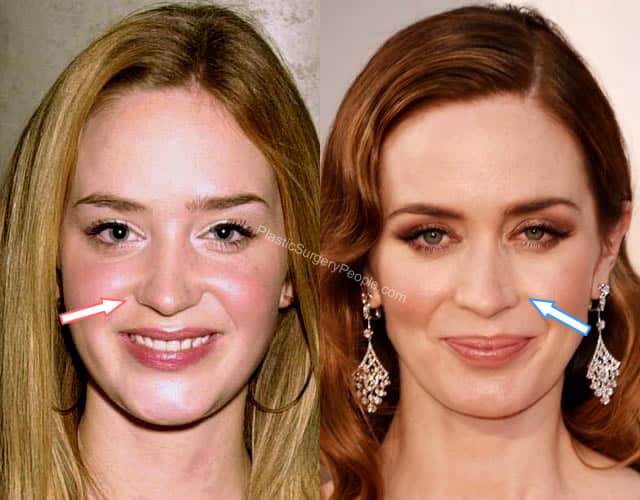 Emily Blunt's nose has been widely speculated to have been worked on, even by alleged experts in the cosmetic industry. But for my money, I'd wager a no for this one. There's hardly any changes in these photos. If she did pay for a nose job, then she has wasted her money as it didn't do anything significant to her looks.
Does Emily have breast implants?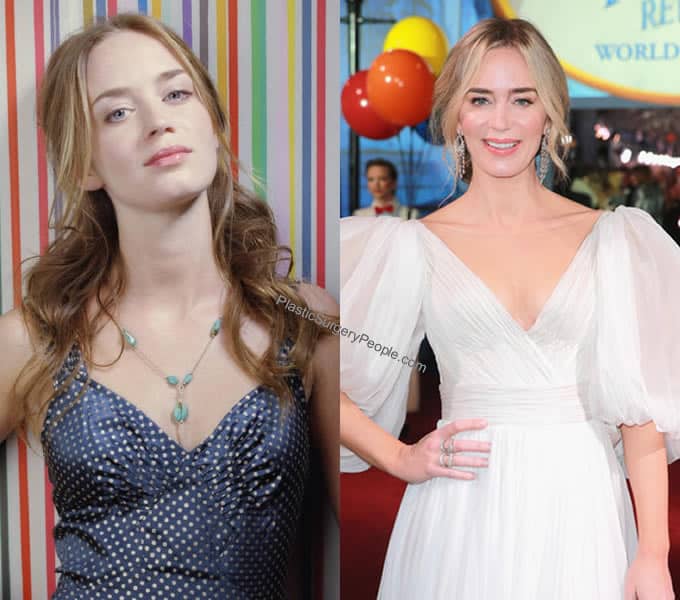 As with her nose, there's also no significant difference to her breasts. Emily's cleavage looks natural to me and her boobs have remained similar size. These photos were taken years apart. She's likely in her early 20s in the left and in her early 30s on the right.
I'm guessing that Emily wears a 32 to 34B bra and that she is perfectly fine with her small but natural cup size.
Did Emily have botox injections?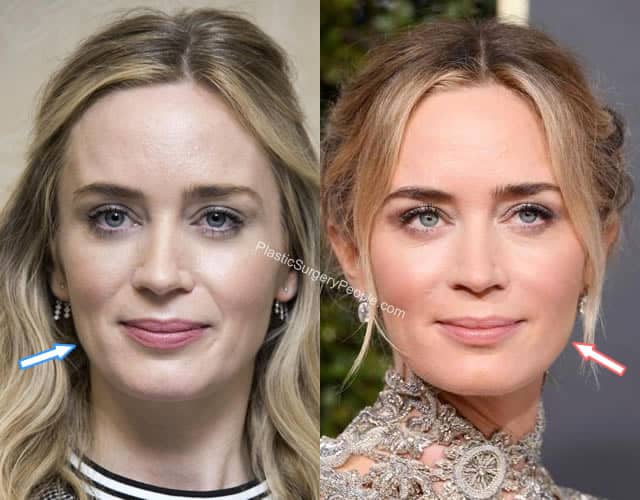 Emily may have gotten botox in her cheek and mouth area to minimize the lines that have started showing with aging. See, her face is so much smoother in the after photo. Then again, she could be wearing a thick layer of concealer to hide those minimal lines too.
Did Emily get lip fillers?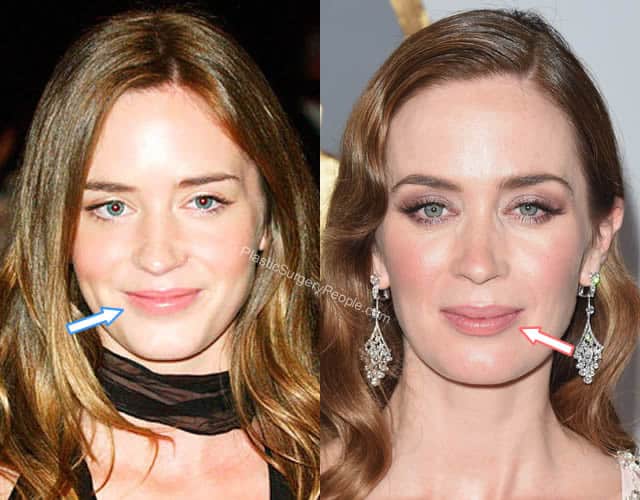 The star of "Mary Poppins Returns" appeared to have a magically plumped upper lip in this after photo. However, she may have just pursed her mouth awkwardly before smiling for the cameras. So, I don't think she had lip fillers; it's likely a bad camera moment.
What about teeth procedures?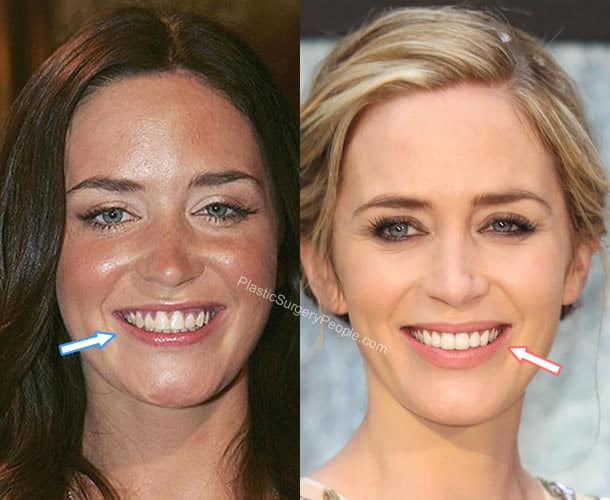 There are definitely major differences to Emily's teeth. For one thing, she has more gums in the before photo and her teeth's shape appear to be triangular. That changed in the after photo so it's possible that she's gotten dental veneers to gain that beautiful smile.
Emily Blunt: Then and Now
Let's see how Emily has transformed throughout the years.
Early Days: Young and Natural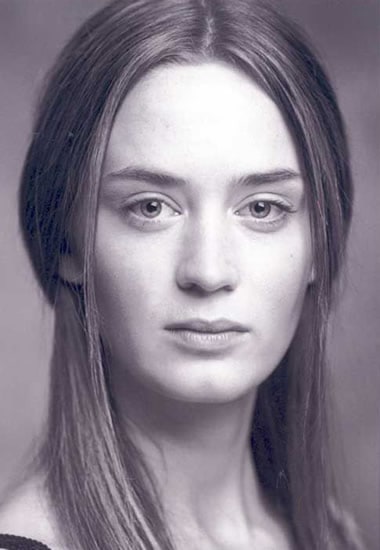 A young Emily Blunt at 18 years old went to a performing arts school. Because she stuttered as a child, she was advised to get into drama classes to help with her speech and she learned to love acting because of this.
This photo was likely the one she submitted for the auditions. If so, she picked a good one because it highlighted her big, round and expressive eyes and her proportional lips. A beauty indeed!
Year 2001: Professional debut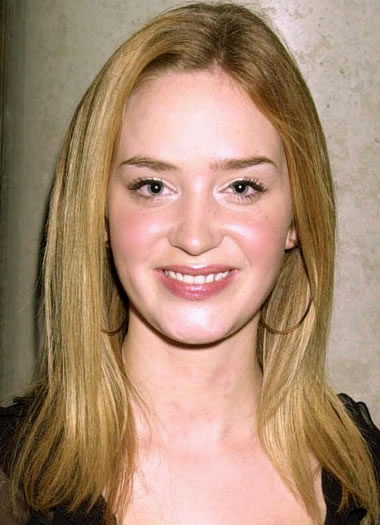 Emily landed a job as a professional actress in the production of the stage play "The Royal Family" with Dame Judi Dench. She colored her hair to a golden shade, which I'm not sure I'm thrilled about. It looked overdone.
She also had a fuller face around this time although she has always been on the slim side.
Year 2003: Screen debut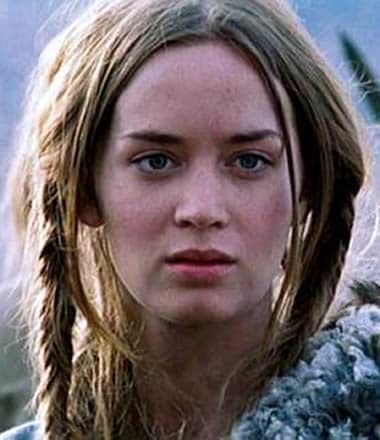 The actress' small screen debut was in a British TV drama called "Boudica," a period piece on Celtic warriors. She does look like a Celtic princess in this photo and her face is full of emotions!
Year 2006: Career breakthrough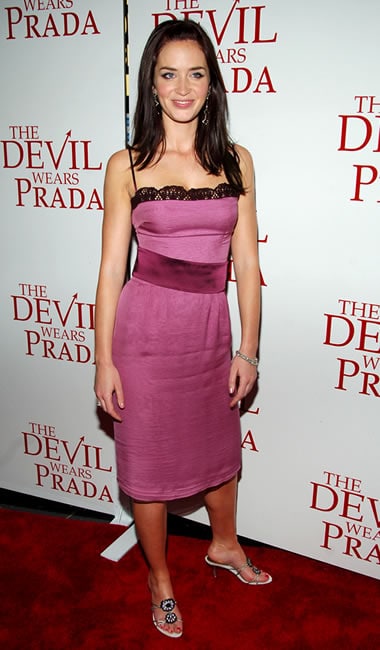 Her biggest break came with "The Devil Wears Prada" with Meryl Streep and Anne Hathaway. Emily was the supporting actress but she became unforgettable in this movie.
Emily colored her hair darker for this red carpet look and I'm loving it. She looks more confident and I also love the simplicity of her deep rose colored dress.
Year 2010: Beautiful and married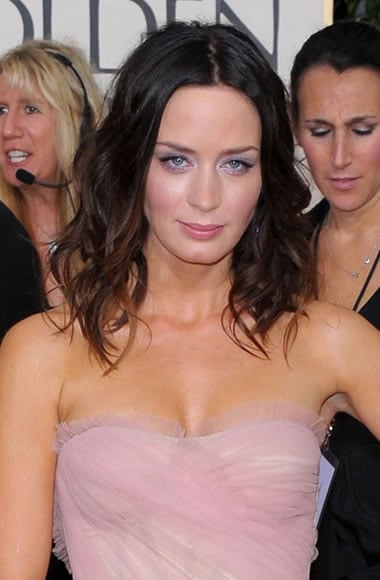 This was the year she married John Krasinski and together, the two became one of Hollywood's most powerful couple. She looked stunning in her impeccable lilac ruffled dress with matching makeup. Her eyes says you should never mess with a star like Emily Blunt.
Year 2016: Pregnant with second child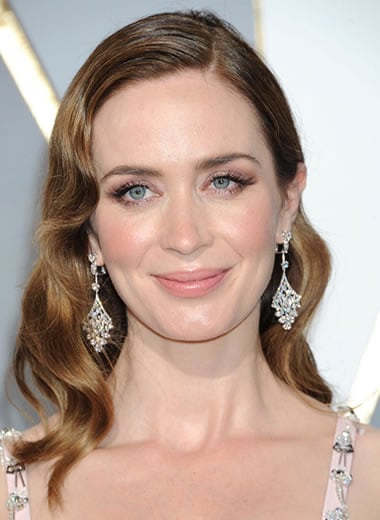 After giving birth to her second daughter, Emily attended the awards circuit looking absolutely refreshing. She went back to her hair's natural color. I dig the barely-there makeup that only highlighted her beautiful eyes. I wish she ditched the chandelier earrings though because it distracted from her beautiful face.
Year 2019: Smooth face cheeks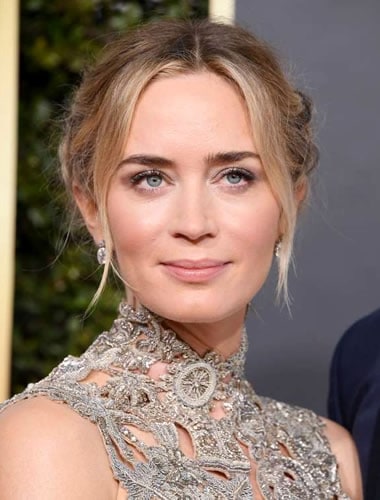 In her mid-30s, Emily Blunt may be the woman who has it all — a husband who adores her, two beautiful daughters, and a filmography to be proud of. What else could she need? Maybe a flawless face showing no traces of aging?
She appears on the red carpet for the Golden Globe Awards with perfectly smooth face cheeks. She looks absolutely classy and gorgeous in this photo, most likely thanks to botox or some outrageously expensive skincare products.
What did Emily say about cosmetic surgery?
Emily Blunt talked about embracing her flaws in Women and Home Magazine:
"In Hollywood, people are suffocated by plastic surgery, but striving for an impassive perfection isn't something I ever found beautiful or have tried to achieve myself. I believe in taking care of your skin and your general health, but women who spend too much time trying to look perfect lose some of the magic about them."
More Information about Emily Blunt
Real Name: Emily Olivia Leah Blunt
Birthday: 23 February 1983
Star Sign: Pisces
Birth Place: Roehampton, London, United Kingdom
Nationality: British, American
Race / Ethnicity: English, distant Welsh
Occupation: Actress
Net Worth: $25 Million
Relationship: Married to John Krasinski
Children: Hazel Krasinski, Violet Krasinski
Height: 1.71 m (5 ft 7 in)
Weight: 52 kg (115 lb)
Body Measurement: 34-23-35 Inches
Bra Size: 32B
Dress Size: 4 (US)
Shoe Size: 9 (US)
Natural Hair Color: Dark Brown
Natural Eye Color: Blue
Conclusion
Emily Blunt does not need plastic surgery or many cosmetic enhancements to succeed in Hollywood. She's already made her mark in a span of a decade and a half and she's still soaring because she's a super talented star.
Though there are indications that she may have gotten botox — like many other celebrities in Hollywood — I'd like to believe that Emily's beauty is generally natural and unblemished by procedures.
Admittedly, Emily doesn't have an arresting exceptional face like Angelina Jolie or Blake Lively. However, she does have the most beautiful eyes, which she uses effectively in her craft.
(Featured Image Credit: Getty)