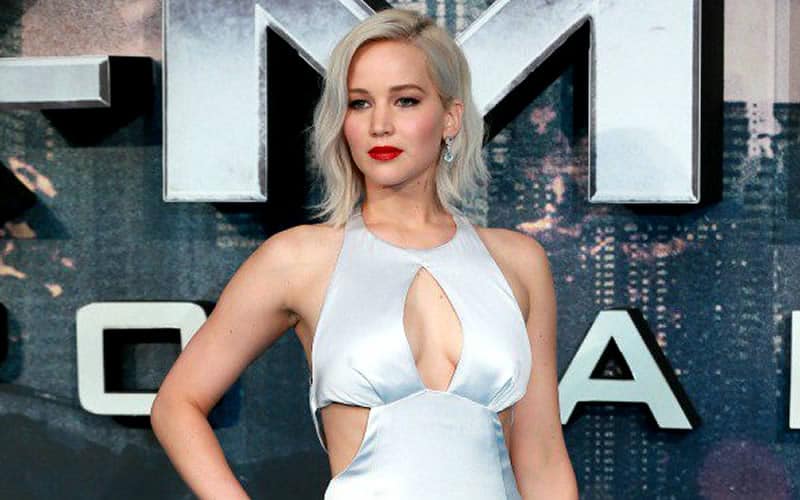 Academy-award winning actress Jennifer Lawrence has accomplished success even before she hit her '30s. She has a combination of talent, perseverance, a beautiful face and a hot body.
But being in the spotlight also meant the actress had to deal with a lot of scrutinies. This includes people judging her looks and speculating her of getting plastic surgery.
Before & After Photos
To get some answers, we'll go over photos before and after Jennifer Lawrence became famous. We'll figure out what cosmetic procedures she might've gotten to enhance her look and which of her physical features are real or fake.
Did Jennifer Lawrence Have Nose Job?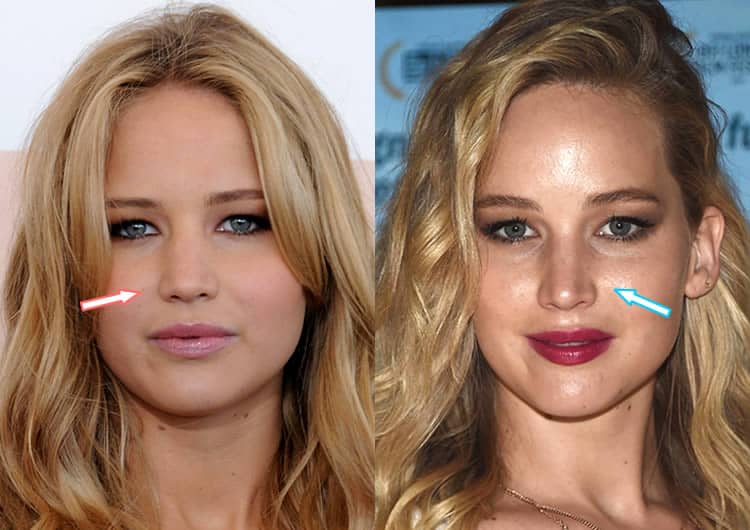 Did she get a new nose?
Comparing Jennifer Lawrence's nose before and after might help explain why many people think she had a nose job. In her before photo, Jennifer's nose appear rounded and arched, but her after photo feature a nose with a slimmer nasal bridge and a pointier nose tip.
The change in the shape and size of Jennifer's nose is subtle though, and makeup might have helped. So if the speculation is true, then we believe she went to a very good cosmetic surgeon for her rhinoplasty.
Has Jennifer Had Lip Injections?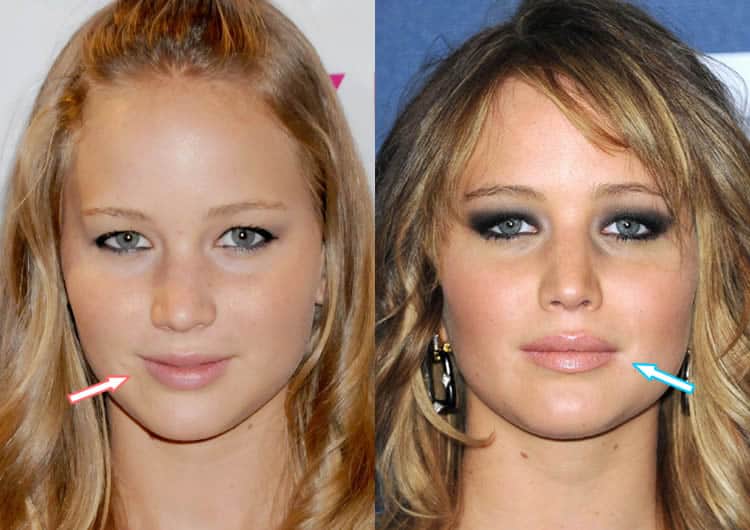 Naturally plump lips, fillers or good lipstick?
While Jennifer's natural lips weren't exactly thin before but it definitely appears fuller and plumper, especially on the upper lip, in her after picture. Like her nose, the change in her lips isn't too obvious but some fans do think she has lip injections to enhance her mouth shape.
We don't really think Jen needs this procedure but her lips does look a lot better now. It's nicely shaped and just the right size for her face. So if she did get lip fillers then good for her for deciding to go with it!
Did She Get Botox?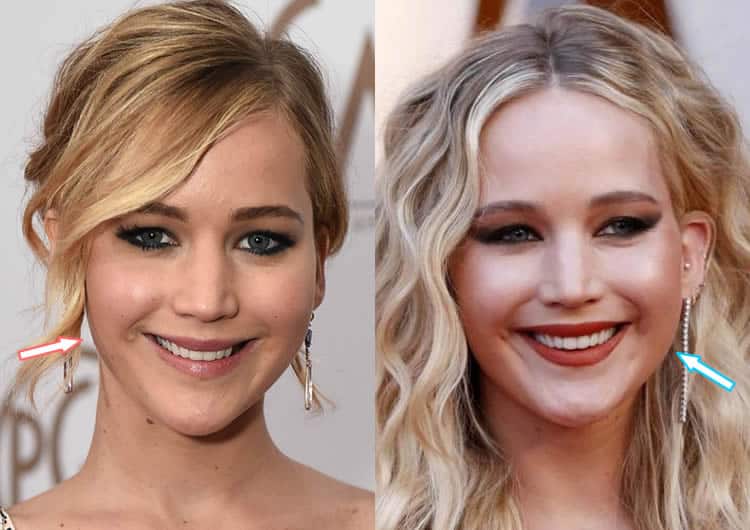 Face job or too much makeup?
Why would someone young-looking as Jennifer Lawrence get botox injections? Apparently, some fans think she gets this treatment routinely to plump up her cheeks.
To be fair, Jennifer's face was already quite chubby and full of volume as a child, so we doubt she needs any face fillers. Plus, we don't see any difference in these comparison photos except in the way her makeup was done. Her face shape might look slightly fuller in the after pic but that could've been just the angle of the shot.
Though she looks more flawless in the after photo, Jennifer's smile is still the same in both images. So, nope…no botox for this star for now.
What About Boob Job?
Does Jennifer Lawrence have fake boobs?
Jennifer has been rumored to have gotten a procedure to increase her breast size and maybe the people who scrutinize her body are on to something here.
Her before photo shows a flatter chest with nary a trace of cleavage. Her bust appears to be non-existent, which leads us to think she might have gotten a boob job indeed.
Her after photo, on the other hand, shows off her ample bust. Jennifer's breast implants look so natural, though, if she really did have cosmetic changes done to her boobs.
Does Jennifer Lawrence Have Butt Implants?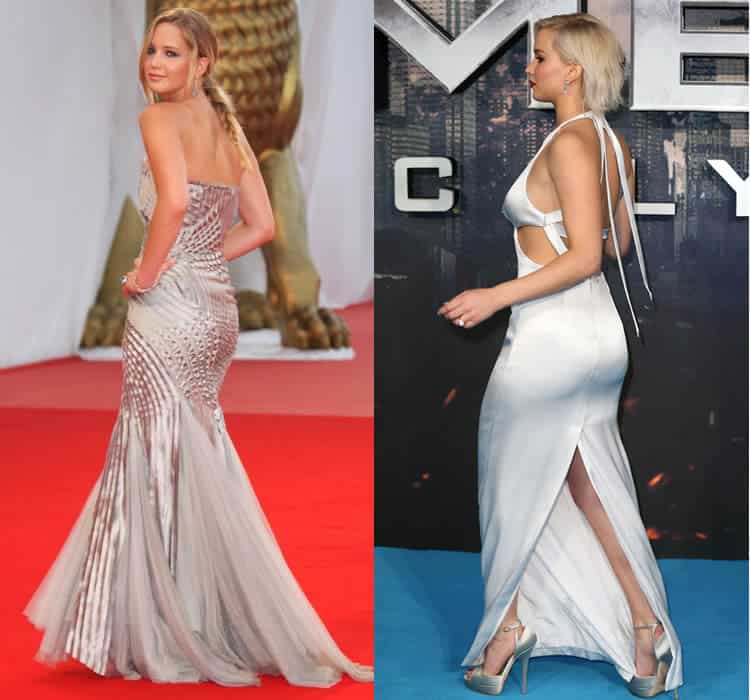 Hard work or artificial curves?
Jennifer has a slim and slender body as well as long legs. She looks hot by Hollywood standards because there's hardly a trace of fat in her body. But she does have a slightly prominent bum size as seen in these comparison photos.
Maybe it's the way her gowns hug her body, but doesn't she appear to have a fuller and nicely shaped bottom in the after photo even with no traces of weight gain? Could she have gotten butt implants or fat transfer injections to elevate its appearance?
Then again, with the physical preparations for her roles as Katniss and Mystique, maybe her workouts enhanced her bottom. But if Jennifer did get help from a plastic surgeon, the doctor needs to be commended because Jennifer's butt looks natural and real.
Jennifer Lawrence's Beauty Transformation
Like most celebs, Jennifer's appearance have gradually improved through the years. Let's check out her timeline photos and see if there's any "secrets" to her beauty that we may have missed.
Baby Days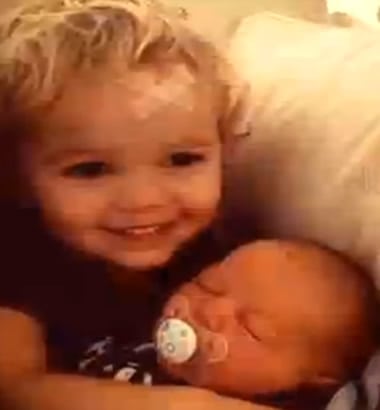 Source: Reddit
Nope, that's no dummy. That's Jennifer Lawrence's baby picture as a newborn. Her elder brother is cradling her in his arms. Don't they look cute together?
Early Childhood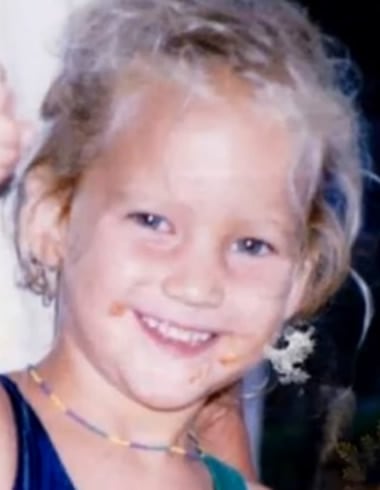 Source: Twitter
Young Jennifer did not mind getting down and dirty. As a child, she played tough and rough games with her two older brothers and can't be bothered to fix her hair. She had round and lovely eyes that light up her face with her wide smile.
Teenager Years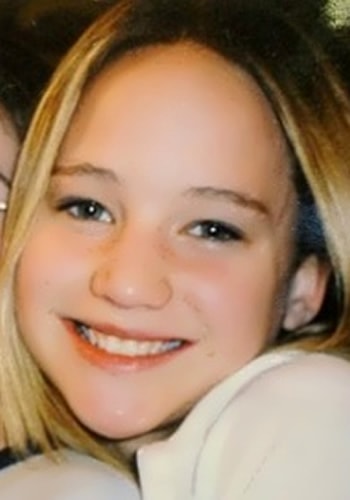 Source: Facebook
Jennifer blossomed into a pretty teenager with her cheerful and exuberant face. She had attractive facial features even then. For us, her nose, chin and cheeks needed little enhancements.
Year 2006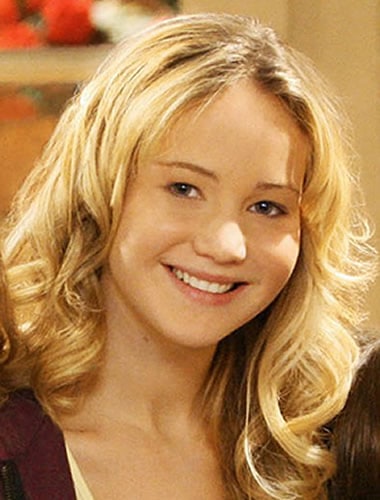 Source: Pinterest
Jennifer debuted as a television actress at 16 years old. She had obvious baby fat and was a chubby but vivacious blonde. You might have noticed that Jennifer has a nearly perfect set of teeth in her younger years. Could she have gotten braces or veneers early on?
Year 2008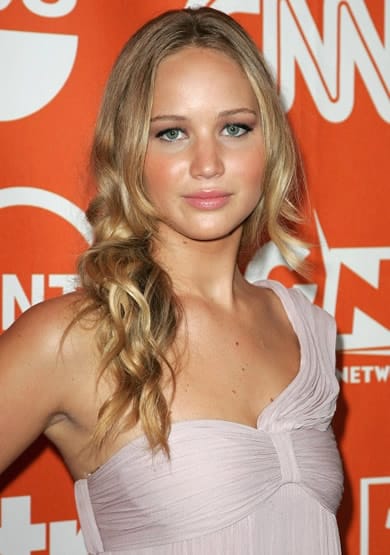 Photo Credit: Getty
The Hollywood transformation slowly begins for Jennifer Lawrence. At 18 years of age, she appeared to have lost weight and shed off her baby fats. She grew her hair longer and wore a sexier, more mature hairstyle too.
Fans who follow Jennifer's physical transformation point out she had a smaller boob size before and we have another evidence in this photo. She really didn't have cleavage then.
We don't think she had a nose job around this time yet but she appears to have enhancements on her lips.
Year 2010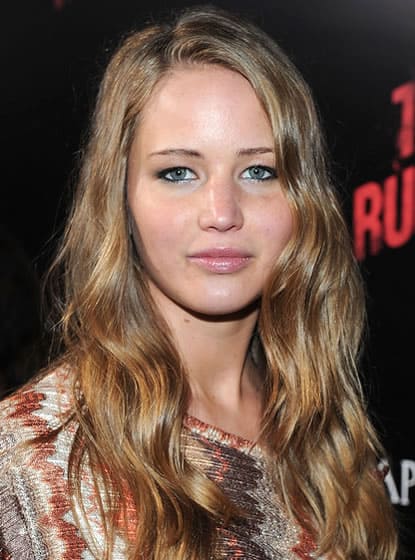 Credit: Getty Images
Following her breakthrough performance in the movie "Winter's Bone," Jennifer decided to change up her looks by turning her hair color a darker shade as a dirty blonde.
One thing we can say about this young star is that she knows how to highlight her best features — her eyes and eyebrows. Through the years, you'll notice how she uses makeup and eyeliners to polish these features. We love her choice of just wearing lip gloss for this appearance to draw all the attention to her eyes.
Year 2012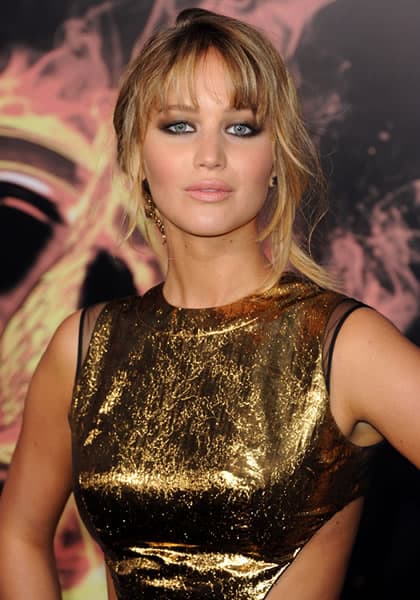 Image Credit: Getty
With the release of "The Hunger Games," Jennifer sealed her reputation as a box office star. Here she is at the premiere of the movie in Los Angeles with her improved look.
Jlaw exuded so much confidence in this hot and sexy outfit, and perhaps this was not just because of her box office success but because we think she may have finally gotten a boob job and a nose job around this time. There's a noticeable increase to her bra size. Just look at her busty chest!
Jen also looked great with her hair pulled up in a loose bun, which emphasized her jawline. Did she have a jaw reduction surgery? Fans, however, think she had another lip fillers treatment for this event.
Year 2014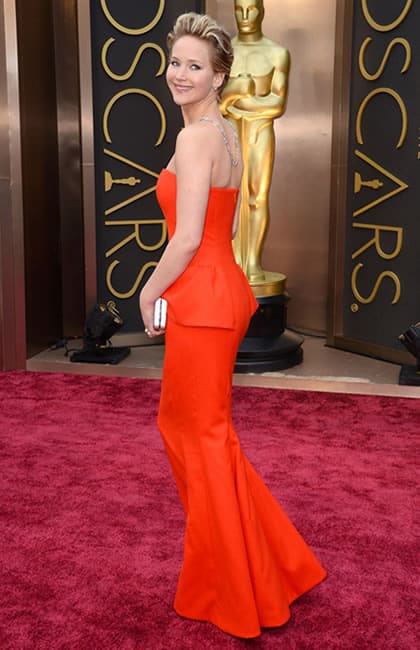 Picture Credit: Getty
Jen Law was a knockout in this elegant red dress when she attended the Oscars ceremony at the Dolby Theatre in Hollywood. All eyes were on the 24 year old A-lister as she graced elegantly onto the red carpet. With her slim body shape, it's a wonder how Jennifer's butt size sticks out. The workout she does for her movies seems to be paying off.
Year 2016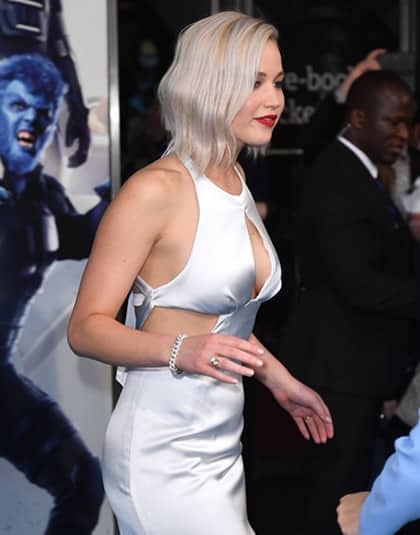 Credit: Getty Images
A sexy Jennifer Lawrence donned a silver gown that revealed her curves and part of her boobs at the premiere of "X-Men: Apocalypse" in London. To match the dress, Jennifer changed her hair color again and accessorized with a chunky silver bracelet and huge silver ring.
Year 2017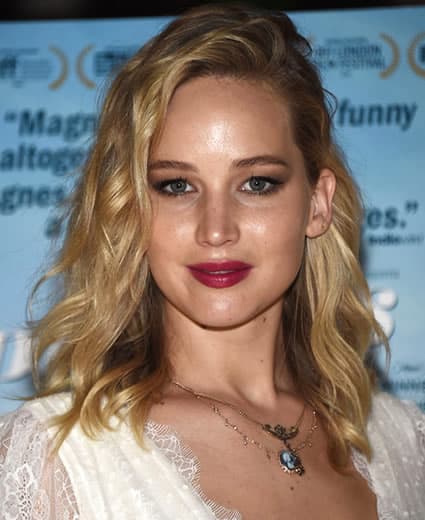 Photo Credit: Getty
Did Jennifer get another nose surgery or is this look the result of a good makeup? The line on her nose bridge looks flawless in this photo. She also had smokey eye shadows and a crimson lipstick shade that brought out her all-American features.
Her hairstylist let her blonde hair flow. This whole Bohemian-chic look was punctuated with a lovely necklace.
Year 2018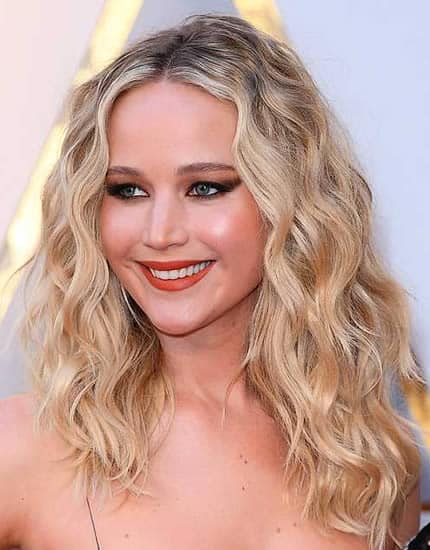 Photo Credit: Getty Images
Jennifer's eye makeup looks astounding yet again. But her puffy cheeks, slightly stretched face and smooth skin had people wondering if she got botox.
For us, this superstar always had prominent cheeks and we don't think she had chin implants, even though her chin does appear to be sharper.
What Does Jennifer Have To Say About Plastic Surgery?
Jennifer hasn't publicly made any statements about her alleged plastic surgeries. Although she did tell Jimmy Kimmel in 2013 that she noticed she has an uneven breast size.
I was standing with these doctors and they were looking at my lungs and it felt like the elephant in the room. I was like, 'Are my breasts uneven?' And they were just stifled and uncomfortable, obviously.
She might have been motivated to undergo breast augmentation surgery after this encounter.
Meanwhile, several reports stated that Jennifer Lawrence did admit to a nose job when People magazine named her "Most Beautiful" early in her career. Apparently, Jennifer said she had rhinoplasty for deviated septum but we cannot find the exact words she said in the interview.
More Information About Jennifer Lawrence:
Real Name: Jennifer Shrader Lawrence
Birthday: 15 August 1990
Star Sign: Leo
Birth Place: Indian Hills, Kentucky, United States
Nationality: American
Race / Ethnicity: English, Irish, German, Scottish, French
Occupation: Actress
Net Worth: $120 Million
Relationship: Unknown
Children: None
Height: 1.75 m (5 ft 9 in)
Average Weight: 63 kg (139 lb)
Body Measurement: 35-26-36 Inches
Bra Size: 32C
Dress Size: 6 (US)
Shoe Size: 10.5 (US)
Natural Hair Color: Blonde
Natural Eye Color: Blue
Conclusion
We don't doubt Jennifer Lawrence had plastic surgery to improve her appearance and maintain her hot look. When her major goal in life is to make it in Hollywood, it's only practical that she consciously makes choices to transform her face and body so that she can standout in this business.
Though reports say Jennifer had a nose job to correct a medical problem, we think it was done for aesthetic reasons too. We also think she might've gotten fillers for her lips and procedures on her breasts. If these rumors are real, then she has a plastic surgeon that took care of her very well.
As for the other rumored procedures, we're not certain if Jennifer had implants or fat injections to her buttocks. The exercise and diet she goes through for her work might have helped tone and shape her body.
Jennifer loves fashion, makeup and cosmetics, so she's particular with skincare and beauty, as with any typical woman. We can't fault her for wanting to look great. Vanity is an investment for every successful Hollywood star.
(Featured Image Credit: Getty)