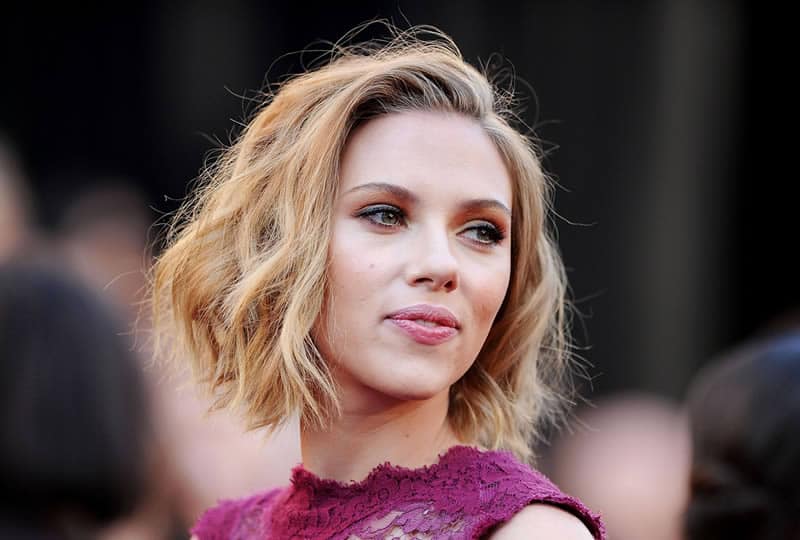 "Avengers" actress Scarlett Johansson is a Hollywood standout. Blessed with a successful career at an early age, ScarJo, as she has fondly been dubbed by the entertainment press, made her mark as a child star first and blossomed into a hot, sought-after A-lister.
Scarlett transformed on screen both in physical beauty and depth as an actress. She set herself apart from other blonde green-eyed female celebrities by also dabbling into singing and supporting worthy causes as a philanthropist.
Known for her lovely face and soothing sexy voice, which matches a voluptuous body, Scarlett has to fend off plastic surgery rumors like most famous people. Fans have brought up conflicting stories that insinuated she either got a boob job or a breast reduction procedure.
Fans also cannot help but wonder about her transformation, especially since she's been in the public eye since 1994. They've obsessed about how she has a perfectly-shaped butt but can't seem to have her slightly flawed teeth fixed. People also talked about whether she has real or fake lips and wonder if she gets regular lip fillers?
Scarlett, however, doesn't pay attention to the talks. She got candid about her bra size once but she never talked about the changes in her boobs in interviews. The one time she addressed any plastic surgery rumors was back in 2007 when she filed a legal case against a news magazine for suggesting she had a nose job.
Before & After Photos
To satisfy any questions you might have about ScarJo's beauty, let's take a look at some of the comparison pics below to determine if she could have had any cosmetic surgery.
Here we go…
Did Scarlett Johansson Have A Nose Job?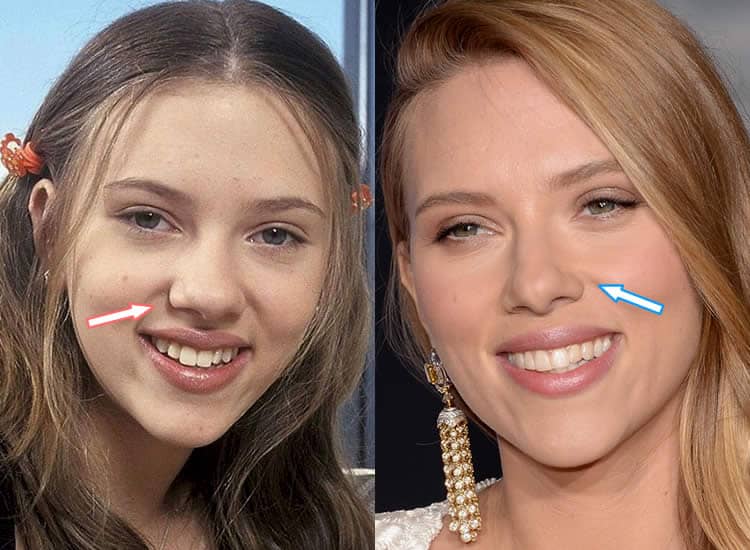 Did the size of Scarlett's nose change from when she was 12 compared to her older self? Some fans think that the tip of her nose became smaller as she got older, but her nasal bridge has the same uneven bump. Other fans, however, can't see much difference in her nose shape and since she was still growing so it's hard to assess from these before and after images.
US Weekly ran a story about Scarlett Johansson when she was only 23 that implied she had rhinoplasty. The actress shot back by making a statement about her legal action against the publication.
ScarJo said that the story could affect her career. She doesn't want to mislead her fans and the studio producers when she's very big on body positivity and natural beauty. She denied the nose job.
Does She Have Breast Implants?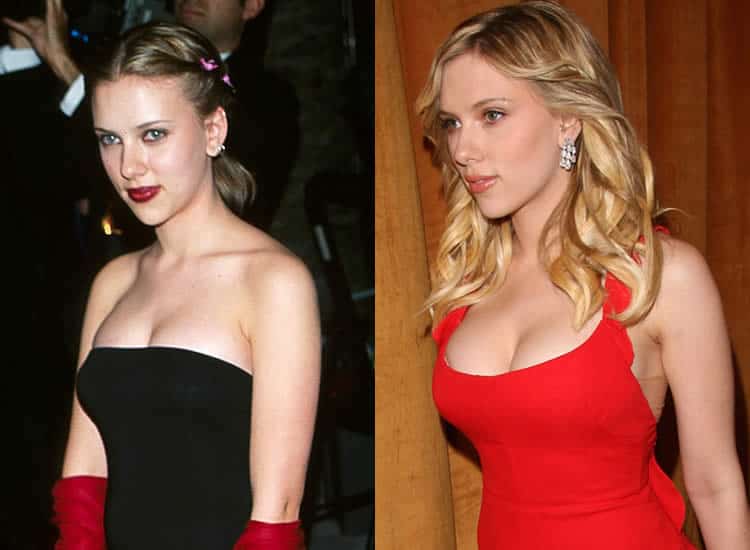 Scarlett doesn't deny that she gets compliments for her cup size from both men and women. She said in an interview with Daily Star, however, that the only ones she can truly thank for her full breasts are her parents, who made her this way. She said she has no plans of getting a boob job ever.
Her statement implies that Scarlett's boobs are all-natural and not breast implants. She most likely enhances its growing appearance with a good push up bra. Judging from the "before" photo above, we don't think they are fake either.
Has Scarlett Had A Breast Reduction Surgery?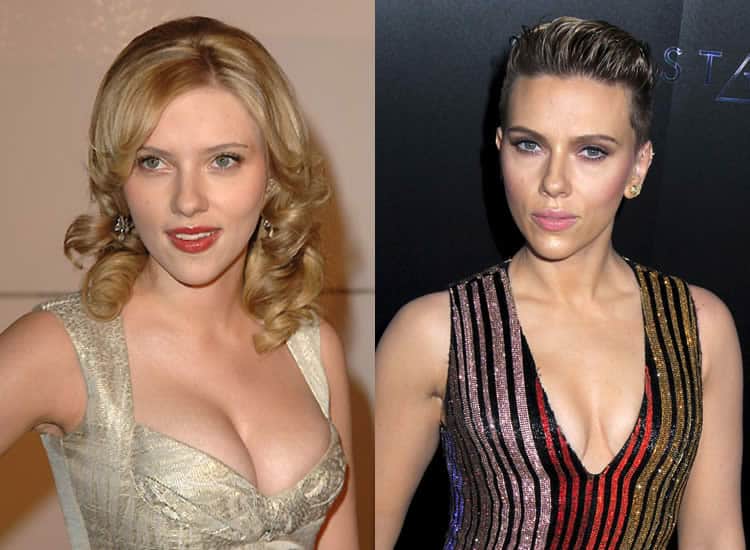 While Scarlett did not get a procedure to increase her breast size, rumors have sparked about her alleged breast reduction surgery. In some photos, her cleavage and bust do appear to be different sizes.
Johansson's breasts, however, might have changed because of the fluctuations in her weight which tends to be more obvious on her upper body.
Whether her chest area looks small or big, it's still proportioned to the rest of her body. There's a small chance all those speculations about her boobs' size will remain unproven.
Did Johansson Get A Butt Lift?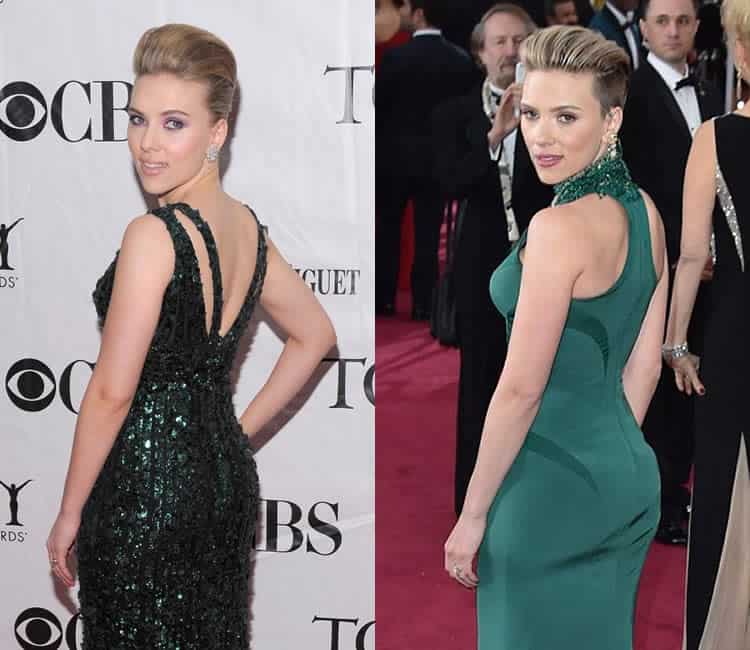 Is the difference in the star's buttock noticeable between these two photos? Do you think she had an augmentation or is it just because of the dress she's wearing?
Scarlett Johansson's butt made a splash when she first appeared as the Black Widow in the very first "Avengers" film. She donned a catsuit that emphasized her bum shape so well and it left people wondering if she got a butt lift to prepare for the role.
The actress, however, belied the augmentation rumors. To fit into the catsuit perfectly, Scarlett got help from Heidi Moneymaker, who trained with the star and also served as her body double.
Moneymaker told Shape magazine that Scarlett committed to their workouts and training. It paid off really well as her butt's shape and size look really good and in the right proportion.
What About Her Teeth?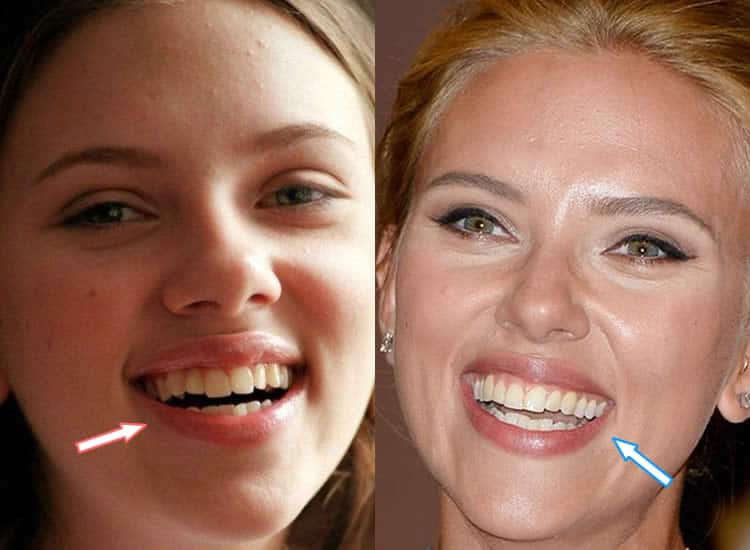 The fabulous-looking ScarJo shocked fans when she graced a red carpet event with yellow teeth one time and she got some flak for it. Isn't it standard for Hollywood stars to get regular teeth whitening? Flawless Scarlett apparently isn't perfect at all. She doesn't claim to be anyway.
In fact, her teeth's bottom row needs dental procedures. If you carefully study her before and after photos, she has the same crooked teeth. Why has she not fix it?
Scarlett's teeth can be easily corrected with either braces or veneers. We wonder what's stopping her from getting the procedure. Some speculate that she could be afraid of the dentist and that's totally understandable because at least 15 percent of adults have dental anxiety, according to a study commissioned by Colgate.
Scarlett's Beauty Transformation
There's a lot to consider when it comes to Scarlett's transformation before and after she became famous. Directors and co-stars who have worked with her believe she hasn't had plastic surgeries and is a natural beauty inside and out.
Early Childhood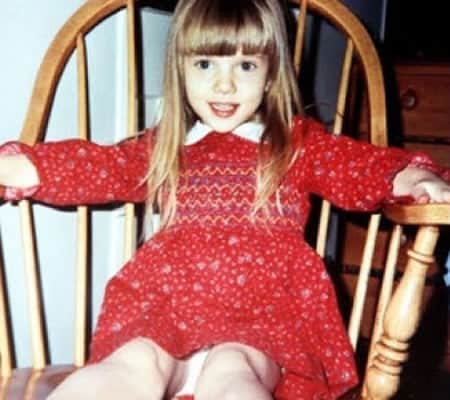 Source: Reddit
Young Scarlett looked like a doll in this photo, doesn't she? As a child, the actress had long hair and really pointy chin. She looks too pretty in a red dress, too.
Year 1996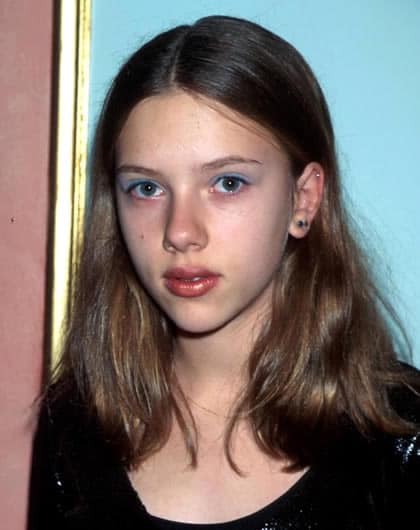 Source: Pinterest
Here's a vintage Scarlett Johansson at around 11 or 12 years old with her first leading role in "Manny & Lo." She wore bright blue makeup on her eyes, and her lips look really full. She also had darker brown hair back then.
Year 1998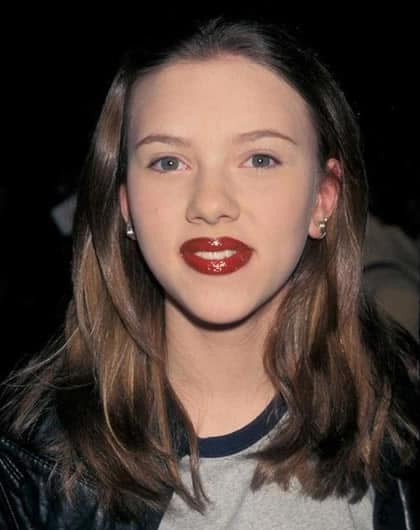 Source: Twitter
Scarlett appeared in more movies as a teenager and received more attention from the movie-going public. She went to an event once wearing red lipstick that emphasized the fullness of her mouth. She can't be having lip injections around this period because she was still too young, right?
Meanwhile, her nose size looked slightly bigger in this photo. The nose tip seemed bulbous.
Year 2001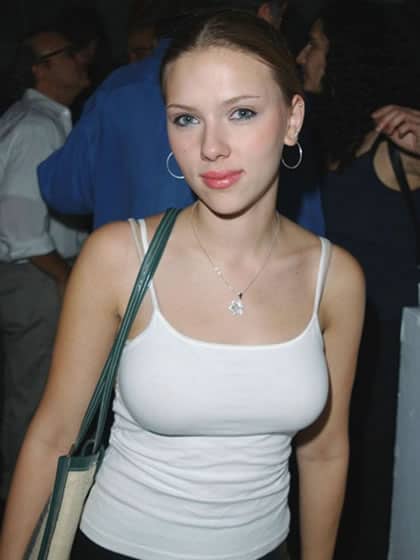 Source: Pinterest
A 17-year-old Scarlett joined a benefit party wearing casual clothing, highlighted only by a pair of hoop earrings and a silver necklace. Despite being dressed in the most basic white top, Scarlett still looked gorgeous.
The young star already had a developed chest. She looked really busty in this photo at 17.
Year 2003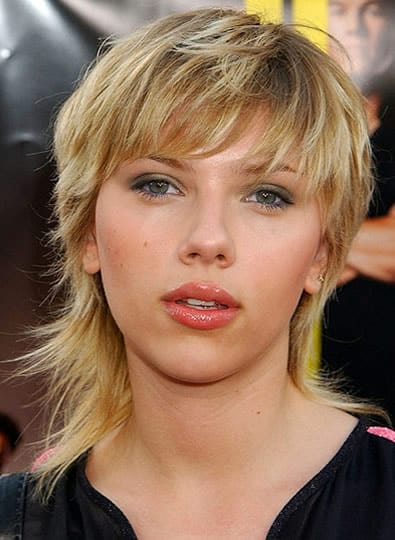 Photo Credit: Getty
Scarlett's drastic transformation started in the early 2000s. At 19 years of age, the "Lost in Translation" actress dyed her hair blonde and wore a mullet-inspired short hairstyle. The unusual cut worked to highlight her beautiful eyes with its prominent double eyelids. Rumors of a nose job started around this time.
Year 2006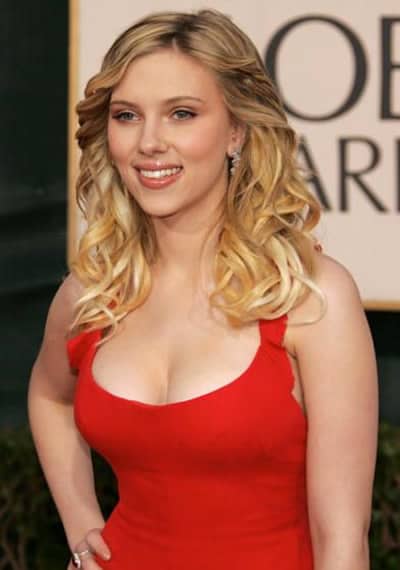 Credit: Getty Images
Scarlett turned heads in this sexy red dress. The way it clung to her body brought attention to her boob size and talks of a breast augmentation buzzed in forums and communities.
She epitomized glamorous Hollywood with this look and was a picture of perfection when she capped her look with wavy blonde hair. Though she appeared to have gained weight, it still hasn't stopped her from being voted as 2006 Esquire magazine's Sexiest Woman Alive.
Year 2009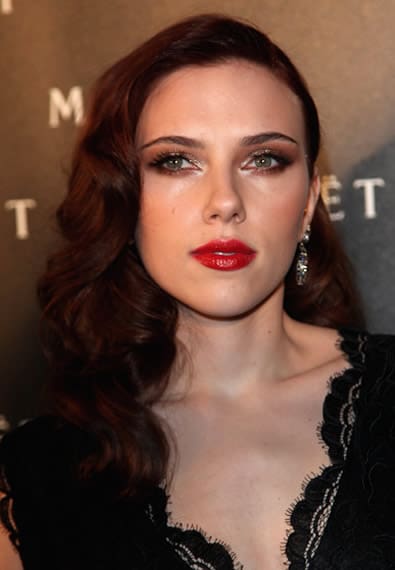 Image Credit: Getty
For her Black Widow role on "Iron Man 2," Scarlett changed to dark red hair. She looked absolutely gorgeous with her well-shaped red lips but it's her eye makeup, with the brown eye shadows and well-brushed eyebrows that played off this dramatic look.
Year 2012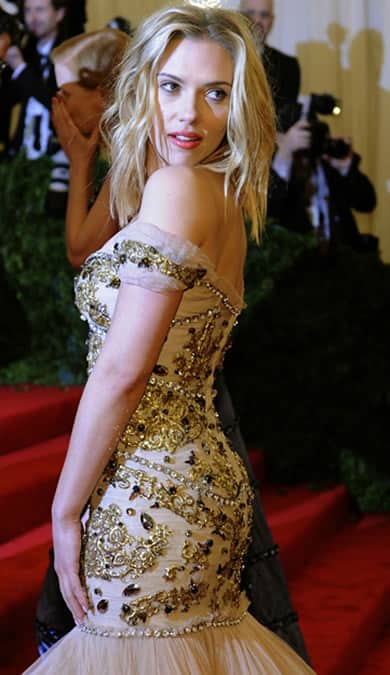 Picture Credit: Getty
Gorgeous scarlett went back to blonde hair color as she joined other stars during the year's Met Gala. After gaining weight, her body shape changed but we think it's an improvement. Her outfit emphasized her buttocks but people questioned if she had butt implants.
Year 2015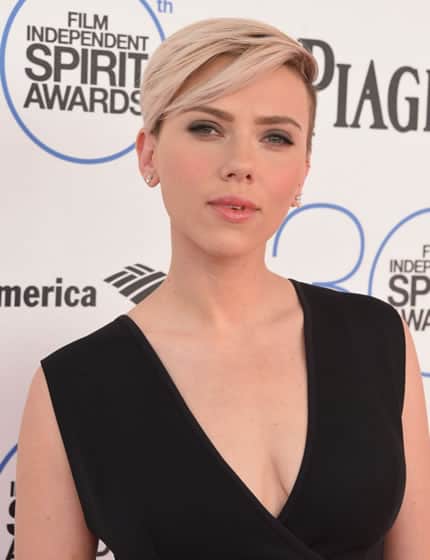 Credit: Getty Images
Johansson debuted a really short ash blonde hair at the Independent Spirit Awards but what drew attention was her cleavage. It looked like her bust size became smaller. Fans thought she had breast reduction surgery. Did she really have breast implants removed or did she just lose weight?
Year 2017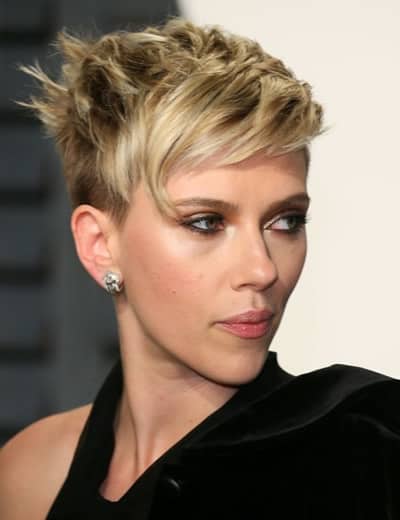 Photo Credit: AFP
Still keeping a short hairstyle, Scarlett appeared at the Vanity Fair Oscar party looking much slimmer. With her evident weight loss, her jawline became more prominent as a result. Doesn't this remind you of her pointy chin as a little girl?
Year 2018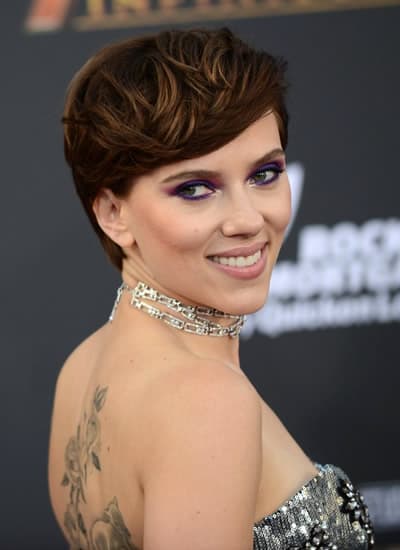 Credit: Getty Images
The fictional superhero showed off her back tattoo at the premiere of "Avengers: Infinity War." We like the modern-designed jewelry on her neck. Her short hair, this time in a darker color, really showed off her cheekbone. Her cheeks also appear fuller despite the weight loss so fans think she had cheek implant.
More Information About Scarlett Johansson:
Real Name: Scarlett Ingrid Johansson
Birthday: 22th November 1984
Star Sign: Scorpio
Birth Place: Manhattan, New York City, New York, United States
Nationality: American
Race / Ethnicity: Danish, Swedish, Ashkenazi Jewish
Occupation: Actress, Singer, Voice Actor
Net Worth: $100 Million
Relationship: Unknown
Children: Rose Dorothy Dauriac
Height: 1.6 m (5 ft 3 in)
Weight: 57 kg (125 lb)
Body Measurement: 36-25-36 Inches
Bra Size: 32DD
Dress Size: 8 (US)
Shoe Size: 9 (US)
Natural Hair Color: Dirty Blonde
Natural Eye Color: Green
Conclusion
After analyzing numerous photos, we found that Scarlett Johansson's plastic surgery rumors still have no basis. Despite talks of a nose job, which she responded to directly, and a boob job, which she implied wasn't remotely true, it's really hard to prove she had cosmetic augmentations.
If she did, then whoever was her cosmetic surgeon has to be one of the very best in the business.
Her breasts did change, however, as did her body, when she gained weight after her pregnancy. We don't believe she had a breast reduction procedure as well. We also can't subscribe to the rumors about her butt augmentation because the changes to her buttocks still look natural.
Beautiful Scarlett, however, should consider getting her teeth's bottom row fixed. On a hindsight, perhaps she wants her teeth to stay naturally flawed too? Whatever the case may be, she'll always have one of the most attractive smiles in Hollywood.
(Featured Image Source: Facebook)