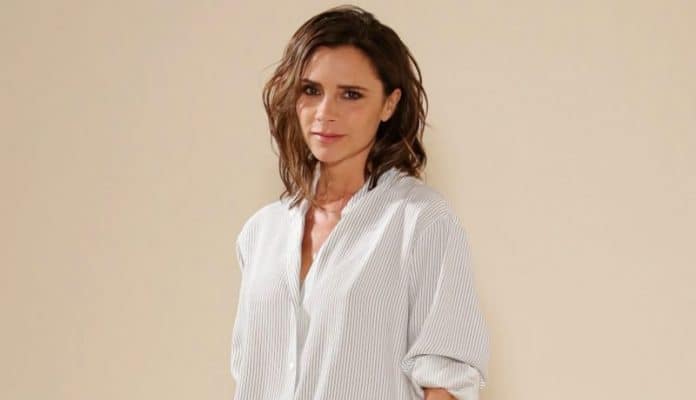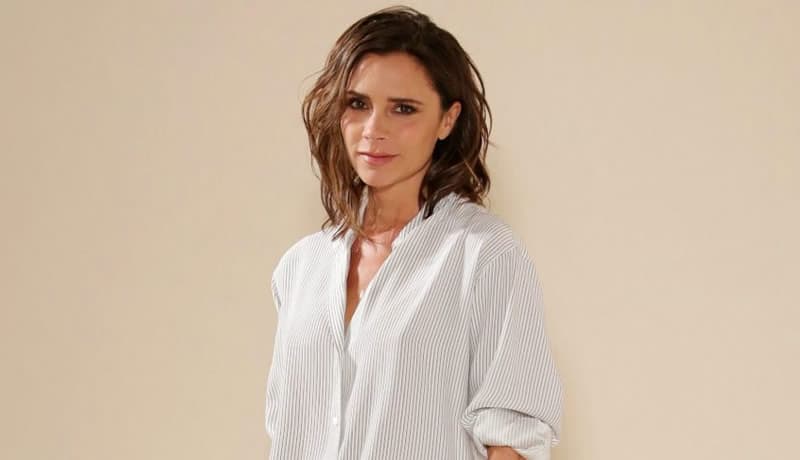 Victoria Beckham is most popularly known as Posh Spice from the girl band Spice Girls. She is also the better-half of soccer star David Beckham, whom she has been married to since 1999. I know…what a lucky girl, right?
After the Spice Girls disbanded, Victoria charted a career in fashion and was quite successful at it. Because of her persona and image in the public, however, people grew curious about her style and beauty.
As a mother of four children, Victoria managed to remain gorgeous, slim and pretty hot too. That's why people think that the former pop superstar had plastic surgery to improve her appearance. She doesn't seem to age and there appear to be some unnatural features on her face and body.
Victoria has been rumored to have gotten a nose job and fillers to improve her facial features. The shape of her rounded breasts, on the other hand, has also been scrutinized and even ridiculed because of how odd it looks against her body.
Posh Spice used to deny these cosmetic procedures but as she got older, she has been more open about the things she has done to transform her looks.
Before & After Photos
While there are a lot of before and after pictures of Victoria Beckham on the Internet that can detail her transformation, but I promise, you have seen nothing like these.
Allow me…
Did Victoria Beckham have botox?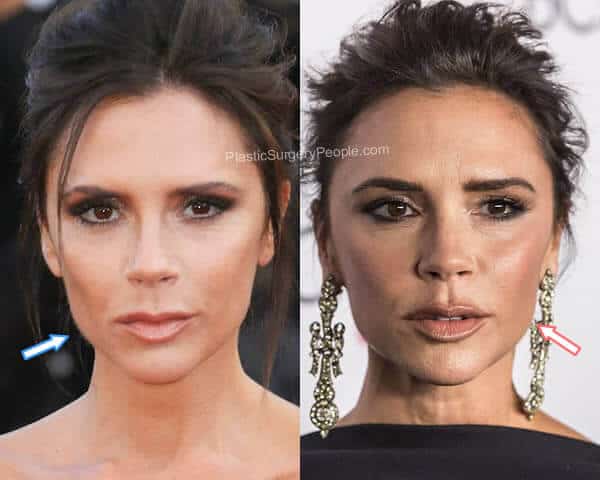 Victoria has such a rigid face and it might be because of all the botox she's getting. If you look closely at the "after" photo, her face cheeks look a little swollen.
There are hardly any lines or wrinkles around her forehead, her cheeks and mouth area. Also, she has this one expression on her face, which I believe is likely due to botox injections.
Has Victoria had a nose job?
Not sure if you noticed, but there is a dramatic difference in Victoria's nose in these photos. Posh had a bulbous nose when she was just starting out as a singer with the Spice Girls.
But now, her nose bridge is much thinner and the tip looks more refined. If this was the result of rhinoplasty, then I think her plastic surgeon has done a good job. The lovelier nose shape compliments her small face really well.
Did Victoria get lip fillers?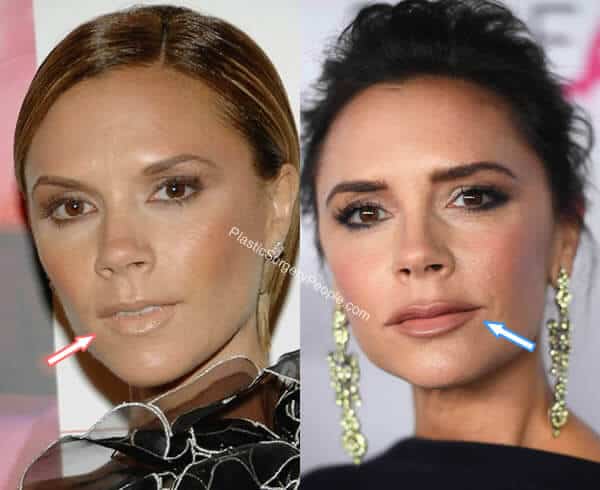 Something is definitely going on with Victoria's lips and I doubt it was just good lipstick or makeup application. Her top lip looks much bigger than her natural pluckers so yes, I think she might have tried lip injections here.
The good thing, however, is that she didn't get her lip fillers overdone. I think the size of her new lips fits her face shape quite well so good for her!
Yes, she had breast implants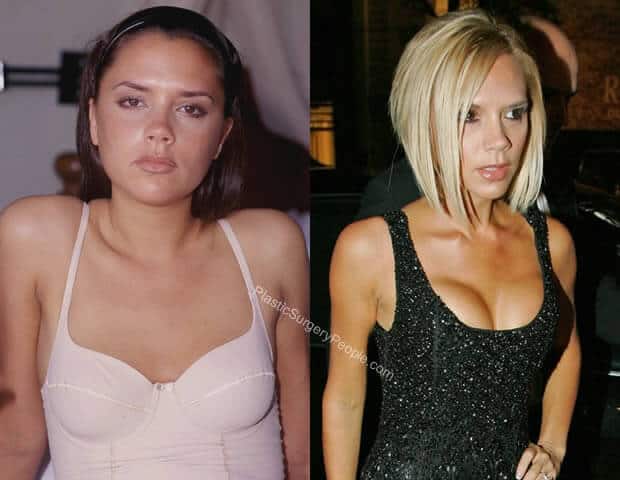 Until recently, Victoria was not open about getting breast implants in her youth. But you can clearly see that she was flat-chested in this "before" photo, in her younger years. Her breasts grew at least two times bigger in the "after" photo.
I remember Victoria used to get a lot of bad press for her augmentation procedure because her full and rounded boobs looked so odd against her thin body frame. I wasn't impressed with her boob job either because, to be honest, it looked like she had some built-in floaters on her chest.
She also got breast reduction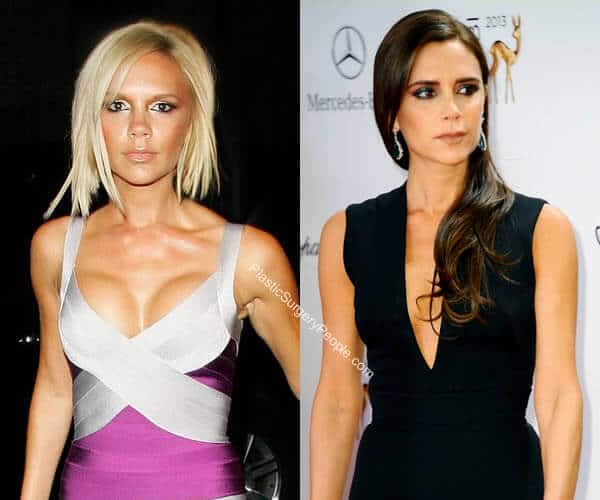 Years after getting her boobs lifted, Victoria decided to have a breast reduction surgery following the birth of her fourth child. She admitted that her earlier boob job was a mistake and she regretted messing it up.
Now, Victoria Beckham's breast size looks a lot more natural, as shown in this pic where she's wearing a plunging black dress. She's down to a 34A cup from the 34DD she used to have. I think she looks more sexy and attractive compared to those fake implants before.
Her teeth look better now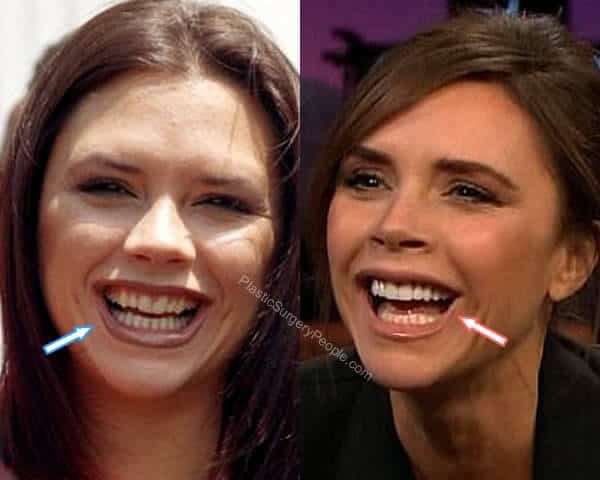 The thing is, Victoria's fans don't often see her teeth because Posh Spice has a trademark "bitch face," where she doesn't actually smile in her photos. One of the reasons could be because she had darker and crooked teeth before.
It's obvious she had those corrected now based on this "after" photo. Her front teeth look more even and it's a lot whiter too. So looks like teeth whitening and dental veneers were inevitable.
Victoria Beckham: Then and Now
I'll be honest. Victoria is a true goddess whether she had help or not (just ask David). Let's see how her image has changed over the years!
Childhood: Musical dream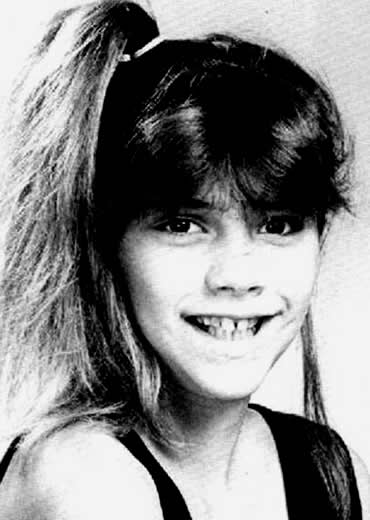 I'm surprised to see that young Victoria Beckham wasn't a looker as a child. She had gaps on her teeth so it appears she also had braces. She had wild, thick long hair back then and went through an awkward phase like most people.
Teenager: Studying dance & modeling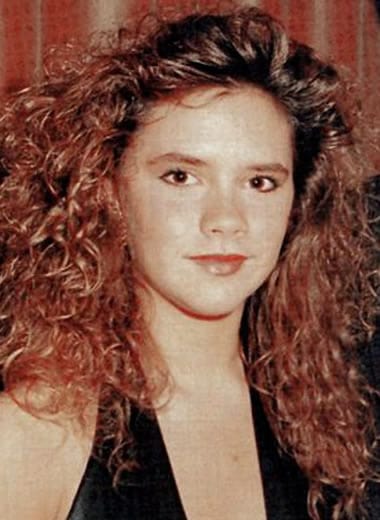 I'm not a fan of Victoria's super curly hair but I get that this was the trend at that time. Was her hair a tinge of red? Maybe she had her hair colored because her roots are still brunette.
As a teenager who was practicing modeling and dancing, Victoria had a bit of baby fat which I actually like. This was perhaps the most natural she has ever looked.
Year 1994: Audition & joining Spice Girls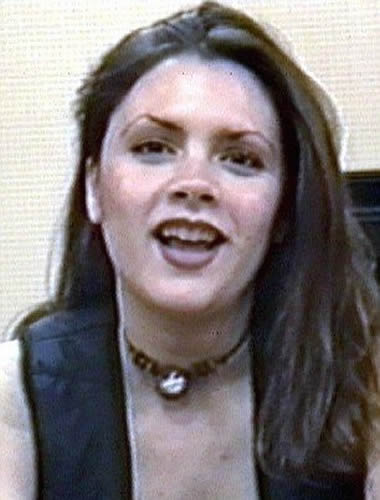 Victoria didn't look so "posh" when she auditioned to become part of the all-female band Spice Girls. She had a rounded face, thin eyebrows, and long unruly hair. She also didn't have a perfect set of teeth.
Year 1996: Posh Spice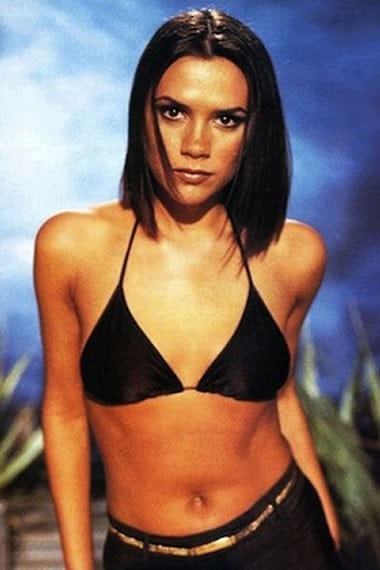 Victoria's transformation began when Spice Girls became a hit. Her long tresses were tamed to a medium-length bob and she lost a lot of weight. I think she also just had her nose job around this time because it looks more refined in this photo.
The pop star also started exuding a different vibe — that of a young woman who barely smiled to look mysterious. Victoria also wore a lot of black and dark shaded clothes and would move with poise and grace. She was posh personified, hence earning her the monicker Posh Spice.
Year 1999: Marrying David Beckham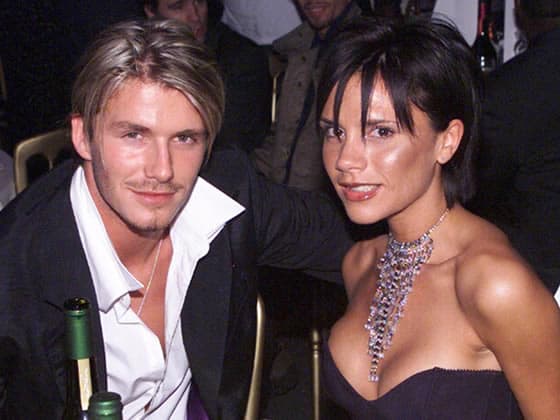 At the height of her career with the Spice Girls, Victoria married the most famous soccer player in the world. Together with David Beckham, she became a royalty of sorts in the British celebrity scene.
Her transformation also continued as she scaled the popularity ladder. This was the year she had her breast implants. She also started wearing her hair quite short and chic to match her thin and slim frame.
Year 2005: Gorgeous mother of three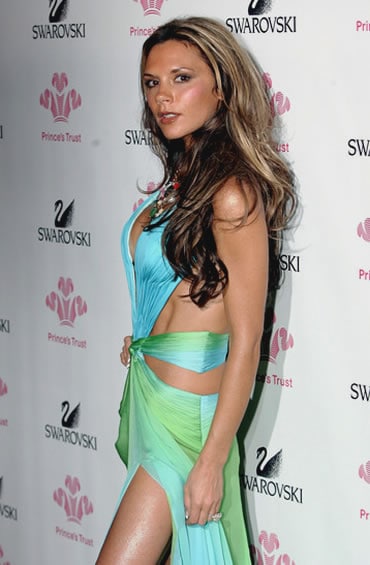 By the middle of the new millennium and with Spice Girls' popularity waning, Victoria concentrated on becoming a mother to three boys. With her abs peaking through this colorful dress, it was hard to believe that Victoria had given birth three times over!
Did she get a tummy tuck and liposuction? Who knows…
She had beautiful long hair though, but I think she wore hair extensions for this look at the Swarovski Fashion. I also can't help but notice the prominence of her jawline and cheekbones, which was highlighted with makeup.
Year 2010: Fashion to impress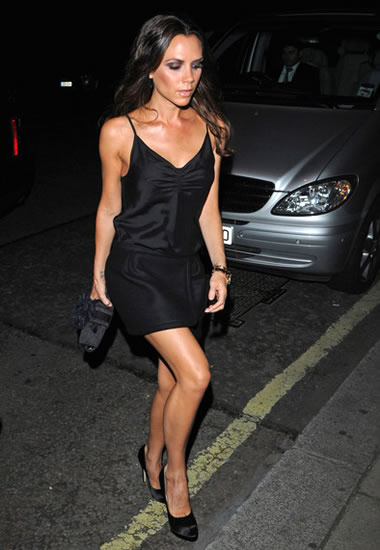 Soon after she had her implants removed, a slimmer Victoria was spotted at a famous Gordon Ramsay restaurant in her fashionable little black dress. She wore understated clothes most of the time but she really impressed the public with her new body.
Year 2015: Glamourous woman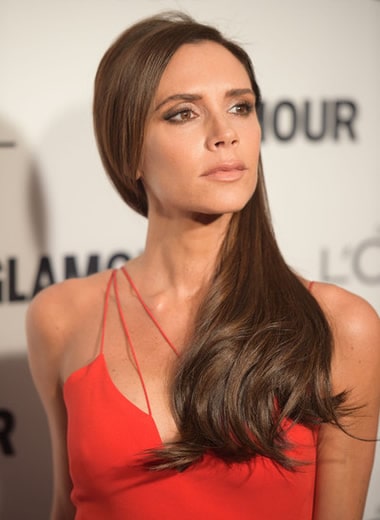 As much as her looks have changed over the years, Victoria's career also transitioned from pop star to fashion designer. She was honored for her contribution to the world of glamour. She looked ravishing in this tight-fitting red dress. I like that she went back to her natural hairstyle in this photo.
Year 2019: Doing the catwalk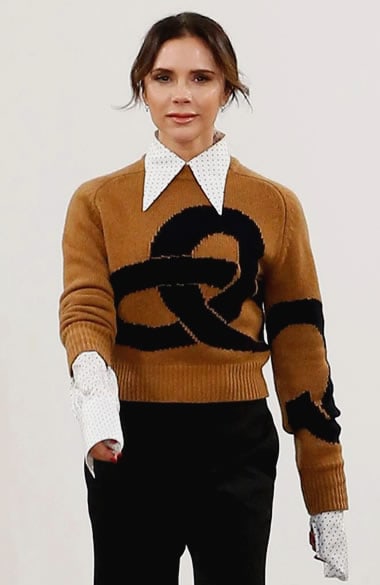 Victoria Beckham debuted her latest fashion collection in London. I notice the subtle difference to her face here. I suspect she had botox, lip fillers and probably some cosmetic procedures around her eyes.
What does Victoria say about plastic surgery?
Victoria wrote a letter to her 18-year-old self, which was published in British Vogue, where she said:
"I should probably say, don't mess with your boobs. All those years I denied it – stupid. A sign of insecurity. Just celebrate what you've got."
More Info about Victoria Beckham
Real Name: Victoria Caroline Beckham
Birthday: 17 April 1974
Star Sign: Aries
Birth Place: Harlow, United Kingdom
Nationality: British
Race / Ethnicity: English, German
Occupation: Businesswoman, Fashion Designer, Former Singer, Model
Net Worth: $128 Million
Relationship: Married to David Beckham
Children: Brooklyn Beckham, Romeo James Beckham, Harper Seven Beckham, Cruz Beckham
Height: 1.63 m (5 ft 4 in)
Weight: 49 kg (108 lb)
Body Measurement: 34-23-33 Inches
Bra Size: 34A
Dress Size: 2 (US)
Shoe Size: 7 (US)
Natural Hair Color: Dark Brown
Natural Eye Color: Dark Brown
Conclusion
Victoria Beckham's earlier boob job didn't make her look attractive at all. It was a good thing she decided to remove those implants because I think it didn't do her any favors.
Posh Spice admitted she had to deny her plastic surgery procedures in her younger years because of her insecurity. I have to give her props for opening up about this because not a lot of celebrities would be upfront about the artificial changes they have done to their appearance.
While she hasn't fully embraced her natural beauty — she's still likely getting botox, after all — it's refreshing to see Victoria becoming more open about the flaws on her face and body. Vanity is part of being a public persona but I appreciate that Victoria is more honest about her procedures.
(Featured Credit Source: Facebook)