Jungkook, whose real name is Jeon Jung-kook, is a member of the South Korean boyband sensation BTS. The youngest among seven men, he is known as the group's "golden maknae," which translates to the youngest, and some say, the cutest.
The singer, who is now 23 years old, is the band's main vocalist. The group's female fans are usually drawn to him on stage because of his notable dancing skills and good looks.
But like many celebrities, Jungkook has been rumored to have had plastic surgery. A part of the public believes that he looks very different today compared to his debut as a music artist over five years ago.
However, I'm not sold on these speculations just yet because Jungkook was only 15 or 16 at the time. I think his body and overall physical appearance was still changing. Then again, cosmetic augmentations are so common among South Korean celebrities even at a younger age.
Before & After Photos
Now, if I go through this BTS star's before and after photos, I might find some answers about his alleged procedures.
Did Jungkook get double eyelids?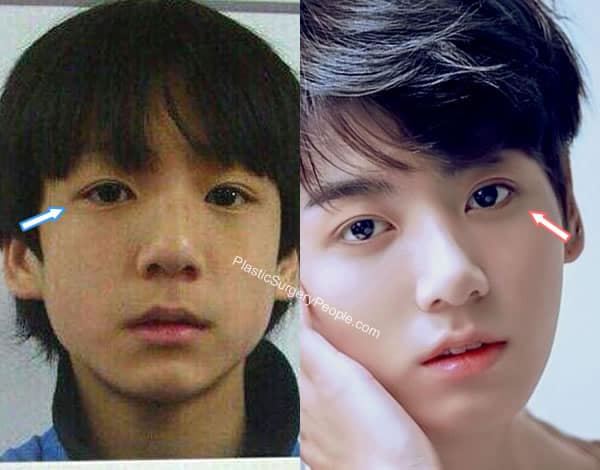 Asian stars are often speculated to get double eyelids surgery to enhance the shape of their eyes. A face with a monolid may appear to be lacking in expression, which is why this is a popular procedure among Koreans with small eyes.
But I don't think Jungkook got this procedure based on these comparison photos. For me, his eyes didn't change all that much despite growing a bit older. I can clearly see his double lids as a child of maybe 9 or 10.
Has he had a nose job?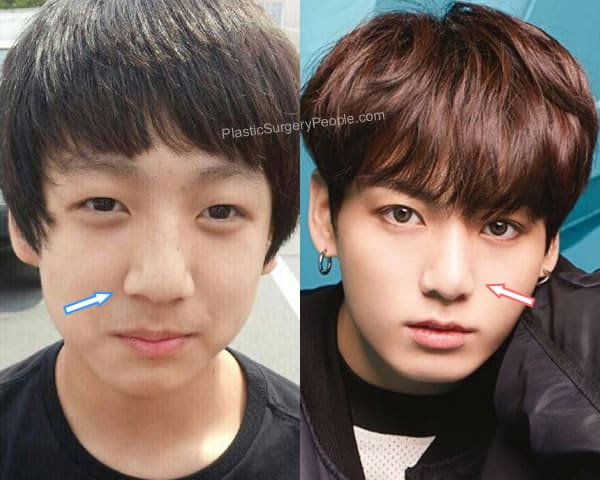 I don't think Jungkook got his nose done since they both look very similar here. He actually had a pretty big nose as a child and it got smaller as he matured. But the shape and size still look identical.
It's obvious that makeup and contouring have helped too. As a performer, I'm sure his makeup artist has a few tricks to help him out.
Did Jungkook have face surgery?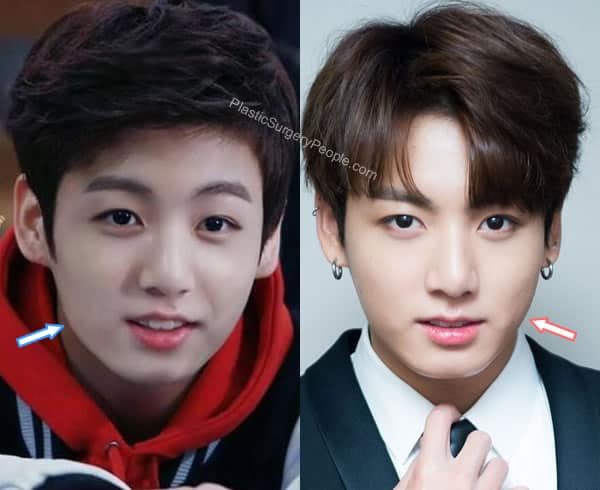 I believe the change in his face shape is not the result of a jawline surgery. Jungkook is simply losing the baby fat as he passed his puberty stage. The singer now looks more manly with his slimmer jaws.
There were no signs of any cosmetic alterations on his chin either so overall, his face has been nothing but a natural transformation.
He has the perfect teeth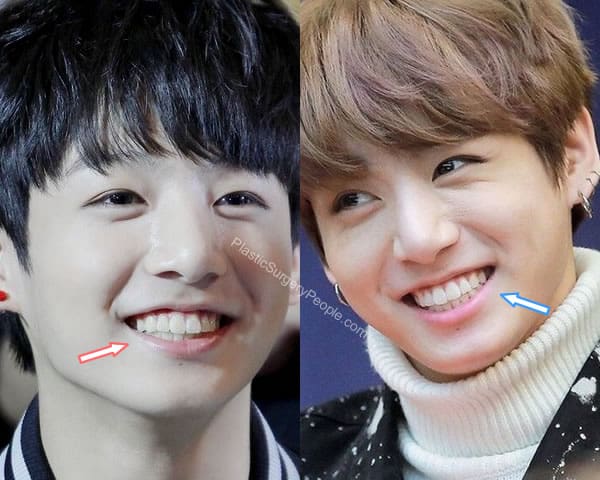 Isn't this the cutest smile?
I think Jungkook took care of his teeth reasonably well as a child and that gave him the flawless superstar smile today. At best, he might have had braces at an even younger age but definitely no veneers.
He doesn't need it.
Jungkook: Then and Now
Sure, Jungkook is naturally gifted with handsome facial features but how much has his appearance changed over the years? Let's see his transformation below.
Childhood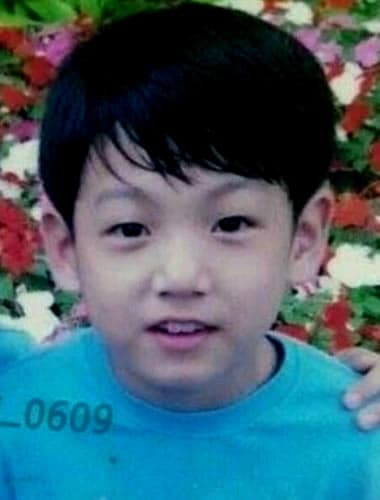 As a little boy, Jungkook was already quite good-looking. You can definitely see his potential to sweep off girls' feet one day.
Lucky genes, I guess?
Early school days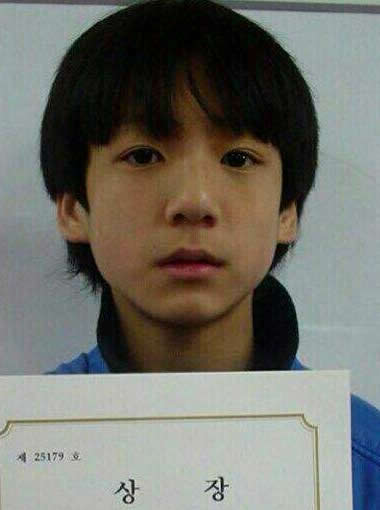 As a schoolboy, Jungkook wasn't exactly a standout but he wasn't awkward-looking either. Everyone goes through this awkward stage as a kid but I don't think he did.
Year 2012: Pre-debut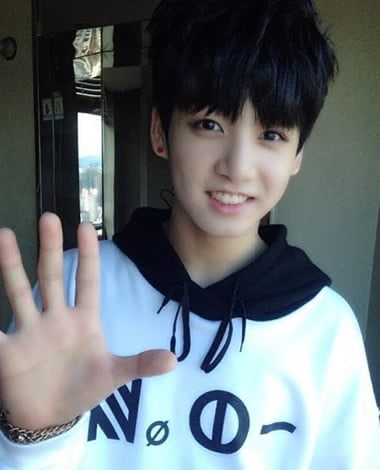 Before his debut as an artist, Jungkook got dance training in Los Angeles. I say he's quite a confident kid and it shows in his smile. This is the face of a boy ready for stardom.
Year 2013: BTS debut
Jungkook debuted on BTS with the release of the single "2 Cook 4 Skool." He sported a trendier hairstyle and still kept the single earrings. It's easy to see why girls swoon when they see him.
Year 2015: He likes earrings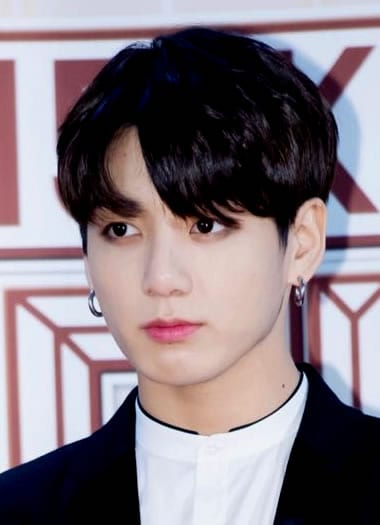 Jungkook and his friends from BTS roused the fans at the KBS Song Festival Red Carpet. To some people, this new "earrings on both ears" look might be too feminine but I think it looks quite cool.
I know he wore eyeliner but did he have pink lipstick on too?
Year 2017: The glasses look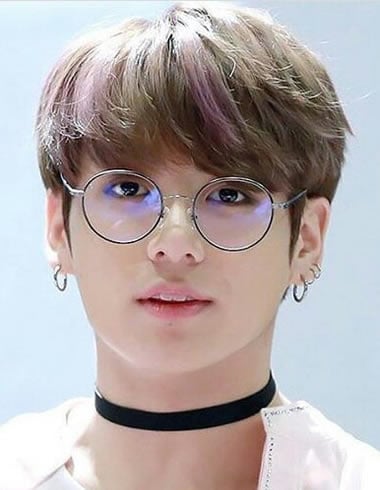 Jungkook keeps the same hairstyle length all these years but for this look, he went with a lighter brown tint and with a touch of purple.
The rounded eyeglasses also went well with the shape of his face. This boy has a good stylist on his team!
Year 2018: Red pink hair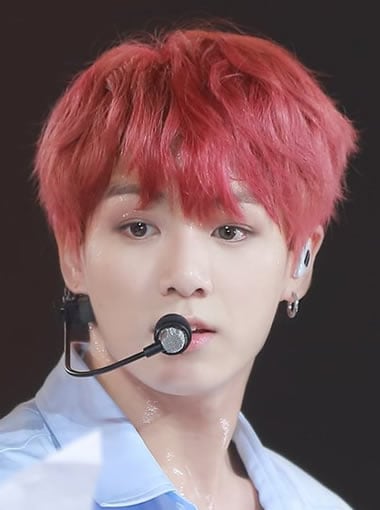 Jungkook went with red anime hair when BTS performed at the Mnet Asian Music Awards. This hair color actually suited him.
Year 2019: Keeping it formal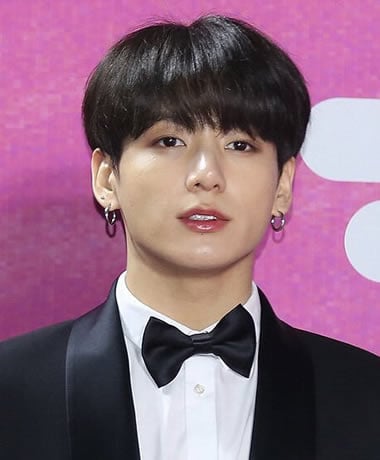 At the Seoul Music Awards, Jungkook walked the red carpet in a dignified tuxedo. He kept his hairstyle simple. The earrings, however, still say — "I'm a Kpop superstar!"
Year 2021: Cosplay look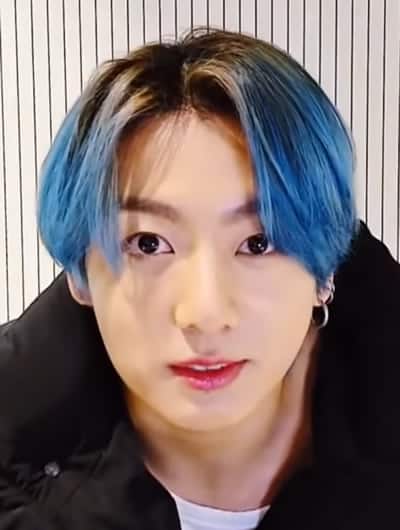 I'm not sure what's the blue highlights are for but there is a very cosplay feel to it. I wonder what character he was trying to be?
Either way, he looks very handsome.
Conclusion
Regardless of what has been said or speculated about Jungkook's appearance, I don't think he had plastic surgery. His transformation has been a natural process and has only been enhanced with makeup.
This kid's got the whole package in the appearance department and is one of the reasons why millions of fans are screaming for him!
More info about Jungkook
Real Name: Jeon Jeong-guk
Korean Name: 전정국
Birthday: 1 September 1997
Star Sign: Virgo
Birth Place: Mandeok-dong, Busan, South Korea
Nationality: South Korean
Race / Ethnicity: Korean
Occupation: Singer, Songwriter, Record Producer, Rapper
Net Worth: $8 Million
Relationship: Unknown
Children: None
Height: 1.78 m (5 ft 10 in)
Weight: 70 kg (154 lbs)
Shoe Size: 9 (US)
Natural Hair Color: Black
Natural Eye Color: Dark Brown
(Featured Image Source: Facebook)