Blac Chyna Plastic Surgery EXPOSED?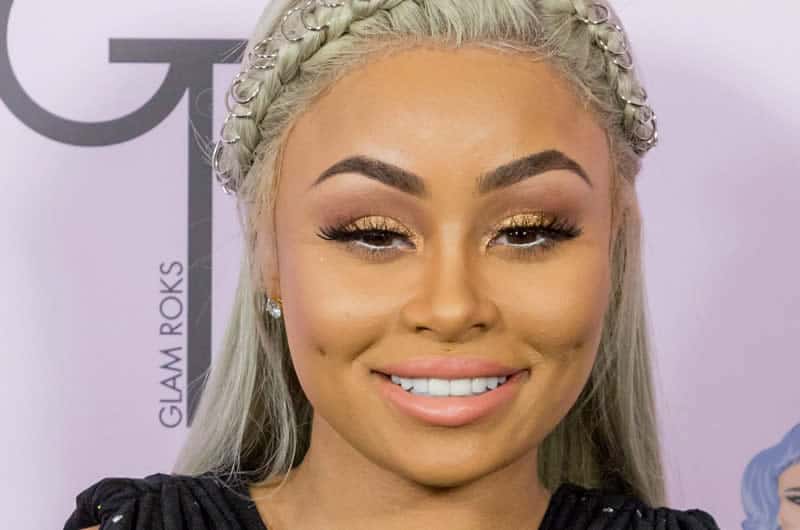 Whenever you see Blac Chyna, you just couldn't ignore those large breasts and giant booty. But because of this "Not Many People Will Argue", yet possible plastic surgery body, she has captured the attention of many.
If you look at her Instagram account, she currently has more than 14 million followers, but what most of her fans don't realize is the amount of hard work she's put in before she shot to fame.
Chyna worked as a stripper to pay for her study in the Johnson and Wales University in Miami. Due to exhaustion, she soon dropped out of college and focused on stripping and modeling.
She may have gotten breast implants and butt augmentation while working in the Miami club because her exotic body soon made her very popular that even Drake mentioned her name in his song, Miss Me. Her big boobs and massive buttock have also landed her a gig to cast as a double for Nicki Minaj in the music video, Monster.
To be honest, we're not too surprised because she's literally a look alike of Nicki.
So this leads us to question, how many plastic surgeries has Blac Chyna done, if any? We're almost 100% sure that she has fake boobs and buttock, but what about other areas on her face like her eyelids, nose, lips, etc?
Well, looks like her closely guarded secrets may be exposed here.
Before & After Photos
To find out whether Chyna had undergone any cosmetic surgery procedures, we've analyzed many of her past and present photos before she became famous. Here's what we've found.
See below for our exclusive pics!
Did She Have A Nose Job?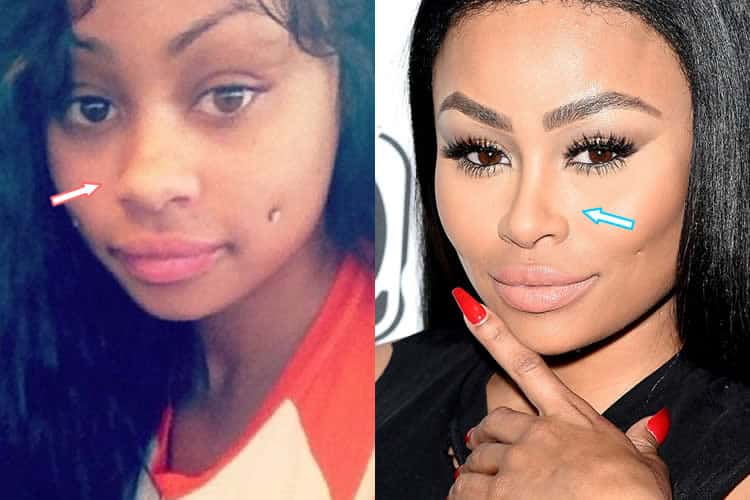 Was this Blac's nose before surgery?
If you look at the "Before" picture when Chyna was still a teenager, her nose bridge was visibly wider. The tip of the nose was also very round when compared with the "After" photo. So based on this comparison, it's very likely that she's had a rhinoplasty to alter her nose shape, making it thinner and more pointy.
Has Blac Chyna Had A Boob Job?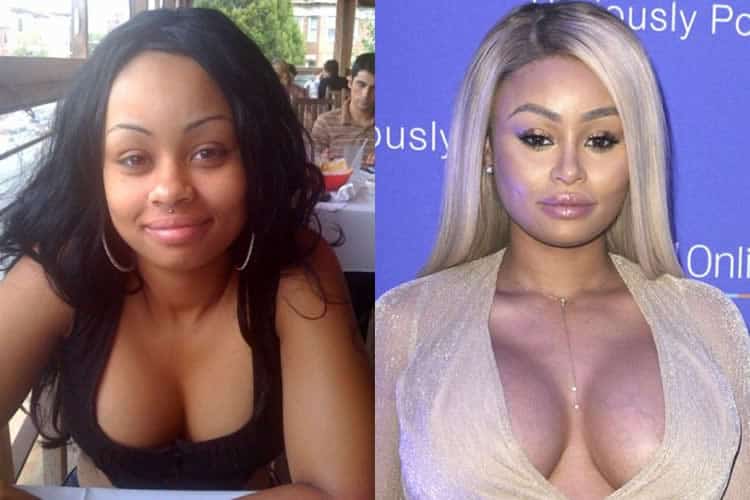 Did Chyna have breast augmentation procedure?
You can see that Blac used to have very natural and soft looking cleavage, unlike the AFTER picture on the right. Her boobs have enlarged to a point where you can literally see the veins on the sides. This indicates to us that she may have gotten a boob job and placed some rather large sized implants into her chest.
What About Bum Implants?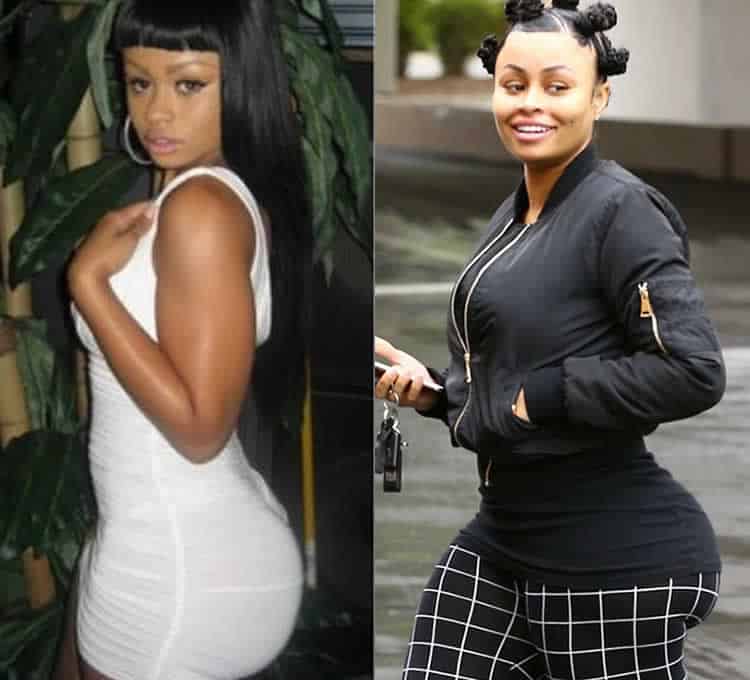 Serious question: How does she walk and sit with those behind her?
Okay, black women tend to have big bums and we totally get it! But when it becomes so outrageously HUGE that it no longer looks natural, bum implants seems to be what comes to mind.
We're not saying this is what Blac Chyna got (are we?). In fact, she has enough body fat to do a full on brazilian butt lift if she wanted to, which involves fat removal via liposuction before injecting the collected fat back into her butt.
So they may not be implants in her buttock after all. But seriously Blac, whatever it is…real or fake, don't let us stop you. We know a lot of men likes it…just ask Tyga and Rob!
Does She Have Lip Injections?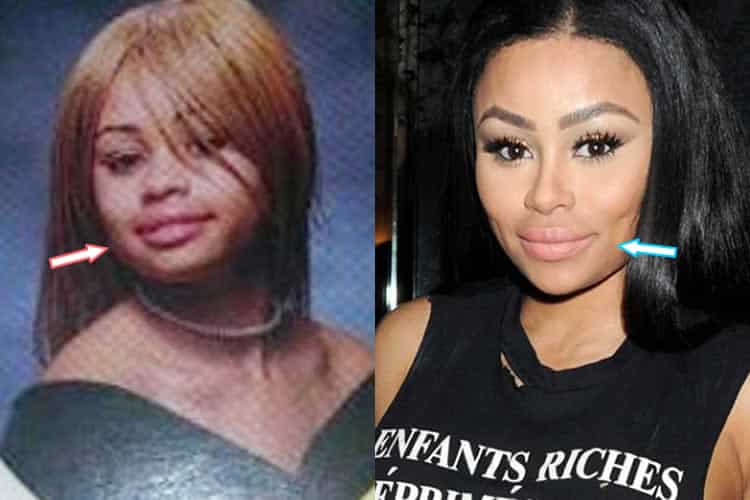 She has naturally plump lips, both upper and lower.
Being an African-American woman, it's only natural for Blac to have thick lips. Because of her makeups and the types of lipsticks that she uses, sometimes her lips appear to be so plump that people have mistaken it for lip injections. But after seeing the before pic when she was young, we've dismissed those claims.
So…NO, we don't think she's had lip fillers.
Did Chyna Get Forehead Reduction?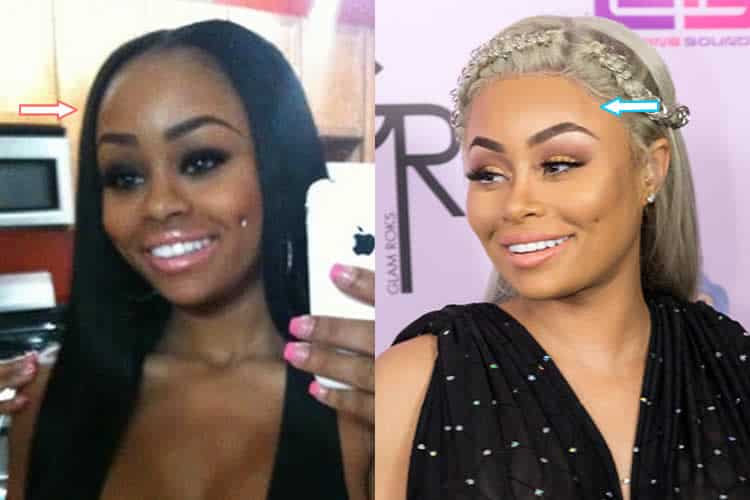 Yup, she definitely had a large forehead.
Blac Chyna's forehead has attracted a lot of attention throughout the years. It appears the size of her forehead have reduced slowly as time went by and this lead to speculations that she's had a forehead reduction surgery. However, after thoroughly reviewing her "Then" and "Now" photos, we think these claims are false!
Instead, we felt it was Chyna's hairline that's played tricks to our eyes…which brings us to the next question.
How Did She Regrow Her Hairline?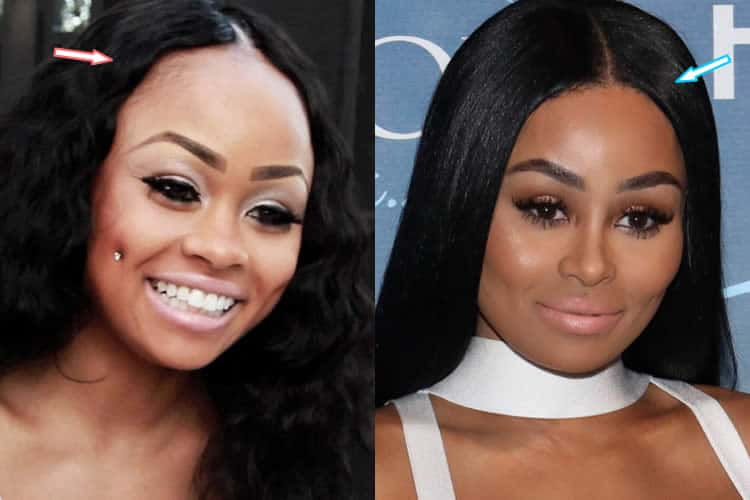 Did she get hair transplant?
Like many women, Chyna was experiencing hair loss at one stage in her life. You can clearly see the receding hairline that needed to be addressed fast. So it's very likely that she's had a hair transplant operation to correct that problem because you can see how full her hair looks afterward from the above image on the right.
[adinserter block="3″]
Chyna's Beauty Transformation
Want to see how Blac Chyna's body has changed over the years? What about her hair and face features including her eyes, eyebrows, cheeks, teeth, chin, etc?
Well…let's dive in!
Youth Days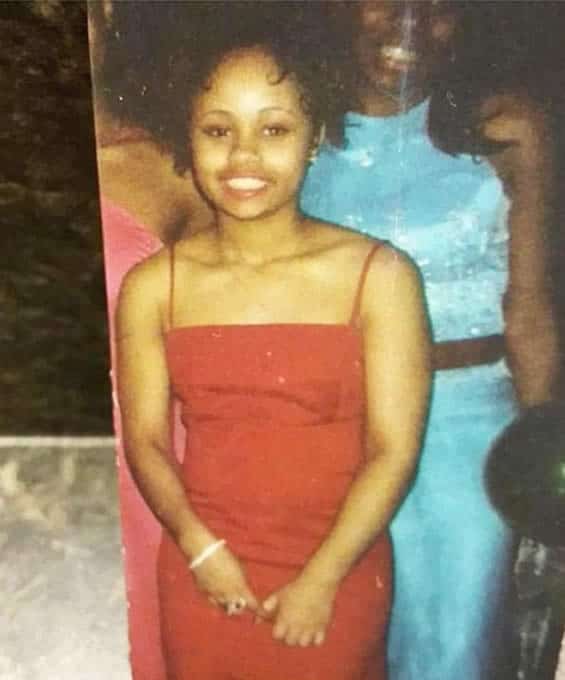 Here's a rare photo of the "very" young Blac Chyna back in the day, literally as a child. We're not sure whether the ladies behind her is the mom, sisters or friends, but you can see that her skin color was naturally whiter than them. So anyone who thinks she's had skin whitening treatment may want to rethink that.
Teenage Years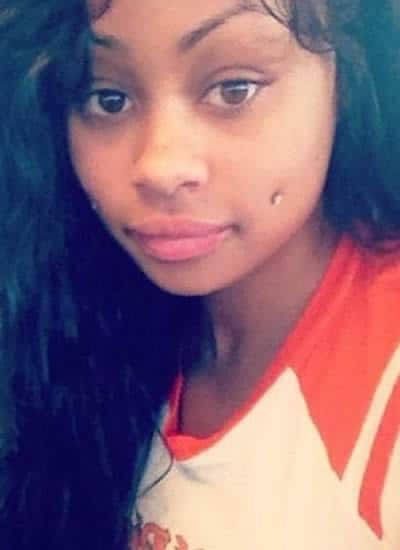 Here's a picture of Chyna in her teen and while it's unusual to see her without makeup, you could tell she was quite trendy. In fact, she's got dimple piercings on her cheeks, an extreme fashion that most young girls would be reluctant to accept. After all, you are punching 2 holes in your face…
Early Adulthood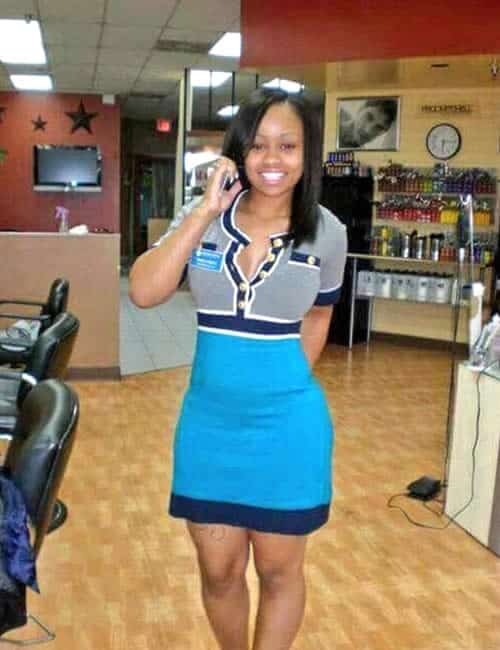 Source: Twitter @ NandyMlomo
It appears Angela White (her real name) had worked as a hairstylist before she became famous. We believe she was in her early adulthood and perhaps just turned 18 years old.
Posing in the beauty and hair salon, you can see that she has quite a "busty" chest already. So was she naturally gifted with a large cup size or did she have breast implants at a fairly early age?
Year 2010
Although she's stepped into the scene since 2008, her modeling career only started taking off in 2010 when she took the front cover of Dime Piece magazine. Here she was at the Def Jam Rapster in Miami.
Okay…we knew she could (pole) dance, but apparently, she can sing and rap too…sort of.
[adinserter block="9″]
Year 2011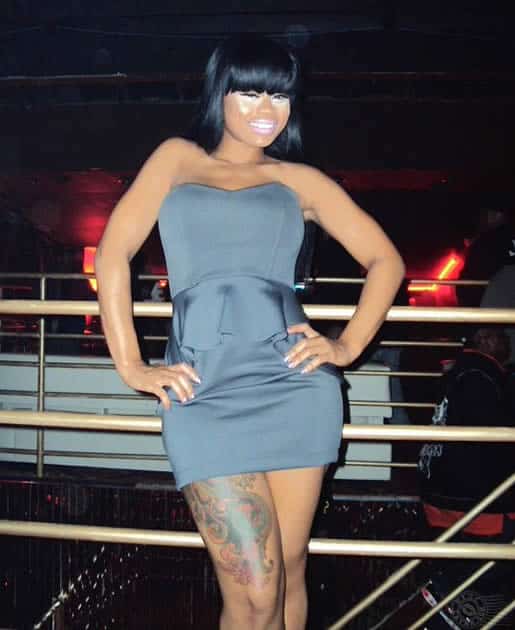 Source: Facebook @ iloveblacchyna
2011 was the year Blac Chyna and Tyga started dating. Wearing a short blue-grey dress with light makeups, you can see the large tattoo standing out on her leg. She had a skinny body back then, nothing like the one we see these days.
Year 2012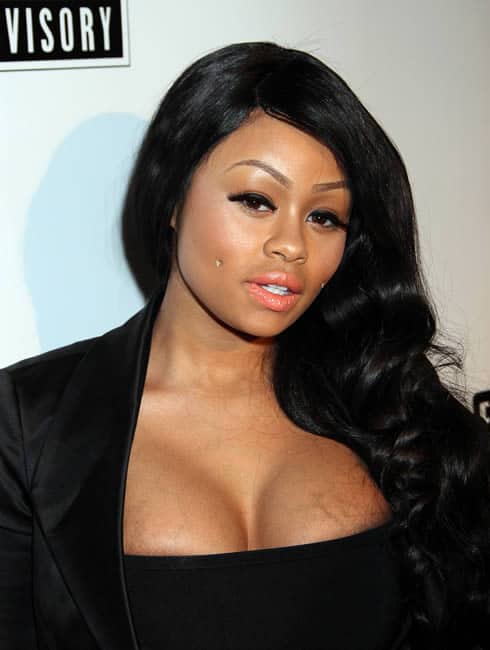 Photo Credit: Getty Images
Here the model attends the DGK Parental Advisory Premiere and Concert at the Avalon in Hollywood, California. There's a reason why people called her "Baby Mama", she just looks so cute and hot!
We meant this even after she gave birth to Tyga's son. Just look at those beautiful eye lashes and lip gloss complimenting those cheek piercings. But you've got to wonder if that's her real hair or a wig because apparently, she had a hair loss problem back then.
Year 2013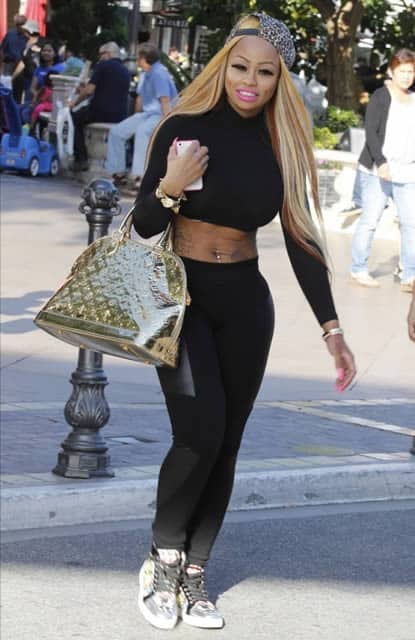 Souce: Blac Chyna IG
Chyna became fat after she got pregnant and gave birth to her child, we know that!
What we didn't get is how do her tummy and hips look this tight so quickly?? Either she's worked her ass off and ate worst than a monk, or she's got a tummy tuck. Any other ideas?
Ok…here's one.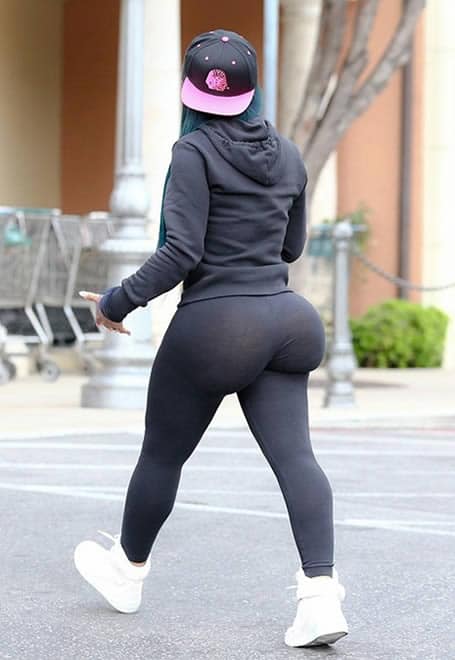 Image Credit: Getty
Perhaps all that weight loss was pure B.S after all. And if you've been wondering how she lost all that weight and where the fats have gone….well, ever heard of a butt lift? Like surely…if you're going to lose weight, it's got to come off from the whole body right? That includes your butt, thighs, arms, legs, face…everything.
You can't just command those bum fat and tell them to…"STAY"!
Year 2014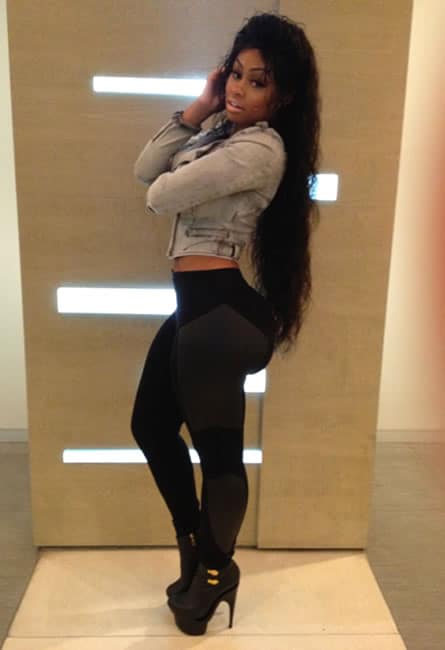 Source: Instagram @ blacchyna
Jeans top, tight pants, high heels, Chyna launched her own clothing line and online boutique store, 88fin, towards the end of 2013. She also created her own eyelashes brand, LASHED by Blac Chyna and bought a beauty bar in LA teaching makeup lessons in 2014.
You'd have to wonder where she finds all that time, especially after splitting up with rapper Tyga.
[adinserter block="4″]
Year 2015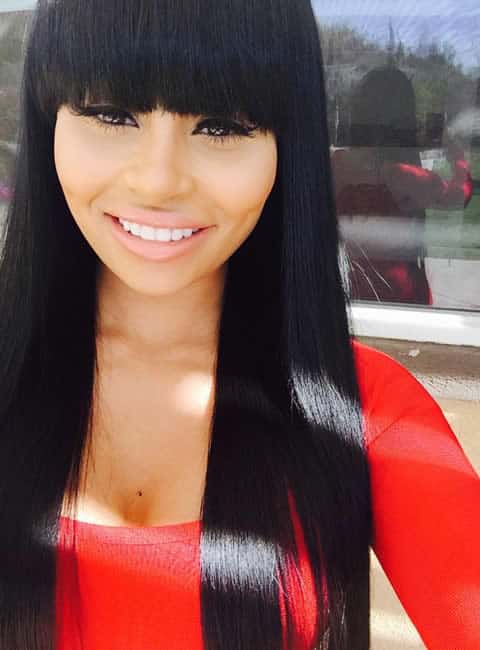 Source: Instagram @ blacchyna
We absolutely love this minimal makeup look of Black China! She's also got a very beautiful set of teeth, nice, straight and white! So we doubt she'll need any dental cosmetics like braces and veneers.
At 27 years old, we haven't seen any signs of aging from the model. There are no wrinkles, no black spots, although she did a good job of hiding that forehead under that hair wig (That's not her natural hair, right?). And it doesn't look like she'll need any Botox or face fillers just yet.
Year 2016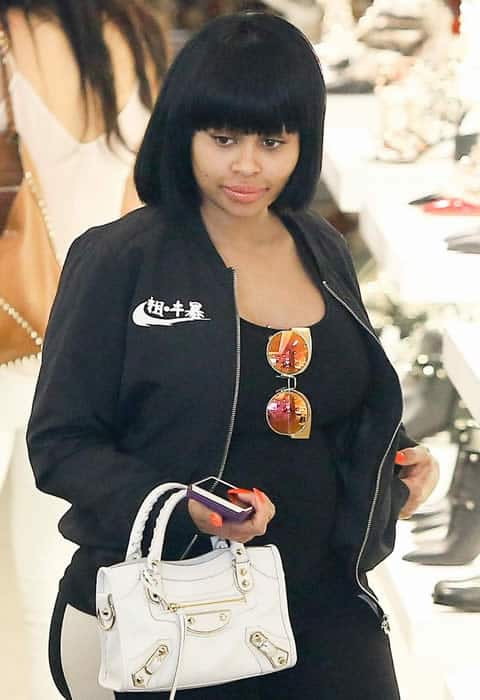 Despite hooking up with a handful of celebs back in 2015 including J Leon Love, Pilot Jones, Johnny Winn, Future and even her bestie Amber Rose, Chyna still managed to connect with Rob Kardashian in an emotional level.
Here the hot mama can be seen doing a round of shopping while carrying Rob's baby daughter in her womb. And did we mention she had no makeup on, not even eyelashes….WHAT!
Year 2017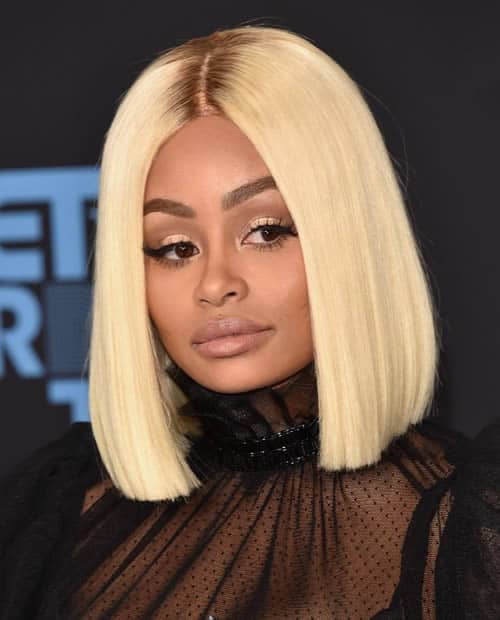 Image Credit: Getty
Attending the BET Hip Hop Awards at the Jackie Gleason Theater in Miami Beach, Florida. 2017 hasn't been her best year with the separation with Rob and all the revenge dramas, leaked photos and plastic surgery claims that he's exposed online such as post baby liposuction, tummy tuck and who knows what…
So if you have time, then sit down, have a cup of tea because her life story is like a TV show that's full of surprises. Nevertheless, she still looks gorgeous with this blonde hairstyle and nude makeup. Whatever cosmetics she's using is definitely doing her justice.
Year 2018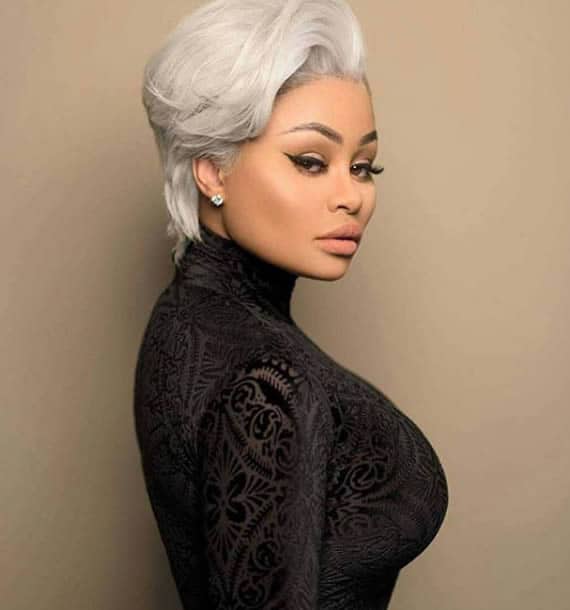 Source: Instagram @ blacchyna
If you want to see an old Chyna Blac, this may be the closest you'll get. She recently posted a picture of her on IG with short grey white hair, giving us an unusual "royal" vintage look. Quite elegant we must admit and up until now, we have yet to see any signs of cosmetic work on her jawline, cheekbones or chin.
[adinserter block="5″]
More Information About Blac Chyna:
Real Name: Angela Renée White
Birthday: 11th of May 1988
Star Sign: Taurus
Birth Place: Washington D.C., United States of America
Occupation: Model, Makeup Artist, Entrepreneur, Personal Stylist
Net Worth: $4 Million
Nationality: American
Race / Ethnicity: African-American
Relationship: Dating
Children: Dream Renée Kardashian (daughter), King Cairo Stevenson (son)
Height: 1.57 m (5 ft 2 in)
Weight: 60 kg (132 lbs)
Body Measurement: 36-27-41 Inches
Bra Size: 32D
Dress Size: 10 (US)
Shoe Size: 8 (US)
Natural Hair Color: Black
Natural Eye Color: Dark Brown
Social Media: Instagram, Facebook, Twitter
Conclusion
After reviewing many before and after photos of Blac Chyna, one thing we know is that this beauty entrepreneur is more than just BIG looks. Although her body might not be real, those "ASSETS" have definitely captured the eyes of many and possibly the reason that got her to where she is today.
There were clues to suggest that the former stripper might've had a boob job because only fake boobs can continue to defy the law of gravity, usually. It's also very likely that she's had butt implants, nose job, and hairline transplant, even though she does wear fake hair a lot in public.
There has been nothing done to her forehead that we could see, not even brow lift and given that she's only in her early 30s, so it'll be a long way before she'll need to consider other surgical anti-aging procedures such as facelift or neck lift.
Victoria Beckham Before and After Plastic Surgery Photos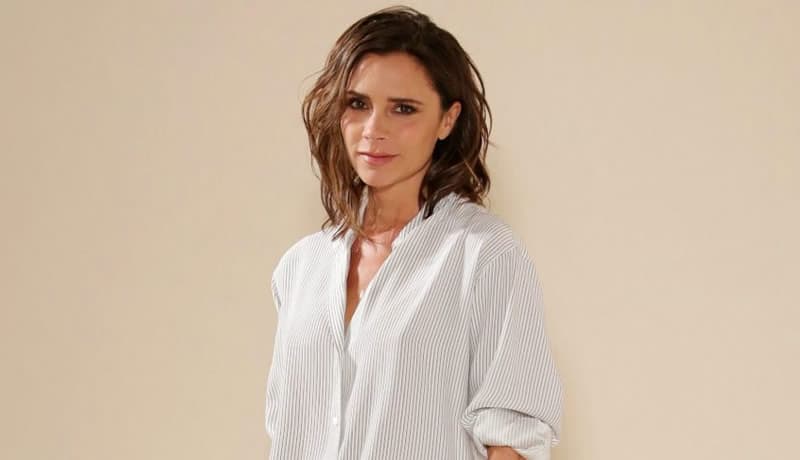 Victoria Beckham is most popularly known as Posh Spice from the girl band Spice Girls. She is also the better-half of soccer star David Beckham, whom she has been married to since 1999. I know…what a lucky girl, right?
After the Spice Girls disbanded, Victoria charted a career in fashion and was quite successful at it. Because of her persona and image in the public, however, people grew curious about her style and beauty.
As a mother of four children, Victoria managed to remain gorgeous, slim and pretty hot too. That's why people think that the former pop superstar had plastic surgery to improve her appearance. She doesn't seem to age and there appear to be some unnatural features on her face and body.
Victoria has been rumored to have gotten a nose job and fillers to improve her facial features. The shape of her rounded breasts, on the other hand, has also been scrutinized and even ridiculed because of how odd it looks against her body.
Posh Spice used to deny these cosmetic procedures but as she got older, she has been more open about the things she has done to transform her looks.
Before & After Photos
While there are a lot of before and after pictures of Victoria Beckham on the Internet that can detail her transformation, but I promise, you have seen nothing like these.
Allow me…
Did Victoria Beckham have botox?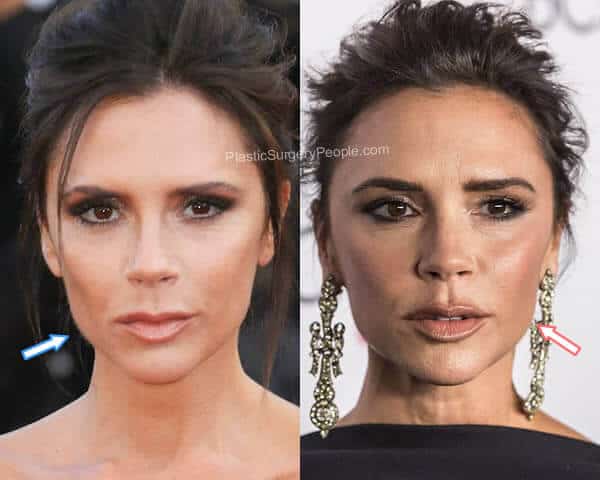 Victoria has such a rigid face and it might be because of all the botox she's getting. If you look closely at the "after" photo, her face cheeks look a little swollen.
There are hardly any lines or wrinkles around her forehead, her cheeks and mouth area. Also, she has this one expression on her face, which I believe is likely due to botox injections.
Has Victoria had a nose job?
Not sure if you noticed, but there is a dramatic difference in Victoria's nose in these photos. Posh had a bulbous nose when she was just starting out as a singer with the Spice Girls.
But now, her nose bridge is much thinner and the tip looks more refined. If this was the result of rhinoplasty, then I think her plastic surgeon has done a good job. The lovelier nose shape compliments her small face really well.
Did Victoria get lip fillers?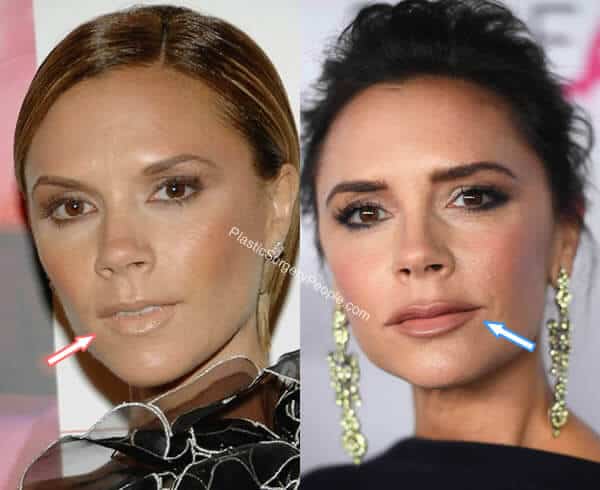 Something is definitely going on with Victoria's lips and I doubt it was just good lipstick or makeup application. Her top lip looks much bigger than her natural pluckers so yes, I think she might have tried lip injections here.
The good thing, however, is that she didn't get her lip fillers overdone. I think the size of her new lips fits her face shape quite well so good for her!
Yes, she had breast implants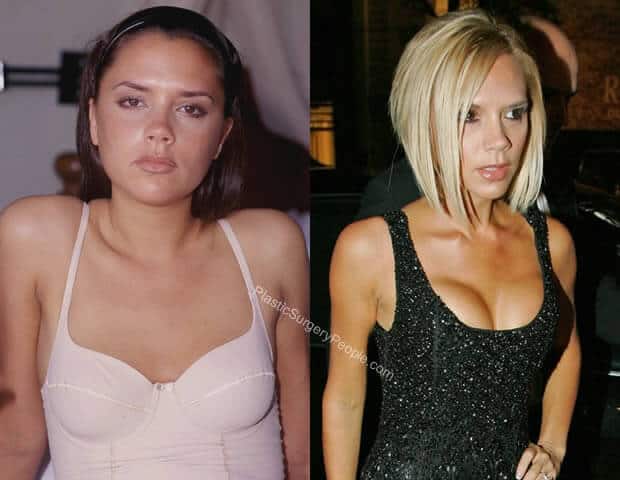 Until recently, Victoria was not open about getting breast implants in her youth. But you can clearly see that she was flat-chested in this "before" photo, in her younger years. Her breasts grew at least two times bigger in the "after" photo.
I remember Victoria used to get a lot of bad press for her augmentation procedure because her full and rounded boobs looked so odd against her thin body frame. I wasn't impressed with her boob job either because, to be honest, it looked like she had some built-in floaters on her chest.
She also got breast reduction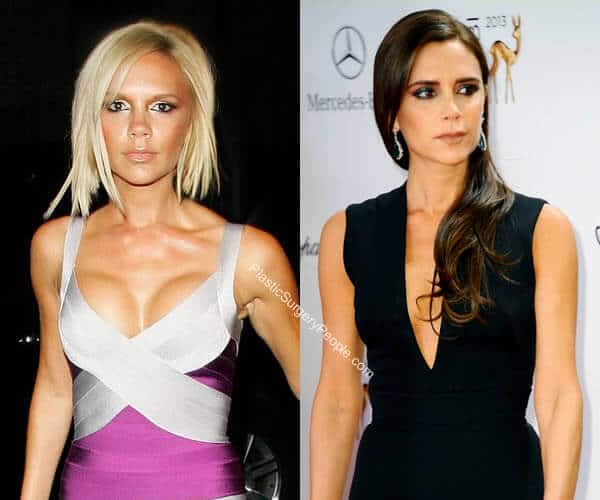 Years after getting her boobs lifted, Victoria decided to have a breast reduction surgery following the birth of her fourth child. She admitted that her earlier boob job was a mistake and she regretted messing it up.
Now, Victoria Beckham's breast size looks a lot more natural, as shown in this pic where she's wearing a plunging black dress. She's down to a 34A cup from the 34DD she used to have. I think she looks more sexy and attractive compared to those fake implants before.
Her teeth look better now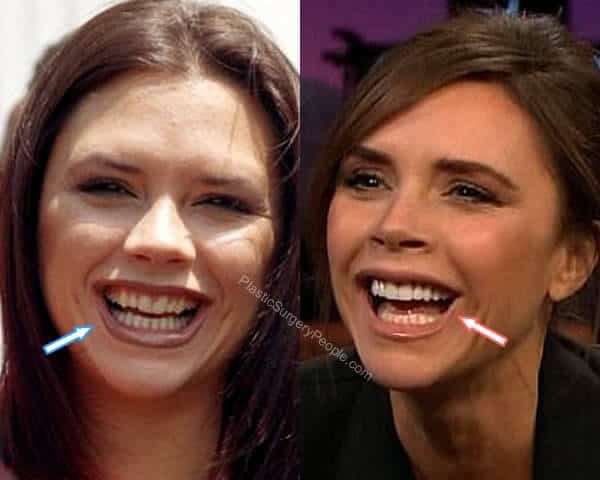 The thing is, Victoria's fans don't often see her teeth because Posh Spice has a trademark "bitch face," where she doesn't actually smile in her photos. One of the reasons could be because she had darker and crooked teeth before.
It's obvious she had those corrected now based on this "after" photo. Her front teeth look more even and it's a lot whiter too. So looks like teeth whitening and dental veneers were inevitable.
Conclusion
Victoria Beckham's earlier boob job didn't make her look attractive at all. It was a good thing she decided to remove those implants because I think it didn't do her any favors.
Posh Spice admitted she had to deny her plastic surgery procedures in her younger years because of her insecurity. I have to give her props for opening up about this because not a lot of celebrities would be upfront about the artificial changes they have done to their appearance.
While she hasn't fully embraced her natural beauty — she's still likely getting botox, after all — it's refreshing to see Victoria becoming more open about the flaws on her face and body. Vanity is part of being a public persona but I appreciate that Victoria is more honest about her procedures.
(Featured Credit Source: Facebook)
More Info about Victoria Beckham
Real Name: Victoria Caroline Beckham
Birthday: 17 April 1974
Star Sign: Aries
Birth Place: Harlow, United Kingdom
Nationality: British
Race / Ethnicity: English, German
Occupation: Businesswoman, Fashion Designer, Former Singer, Model
Net Worth: $128 Million
Relationship: Married to David Beckham
Children: Brooklyn Beckham, Romeo James Beckham, Harper Seven Beckham, Cruz Beckham
Height: 1.63 m (5 ft 4 in)
Weight: 49 kg (108 lb)
Body Measurement: 34-23-33 Inches
Bra Size: 34A
Dress Size: 2 (US)
Shoe Size: 7 (US)
Natural Hair Color: Dark Brown
Natural Eye Color: Dark Brown
Niykee Heaton: Before and After
Model, singer and songwriter Niykee Heaton from Chicago shot up to fame on her YouTube channel. A pop and hip hop artist, she made waves and raked in followers because of her singing style on acoustic guitar and her enticing performances.
A self-made musician who didn't have formal training in music, Niykee's original song "Bad Intentions" hit the Top 10 at the Billboards and iTunes charts in 2014. She's packaged as a sultry and sexy artist thus she's often seen showing off her gorgeous and shapely body on stage.
As a model, Niykee is also quite comfortable baring and teasing her curvaceous built. She has no qualms about shaking her butt on the screen for her music videos.
Cosmetic surgery rumors are often attached to Niykee because of her appearance. To be fair, however, I believe that the way she was marketed helped her popularity grow, especially in such a competitive world of entertainment. She has to be visually appealing to be popular.
However, there's a downside to selling her beauty even if she is a talented artist because of the scrutiny on her looks. People can't help but talk about her alleged breast augmentation, butt lifts, and other cosmetic enhancements she might have done to her face.
Before & After Photos
How much has Niykee's appearance change before and after she became famous? Which parts of her face and body had plastic surgery? Let's try and figure these out!
Did Niykee Heaton have nose job?
I don't think Niykee had her nose done despite all the talks. These before and after pictures show there are no changes to the nose shape and size. I think the makeup and the way she angles her face in photos may have made her nose appear altered but this isn't rhinoplasty to me. I'd say her nose is natural.
Does she have breast implants?
While unconfirmed, but I have no doubt that a lot of people believe that Niykee had breast augmentation surgery. Her boobs in the "after" photo appear to have been enhanced with breast implants. She literally went from a B to a DD cup size.
Though she might not have acknowledged a boob job, this evidence is hard to deny. Besides, having large breasts can be primarily seen as an asset for Instagram models like her. It helps fetch more followers and widen her influence. So I can understand if she really had opted for the procedure.
Did Niykee get a butt lift?
Well, Niykee doesn't have a flat butt to begin with. Her buttocks has a decent size and normal shape in this "before" photo. But perhaps normal does not cut it in her line of work so yes, I think Niykee may have gotten a butt lift to further enhance her bottom.
With her big boobs and her large butt, Niykee has achieved a full sexy figure that looks very attractive both on stage and on screen. So, if the rumors are true, then the choice to go with plastic surgery may have been beneficial.
Has she had lip injections?
Pouty fuller lips are sexy and you just have to look at Angelina Jolie's natural lips for proof. So, it wouldn't surprise me if Niykee had her lips enhanced with lip injections to look more attractive and achieve that Jolie fullness.
While her lips don't look bad in this "before" pic, it does appear that her upper lip is thinner than her lower lip. The "after" photo, on the other hand, shows even lips. To me, it looks like some fillers might have been injected there.
Niykee Heaton: Then and Now
There is no denying that Niykee is a babe with good looks and talent, so let's check out her transformation over the years.
Childhood days
Two-year-old Niykee looks totes adorable with those chubby cheeks! Did you know that she has English, German, Norwegian, Welsh and white South African ancestry?
Niykee in 2011
In high school, Niykee started singing and playing the guitar to record and upload on Youtube. Like many artists trying to make it big, she did numerous cover songs. Occasionally, she would also post her original songs.
This was a period where Niykee didn't seem to have many cosmetic enhancements. I'd say she was already a looker even then and there were tons of potential to market her as a sexy star.
Niykee in 2012
Niykee's cover of "Love Sosa" by Chief Keef drew a lot of viewers, including a feature on WorldStarHipHop. It's easy to see why, if you watch this video.
She oozed "sexy" with her voice and she looked pretty great in that basic black tank top, with her long blonde wavy hair nearly down to her waist. She looked so simple but refreshing and captivating.
Niykee in 2014
Did Niykee put on some weight in this photo or is this just a bad angle? Her nose appears bigger here and the shot also emphasized her square rigid jawline. She looks underwhelming and ordinary at this event for the Art of Life Gala and I notice her thin upper lips.
Niykee in 2015
Appearing in an interview with Complex, Niykee looks a lot different a year later, especially with her new lips. She also appears slightly younger to me. Maybe she's been testing some botox and lip injections.
Niykee in 2016
Niykee performed at the Music Is Universal Styld hosted by Gap. I'm surprised she didn't bare more of her curvy body. Instead, she opted to wear a deconstructed Iron Maiden shirt.
She was like a rock chick on stage, which suited her unruly hairstyle. I'm not a fan of this look but I guess it is part of her performance.
Niykee in 2018
I guess this was the time Niykee debuted her new breasts and butt to the public and she did so wearing the most tight-fitting top and body-hugging pants. Her likely plastic surgery augmentations look unnatural but thankfully, they're not botched or awkward either.
Niykee in 2019
Niykee got a lot of response for this photo, which she posted on Instagram, because her face looked different yet again. Is it the bangs? Is it coz she had botox around her cheeks and eyes? Is it her enhanced lips or the way she angled her face? Whatever she did, I think it made her look younger.
More Info about Niykee Heaton
Real Name: Nicolet Aleta Heaton
Birthday: 4 December 1994
Star Sign: Sagittarius
Birth Place: Geneva, Illinois, United States
Nationality: American
Race / Ethnicity: English, German, Norwegian, Welsh and South African
Occupation: Singer, Songwriter, Model
Net Worth: $3 Million
Relationship: Unknown
Children: None
Height: 1.72 m (5 ft 8 in)
Weight: 59 kg (130 lb)
Body Measurement: 35-25-38 Inches
Bra Size: 32C
Dress Size: 6 (US)
Shoe Size: 10 (US)
Natural Hair Color: Blonde
Natural Eye Color: Blue
Social Media: Instagram, Facebook, Twitter
Conclusion
The way Niykee changes her looks from old, to young, and to old again suggests to me that she may have had cosmetic procedures done to her face. It's not just the illusions of hair or makeup because I think she doesn't really take a lot of stock for these — I hardly see her wearing any!
So, I'm inclined to believe that she gets lip fillers and maybe some botox from time to time. I'm also on board the speculations that she had her boobs and butt worked on by her plastic surgeon.
For what it's worth, Niykee needs to invest in her appearance because it's part of her bread and butter. I just think, however, that she may be overdoing it a bit and if she's not careful, she could end up ruining her looks. As far as I can tell, some of her speculated cosmetic fixes seem unnecessary but then again, I'm not the one managing her career.
Angelababy: Before and After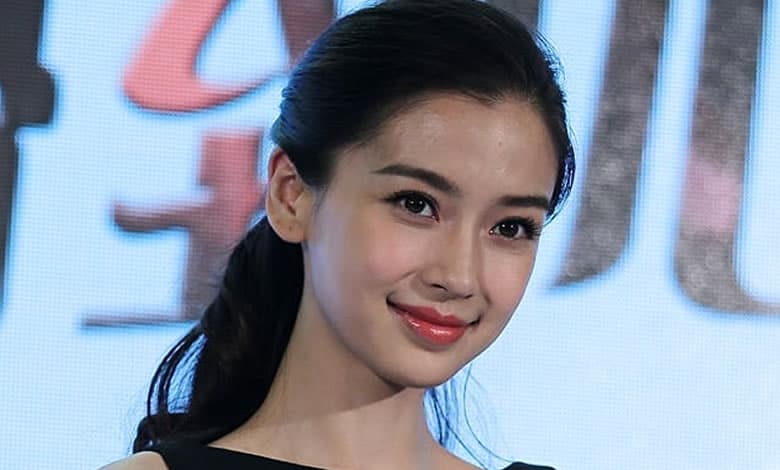 Angelababy, or Angela Yeung Wing in real life, is one of China and Hong Kong's biggest stars. Growing up amid her father's influence, who owns a fashion business, Angelababy was exposed to a life of glamour early on.
As a teenager, she moved to Hong Kong to pursue a modeling career that turned into a movie opportunity. Angelababy is fluent in several languages, including English, hence it was also easy for her to transition in Hollywood, where she was named one of the most influential Asian stars under 30 years old.
But amid her story of success, Angelababy has been badgered with the most controversial plastic surgery rumors because she got famous for her heart-melting looks. The actress has been speculated to have gotten a nose job (rhinoplasty), a double eyelid surgery (blepharoplasty), and a cosmetic alteration on her chin.
Angelababy addressed these rumors by taking those who questioned her beauty to court. She also underwent a documented check-up with a plastic surgeon in Beijing to refute those cosmetic surgery stories.
However, some fans think that the Chinese surgeon was paid under the table.
I must admit that this superstar is a stunner but something about her appearance did drastically change over the years. While changes can and do happen naturally for some girls, but can we say the same thing about her?
Furthermore, is she the chameleon who knows how to highlight her best features and hide her flaws — or did she have some procedures done?
Before & After Photos
Angela baby claims that she's an all-natural with inherited good genes so let's go over some of her photos and I'll let you decide whether she's real or fake.
Did Angelababy have eye surgery?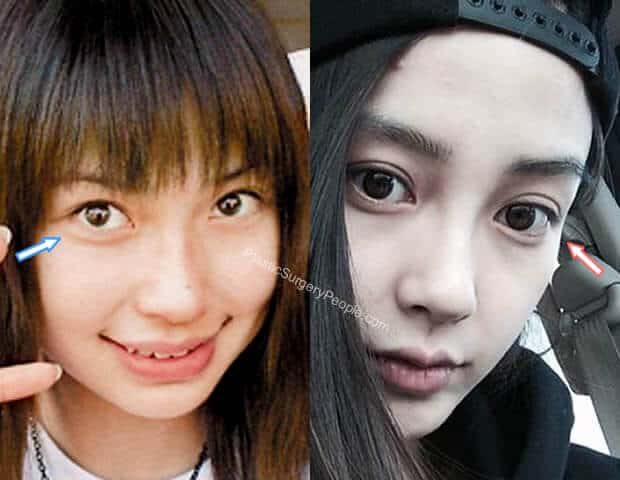 Angelababy has one of the most sparkling big eyes in Asia so some people think that she may have undergone an eye surgery to enhance her double eyelids.
When she was younger, the skin creases on her eyes do look less prominent though (camera angle?). There's also no makeup trick in the "after" photo that can make those double eyelids pop like that, so I can understand where the noises are coming from.
Some fans also believe that Angelababy had an incision on the side of her eyes to increase its size and width. Apparently, this is a popular procedure among Asian celebrities so I wouldn't be surprised if she did have her eyes widen. What do you think?
Has Angelababy had a nose job?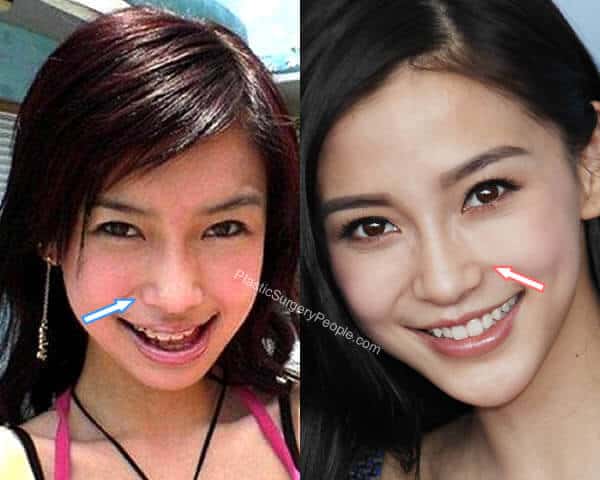 Despite what the rumors say, I don't think Angelababy got her nose fixed. To me, the size and shape of her nose are the same based on this old photo vs her most recent pic. If her nose did have slight differences, it's probably the angle of the shot or the makeup style. There aren't drastic changes so I'd say this is her natural nose.
Does she have chin implant?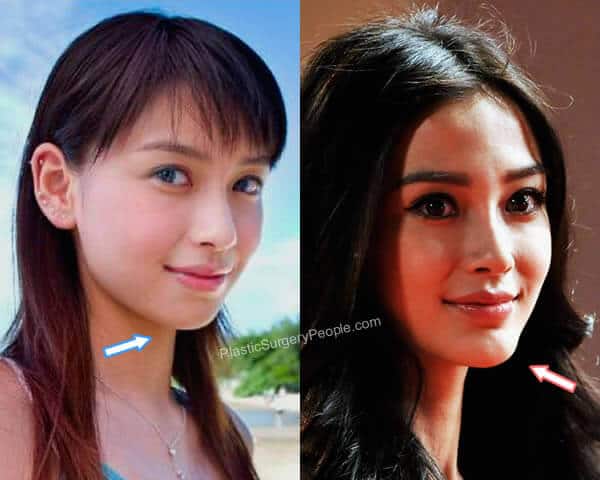 Angelababy's chin in this "after" photo looks longer and pointier compared to her younger self, where her chin recedes and looks more round and short. Her jawline also looks more elongated and her face shape appears thinner as well.
Now, whether this is because she lost weight, lost baby fat, or as a result of chin implant, I'll let you decide. All I can say is if this rumor is true, then she has a really good surgeon on her side. Her v-shape face is perfect!
Did she get a boob job?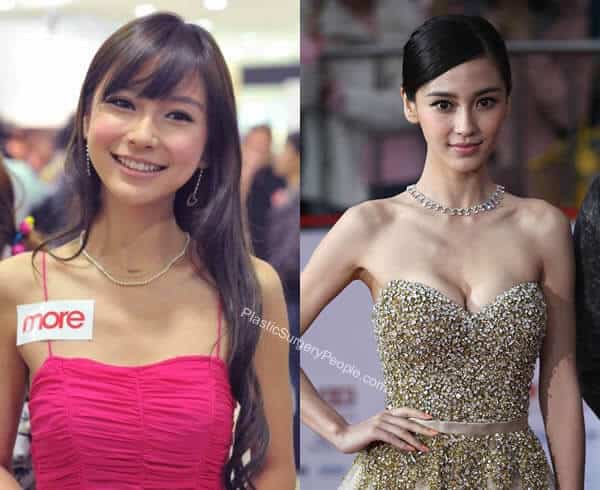 I don't believe that Angelababy had a boob job or a breast enhancement surgery. I think the dress she wore in this "after" photo had a good support base so her cleavage was clearly defined. Looking closely at the "before" photo, I'd say that the size of her breasts is the same. It's small, like any typical Asian body, but still full and rounded.
What about lip reduction?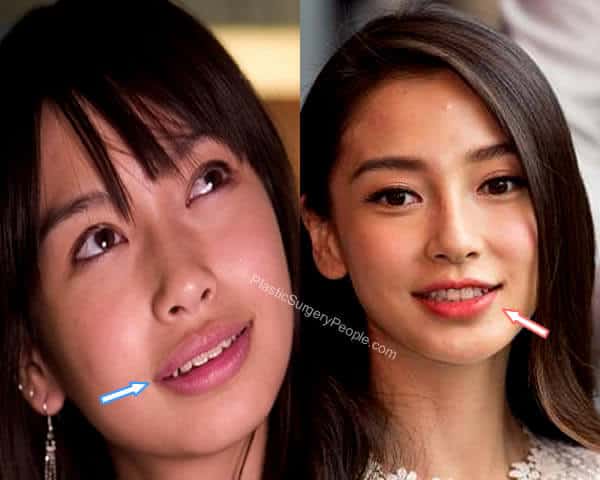 There have been talks suggesting that Angelababy might have undergone a lip reduction surgery on her upper lip when she was young. I must admit, I kind of agree.
If you look at her later photo, her lips aren't as full and its shape appears to be more defined today. The corners of her mouth also seem to have been altered to a more symmetrical shape. Now whether this is natural growth or post-surgery result, I'll leave that to you.
Angelababy: Then and Now
Under the knife or not, there is no denying that Angela has angelic features. Let's check out her transformation over the years and before she became famous.
Childhood: Shanghai born beauty
Pretty Angelababy was born in Shanghai to Euro-Asian parents and this is part of the reason why she says that some of her features are natural and not cosmetically changed.
Not sure about you but based on this picture, I kind of believe her.
Teenager: They called her 'baby'
She got the nickname "Baby" as a primary school student and it stuck even as she's now in her 30s. This photo of Angelababy, who started a modeling career at 14, is I think her most natural look.
I just don't get the pig tails combined with the rounded-hoop earrings though. It sends a complicated message for whatever image she wants to conjure. Her hairstyle says cutesy teenager but her accessories are more suited for a grown woman.
Year 2007: Film debut
She kicked off her movie appearance with "Trivial Matters," where she had a five-minute exposure. But it was the start of a flourishing career that would make her one of the most popular Asian stars.
At this point, Angelababy's physical transformation has begun with the obvious and drastic change to her eyes. I've got to admit, she looks younger and prettier with a sense of purity in her beauty.
Year 2013: The rise to stardom
Angelababy's media presence grew more popular as the years rolled but the plastic surgery buzz surrounding her also grew louder. If she had her chin and jaws enhanced, then I think this may be the year as she clearly has a thinner face shape and longer chin. Her lips also became smaller.
Then again, this image may just have been a bad photoshop job.
Year 2015: Hollywood debut
Somehow, when Angelbaby debuted in Hollywood in the movie "Hitman: Agent 47" she had rounder chin again. Did she take out her rumored chin implants? Her facial features, especially around the eyes, look more refined now. She's quite the head turner!
Year 2018: Skinny but elegant
Baby displayed her flair for fashion in this gorgeous dress. She looks quite skinny but she's still a beauty. She hasn't shown any signs of aging at all!
Year 2019: Love for fashion
The superstar attends a Christian Dior fashion show in France with her hair pulled up neatly and just a few strands loose. I love her choice of red lipstick that defined her lip shape so well. She wore a simple little black dress for this affair and her overall look is smashing and definitely French chic.
More Info about Angelababy
Real Name: Angela Yeung Wing (Yang Ying)
Chinese Name: 杨颖
Birthday: 28 February 1989
Star Sign: Pisces
Birth Place: Shanghai, China
Nationality: Chinese, Hong Kong
Race / Ethnicity: Chinese, German
Occupation: Actress, Model, TV personality
Net Worth: $50 Million
Relationship: Married to Huang Xiaoming
Children: Little Sponge (小海绵)
Height: 1.68 m (5 ft 6 in)
Weight: 46 kg (102 lb)
Body Measurement: 32-23-34 Inches
Bra Size: 32B
Dress Size: Unknown
Shoe Size: 8 (US)
Natural Hair Color: Black
Natural Eye Color: Dark Brown
Conclusion
Call it envy, jealousy or whatever but according to some people, Angelababy's beauty is far from natural. Her eyes have been a major talking point but in my opinion, I don't think the changes were too dramatic.
If all the noises were true, however, then she must have a top plastic surgeon to work on improving her looks. Let's face it, when you are one of the most recognizable faces in the Chinese region, you simply cannot risk botching a surgery.
As far as her chin is concerned, there are apparently chin fillers and this isn't technically a surgical process. So, in a way, she's kinda right denying she had "plastic surgery" and the truth is, nothing can be proven.
In terms of her nose, I still can't get on board with the nose job rumors. It looks the same to me. In fact, it looks gorgeous the way it is…so why fix it if it's not broken, right?
(Featured Image Source: Weibo)