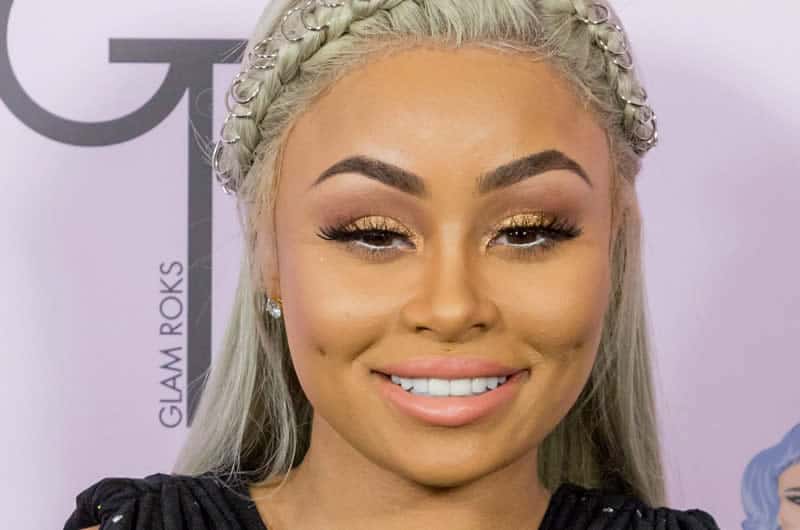 Whenever you see Blac Chyna, you just couldn't ignore those large breasts and giant booty. But because of this "Not Many People Will Argue", yet possible plastic surgery body, she has captured the attention of many.
If you look at her Instagram account, she currently has more than 14 million followers, but what most of her fans don't realize is the amount of hard work she's put in before she shot to fame.
Chyna worked as a stripper to pay for her study in the Johnson and Wales University in Miami. Due to exhaustion, she soon dropped out of college and focused on stripping and modeling.
She may have gotten breast implants and butt augmentation while working in the Miami club because her exotic body soon made her very popular that even Drake mentioned her name in his song, Miss Me. Her big boobs and massive buttock have also landed her a gig to cast as a double for Nicki Minaj in the music video, Monster.
To be honest, we're not too surprised because she's literally a look alike of Nicki.
So this leads us to question, how many plastic surgeries has Blac Chyna done, if any? We're almost 100% sure that she has fake boobs and buttock, but what about other areas on her face like her eyelids, nose, lips, etc?
Well, looks like her closely guarded secrets may be exposed here.
Before & After Photos
To find out whether Chyna had undergone any cosmetic surgery procedures, we've analyzed many of her past and present photos before she became famous. Here's what we've found.
See below for our exclusive pics!
Did She Have A Nose Job?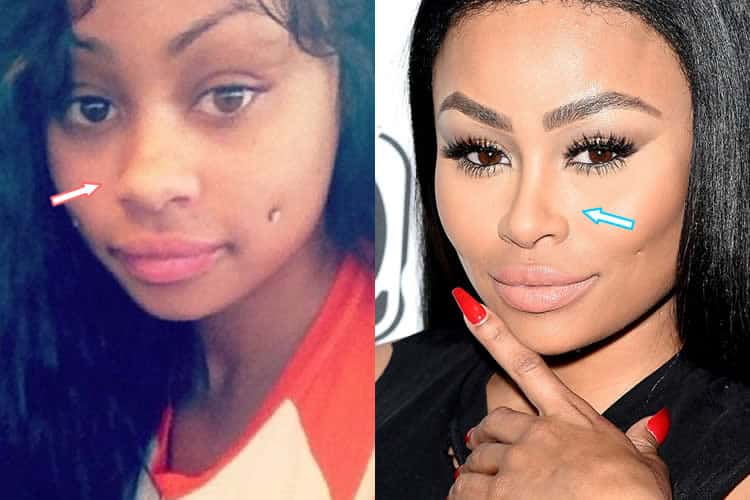 Was this Blac's nose before surgery?
If you look at the "Before" picture when Chyna was still a teenager, her nose bridge was visibly wider. The tip of the nose was also very round when compared with the "After" photo. So based on this comparison, it's very likely that she's had a rhinoplasty to alter her nose shape, making it thinner and more pointy.
Has Blac Chyna Had A Boob Job?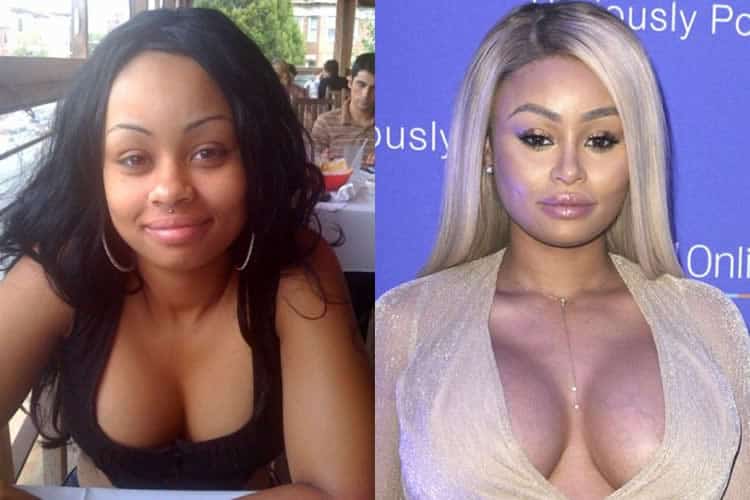 Did Chyna have breast augmentation procedure?
You can see that Blac used to have very natural and soft looking cleavage, unlike the AFTER picture on the right. Her boobs have enlarged to a point where you can literally see the veins on the sides. This indicates to us that she may have gotten a boob job and placed some rather large sized implants into her chest.
What About Bum Implants?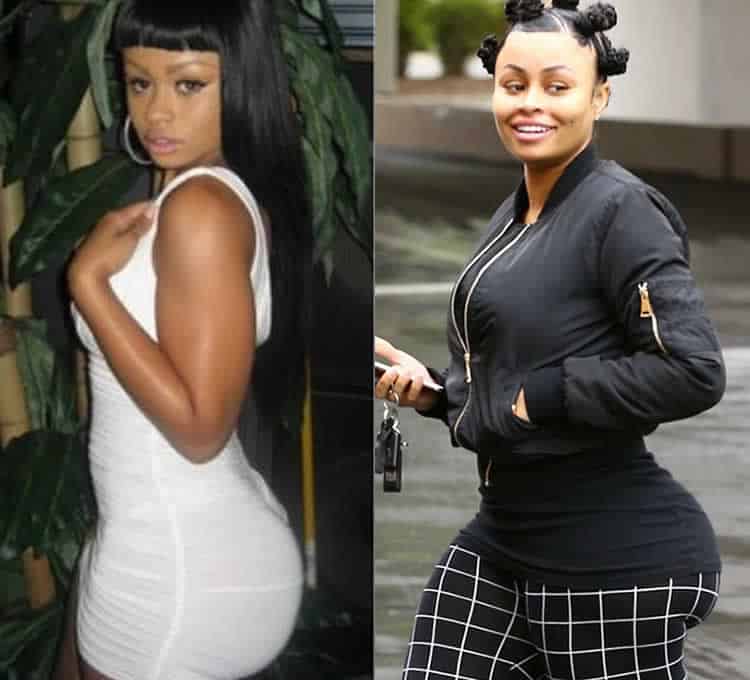 Serious question: How does she walk and sit with those behind her?
Okay, black women tend to have big bums and we totally get it! But when it becomes so outrageously HUGE that it no longer looks natural, bum implants seems to be what comes to mind.
We're not saying this is what Blac Chyna got (are we?). In fact, she has enough body fat to do a full on brazilian butt lift if she wanted to, which involves fat removal via liposuction before injecting the collected fat back into her butt.
So they may not be implants in her buttock after all. But seriously Blac, whatever it is…real or fake, don't let us stop you. We know a lot of men likes it…just ask Tyga and Rob!
Does She Have Lip Injections?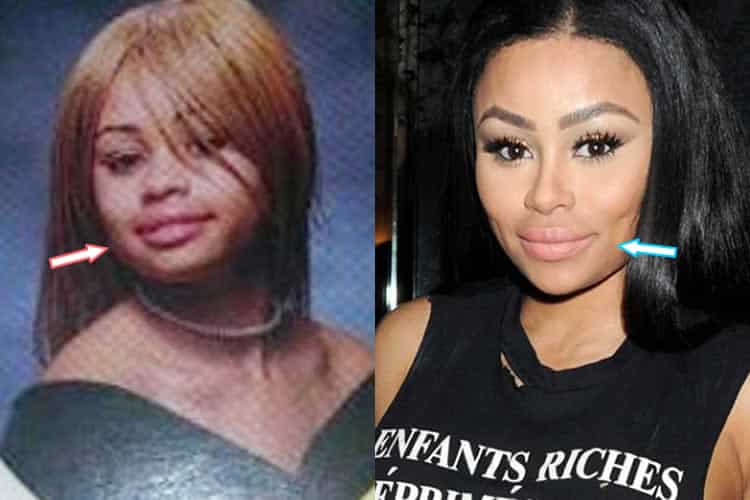 She has naturally plump lips, both upper and lower.
Being an African-American woman, it's only natural for Blac to have thick lips. Because of her makeups and the types of lipsticks that she uses, sometimes her lips appear to be so plump that people have mistaken it for lip injections. But after seeing the before pic when she was young, we've dismissed those claims.
So…NO, we don't think she's had lip fillers.
Did Chyna Get Forehead Reduction?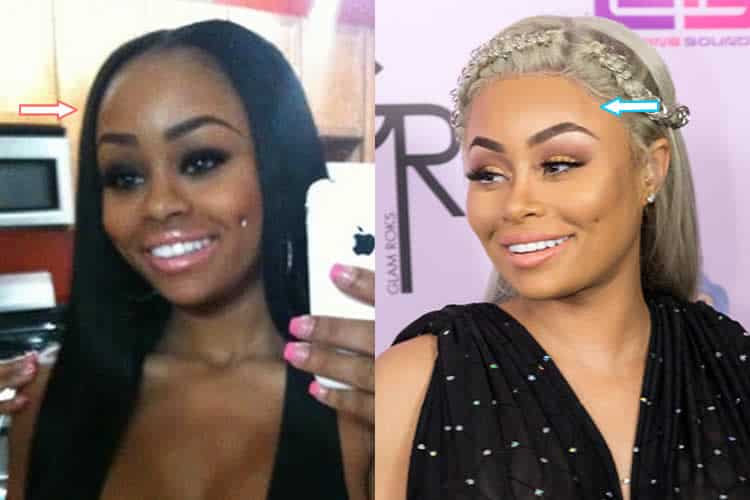 Yup, she definitely had a large forehead.
Blac Chyna's forehead has attracted a lot of attention throughout the years. It appears the size of her forehead have reduced slowly as time went by and this lead to speculations that she's had a forehead reduction surgery. However, after thoroughly reviewing her "Then" and "Now" photos, we think these claims are false!
Instead, we felt it was Chyna's hairline that's played tricks to our eyes…which brings us to the next question.
How Did She Regrow Her Hairline?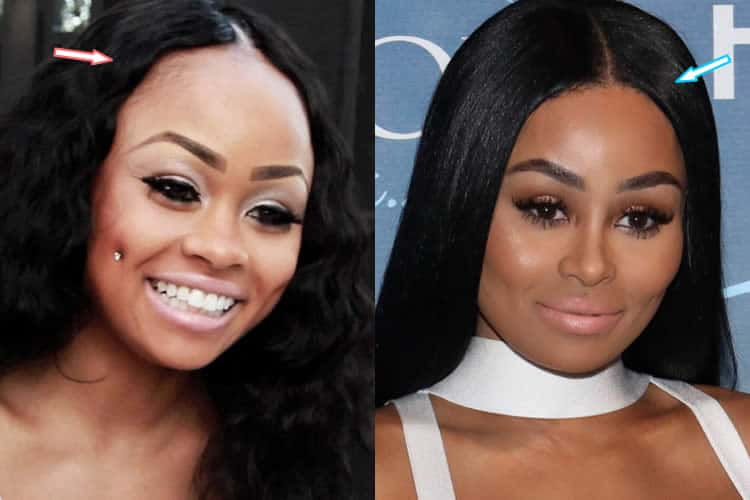 Did she get hair transplant?
Like many women, Chyna was experiencing hair loss at one stage in her life. You can clearly see the receding hairline that needed to be addressed fast. So it's very likely that she's had a hair transplant operation to correct that problem because you can see how full her hair looks afterward from the above image on the right.
Chyna's Beauty Transformation
Want to see how Blac Chyna's body has changed over the years? What about her hair and face features including her eyes, eyebrows, cheeks, teeth, chin, etc?
Well…let's dive in!
Youth Days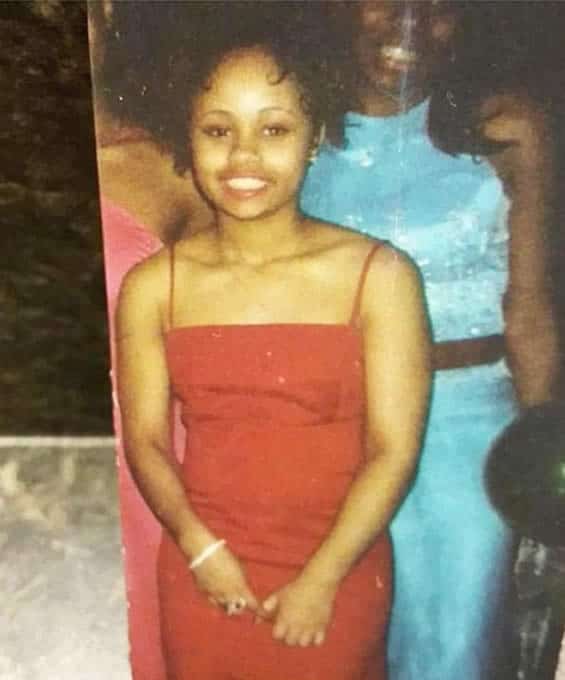 Here's a rare photo of the "very" young Blac Chyna back in the day, literally as a child. We're not sure whether the ladies behind her is the mom, sisters or friends, but you can see that her skin color was naturally whiter than them. So anyone who thinks she's had skin whitening treatment may want to rethink that.
Teenage Years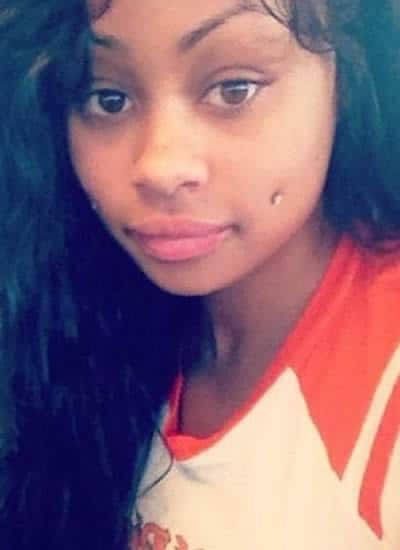 Here's a picture of Chyna in her teen and while it's unusual to see her without makeup, you could tell she was quite trendy. In fact, she's got dimple piercings on her cheeks, an extreme fashion that most young girls would be reluctant to accept. After all, you are punching 2 holes in your face…
Early Adulthood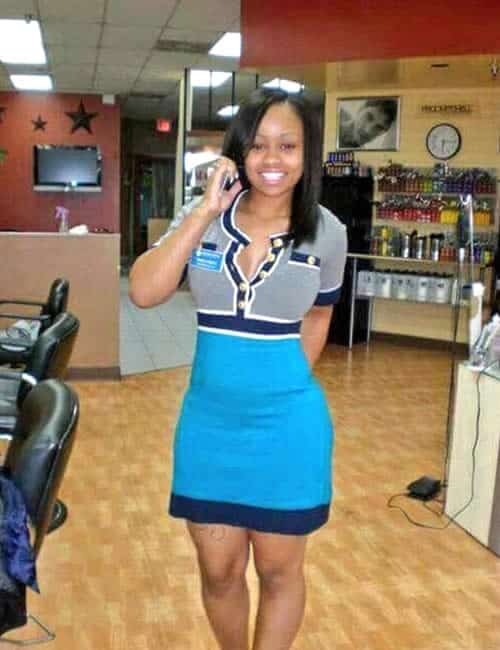 Source: Twitter @ NandyMlomo
It appears Angela White (her real name) had worked as a hairstylist before she became famous. We believe she was in her early adulthood and perhaps just turned 18 years old.
Posing in the beauty and hair salon, you can see that she has quite a "busty" chest already. So was she naturally gifted with a large cup size or did she have breast implants at a fairly early age?
Year 2010
Although she's stepped into the scene since 2008, her modeling career only started taking off in 2010 when she took the front cover of Dime Piece magazine. Here she was at the Def Jam Rapster in Miami.
Okay…we knew she could (pole) dance, but apparently, she can sing and rap too…sort of.
Year 2011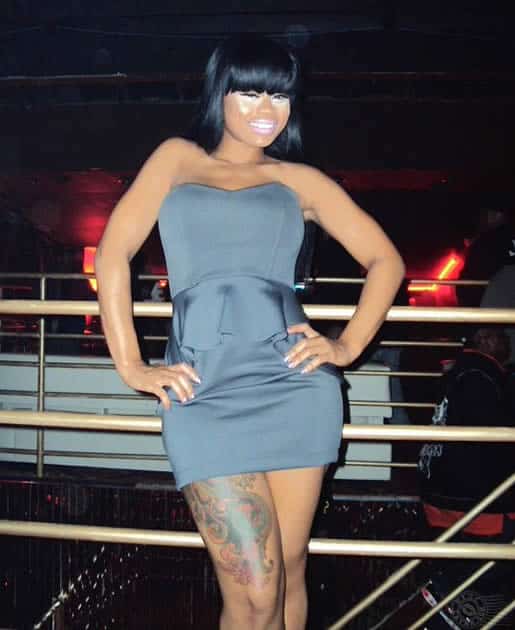 Source: Facebook @ iloveblacchyna
2011 was the year Blac Chyna and Tyga started dating. Wearing a short blue-grey dress with light makeups, you can see the large tattoo standing out on her leg. She had a skinny body back then, nothing like the one we see these days.
Year 2012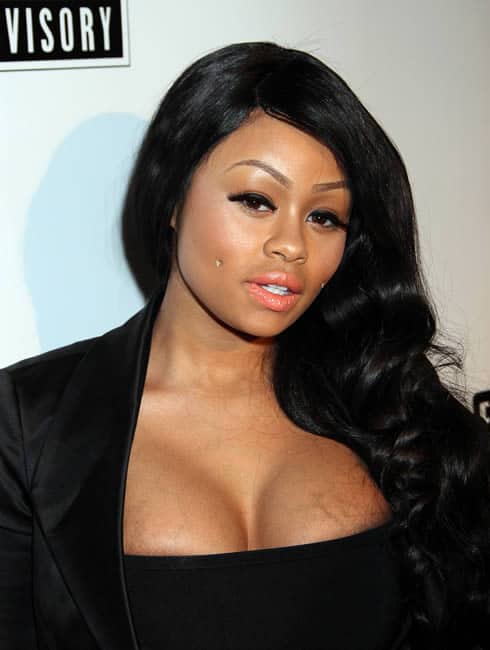 Photo Credit: Getty Images
Here the model attends the DGK Parental Advisory Premiere and Concert at the Avalon in Hollywood, California. There's a reason why people called her "Baby Mama", she just looks so cute and hot!
We meant this even after she gave birth to Tyga's son. Just look at those beautiful eye lashes and lip gloss complimenting those cheek piercings. But you've got to wonder if that's her real hair or a wig because apparently, she had a hair loss problem back then.
Year 2013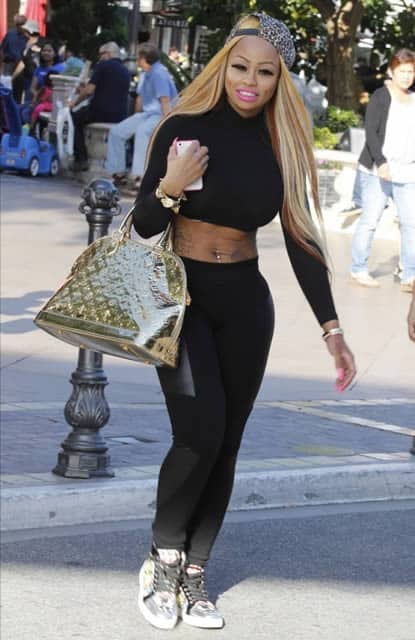 Souce: Blac Chyna IG
Chyna became fat after she got pregnant and gave birth to her child, we know that!
What we didn't get is how do her tummy and hips look this tight so quickly?? Either she's worked her ass off and ate worst than a monk, or she's got a tummy tuck. Any other ideas?
Ok…here's one.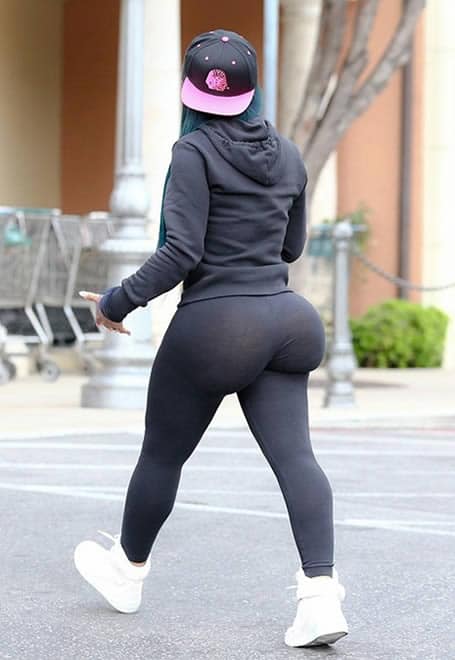 Image Credit: Getty
Perhaps all that weight loss was pure B.S after all. And if you've been wondering how she lost all that weight and where the fats have gone….well, ever heard of a butt lift? Like surely…if you're going to lose weight, it's got to come off from the whole body right? That includes your butt, thighs, arms, legs, face…everything.
You can't just command those bum fat and tell them to…"STAY"!
Year 2014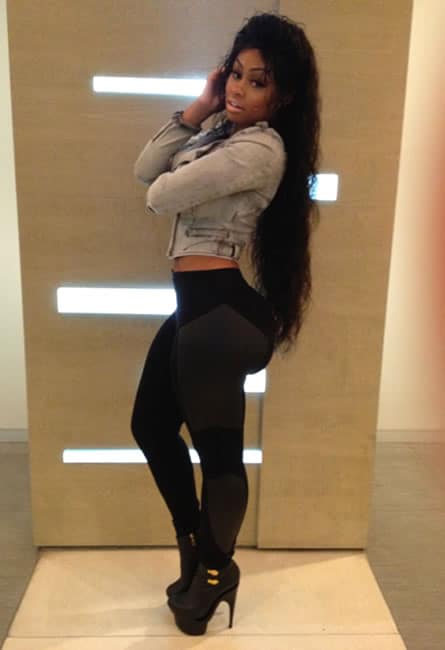 Source: Instagram @ blacchyna
Jeans top, tight pants, high heels, Chyna launched her own clothing line and online boutique store, 88fin, towards the end of 2013. She also created her own eyelashes brand, LASHED by Blac Chyna and bought a beauty bar in LA teaching makeup lessons in 2014.
You'd have to wonder where she finds all that time, especially after splitting up with rapper Tyga.
Year 2015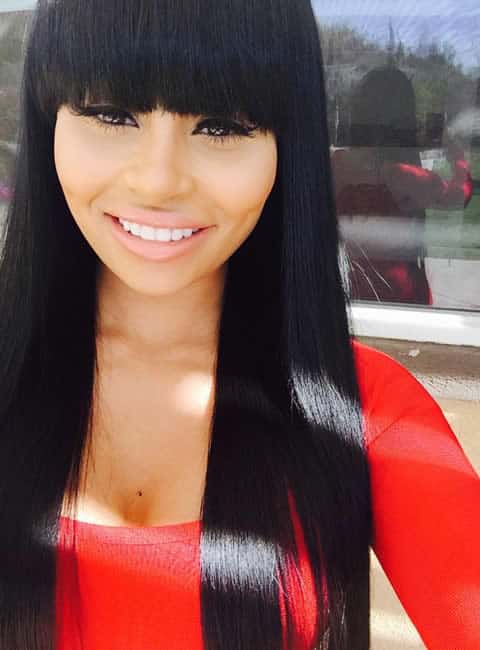 Source: Instagram @ blacchyna
We absolutely love this minimal makeup look of Black China! She's also got a very beautiful set of teeth, nice, straight and white! So we doubt she'll need any dental cosmetics like braces and veneers.
At 27 years old, we haven't seen any signs of aging from the model. There are no wrinkles, no black spots, although she did a good job of hiding that forehead under that hair wig (That's not her natural hair, right?). And it doesn't look like she'll need any Botox or face fillers just yet.
Year 2016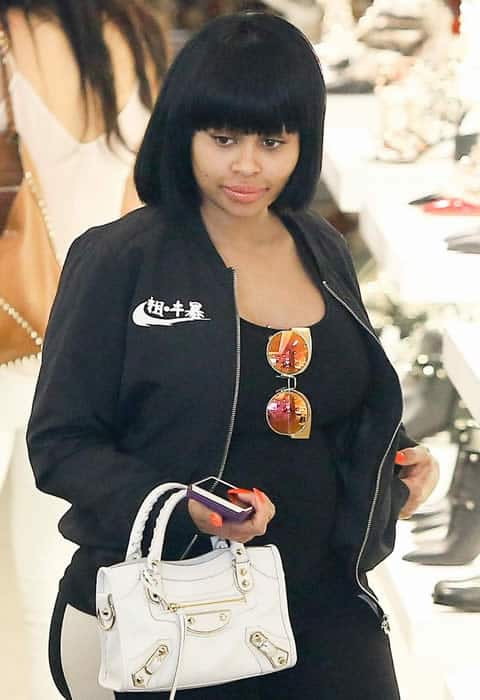 Despite hooking up with a handful of celebs back in 2015 including J Leon Love, Pilot Jones, Johnny Winn, Future and even her bestie Amber Rose, Chyna still managed to connect with Rob Kardashian in an emotional level.
Here the hot mama can be seen doing a round of shopping while carrying Rob's baby daughter in her womb. And did we mention she had no makeup on, not even eyelashes….WHAT!
Year 2017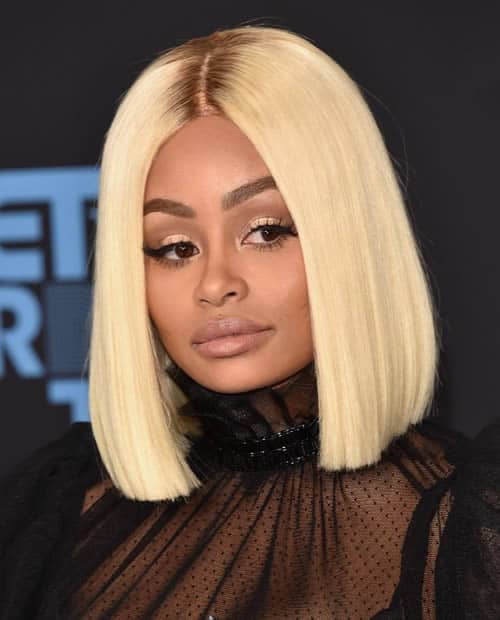 Image Credit: Getty
Attending the BET Hip Hop Awards at the Jackie Gleason Theater in Miami Beach, Florida. 2017 hasn't been her best year with the separation with Rob and all the revenge dramas, leaked photos and plastic surgery claims that he's exposed online such as post baby liposuction, tummy tuck and who knows what…
So if you have time, then sit down, have a cup of tea because her life story is like a TV show that's full of surprises. Nevertheless, she still looks gorgeous with this blonde hairstyle and nude makeup. Whatever cosmetics she's using is definitely doing her justice.
Year 2018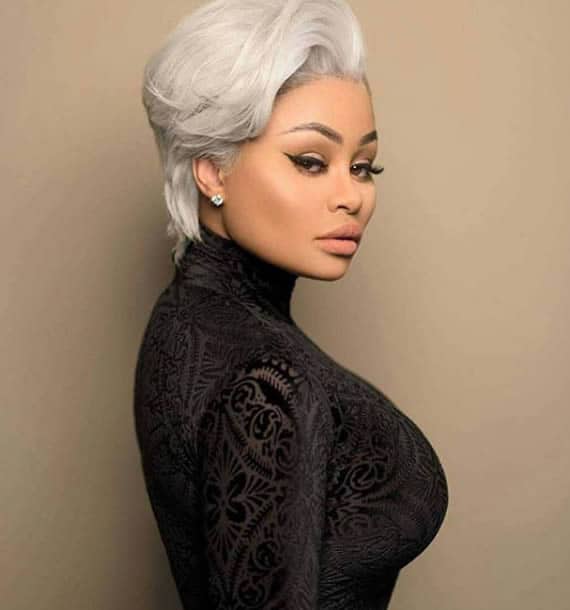 Source: Instagram @ blacchyna
If you want to see an old Chyna Blac, this may be the closest you'll get. She recently posted a picture of her on IG with short grey white hair, giving us an unusual "royal" vintage look. Quite elegant we must admit and up until now, we have yet to see any signs of cosmetic work on her jawline, cheekbones or chin.
More Information About Blac Chyna:
Real Name: Angela Renée White
Birthday: 11th of May 1988
Star Sign: Taurus
Birth Place: Washington D.C., United States of America
Occupation: Model, Makeup Artist, Entrepreneur, Personal Stylist
Net Worth: $4 Million
Nationality: American
Race / Ethnicity: African-American
Relationship: Dating
Children: Dream Renée Kardashian (daughter), King Cairo Stevenson (son)
Height: 1.57 m (5 ft 2 in)
Weight: 60 kg (132 lbs)
Body Measurement: 36-27-41 Inches
Bra Size: 32D
Dress Size: 10 (US)
Shoe Size: 8 (US)
Natural Hair Color: Black
Natural Eye Color: Dark Brown
Social Media: Instagram, Facebook, Twitter
Conclusion
After reviewing many before and after photos of Blac Chyna, one thing we know is that this beauty entrepreneur is more than just BIG looks. Although her body might not be real, those "ASSETS" have definitely captured the eyes of many and possibly the reason that got her to where she is today.
There were clues to suggest that the former stripper might've had a boob job because only fake boobs can continue to defy the law of gravity, usually. It's also very likely that she's had butt implants, nose job, and hairline transplant, even though she does wear fake hair a lot in public.
There has been nothing done to her forehead that we could see, not even brow lift and given that she's only in her early 30s, so it'll be a long way before she'll need to consider other surgical anti-aging procedures such as facelift or neck lift.