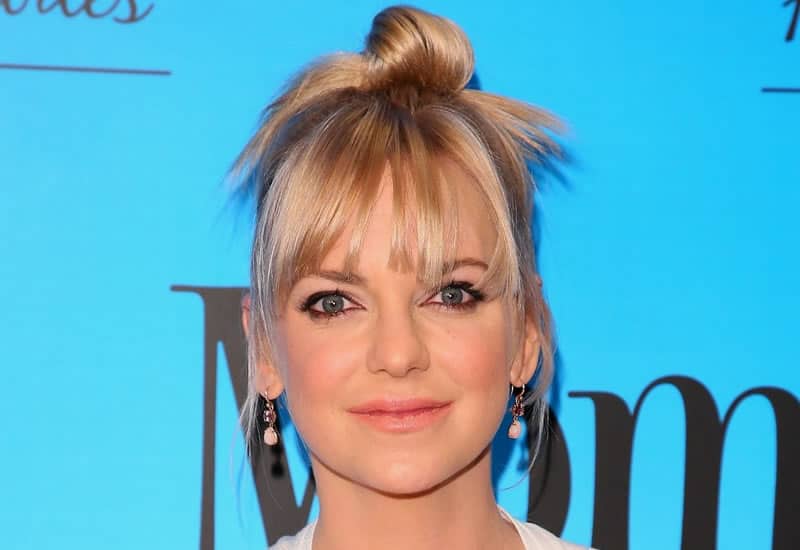 Anna Farris was "The Hot Chick" with the pretty face who got married — and later divorced — to "Jurassic World" blockbuster star Chris Pratt. The actress said in interviews that while she didn't have big dreams of becoming a huge and popular celebrity, she always thought that acting was a great way to make money.
The star of "The House Bunny" recently admitted that she had plastic surgery procedures to get her start in Hollywood. Anna confessed in her book, "Unqualified," that she had breast implants and lip fillers.
She wrote that her ex-husband was supportive of her decision to change her boob size so that she would feel better about her body in a bikini. Anna confessed that she felt conflicted about her decision to get an enhancement as someone who is a proud feminist, but seeing how she filled out her dress in the most proportional way made her feel so good.
While she loved what her plastic surgeon has done for her self-esteem by improving her boobs, Anna, however, also confessed that getting lip injections was a mistake. After admitting her cosmetic augmentations, though, fans now wonder what else she has done to change her looks. Did Anna get rhinoplasty as well?
Before & After Photos
Anna is one of the few stars who has openly talked about getting cosmetic surgery. But what else could she have done to improve her beauty, aside from using makeup?
Let's compare photos of Anna before and after she became famous.
Does Anna Faris Have Breast Implants?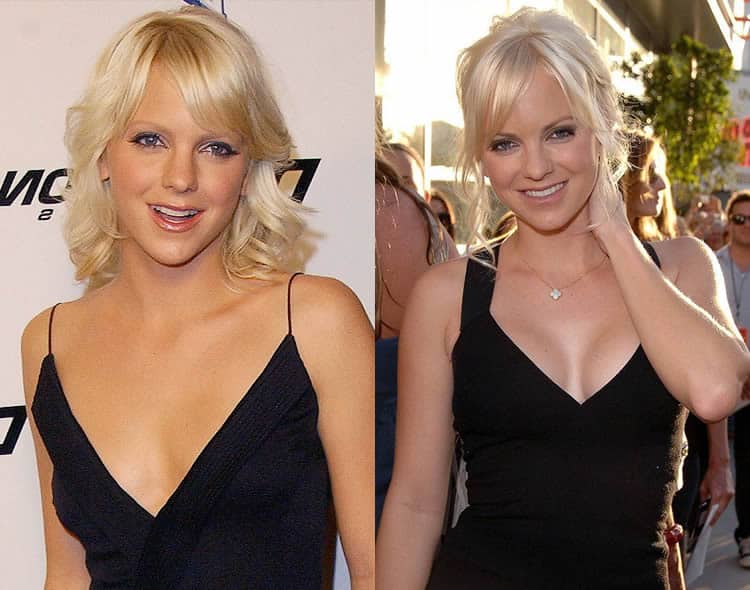 No question about it — Anna Faris has fake boobs today. Before she became famous, she had a flat chest that showed no cleavage, as seen in this before photo. She told Women's Health that her chest size used to be a negative A. After getting implants, she described it as "F–king Awesome" because she can wear sexy dresses better now.
On her book, Anna wrote that she got a boob job following her divorce from first husband Ben Indra when her career in Hollywood was just starting to get off the ground.
Anna's breasts, however, still look natural and well-proportioned to her tiny frame. Her plastic surgeon did a great job, don't you agree?
Has Anna Had a Nose Job?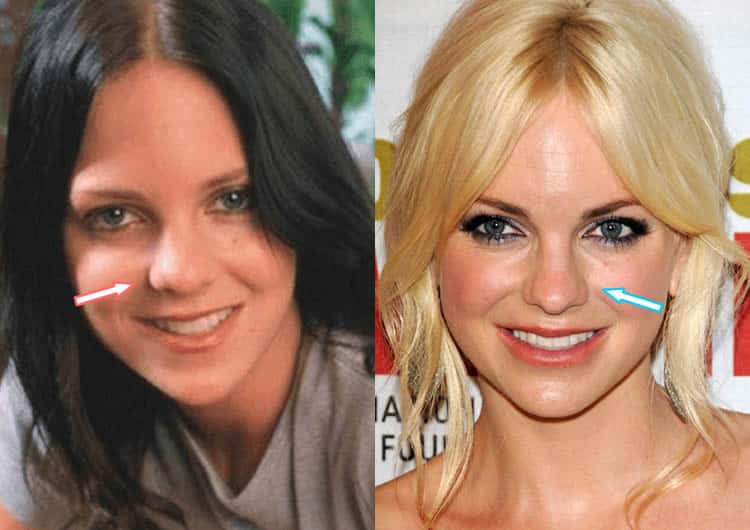 There are subtle signs that the actress underwent rhinoplasty, according to her fans. If you look long and hard at Anna's nose in this before and after picture, you'll see the difference.
The bridge looks slightly thinner and the tip looks better in shape and size. But as Anna has never confessed to a nose job, this augmentation remains a speculation until then.
Did She Get Lip Injections?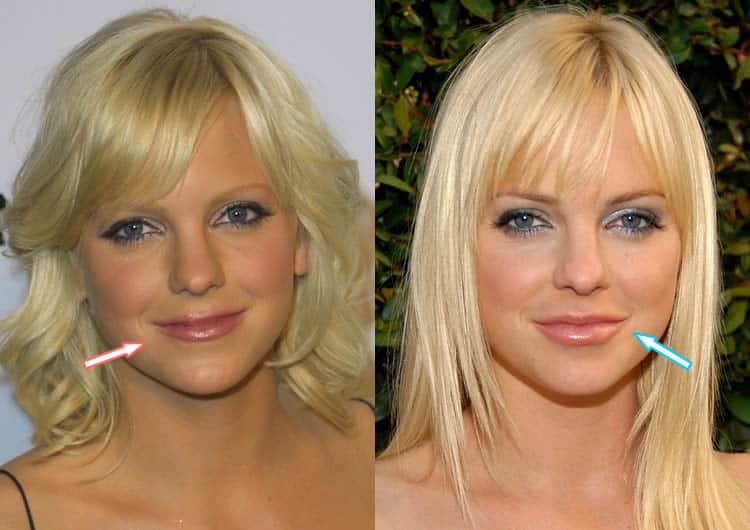 Anna said that after loving the surgery on her breast, she decided to get lip injections next. At first, the procedure subtly changed her face as it made her lips look fuller. But after getting more lip jobs, her friends pointed out that it was too much, too big especially around her bottom lip. The actress admitted she had to wean off lip fillers and stop before it destroyed her appearance.
During the start of her career, Anna was rumored to have gotten surgery for a cleft lip. People thought she has a faint scar on her upper lip to fix a defective cleft palate as a child. She has never talked about whether it was true and there are no other photos to prove the rumors either.
Did Anna Faris Have Botox or Facelift?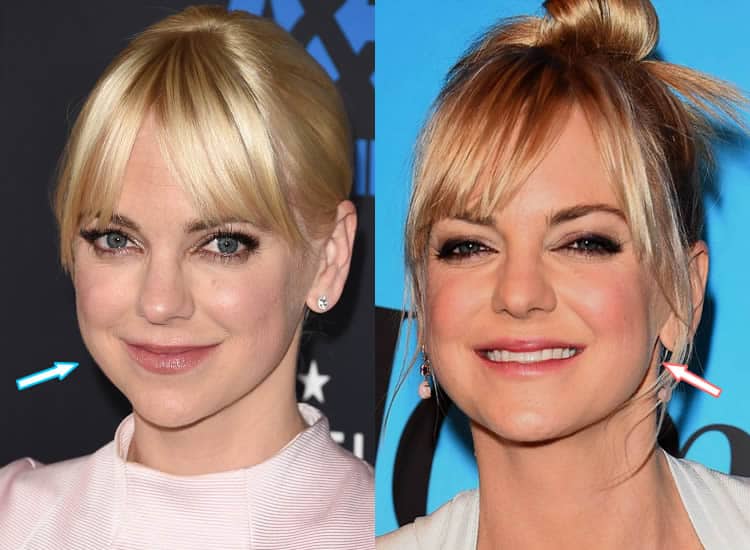 If Anna has gotten lip injections before, it's not farfetched that she might have had botox too, right? Now that she's in her '40s, the wrinkles have definitely started appearing on her face.
Though Anna loves to use Eminence Organic creams to care for her skin, cosmetics can only do some changes. Because of this, fans think that Anna's face might have also benefited from a facelift to make her jawline more prominent.
Some fans also presume that she had fillers injected into her cheeks to prevent it from sagging. In this after photo, she does appear to have puffy cheeks, don't you think?
Anna Faris' Beauty Transformation
There's no denying that Anna is a gorgeous woman, so let's go over her amazing transformation and see if there are other plastic surgeries we may have missed.
Early Childhood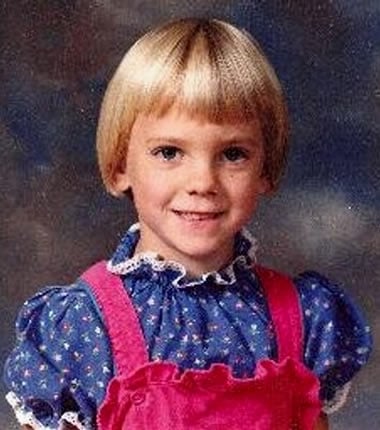 Source: Twitter
Young Anna Faris had mushroom hairstyle as a kid. The apple cut looked so cute and adorable on her though. Notice how thin her lips were though? It's no wonder she thought of getting fillers when she got older.
Teenager Days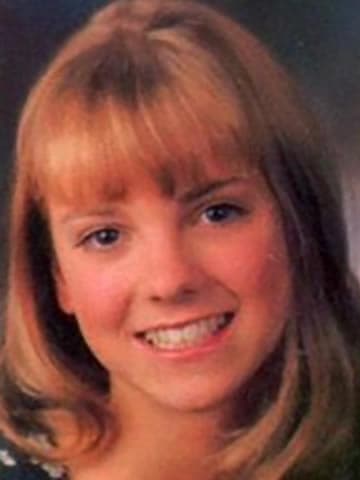 Source: Pinterest
Anna was a dainty-looking high school girl when she was a teen. Her smile looked awkward in this photo though, and she had big teeth, too.
You can see that her face shape is kind of a regular heart shape. Her eyes, however, already have those prominent double eyelids that most people want because it makes her face look more attractive. She really is a stunner here.
Year 2000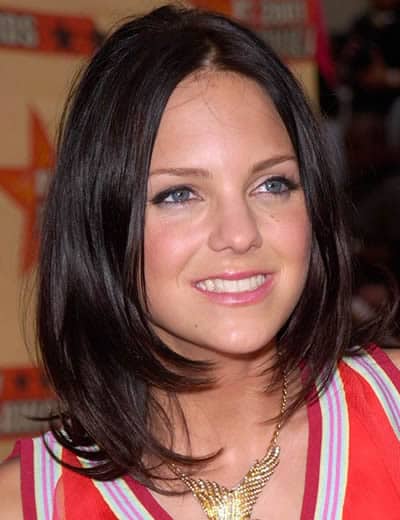 Photo Credit: Getty
At 24 years old, Anna dyed her hair black for her breakout role in the film "Scary Movie." Does the hair color suit her? We like her more as a blonde, though?
Anna had full cheeks and well-shaped chin in this photo. Are you wondering if she had cosmetic enhancements? We're wondering the same!
Year 2003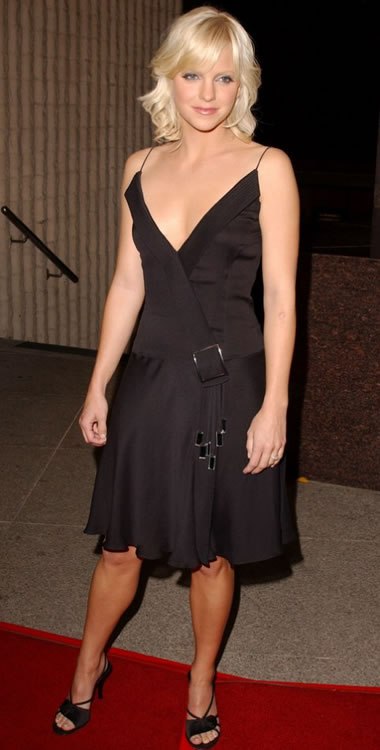 Source: Reddit
At the premiere of "Scary Movie 3," Anna went back to her original blonde hair. She wore a black dress that did not accentuate her cleavage since she only had a cup A breast size back then.
Anna's body, however, was in great shape. It seems like she follows a good workout routine and possibly a strict diet that only celebrities could handle to look her best.
Year 2006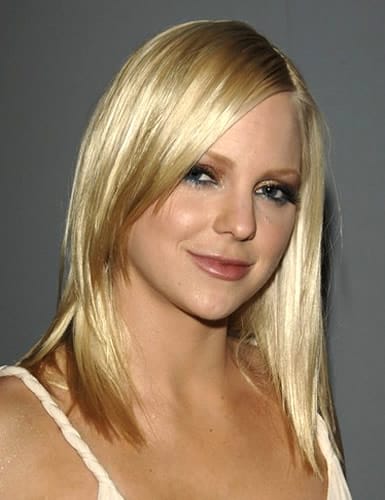 Credit: Getty Images
At 30 years old, Anna still looked so young. She could easily pass off as 20 years old, right? Anna said in an interview with InStyle that her skincare routine always includes a good SPF to protect her skin from sun damage. Smart girl!
The actress keeps a long and straight hairstyle most of the time. It's been her look for decades. Her golden eye makeup for this Screen Actors Guild Awards appearance brought out her best feature — her big beautiful eyes.
Year 2008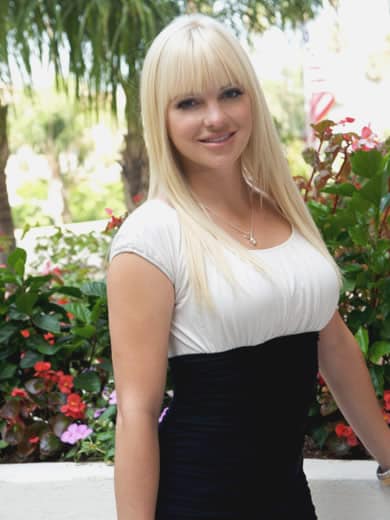 Picture Credit: Getty
By this year, Anna was engaged to Chris Pratt and headed for her divorce from her first husband. Here she appeared at the premiere of "The House Bunny" at the Four Seasons Hotel with an obvious boob job.
She also seems to have gained weight in the slightest bit, which helped fill up her busty frame. Reports say that Anna's current bra size is a 32C after her breast surgery.
Year 2012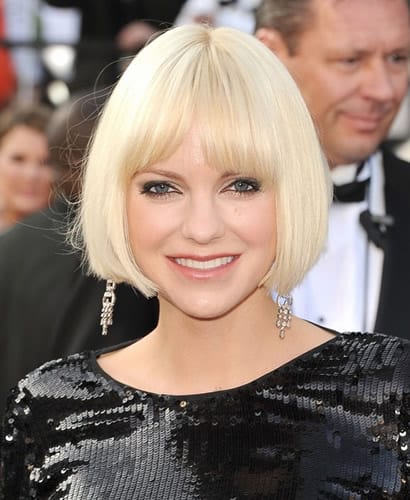 Photo Credit: Getty Images
Anna's short hair was a breath of fresh air. She looked so elegant at the Oscars red carpet with her dangling earrings.
The actress' makeup for this affair was simple. The dark eyeliners brought out her eyes and the light lipstick shade suited her lips and skin.
People talked about the change in her nose with this look, which sparked rumors about her rhinoplasty.
Year 2015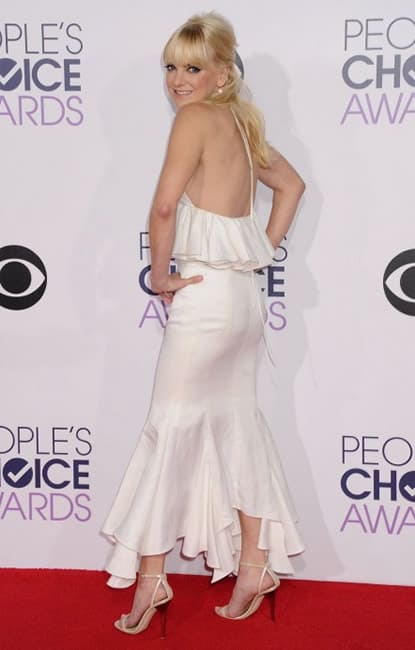 Photo Credit: Getty
Anna looked so great in this all-white outfit for the People's Choice Awards in Los Angeles, Carlifornia. It showed off her lean body and a back that had no trace of fat at all.
The "Overboard" star keeps in shape through a disciplined diet and exercise. Somehow with her thin frame, Anna still manages to look fuller in the right places. Did she have a butt augmentation too?
Year 2017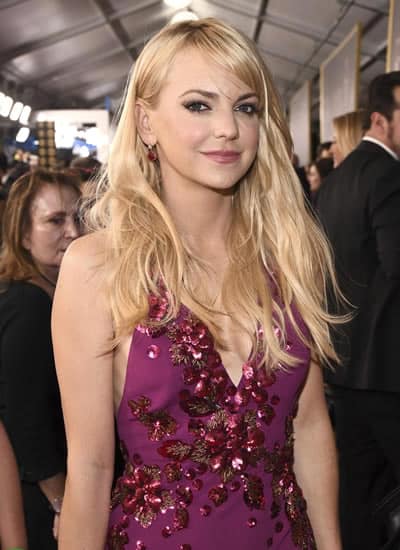 Photo Credit: Getty Images
Anna graces the Emmy Awards wearing a spectacular purple gown from Marc Jacobs. She kept it sexy with her wavy blonde hair down. Fans reacted that Anna had lip done again but we think she simply picked a gorgeous lipstick shade to compliment this whole look.
Sadly, she announced she was getting a second divorce around this time.
Year 2018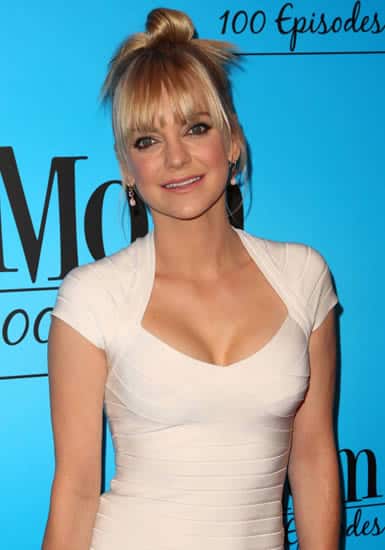 Photo Credit: Getty Images
Now divorced with Chris Pratt, Anna forges on with a new life as a single mom. Here she is again looking really beautiful in a white dress. It looks like white is her perfect fashion color.
It was the perfect outfit for the 100th episode celebration of "Mom" because it really made her bust size pop. For what it's worth, Anna's breast implants really worked well for her and we have to agree that she made a good call of going for cosmetic surgeries on her chest.
More Information About Anna Faris:
Real Name: Anna Kay Faris
Birthday: 29 November 1976
Star Sign: Sagittarius
Birth Place: Baltimore, Maryland, United States
Nationality: American
Race / Ethnicity: English, Scottish, French, German, Dutch, Welsh
Occupation: Actress, Author, Film Producer, Voice Actor
Net Worth: $20 Million
Relationship: Single
Children: Jack Pratt
Height: 1.65 m (5 ft 5 in)
Average Weight: 54 kg (119 lb)
Body Measurement: 35-24-34 Inches
Bra Size: 32C
Dress Size: 4 (US)
Shoe Size: 8 (US)
Natural Hair Color: Blonde
Natural Eye Color: Blue
Conclusion
Let's face it, Anna Faris has been really candid and open about her plastic surgery journey. Despite her misgivings about getting a breast augmentation because of the stigma around it, she's really loving her boob job.
The change in her cup size has been a great investment and self-esteem boost. Her lip fillers mistake, on the other hand, is indeed a lesson learned. Don't you love Anna even more for admitting her real beauty secrets and for recognizing that sometimes what people can do to their face and body might not work?
Anna, however, hasn't admitted to a nose job even as fans say that something in her face really changed. Unlike her podcast friend, Bella Thorne, we couldn't really see much difference, to be honest.
She also hasn't talked about getting botox and it's perhaps because she really doesn't need it…yet. Though she's starting to age, Anna is still truly beautiful so it remains to be seen what type of anti-aging treatments she would go for in the near future as she matures.
(Featured Image Credit: Getty)