Momager and "Keeping Up With the Kardashians" (KUWtK) matriarch Kris Jenner doesn't keep much from the public. As the brains behind the famous reality TV show family for over a decade now, Kris knows what details about herself and her daughters are hot topics in the media.
Kris is not afraid to spill the truth on their program because it's what pulls the viewers in. In fact, she opens up about her plastic surgeries on the reality TV series and once did an episode where she actually got cosmetics facelift because apparently, that's what the show's fanbase wanted to see.
The famous mom of Kylie Jenner and Kardashian West is literally the youngest hot looking 60-something woman on television because of the "work" she has done to her face and body. She's not shy to admit she has gotten a cosmetic procedure for her breasts in the past, way before augmentations became headlines.
She and her children are regulars at the clinic of their cosmetic surgeon, Dr. Garth Fisher,  whom you could call as Kris' beauty secret weapon. But while Dr. Fisher won't discuss what procedures Kris has gotten, other top plastic surgeons speculated that she might have also had botox to contour her jaws, a nose job, and enhancements to her lips.
Rumors also suggest that Kris had butt implants, which she has yet to confirm or deny. People close to the TV star said that she's loving the attention, speculations, and coverage about her plastic surgery.
Before & After Photos
So how many cosmetic enhancements have Kris Jenner had? Did every procedure work or were there augmentations that did not look good on her?
Let's examine the comparison pictures below and find out!
Did Kris Jenner Have Facelift?
Kris Jenner's face doesn't age and that's thanks to her facelift procedures. On KUWtK several years ago, Kris had cameras following her when she went under the knife to get a new face. This was before Kim's big wedding to Kanye West.
Let's relive the moment:
In the episode, the grandma was shown crying with her children before she was wheeled into surgery. She told her kids she had fears about dying on the table. The Kardashians even prayed over her so that she will safely recover — all so she could be rid of the wrinkles on her skin.
When she got out of surgery, her daughters were beside her all saying she was going to be okay and that she would look great once the cuts have healed.
Does Kris Jenner Use Botox or Face Fillers?
While she can't get a facelift often, it's pretty obvious Kris gets botox and fillers all the time. There have been lots of events where Kris Jenner's face appears to have been freshly done.
Fans of the KUWtK star wondered why she had such puffy cheeks on the red carpet at the Grammy's recently. Look at the difference on her cheeks in this before and after photos. It's like she's aging backward, right? And there are no fine lines too!
Has She Had A Nose Job?
The Internet was in a frenzy at the start of 2018 when Kris Jenner debuted a brand new nose on Instagram, as seen in this after photo. It had the perfect shape and size, which she claimed was because of contouring makeup.
Fans, however, think Kris had a nose job way before this. Though she denies ever getting rhinoplasty, there's been a slight change in her nose's appearance in recent years.
According to The Sun, sources told Touch Magazine that Kris has nipped, sculpted and repaired her nose too many times. It explains why she has a noticeable pinch on her nose's bridge. Her friends are afraid her nose will collapse with more procedures, which she could regret one day. So now, she's resorting to contouring makeup to fix this imperfection.
Did Kris Get Lip Injections?
From looking at the comparison photos above, it appears that the beautiful grandma had gotten herself some pouty lips recently, although a lip job has never been confirmed.
Kris had to cancel a TV appearance one time because her lips mysterious turned swollen. Rumors were that she had too much lip injections on her upper lip. There was another instance where she came out on E! admitting to the swelling but said that it was the result of an insect bite, as she just returned from St. Barts in the Caribbean.
The momager told the media it was not the first time it happened to her, as she also had her bottom lip "bitten" by an insect while on vacation in the Dominican Republic. Kris won't likely admit she got her plump lips with a procedure.
Has Kris Jenner Had Breast Augmentation?
Kris joked on TV one time that she underwent breast lift surgery "153 years ago." So, thanks to her augmentation, someone her age can still look gorgeous in a bikini, with her ample cleavage and boobs filling out the cups so well.
But on the seventh season of KUWtK, Kris revealed she got a breast implants exchange procedure. She told NBC's Today Show that she needed the second surgery for health reasons.
She reminded viewers that if they had their boob size enhanced 10 years ago then they have to get these checked again. Apparently, breast implants have stuff like silicone and saline that could, expire, rupture and deflate, so these need changing.
What About Butt Implants?
Like her daughters, Kris Jenner "most likely" had butt implants or injections to improve the shape of her derriere. Despite a source telling Hollywood Life that she works really hard at the gym, she could actually give Kim a run for her money in this department. In fact, this grandmother with nine grandkids may soon have the biggest bum size among the Kardashian-Jenner women.
Kris has never publicly acknowledged she got implants or fat transfer (Brazilian butt lift) on her buttocks though. But when she's showing off her body in a bikini on Instagram, it's not hard to conclude she had help from surgery. It looks like her body belongs to a 20-year-old.
Kris Jenner's Beauty Transformation
Let's see how this beautiful woman has evolved over the years with and without cosmetic surgeries. We'll look at photos before and after she became the famous mother of the Kardashian family.
Young and Pretty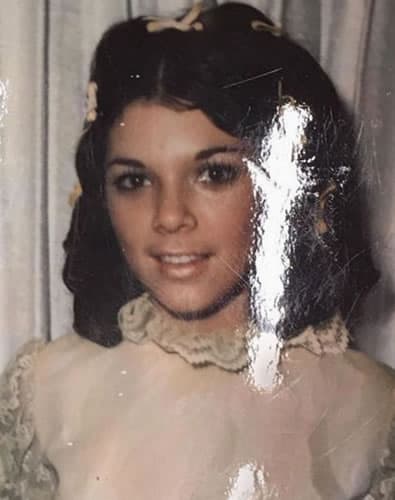 Source: Instagram @ krisjenner
In her younger days, Kris Jenner was a pretty teenager with lovely eyes and a small face shape. Doesn't she look like her daughter Kendall in this old picture? People have always said her model-daughter has inherited her physical looks. Yes, Kris was such a knockout in the early years.
Late 1970s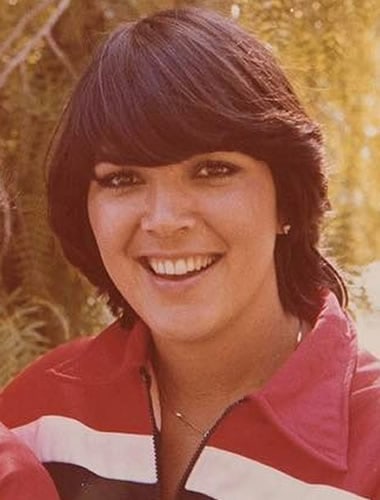 Source: Twitter
Kris married famous and well-respected lawyer Robert Kardashian around this time. She has just given birth to their first child, Kourtney, hence the slightly chubby frame.
She had mommy fat then and her face cheeks were naturally filled out, thus the prominent cheekbones. She also had a fuller chin that rounded up her face shape.
Kris also has a great set of teeth, with just the slight imperfections.
During 1980s
Source: Facebook
The Kardashian family expanded with three more kids to the brood. Here is Kris holding up her second baby girl, little Kim. After four kids — Kourtney, Kim, Khloe, and Rob — Kris lost weight and had a skinnier face.
Year 1991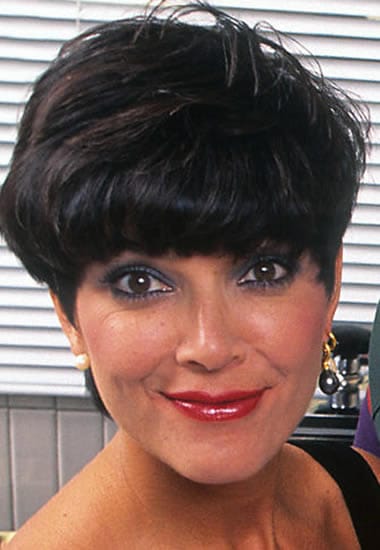 Source: Pinterest
Kris divorced from her lawyer husband this year in 1991 and married former Olympian Bruce Jenner right away. This close-up photo shows how beautiful she was as a young mom and her untouched nose looked even better than the speculated new nose. Don't you agree?
She also had these big perfectly-shaped eyes that she enhanced with blue eyeshadow. The way she complemented the eye makeup with crimson lipstick literally rocked the short hairstyle, too!
Year 1998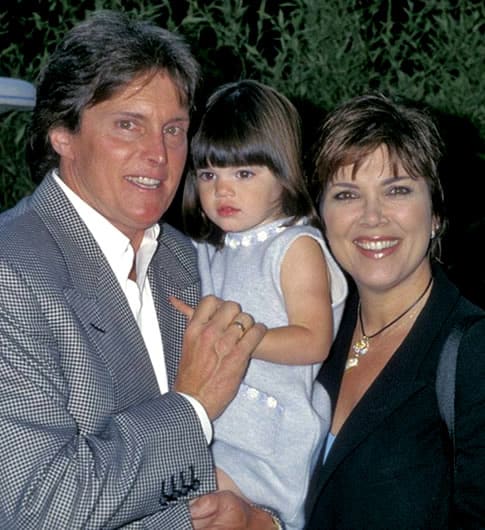 Source: Facebook
Kris had her first daughter with Bruce at 43 years old. Age has slowly crept on her with her laugh lines and her gained weight. But look at how cute Kendall is as a baby!
Year 2007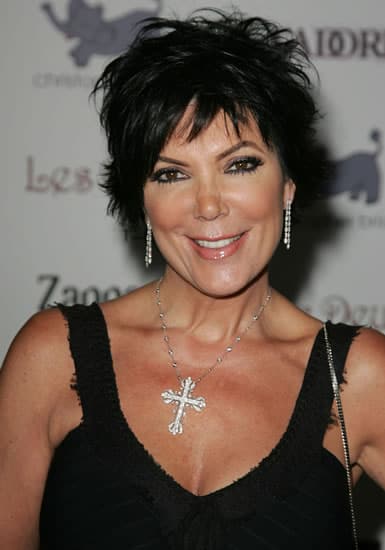 Photo Credit: Getty
This was the year "Keeping Up With the Kardashians" started airing on TV and Kris made sure to get in shape for her show. She followed a strict diet for her weight loss plans. She likely had liposuction and botox to smoothen out her facial skin. However, she has to debut her collapsed nose on television.
Year 2011
Credit: Getty Images
Kris attended a launch party for the Kardashian Kollection without any trace of eye bags or wrinkles on her face. She had obvious facelift here with her tight and smooth skin. She likely had an eye lift, too.
The prolific businesswoman has started aging backward since being in the limelight, and she admitted in a TV interview that she did not start getting any cosmetic enhancements until her all her kids were grown.
Her hairstyle here is very simple and she has kept the short locks even today. The earrings speckled in turquoise is a nice touch and suits her look.
Year 2015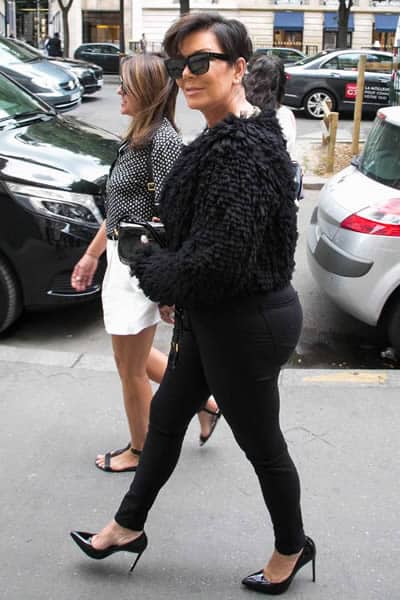 Image Credit: Getty
While the younger Kardashian women made big butt a thing, it's likely their mother have followed suit and got the butt augmentation procedure, as evidenced in this photo. Doesn't it look like Kris filled out her black tight jeans after having her bum shaped?
She definitely doesn't look like a typical grandmother with this look. Wearing high street fashion and chic sunglasses as she shopped around in Paris, which only Kris could pull off at 60 years old! She also wore high heels to make her legs look thin and slimmer. How did she manage to walk around?
Year 2017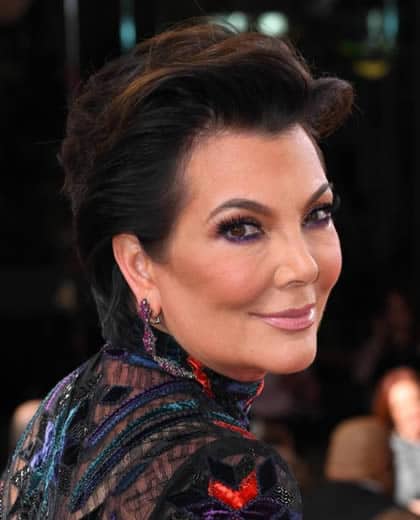 Picture Credit: REX
Kris Jenner hosted the Golden Globes red carpet pre-show in Beverly Hills with a fresh facial treatment. If we didn't know any better, we'd think she may have gotten cheek and chin implants.
Her wrinkle-free face also looked plump and could be due to botox. Her haircut is still short but the way it was set looked really elegant and suited her makeup.
Year 2018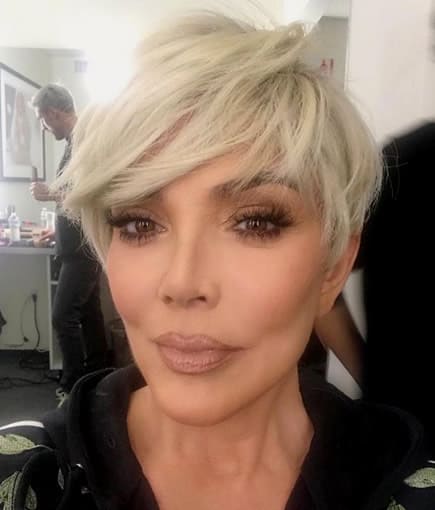 Source: Instagram @ krisjenner
Kris looks so different with this new image in which she debuted a new blonde hair and it has shocked her followers on social media. People can't help but speculate on her nose job and lip fillers. She definitely gave fans that Kim K vibe.
It's also obvious that she wore Kylie cosmetics for this shoot, including those signature eyelashes. She probably got a neck lift too before debuting this look. Do you like the result of her cosmetic changes?
More Information About Kris Jenner:
Real Name: Kristen Mary Jenner
Birthday: 5 November 1955
Star Sign: Scorpio
Birth Place: San Diego, California, United States
Nationality: American
Race / Ethnicity: English, Scottish, Irish, German, Dutch
Occupation: TV Personality, TV Producer, Talent Manager, Businesswoman
Net Worth: $60 Million
Relationship: Unknown
Children: Kim Kardashian, Khloe Kardashian, Kourtney Kardashian, Rob Kardashian, Kendall Jenner, Kylie Jenner
Height: 1.68 m (5 ft 6 in)
Average Weight: 63 kg (139 lb)
Body Measurement: 37-27-37 Inches
Bra Size: 34C
Dress Size: 8 (US)
Shoe Size: 9 (US)
Natural Hair Color: Black
Natural Eye Color: Dark Brown
Conclusion
Unless you've been living in Mars for the last decade, otherwise you'd agree that cosmetic surgery is synonymous with the Kardashian clan. If we are honest, they probably have their plastic surgeon on speed dial. It's also not news that Kris might be a fan of face fillers and regularly gets her lift and fixes to keep her youthful glow.
Kris Jenner doesn't deny that she's had a lot of beauty enhancements including a boob job but somehow she hid the fact that she had botched her lip injections more than once. She also hasn't talked about what happened to her previous nose surgery even if sources told the media she made some wrong decisions back then.
Her cosmetic augmentations have generally gone well for her though. She does have the face and the body of a young woman. And while her beauty isn't natural, the more important thing to consider is that Kris seems to love what she has done to enhance her appearance. And the truth is…she looks great!
(Featured Image Credit: Entertainment Tonight)