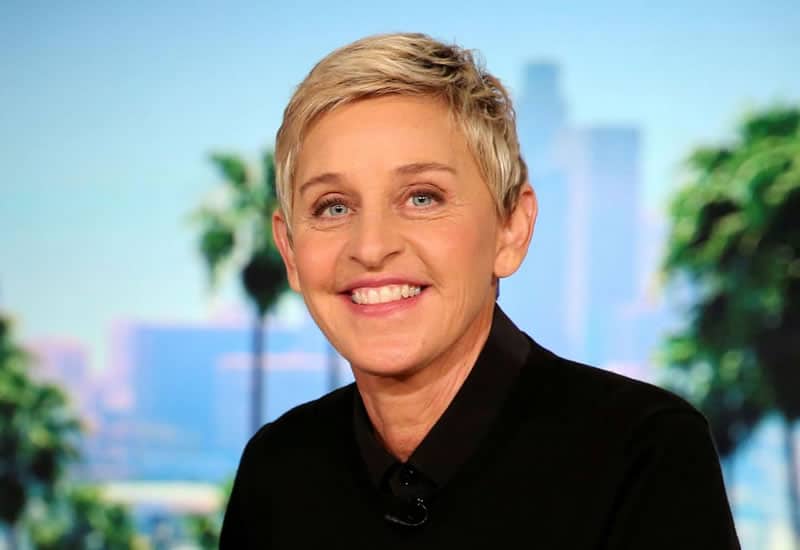 Ellen DeGeneres, the comedienne and Emmy-wining host of the most popular daytime TV talk show in America, is, by all accounts, a senior in her 60s. However, she still looks a lot younger than her age, leading people to wonder about her secrets to aging.
Has Ellen ever had plastic surgery or is making people laugh the reason she looks young? But while she has that youthful look and energy, she's not totally without lines and wrinkles.
Whispers from her fans suggest that she had procedures, such as botox, to minimize the signs of aging on her face since she's always on television. There are also speculations that Ellen might have gotten a nose job.
People think that the visible scars on her neck are a result of a facelift. More so, they speculate that Ellen has regular visits to a cosmetic surgeon since her wife, actress Portia De Rossi, has also been rumored to have plastic surgery.
It seems uncanny to read about a funny girl who prioritizes her looks and appearance. Over 10 years ago, Ellen's face became the official endorser of CoverGirl, the famous drugstore cosmetics line. But while she has broken the beauty standards, no one is exempt from those cosmetic surgery rumors in Hollywood.
Before & After Photos
Are those talks about Ellen DeGeneres' plastic surgeries real? Let's look at her before and after photos to figure out if she's a natural or she has had lots of enhancements.
Did Ellen DeGeneres Have Facelift?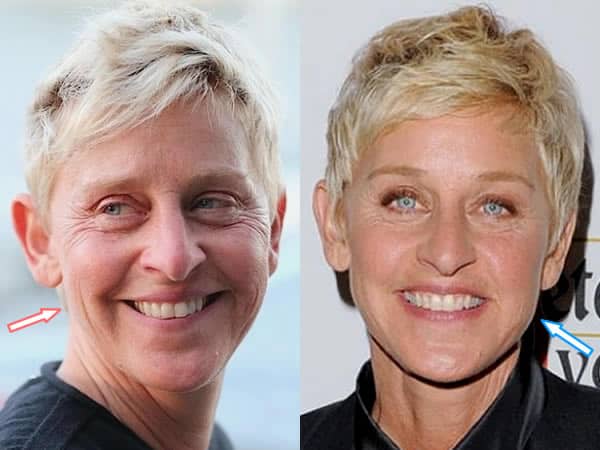 Ellen's face had more lines and wrinkles as she aged, as seen in this before photo. But since becoming more and more popular on television, it looks like she managed aging better.
On TV, you'll see Ellen glow with her infectious smile and peaches-cream skin texture. But in recent times, her skin appears tighter, especially in the lower side of her face. This could mean that she has gotten a subtle facelift procedure to minimize the sagging that would make her look old.
Has Ellen Had a Nose Job?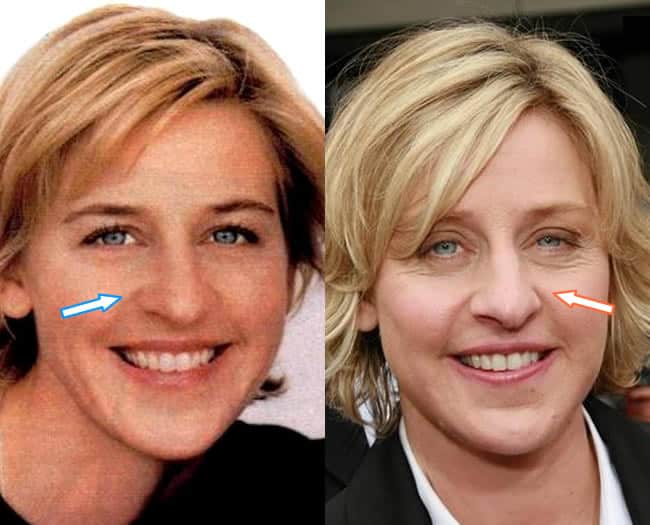 There have been talks about Ellen having a nose job. Based on these before and after photos, there's a minimal difference to the tip and bridge of her nose. It could be the angle or the quality of the picture, but her alleged rhinoplasty hasn't significantly changed the shape nor its size. Although, for us, Ellen's nose actually looks better in the before pic.
So, we don't think there's been any surgery done to her nose.
Does She Have Botox?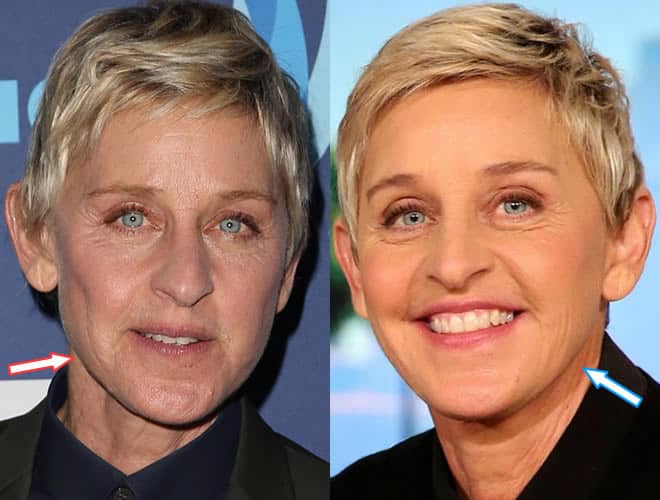 The photo on the left had such bad light that it emphasized Ellen's aging face and pale skin texture. The photo on the right, however, shows Ellen with smoother and glowing skin. She looks so much younger and cute in the after pic with her puffy face cheeks.
She might have gotten botox injections, as the transformation is quite obvious on this one. It appear she may have plumped her facial features with face fillers. If true, then she definitely looks better after the procedures.
Did Ellen Get a Neck Lift?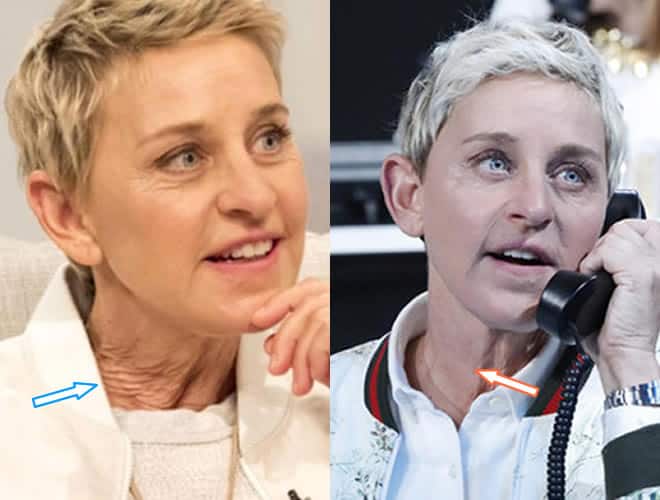 Ellen's neck had a lot of wrinkly and loose skin back then, which people described as turkey neck. But later on, she's seen in public with a smoother neck, as well as some light scars. So, people speculated she had a neck lift and we can't really blame the talks given these photo evidence.
Ellen DeGeneres Transformation
Baby Days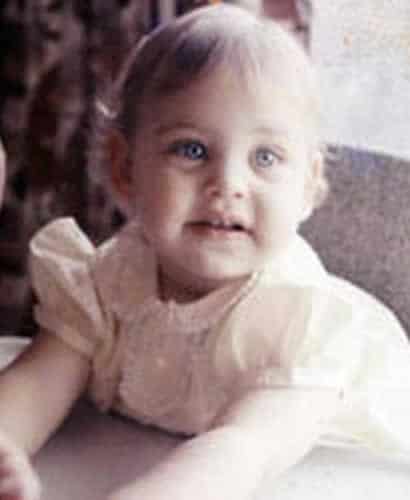 Source: Twitter
If you've wondered how Ellen looked as a baby, well, here it is! She looks so cute in the photo and had such big eyes.
Childhood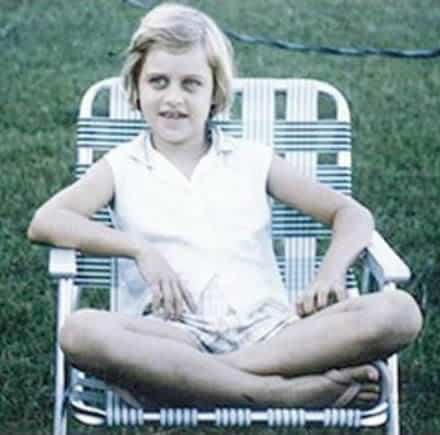 Source: Twitter
Young Ellen spent her childhood in Louisiana and wanted to become a veterinarian. She looks about eight or nine in this photo and was quite skinny.
Teenager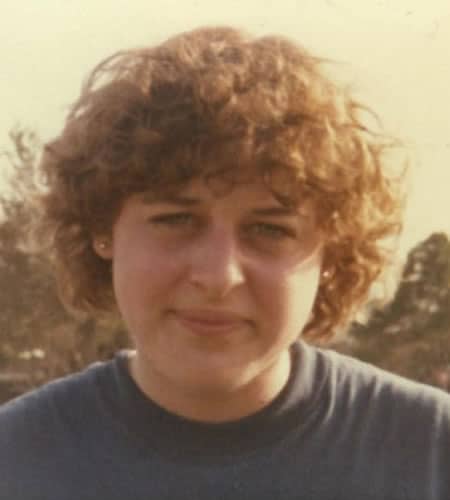 Source: Instagram
Who would have thought that Ellen had so much baby fat on her face as a 15 year old teen. She actualy looked very chubby, with her hair kept short and curly.
During the 80s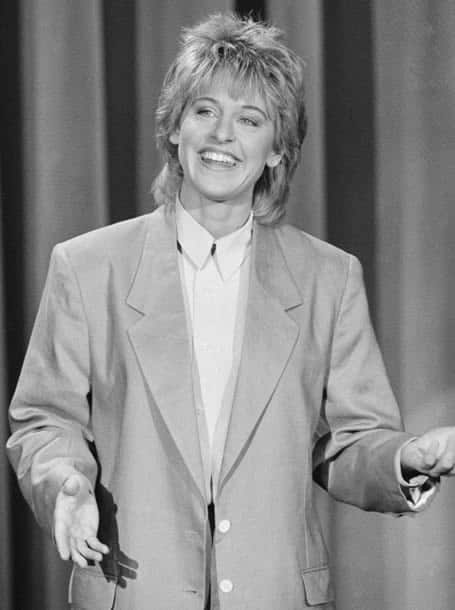 Source: Pinterest
DeGeneres lost weight when she started touring for her work as a stand-up comedy artist in mid-1980s. She had a leaner body but still kept her hair short and thick.
Year 1994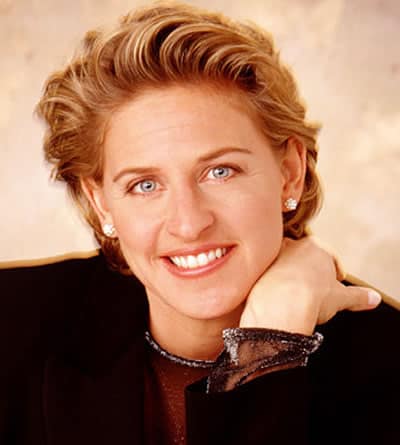 Source: Facebook
Ellen, then 36 year old, starred in her own sitcom "Ellen" on ABC. People had no idea about her true sexuality yet so in her promo photos, Ellen wore earrings and dressed like any other woman. Here, her face shape looks more rounded. This photo also brought out her sparkling blue eyes and nearly perfect set of teeth.
Year 1997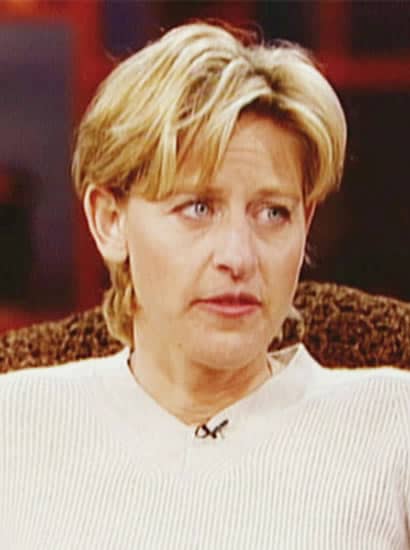 Source: Youtube
Viewers thought that it was Ellen's preference and style to look and dress up as a tom boy on her show. But then she confessed on Oprah Winfrey's show that she's actually lesbian. Today, she's one of Hollywood's most powerful gay women.
Year 2003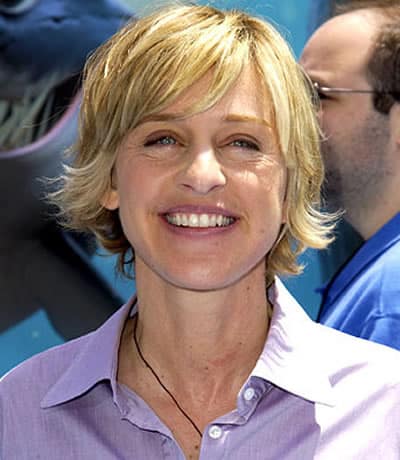 Credit: Getty Images
Now 45 years old, the hard working comedian has become a major success and has started her daytime talk show. She also met her future wife, Portia De Rossi. Signs of aging have started cropping up on this superstar's eye area, with its prominent line and wrinkles.
Year 2008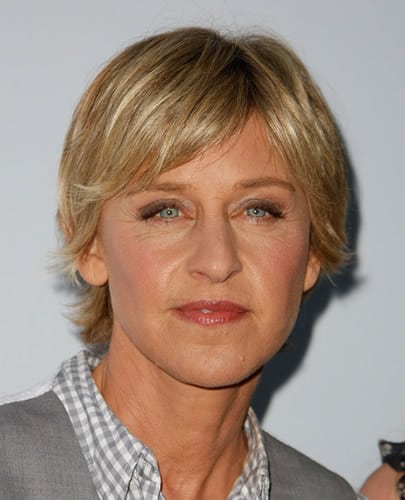 Photo Credit: Getty
DeGeneres became a skincare cosmetics spokesperson and also married Portia by this time. However, rumors that she has regular facelift and botox also surfaced.
Year 2014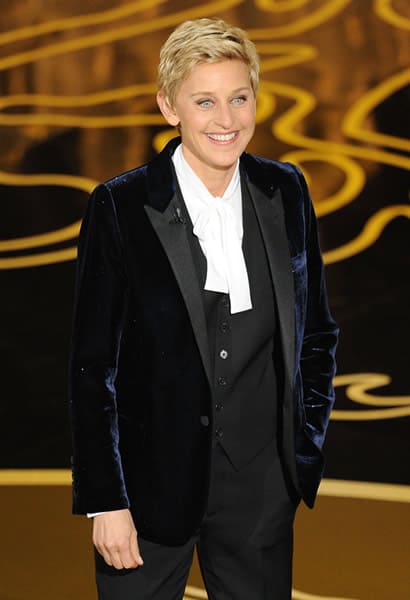 Image Credit: Getty
Ellen had a successful stint as the host of the prestigious Oscar awards. She prepared for it really well. With her short hairstyle and glowing skin, Ellen was looking great on TV. Her people say she maintains a healthy diet and exercise routine, but fans speculate she had cosmetic surgery.
Year 2018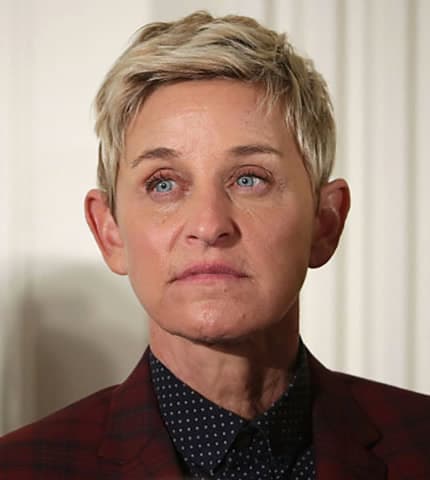 Picture Credit: Getty
Now at a 60 year old, Ellen is a dominant but well-loved Hollywood A-lister. Though she could still pass off as a 50 year old, she does have wrinkles and lines on her eyes and neck. She seemed to have gotten a browlift in this photo, as well as some enhancements to her eyelids.
What Did Ellen Say About Plastic Surgery?
Ellen has never chatted up with any media about her alleged plastic surgery procedures. She does, however, have a strict diet free of carbs and sugar and she's vegan. She told Shape magazine:
"Food used to be really important to me. I loved steak, I loved hamburgers, I loved all that stuff. I can't believe how irresponsible I was, eating what I ate. I want to be on my toes; I want to have energy. And as much as the [vegan] diet seems like a sacrifice, it's helping me."
Ellen, however, acknowledges that she's lucky to be able to afford a chef and a trainer. And like everyone else, she can't believe she's already in her 60s because she still acts like a child and pulls pranks on people.
This might explain her youthful energy and glow, and why she never acknowledges her cosmetic procedures in public. She's an advocate of healthy living.
Back in 2015, however, an insider told InTouch that she wanted to have something done.
Ellen hates the wrinkles around her eyes and her turkey neck. She wanted to get work down while The Ellen DeGeneres Show is on summer break, [but] Portia talked her out of it.
More Information About Ellen DeGeneres:
Real Name: Ellen Lee DeGeneres
Birthday: 26 January 1958
Star Sign: Aquarius
Birth Place: Metairie, Louisiana, United States
Nationality: American
Race / Ethnicity: Cajun / French, English, Irish, German, distant Dutch and Swiss-German
Occupation: Comedian, TV Presenter, Film Producer, TV Producer, Voice Actor
Net Worth: $400 Million
Relationship: Married to Portia de Rossi
Children: None
Height: 1.71 m (5 ft 7 in)
Average Weight: 59 kg (130 lb)
Body Measurement: 34-27-35 Inches
Bra Size: 32B
Dress Size: Unknown
Shoe Size: 8 (US)
Natural Hair Color: Blonde
Natural Eye Color: Blue
Conclusion
With no clear confirmation from Ellen DeGeneres about getting plastic surgery, all those talks about her botox, face lift, neck lift and nose job remain a speculation. While we're inclined to agree that she might have had secretly gone to a cosmetic surgeon, we also don't discount that she really has a good makeup artist on her team.
Whatever she's doing to her appearance, however, Ellen seems to know exactly what she wants. Her beauty enhancements are right on the mark. It's not too much so that she looks so fake and overdone; it's done right to remove just enough lines and wrinkles so that she won't scare off her viewers.
And at 60, it's not a surprise that she knows what she wants since age has definitely made her more confident and sure of herself. Whether she got face surgery or not, it's not gonna impact her contribution to entertainment. She's arguably the most successful funny girl in Hollywood because of her enormous talent and business sense.
(Featured Image Credit: Getty)