What Has Simon Cowell Done To His Face?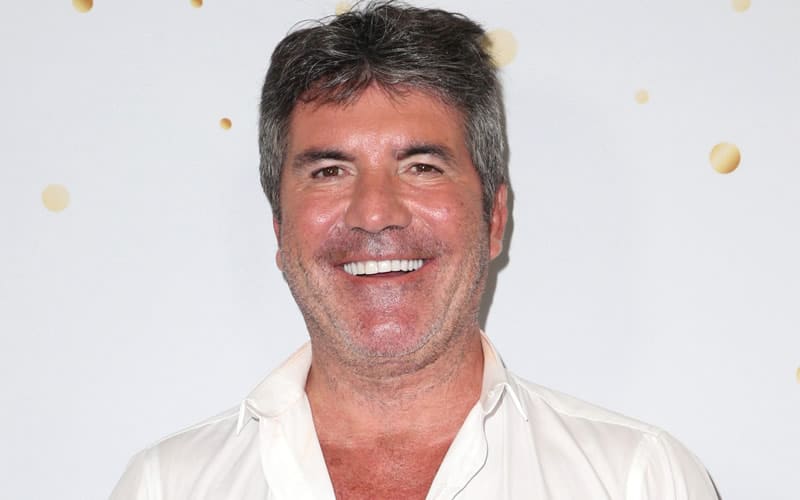 A former artist and talent representative who became a global household name, Simon Cowell has created many hit shows like the "America's Got Talent," "Britain's Got Talent" and "The X-Factor". He was, for a while, the most hated man in America as the insulting judge on "American Idol."
But his blunt comments to aspiring singers and talents during the audition rounds is actually just a put-on of a character he brings to television. In real life, Simon is beloved by his talents who have since reached great success in the entertainment industry, including Kelly Clarkson and One Direction.
While his portfolio is certainly amazing, fans have been wondering what the hell has been happening to Simon's puffy face lately. People cannot stop whispering about him getting botox fillers and there were also talks that the TV talent judge has undergone a face surgery to minimize the wrinkles on screen.
Let's face it, this British man has been on the television show business for nearly two decades, so even if he had gotten plastic surgery, we can't really see anything wrong with it.
The only question we have is, what anti-aging treatment did a man, who's pushing 60 years old, get?
Before and After
To find out the type of cosmetic procedures that Simon Cowell got to improve his appearance, we'll look at some of his before and after photos. Let's see if his transformation deserves a golden buzzer!
Did Simon Cowell have botox?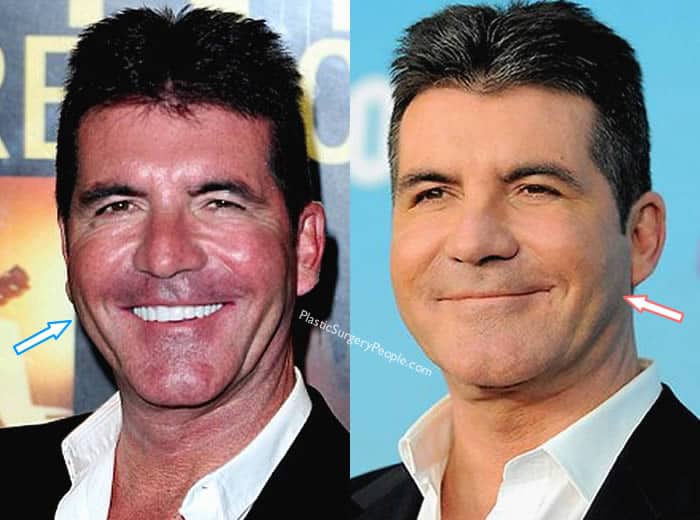 During his early appearances on television, Simon's face looked rough and rugged. He had deep lines and wrinkles around his eyes, as seen in this before image. But some years later, those lines disappeared, as this after photo will show.
Simon has since been appearing in public with smoother skin as if he has layers of makeup on. He's also got fuller and youthful cheeks, which only means one thing: he's getting botox injections.
See also:
Has Simon had a face lift?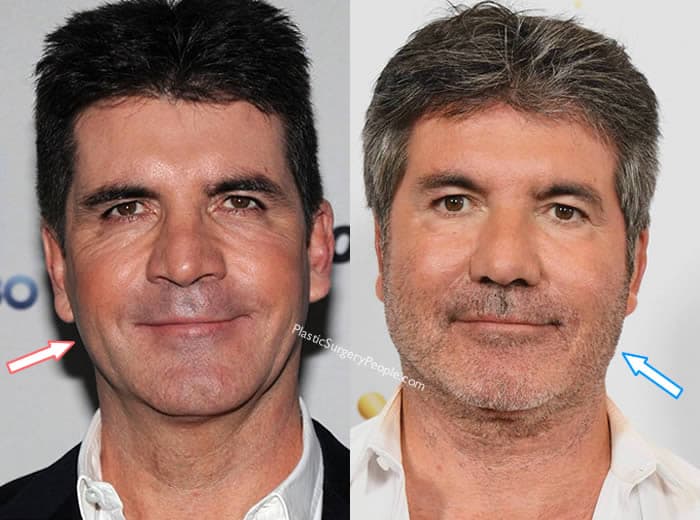 These comparison pictures look like two different people, don't you think? Based on this photographic evidence in front of us, it's quite possible that Simon has had a facelift. We just don't think skincare creams and even dermatologist can reverse a skin condition like that.
Apart from the disappearing wrinkles around the eye area, Simon's face looks so tightened and smooth post-surgery. In fact, he looks years younger in the after photo. So if this is true, then to Simon Cowell's plastic surgeon credit, he has done a really good job with this procedure.
Did he get cheek implants?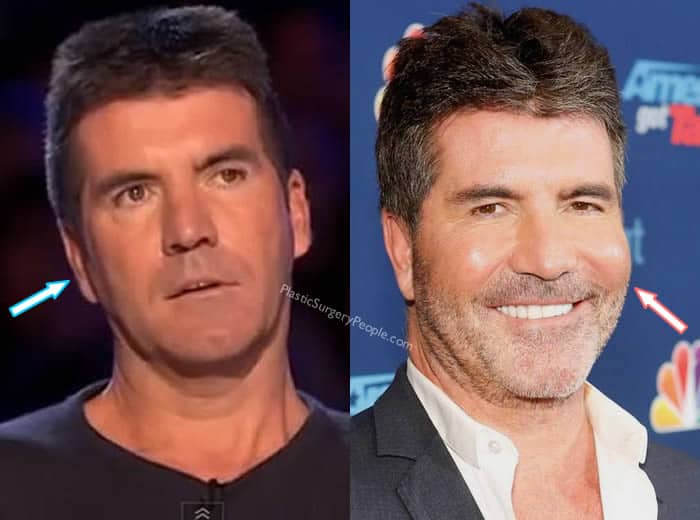 Simon didn't have prominent cheekbones back then. His cheek area was almost completely flat, as seen in the left photo. However, his after pic shows his cheekbones are really swollen now.
After analyzing a number of photos and videos, we doubt he had cheek implants and it's likely that he went too far with the botox. So much so that the procedure changed his face shape. Do you think he should lay it off or is it giving him a more friendly smile?
What about Simon's teeth?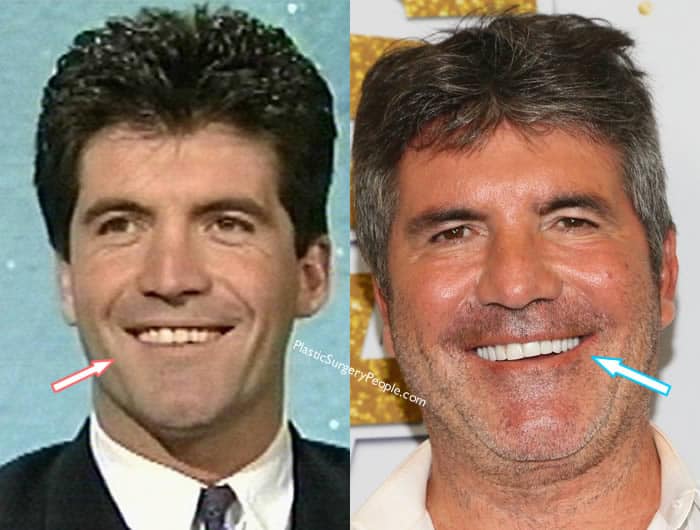 To be fair, Simon's teeth look a lot better than many British men who hate going to the dentist. So, for us, he really has a fetching smile for TV. His before photo hints of slightly crooked teeth but his present smile proudly shows a perfectly-aligned set of pearly whites. He has most likely gotten veneers, rather than braces, to correct the imperfections.
Another procedure we think he's had is teeth whitening. Look how sparkling they are…they almost look fake!
[adinserter block="3″]
Simon Cowell's Transformation
Want to see how Simon looks back then and now? Check out these photos below and see his transformation before your eyes. We might pick up some additional "things" too!
Childhood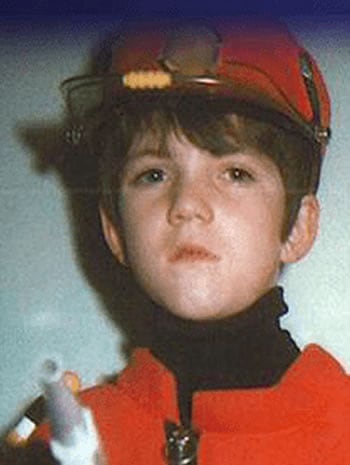 Source: Twitter
Young Simon was raised in a well-to-do household in London. This childhood photo alludes that even then, this man had an ego (confirmed by his own brother).  But he's definitely a handsome boy in this red and black outfit.
Teenager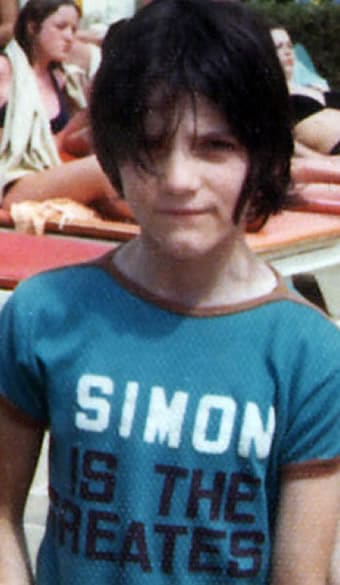 Source: Dailymail
As a teen, Simon Cowell had fussy dark hair with long fringes. His face structure was slightly elongated and he had a prominent bump on his chin too. Not sure about you, but he looks kind of scary in this picture…
Year 1980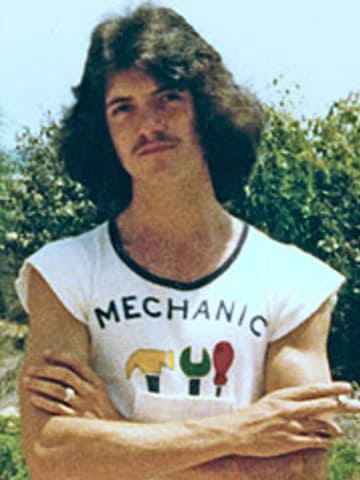 Source: Reddit
As an adult, Simon rocked the retro hairstyle and mustache in this vintage photo. Who knew he had such biceps and strong arms?! Did he enjoy a good workout back then? He certainly look fit.
Who does he remind you of in this picture? If you say Orlando Bloom, we agree with you! (Wait…what??)
Year 1990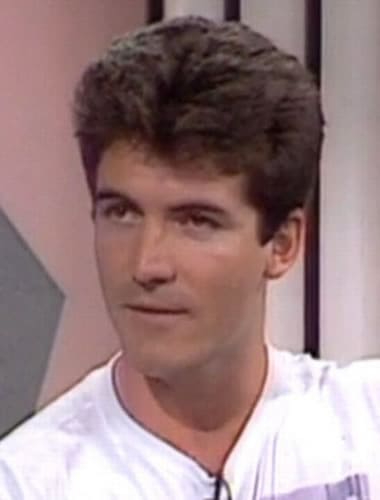 Source: Youtube
Simon was skinny during his '30s as a young record executive but he still had his own charisma with that perfectly-shaped nose. While his nose looks thinner here, but we doubt he's ever had a rhinoplasty.
He had so much hair back then so it's easy to see why he has no hair loss problem even today.
Year 2000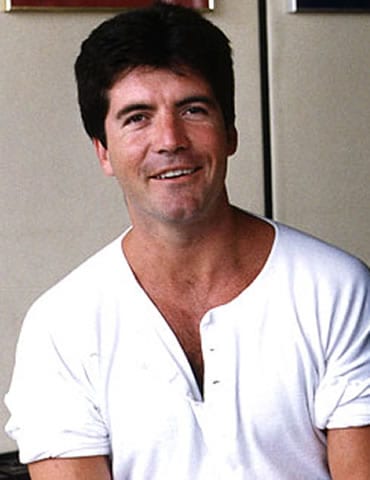 Source: simoncowellonline.com
Now a 41 year old bachelor, Simon is slowly losing the youthful charm. And he always liked wearing plain white shirts like this one, which would become his trademark outfit on his TV programs. This photo shows he did have a gap in his teeth, which has now been corrected with a dental procedure.
[adinserter block="4″]
Year 2004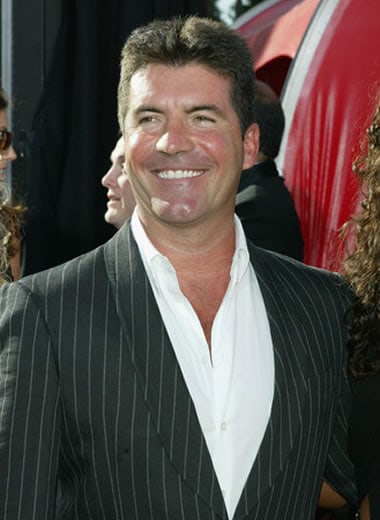 Credit: Kevin Winter/Getty Images
By this time, Simon Cowell became the TV judge that everyone loved to hate. He was also scrutinized for his hairstyle, skin, laugh lines and overall appearance. He seemed to have gained weight and looked a lot more mature. But fans think he had pec implants around this time since his chest's form is still so prominent underneath that suit.
Year 2007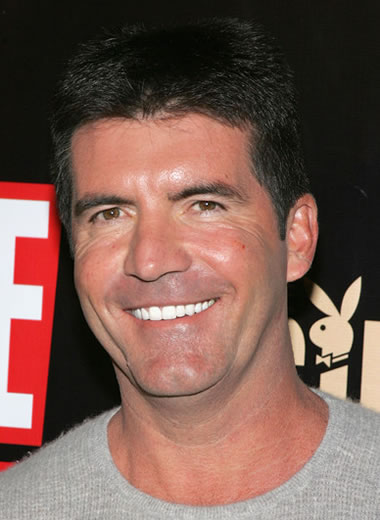 Credit: Mark Mainz/Getty Images
As age catches up on Simon, his eyes begin to show some lines and crows feet. The crease around his mouth area seems to have deepened as well. He also has some skin loosened under his chin. By this time, we can assume that Simon has not yet gotten any cosmetic enhancements but that will soon change…
Year 2011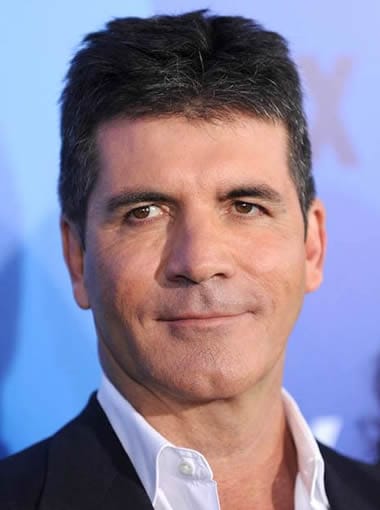 Photo Credit: Getty
A few years later, Simon appears in public for the launch of "The X Factor USA" with less lines and furrows. If it's a makeup trick, then how come he's got a slightly bloated face? Simon definitely got dermal fillers for this event to make himself look younger, right?
Year 2015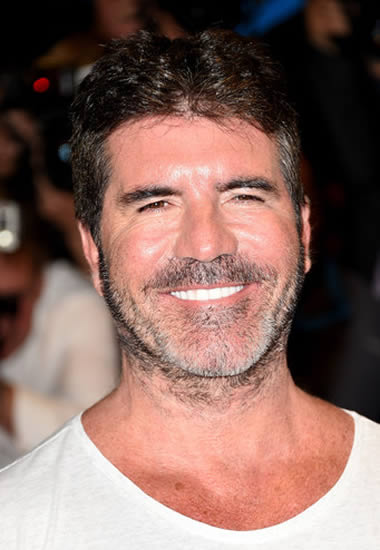 Credit: Gareth Cattermole/Getty Images
Here we see Cowell attending another season launch of "The X Factor UK" in London. Getting rid of his generally clean face, Simon decides to grow a beard, perhaps to hide the puffiness on his face cheeks.
He looks really happy with his great smile but fans speculated about his excessive facial injections which prompted rumors of cheek implants. Did he overdo it?
Year 2018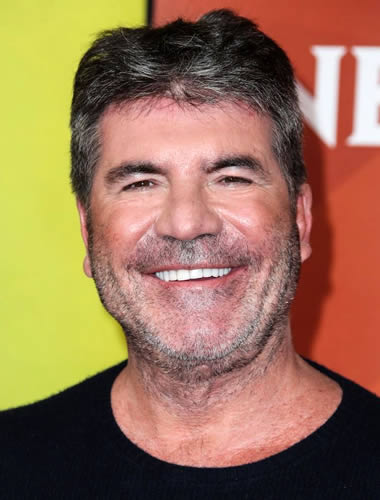 Picture Credit: Getty
Now a father he never imagined he would become, Simon Cowell looks like a fulfilled and happy man. He seems content as he comfortably put on some weight and it shows on his thickened jawline and double chin.
We hope he stays in shape because, at this rate, he might need liposuction soon.
[adinserter block="5″]
What did Simon say about plastic surgery?
There's no denying that Simon has been open about his cosmetic enhancements. Speaking with The Sun, the TV judge said that he's had a £2,000 non-invasive face lift.
"There's lots of things you can do now. You don't just have to stuff your face with filler and Botox. It hurts like hell but it gets rid of sun damage and unplugs all the crap. For me now, it's all about having clean skin. If you have clean skin, you look better. But you have to be very careful with some of this stuff."
He also admitted he may have had too much botox:
I probably did have a little too much Botox a couple of years ago, because everyone on TV has it.
Simon also spoke with Mirror and said that to look young is important in show business because it's what the public wants. However, he's not always comfortable about the procedures he got.
Once in LA, years ago, I met this girl who would wrap me up in cling film and then tin foil, after covering me in oils. It was meant to be detoxing. She then put me in this tube in my house, locked me into it for an hour…After about two months I realized this is actually torture. That was crazy.
See also:
More information about Simon Cowell
Real Name: Simon Phillip Cowell
Birthday: 7th October 1959
Star Sign: Libra
Birth Place: Lambeth, London, United Kingdom
Nationality: American
Race / Ethnicity: English, Ashkenazi Jewish, Scottish
Occupation: TV Personality, TV Producer, Record Producer, Talent Manager, A&R executive, Entrepreneur
Net Worth: $550 Million
Relationship: Married to Lauren Silverman
Children: Eric Cowell
Height: 1.91 m (6 ft 3 in)
Weight: 92 kg (203 lbs)
Shoe Size: 12 (US)
Natural Hair Color: Dark Brown
Natural Eye Color: Hazel
Conclusion
Simon Cowell bluntly admits he has gotten cosmetic surgeries and he's honestly looking good for his age. You've got to give the man some respect as well for acknowledging that surgical and non-surgical procedures are necessary for his line of work when others would deny that they went through similar enhancements.
It's clear that Simon has botox to maintain his youth and possibly a facelift too. Although he has denied that it was a face surgery, the result seems too good to be true. His surgeon is reportedly Dr. Jean-Louis Sebagh, who is reputed to be quite the Picasso in the cosmetic enhancement industry, so we could be wrong.
Simon has earned some criticisms, ridicule and jokes about his anti-aging procedures. But we've got to admit that he made the right choice since he works in an industry where looking presentable is of supreme importance. And for that, we'll give him the golden buzzer.
(Featured Image Credit: Getty)
Denise Richards: Before and After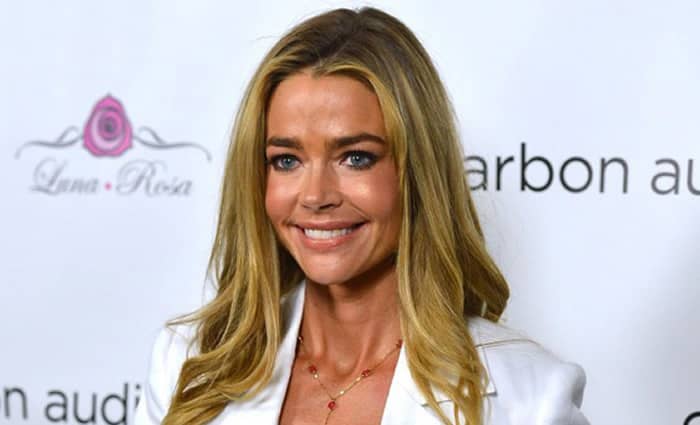 Actress and model Denise Richards has been in the public eye since she was in her teens. After doing dozens of commercials and photo shoots, she started appearing in low-budget movies to launch her career in Hollywood.
Even then, this California beauty was already a looker. Born to parents with German, French and Welsh ethnicity, Denise Richards has this appeal about her that makes men do a double take.
She finally got her big-screen break as a femme fatale in the coming-of-age movie "Wild Things" in the '90s. Then, she landed one of the most coveted roles for women as a Bond Girl in the worldwide hit "The World is Not Enough."
So, it's no surprise that people question Denise's appearance. Fans wonder if she has ever done plastic surgery to give herself an edge over other aspiring actresses.
Denise, however, has denied all the rumors surrounding her alleged procedures on record, except for one.
Before & After Photos
As part of the "Real Housewives of Beverly Hills" crew, I'm sure that her alleged plastic surgeries will be brought up at some point. But in case you don't want to wait, like me, then here's what I found out.
Did Denise Richards have nose job?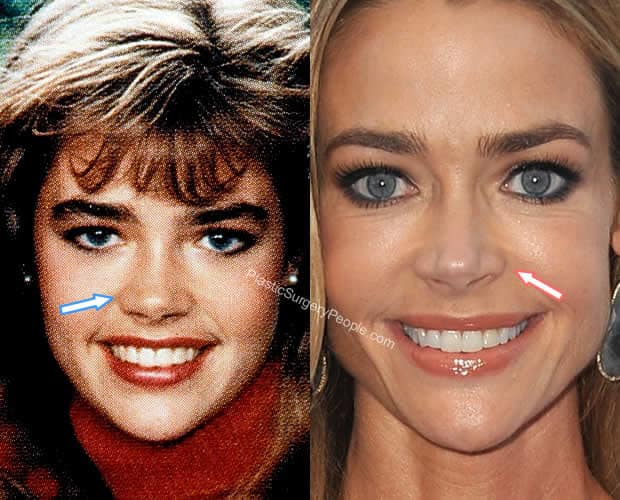 It's pretty clear to me from these "before" and "after" shots that Denise didn't get her nose fixed. She has the same uneven nose tip and wideness in both pictures.
Sure, her nasal bridge appears slightly thinner now, but so has her face. I just don't see the striking difference to suggest any form of rhinoplasty.
Has Denise had breast implants?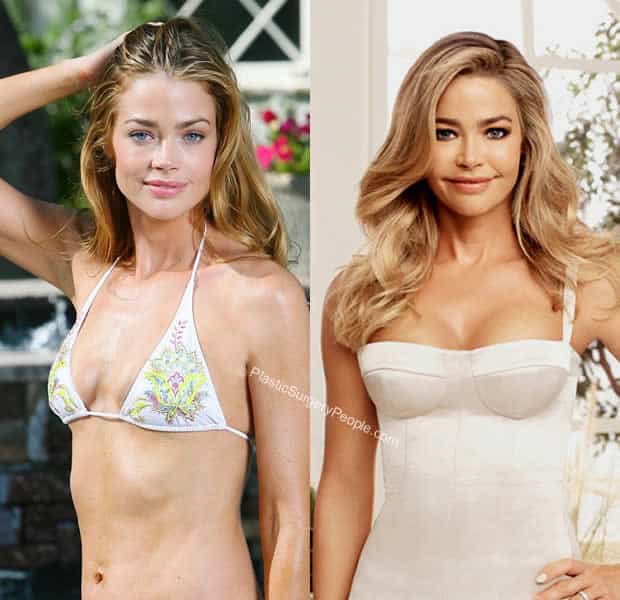 Denise had flat boobs when she was starting out as seen in this photo on the left. Her "after" pic, however, shows a woman with fuller, bigger and rounder breasts, which can only be achieved by having breast implants.
The actress did affirm that she got this procedure. She has been upfront about her boob job while she's been mum about all the other speculated cosmetic procedures.
Did Denise get botox injections?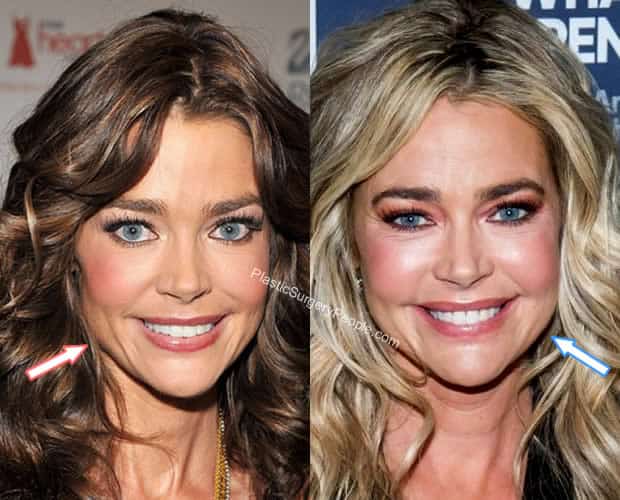 The former Bond Girl has denied she gets facial fillers. She has asserted that she has such distracting face expressions, which shouldn't be possible if she were having botox.
However, these "before" and "after" pics contradicts her denial. Her cheeks and forehead look too smooth and wrinkle-free. In fact, her cheeks look puffy and appear to have been stretched as if her facial muscles froze, which is what botox usually does.
What about facelift?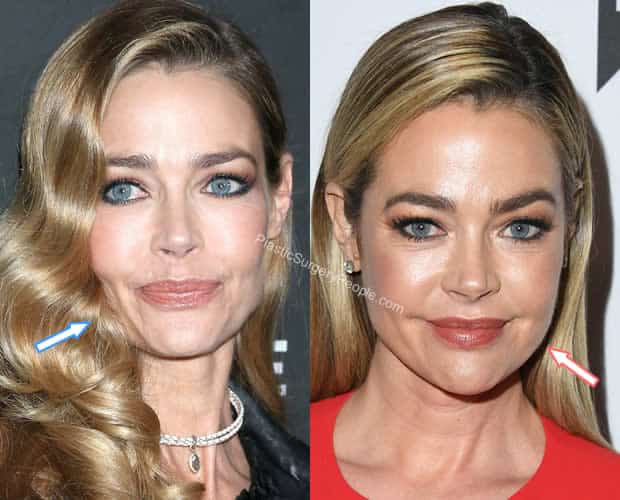 Though she denies getting a facelift, there's an obvious difference to Denise's tightened skin in these sets. She actually looks a lot younger in the "after picture" and there are fewer lines on her chin and mouth area compared to the "before" shot. So, I think she likely had a facelift procedure.
Does she have lip fillers?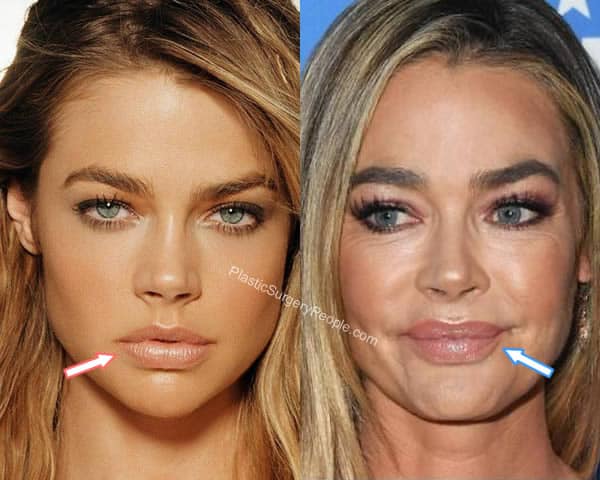 Denise has always had thick lips, but her upper lip appears to be fuller than usual in these comparisons. If you look closely, there are hints that she may have gotten lip injections to plump up her top lip.
If it's true, then I hope it's just a once off as I like the shape of her natural lips better.
Denise Richards Then and Now
Let's see how Denise's beauty has transformed over the years. We might even pick up other 'evidence' from these pics.
Baby Denise
Denise had buck teeth as a baby, who knew?! Her nose looks flat and wide but then, she's still a growing child. She does have a thick head of hair for a toddler though.
Teenager Days
As a teenager, Denise bloomed into a beautiful young lady. Her gorgeous tresses should be the envy of a lot of girls her age. I'm sure she turned heads with her wavy brunette hair.
Denise also had a beautiful smile at an age when most teenagers were still having braces. She didn't seem to have dental issues as she has a perfect set of teeth.
Year 1994: Lois & Clark
Denise appeared as a guest in the TV series "Lois & Clark" and I could already tell she has the making of a femme fatal with those alluring eyes. The red lipstick suited her, too!
She also had fuller breasts in this photo, suggesting that she may have gotten her breast done after she turned 18.
Year 1998: Wild Things
The actress got her breakthrough role in the sexy movie "Wild Things." She was packaged as a seductive star. If you've got this face and this body, then why not, right? I'd like to think that, other than her boobs, everything else about Denise, at this point, are all-natural.
Year 2000: Red Carpet Look
Denise was a vision on the red carpet at the ALMA Awards. Her hair color looks slightly lighter here but it still suited her. She barely wore makeup to this event but her beautiful face stood out. She also wore a tight-fitting mahogany dress that emphasized her shapely body and full breasts.
Year 2006: Divorce Charlie Sheen
By this time, Denise's marriage to Charlie Sheen had ended and she became a single mom to two young girls. I'm not sure what happened to her hair in this photo but I hope she didn't go back to the hairdresser!
Her makeup, however, was the right amount of blush and color. Her skin is also so flawless. I'd say Denise is lucky to be blessed with good skin.
Year 2010: Dramatic weight loss
The actress lost a lot of weight and looked slimmer than ever before. She may have been working out because her arms, legs, neck, and shoulders look muscular in this photo. Her face reminds me of a Barbie doll and she's gone back to being dark-haired, which, to me, makes her look younger.
Year 2015: Natural aging?
Denise proclaims she's embracing natural aging in her late '40s. She does have a few wrinkles around her eyes and her mouth. However, something about the sides to her nose and her forehead looks unnatural so I really think she's getting botox.
Year 2019: The Real Housewives
Denise joins the cast of the popular reality TV series "Real Housewives of Beverly Hills." If I were to guess, she had lip, cheek and chin fillers to plump up her face so she looks more youthful on television — and she does! I love how her skin glows in this photo.
What did Denise say about cosmetic surgery?
Denise Richards admitted to a boob job in an interview with Daily Telegraph.
"I have only done my boobs and I am very open and honest about that. I have had the same nose if people look it up, and the lips. I don't do Botox or fillers. And when people watch the show, my face moves, so much that it is distracting actually."
She also told UsWeekly that she had her first breast implants at 19.
"A doctor put in bigger implants than what I asked for. I was in such a hurry to get them that I didn't research my doctor. I just thought because they're a plastic surgeon, they must be good. You have to be your advocate for your own body and ask 100 questions."
More Info about Denise Richards
Real Name: Denise Lee Richards
Birthday: 17 February 1971
Star Sign: Aquarius
Birth Place: Downers Grove, Illinois, United States
Nationality: American
Race / Ethnicity: German, French-Canadian, Irish, English, Welsh, Dutch
Occupation: Actress, TV Producer
Net Worth: $12 Million
Relationship: Married to Aaron Phypers
Children: Sam Sheen, Lola Rose Sheen, Eloise Joni Richards
Height: 1.68 m (5 ft 6 in)
Weight: 56 kg (123 lb)
Body Measurement: 37-24-34 Inches
Bra Size: 34C
Dress Size: 4 (US)
Shoe Size: 7.5 (US)
Natural Hair Color: Light Brown
Natural Eye Color: Blue
Conclusion
Denise Richards is already blessed with good looks so, for my money, I don't think she needs a lot of enhancements. She was right to say, however, that if you're going to get plastic surgery, just like her boob job,  then you should ask many questions before committing to it.
Though she was open about her breast implants, it baffles me that she hasn't been upfront about her other possible procedures like botox, facelift or lip fillers. Those remain speculative despite indications that she likely got them or is still getting them. Maybe in time, she'll fess up to it on her reality TV show?
Denise is still one of Hollywood's hottest babe whether she's a natural beauty or not. Despite her age, she can still give other younger stars a good competition when it comes to hotness and looks.
Sharon Osbourne: Before and After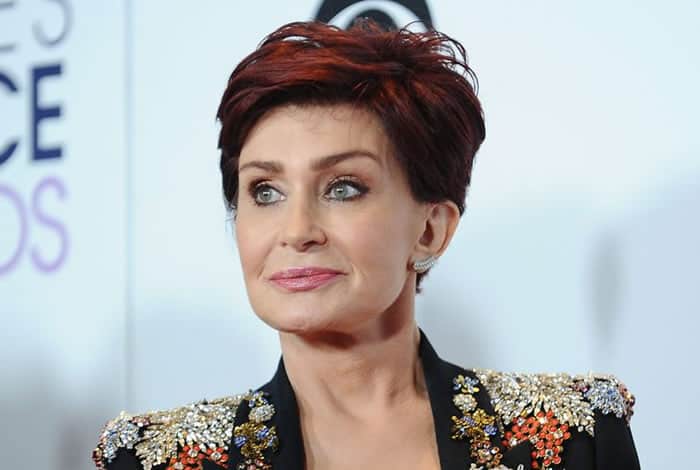 Love her or hate her, this ex-X Factor judge has never been shy about her artificial beauty. At 67 years old, Sharon Osbourne is seemingly looking younger every year.
Being one of the richest women in Britain, she has never been stingy when it comes to spending money on anti-aging procedures.
In total, she has spent well over £300,000 (approx. US$400,000) on a variety of plastic surgeries and she's loving every penny of it.
Before & After Comparison
Let's take a look at some of Sharon's cosmetic treatments and you can decide whether it's money well worth spent.
She is a big fan of botox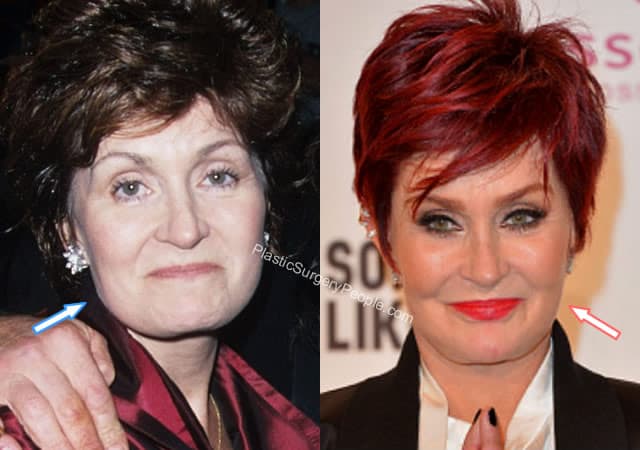 You probably won't believe me but the picture on the top left was taken back in 2000, exactly 18 years earlier than the photo on the right. Amazing, huh?
Looking at her later face I kind of understand why Sharon likes her facial fillers so much.
In fact, back in 2006 when Osbourne was hosting her own talk show, she invited her plastic surgeon, Dr. Leslie Stevens, onto the stage to perform a live Botox injection in front of her audience.
And in her exact words…
"I think that Botox is one of the best things to be created in plastic surgery."
I guess a lot of women would agree with her.
Facelift took years off her face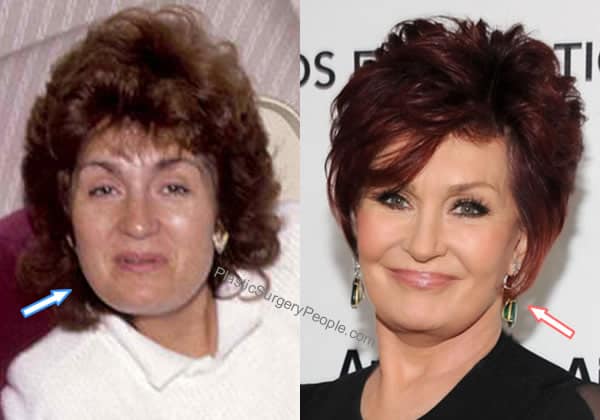 Sharon has openly admitted to having multiple facelifts, as well as a neck lift and an eyelid lift. The results speak for themselves.
These pictures were taken about 20 years apart. If you ask me, she has definitely turned back the clock here as I could hardly find a wrinkle on her skin.
Gastric surgery for weight loss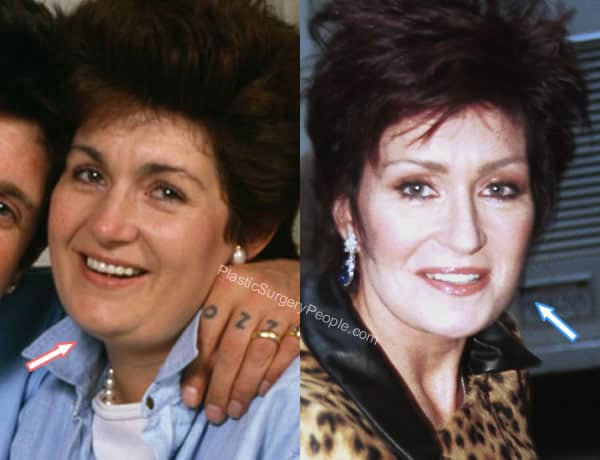 In 1999, Sharon underwent a gastric lap band surgery which resulted in her losing an impressive 125 pounds.
However, she wasn't happy with the way it made her feel so she had the band removed in 2006 and stuck with the Atkins diet ever since.
She had multiple body lifts and tucks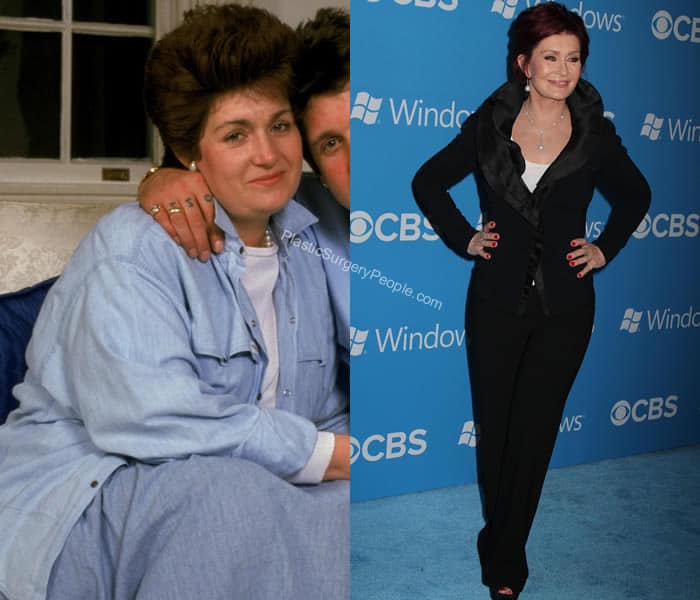 Following her dramatic loss of weight, Sharon then underwent multiple body tightening surgeries to correct her loosen skin. These procedures include a tummy tuck, lipo on her hips, butt lift, inner thigh lift, and arm lift.
Apparently, this happens to many patients after excessive fat removal like liposuction. Though in Sharon's case, she did it mainly by restricting her eating amount.
She also had multiple breast surgeries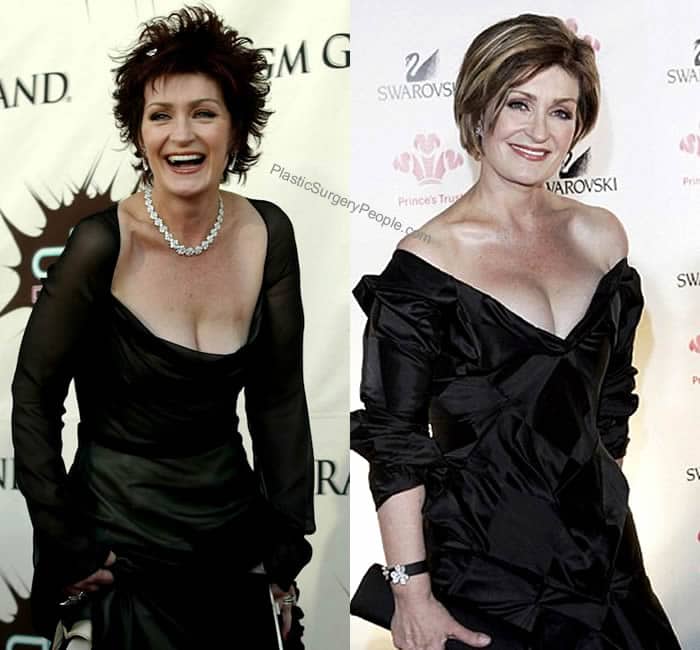 Sharon's boobs alone have seen more surgical knives than most people ever will in their entire lifetime.
In 2005, Ozzy revealed that Sharon had gotten breast implants.
"She's great. She just had some new t*ts. They've only just been done. I've gotta wait to see what happens. I hope they've only put two there because there's not enough room (in the house) with the dogs already."
In 2010, She wanted to have a reduction procedure because they were too big.
"I'm going to give one to Ozzy to put by the side of his bed as a paperweight."
In 2011, She removed her implants because one of them had ruptured and leaked into her stomach wall.
"One morning I woke up and one of my boobies was kind of much longer than the other … So I'm thinking, this isn't right."
In 2012, she found out that she had inherited a gene fault which increased her risk of breast cancer. So she underwent a double mastectomy.
"For me, it wasn't a big decision, it was a no-brainer. I didn't want to live the rest of my life with that shadow hanging over me."
Her previous battle with colon cancer had persuaded her to take action.
"I want to be around for a long time and be a grandmother to Pearl. I didn't even think of my breasts in a nostalgic way, I just wanted to be able to live my life without that fear all the time."
Though I wish it never happened to her, I stand by her decision.
What about the rest of her face?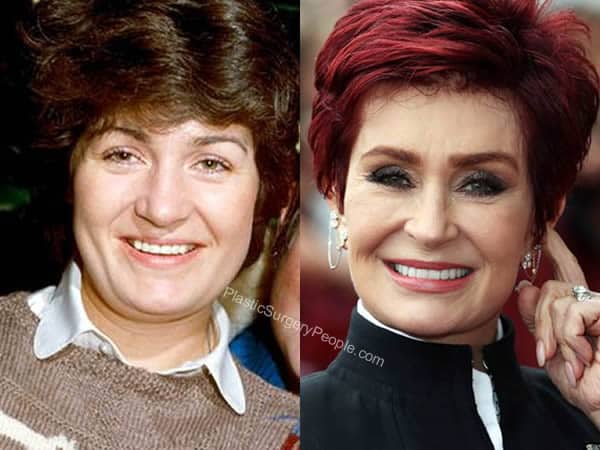 Sharon has never mentioned having anything done to her nose, lips, chin or other places.
After putting the above comparison pictures together, I couldn't find any signs of rhinoplasty or lip injections either.
Her jawline and cheekbones also look identical so I doubt there's been any reduction work or cheek implants put into her face.
Sharon is one of a kind
Unlike most celebs, Sharon has been brutally honest about her procedures.
I'm the only person who goes to the cosmetic surgeons for surgery, who comes out and I don't have a scarf over my face when the paparazzi are there. I'm like…Hi
Yup…that's Sharon for ya!
Did Mel B (Scary Spice) Have Cosmetic Surgery?
Spice Girls member Mel B, or Melanie Janine Brown in real life, made her mark in the music and entertainment industry in the 1990s. She was the girl band's most outspoken member "Scary Spice" and stood out because of her unique physical features, namely her fuzzy hair, tan skin, and busty body.
Like many celebs, her best assets have led Mel B to face numerous controversies in life including a number of plastic surgery claims. Some fans believed her boobs were augmented because her breast size seems quite large for her slim body frame. There were also talks about her using cosmetic enhancements for her face, nose, and even butt.
This is especially true during recent years where talks of Mel B using botox as her anti-aging secret became headlines. The truth is, she's no longer a spring chicken so it makes sense to seek alternatives if traditional skincare routes no longer work as effective.
Now, are beauty surgeons really a big part of her life as a celebrity?
Does she visit a clinic often to maintain her smoldering hot appearance?
Allow us to break it down for you…
Before & After Photos
Cosmetic surgeries are common for stars but did Mel B get a few procedures to alter her looks or is she a natural beauty? Let's compare some before and after pictures to find out.
Are Mel B's Boobs Real or Fake?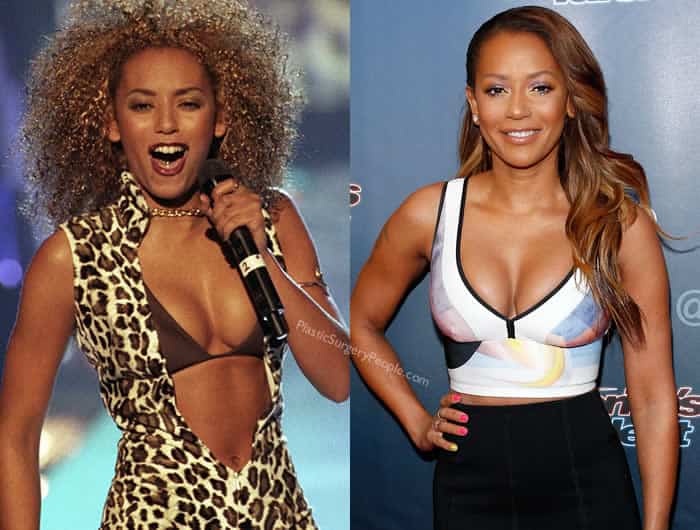 Rumors stated that Mel B had a boob job after giving birth to her first child. She allegedly got breast implants to give her bust a more defined shape and a larger bra size, as seen in this after photo. But even then, Mel B's breasts have never lacked volume as evident in this before shot.
To be fair, it's hard to tell the difference between what's real and what's faked with surgery by looking at these images. However, she seemed to have gained some weight in the pic on the right so that could be the reason why her boob size appears fuller. What do you think?
Did She Get Botox on Her Face?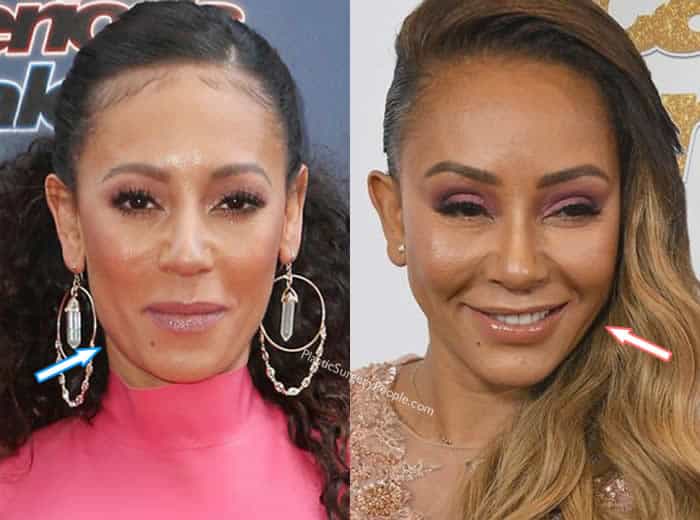 Mel B's face is striking and beautiful but you can tell from these photos that something has changed. She looks more puffy in the after photo, especially around the cheeks. This tells us that she may have used botox injections as her way to combat fine lines and wrinkles.
Has Melanie Brown Had Facelift?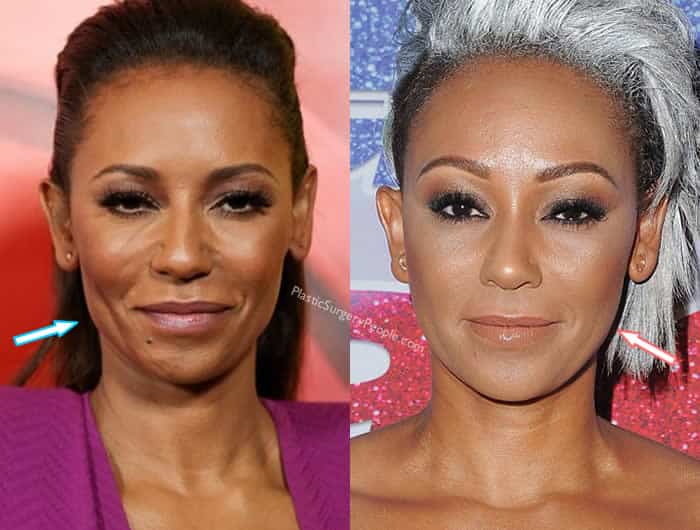 At first glance, it might seem like Mel B had a face lift to look younger. Her before photo shows prominent laugh lines but the wrinkles are gone in the after pic. But we're not inclined to believe she had her face done despite the rumors. These changes are most likely the effects of botox, a lot of makeup and a good use of foundation.
In all honesty, we just don't think she's reached the age to seek a facelift…yet!
How Did Mel B Lose Weight?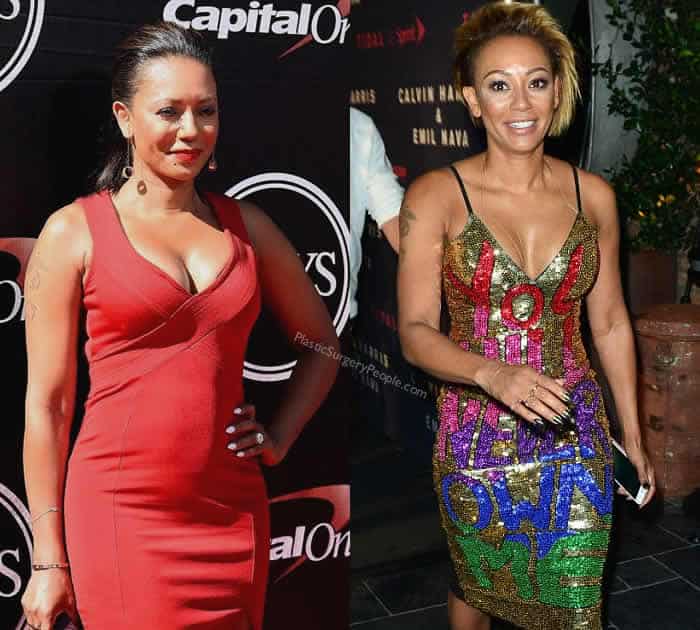 Admittedly, Mel's body had more meat after she gave birth. The changes to her weight are clearer if you compare the size and shape of her arms in these before and after photos. She looks a lot more fit these days with her firm arms, flat tummy, and overall slimmer body shape.
Rumors suggested Mel B had liposuction and tummy tuck to get rid of the body fat but it's no secret this Spice Girl is a fitness buff and has released exercise videos. Yes, she is a fighter so we highly doubt she needed plastic surgery in the weight loss department.
[adinserter block="3″]
Mel B's Transformation
Want to see how "SCARY" has changed over the years? We'll go over some of her photos back then and now to see if there are any other enhancements.
Childhood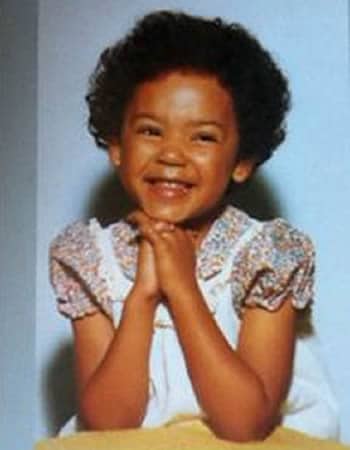 Source: Reddit
Mel B was an adorable young girl with afro hair during her childhood. She also stood out because of her beautiful tan skin. You can already tell that she's full of energy.
Teenager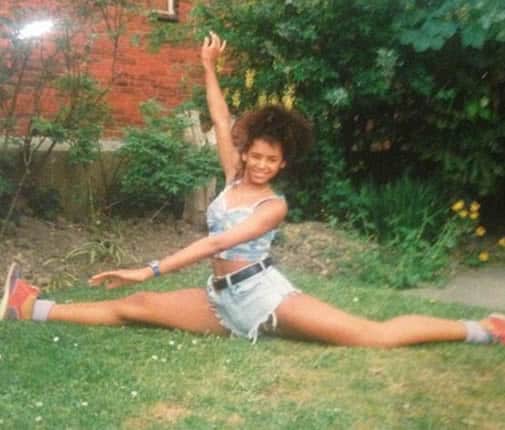 Source: Andrea Brown / Twitter
The UK born singer was an active teen who loved dancing and performing. She's gifted with a flexible body and she can do a mean split or follow a complicated choreography with ease. She became a dancer in high school and landed her first job with a dance group.
Year 1994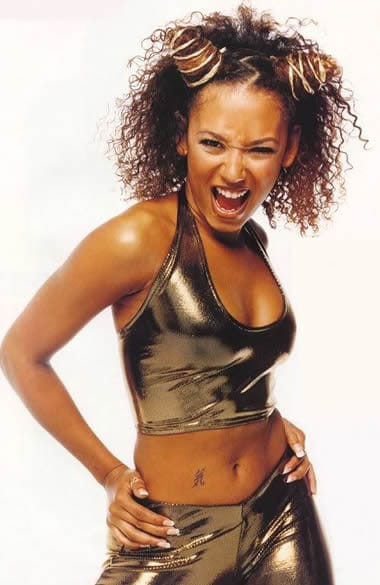 Source: Facebook
Mel B became part of the world famous girl band Spice Girls. She was nicknamed Scary Spice along with Sporty (Mel C), Posh (Victoria Beckham), Geri Halliwell and Baby Spice (Emma Bunton). The sexy celebrity had a slim waistline then and her chest size was sufficient for her body shape.
Year 1997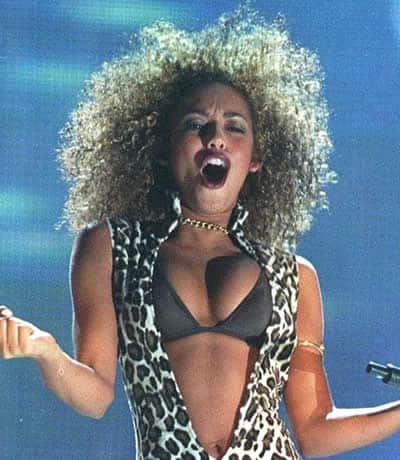 Source: Youtube
With the Spice Girls' skyrocketing, Mel B and the girls were always splattered in the headlines. This photo of Scary Spice performing while wearing a leopard top became her trademark. But this busty image also sparked rumors of breast implants because it seemed her cup size grew and her cleavage got deeper.
[adinserter block="4″]
Year 2000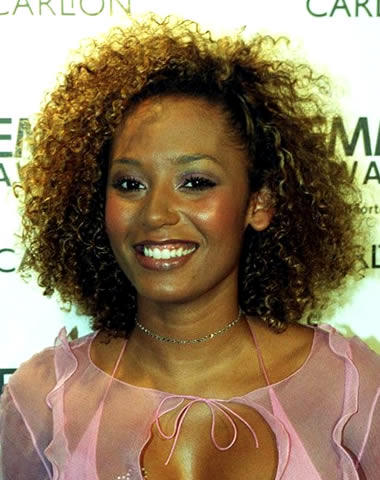 Source: Pinterest
As the Spice Girls unofficially split up, Mel B tried to launch her solo career. She looks super pretty in this photo with just as a speck of blush on her high cheekbones and subtle eyeshadows. The singer revealed she had laser surgery around this time to correct a problem in her cornea but it left her almost blind in one eye.
Year 2005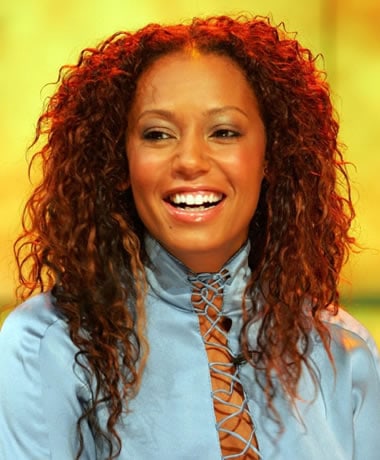 Source: Pinterest
Now a 30 year old mom, Mel B still looks fresh and young with her curly hair. Her smile reveals a set of uneven teeth, suggesting that she didn't have veneers or braces before. But she definitely had a teeth whitening procedure. This smile makes her sparkle.
Year 2010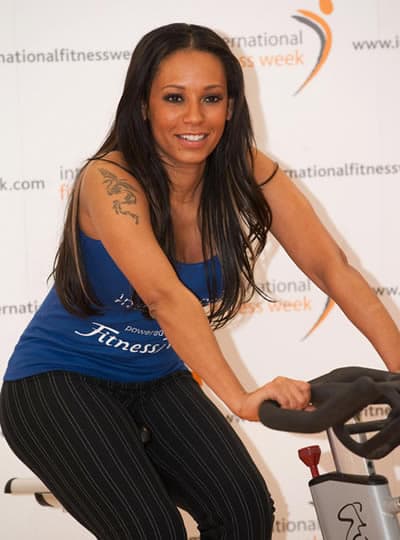 Photo Credit: Marco Secchi/Getty Images
At 35 years of age, Mel B, photographed here on an exercise bike, became the host for a weight loss reality TV show in the UK. She also launched her own fitness video game on PC. Aging has slowed down her metabolism and for a while, she had more body weight around her thighs and hips.
Year 2016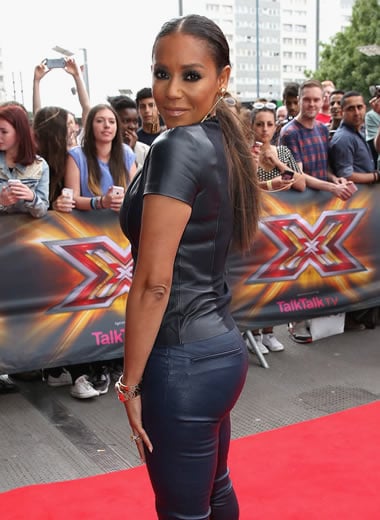 Photo Credit: Danny Martindale/Getty Images
A fit and firm Mel B walked the red carpet for the opening of a new season of "The X Factor" in the UK. She looked great in hot leather pants, which hugged her butt so well. Fans wondered if Mel B's bum shape is natural or if she got help from a plastic surgeon. We dare say it could be due to her fitness routine.
Year 2018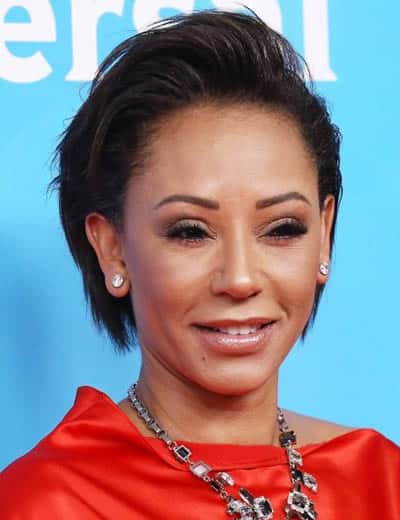 Photo Credit: Getty
Mel B rocked a short hairstyle while showing up at a red carpet for an NBC Universal City event. Her eye makeup and sleek eyelashes made her look different. There are hints that she might've gotten facial fillers to plump up her cheeks and did she get eyebrow tattoo?
[adinserter block="5″]
Did Mel B mention anything about plastic surgery?
Speaking to a UK Newspaper The Sun, Mel B admits she have gotten cosmetic enhancements but her procedures are mostly non-surgical which included facial rejuvenation and radio frequency treatments.
I believe in being the best version of yourself and I'm a great believer of looking and keeping your natural beauty.
She was apparently very happy with Dr. Nyla Raja's work.
I love the fact that you don't have to take drastic scary procedures and go under the knife. It's important we start talking about it more so more people know about the safer and more natural options out there.
More Information About Mel B:
Real Name: Melanie Janine Brown
Birthday: 29th of May 1975
Star Sign: Gemini
Birth Place: Harehills, Leeds, United Kingdom
Nationality: British
Race / Ethnicity: African-Nevisian, English
Occupation: TV Personality, Singer, Actress
Net Worth: $10 Million
Relationship: Single
Children: Angel Iris Murphy Brown, Madison Brown Belafonte, Phoenix Chi Gulzar
Height: 1.65 m (5 ft 5 in)
Weight: 59 kg (130 lb)
Body Measurement: 38-26-36 Inches
Bra Size: 34D
Dress Size: 8 (US)
Shoe Size: 8.5 (US)
Natural Hair Color: Black
Natural Eye Color: Dark Brown
Conclusion
Mel B has been speculated to have undergone many plastic surgeries over the years. People have endlessly talked about the alleged implants on her boobs and the augmentations on her hot body as much as her weight fluctuated.
We believe, however, that Mel B's breasts are real and her body changes are due to her workout routine and diet plans. In fact, she became an endorser of Jenny Craig, the popular weight loss treatment company. At that time, she needed to lose the pregnancy weight and keep her body slim and fit like before.
In terms of her face, we haven't been able to spot any signs of eye surgery, nose job or lip fillers. She has only confessed to getting non-surgical procedures to enhance her appearance. While she didn't go into full details, we think she probably gets botox regularly, but not a facelift as some have claimed.
Regardless, she is still one of the hottest celebrities around. This amazing woman has gone through a lot, both in her career and her personal life. She has remained tough and steadfast through everything. But then…she is the gorgeous and fearless Scary Spice after all.
(Featured Image Credit: WENN)