Katy Perry: Before and After
Pop star Katy Perry, Katheryn Elizabeth Hudson in real life, made a name for herself in the music industry with hits like "Roar," "Firework" and "California Gurls." The superstar, however, is also loved by her fans for her appearance and quirky fashion sense.
It hasn't always been easy for her though…
The daughter of Pentecostal church pastors, Katy grew up singing Gospel music and attending religious schools. Katy's sheltered childhood, however, didn't stop her from pursuing her dreams of becoming a singer so she left high school to make music in Nashville.
Katy's transition from a gospel singer to a pop sensation was met with a lot of controversies. Her songs were often picked apart and criticized. There were also rumors about the singer having plastic surgeries to achieve her Hollywood looks.
In fact, her body has always been a hot topic whenever she performs on stage. There were talks that she underwent a boob job and recently, some fans even suggested that the American Idol judge had botox injections.
So, how much of these speculations are true? Has the chart-busting singer actually had any cosmetically-enhanced procedures?
Let's find out!
Before & After Photos
To figure out if Katy Perry had plastic surgery, I have gone through numerous photos looking for evidence. Let's check them out.
Did Katy Perry have nose job?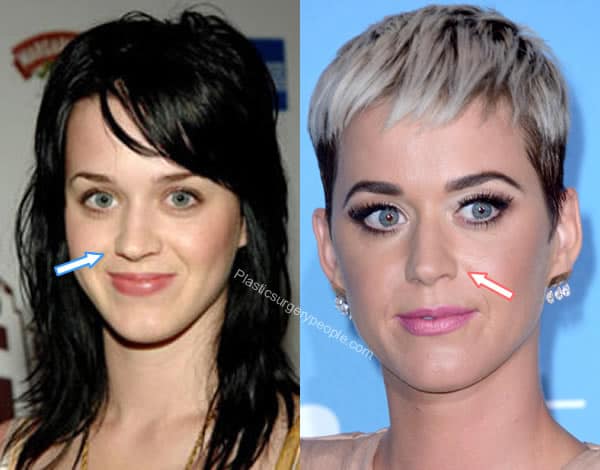 A nose job is a very common procedure in Hollywood and literally, every star has been suspected of getting this procedure at one point in their career, including Katy. But based on these before and after photos, it doesn't look like Katy had a rhinoplasty.
Sure, she doesn't have the perfect nose shape and you can also see a slight bump on her nose bridge. But overall, her nose isn't bad looking and doesn't require any "fix" if you ask me.
Did Katy get lip injections?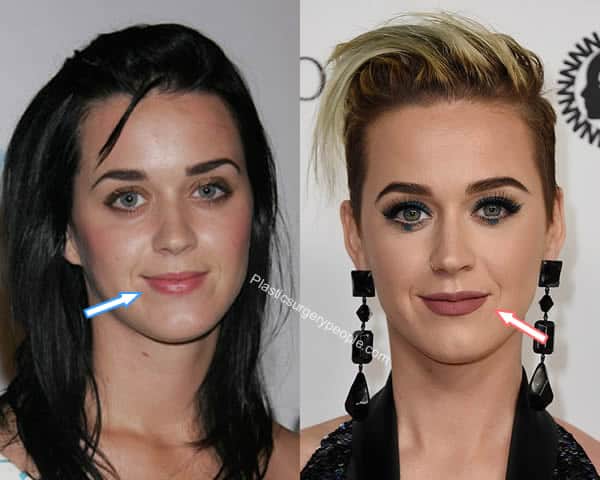 Katy has a fuller lower lip compared to her upper lip. Even with a glossy lipstick or a matte lipstick, Katy's upper lip remains thin. So, based on this comparison, I don't think she had lip injections. This is simply her natural look.
Has Katy had breast implants?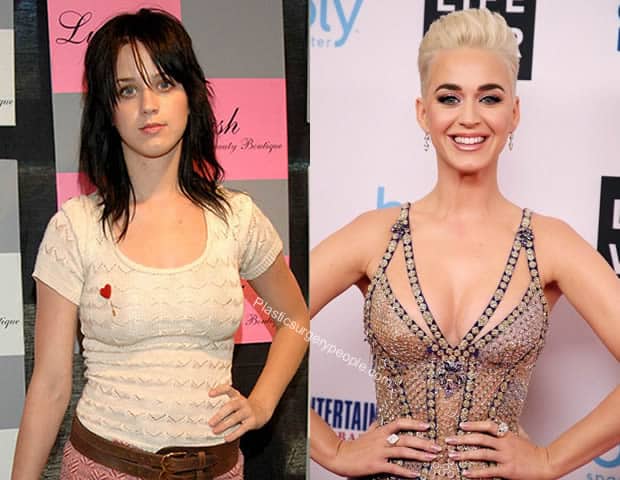 Most female stars, especially the ones as visible as Katy, have been suspected to have gotten breast implants or did something to change the size of their boobs. Katy, however, has full rounded breasts even then and this "before" photo is proof.
I don't think Katy had her breast altered with cosmetic surgery because she has ample boobs from the very start. She doesn't require a breast lift; she's naturally blessed!
Did she get a butt lift?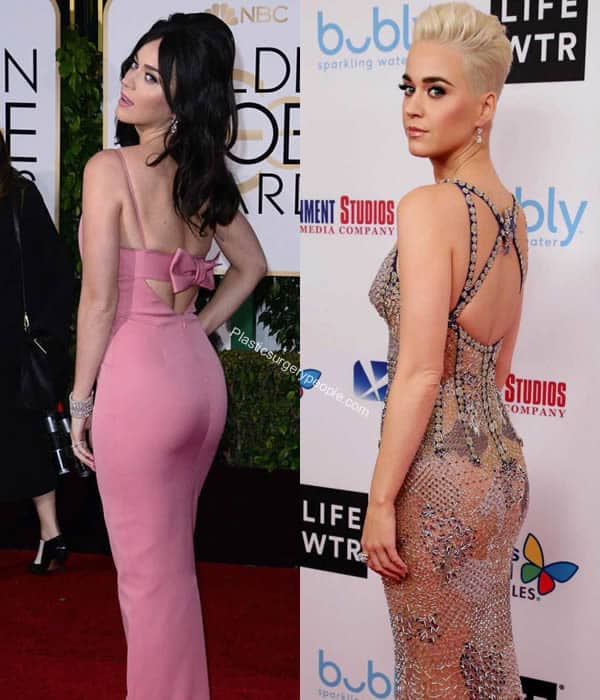 Katy apparently kept a cheeky secret, according to the rumor mill. People alleged that she had a butt lift consisting of steroids and other antibiotics with side effects that increase the size of her buttocks.
But this wild speculation also had an unhealthy side effect that causes the skin to thin out and sag eventually. Based on these before and after pictures, Katy's buttocks aren't falling apart or losing its fullness. To me, this says one thing only — her butt shape is all-natural.
So, how does she maintain that incredible body? Lots of gym and squats I dare say…
What about her crooked teeth?
While she might have the body of a goddess, Katy does have some flaw and imperfections, such as her crooked set of lower teeth. She hasn't done anything to improve her teeth's appearance. No braces, no veneers, nothing!
Maybe Katy is afraid of dentist injections like a lot of people? I'm only guessing but if she is, then she's likely also not keen on getting invasive plastic surgery with all those needles. What do you think?
Katy Perry: Then and Now
Now that we're done with the comparisons, let's check out Katy's transformation over the years. Maybe we can pick up some "extra" things…or not.
Childhood: Born to be a star
Katy had early training as a performer when she sang at the church choir. She already looked like a spunky kid back then. By the way, I notice the wide bridge of her nose, which is clearly a prominent facial feature even now that she's a grown-up.
Teenager: Beautiful face
Katy's beautiful facial features make her look friendly and approachable. She seemed like a vibrant and positive teenager growing up. Got to love those double eyelids!
Year 2001: Album debut
Katy launched her self-titled debut album featuring gospel music. She changed up her hair color to black now that she has become a professional singer. It matched her beautiful blue-gray eyes.
Also, if you look at her chin and jawline. They have stayed the same over the years.
Year 2005: Minor success
The singer achieved some success with the release of another album because her song "Simple" was used in the soundtrack of the movie "The Sisterhood of the Traveling Pants."
Though I don't especially like Katy's style in this photo, she's slowly showing the world her unconventional and outlandish fashion sense with this tight-fitting white top, red printed hot pants, wide belt and yellow pumps. The floral handbag is a nice touch.
Year 2008: Career breakthrough
Katy finally hit it big with the release of the song "I Kissed a Girl." Now a confirmed success, she became more emboldened to show her style in her music and her outfits.
This white number reminds me of what pin-up girls wear and I think that's the look she was going for. Katy added her brand of quirky with the beaded butterfly hair ornament.
Year 2010: Blue hair wig
Katy turned heads when she attended the MTV Movie Awards with shiny blue hair. The wig made her look fabulous. She also wore a lighter shade of contact lenses for her eyes and her makeup artist highlighted this feature really well with the cat's eye makeup.
She's a true performer even if she just has to stand on the red carpet. She has to be a spectale and Katy successfully pulls this off each time.
Year 2014: The Grammy look
Katy looked refreshingly pretty when she attended the Grammy party with her hair pulled up in a braided curl like a diva. She kept it quirky with her sexy sequined dress. Her makeup in this photo looks subtle but it highlighted her best feature — her eyes.
Year 2018: Short blonde
Now one of the most followed stars on social media, Katy went for a drastic hair change by cutting her long locks really short and coloring it platinum blonde. As with her other style experimentations, this look suited Katy as well.
I like that she keeps everything else subtle, such as her lipstick color and the jewelry she wore. As a result, I'm drawn to look at her eyes and her face, as well as notice her major hair change. And check out those eyebrows – WOW!
Year 2019: Medium Blonde
She grew her hair a year later and went for a medium blonde shade. I admit, she really looks different in this photo. Perhaps it's the contrast of the redness of her lips against her pale skin color and hair.
I know I know…some people are speculating botox, but I really don't think she needs it.
What does Katy Perry say about plastic surgery?
Katy denied that she had any plastic surgery done on her face and body but she has had cosmetic enhancements. She spoke about it in an interview with Refinery29:
"I've done lasers and got [filler] injections under my eyes for the hollowing — which I'd recommend for everyone who wants a solution for their dark circles — but all of my assets are real. People tend to think they are fake, but it doesn't really matter."
More Info about Katy Perry
Real Name: Katheryn Elizabeth Hudson
Birthday: 25 October 1984
Star Sign: Scorpio
Birth Place: Santa Barbara, California, United States
Nationality: American
Race / Ethnicity: English, German, Irish
Occupation: Singer, Songwriter, Businesswoman, TV Judge, Record Producer
Net Worth: $330 Million
Relationship: Engaged to Orlando Bloom
Children: None
Height: 1.73 m (5 ft 8 in)
Weight: 61 kg (134.5 lb)
Body Measurement: 36-25-35 Inches
Bra Size: 32D
Dress Size: 6 (US)
Shoe Size: 8 (US)
Natural Hair Color: Brown
Natural Eye Color: Blue-grey
Conclusion
The preacher's daughter has definitely carved her own niche in the Entertainment industry. She influences people in a different way than her parents, with her music, her looks and her outlook in life.
Katy Perry is naturally talented with natural assets. I believe her when she declared that she did not get plastic surgery. But obviously, she doesn't take her appearance for granted. In fact, she makes an effort to stand out, especially in this competitive Hollywood landscape.
(Featured Image Credit: Getty)
Victoria Beckham Before and After Plastic Surgery Photos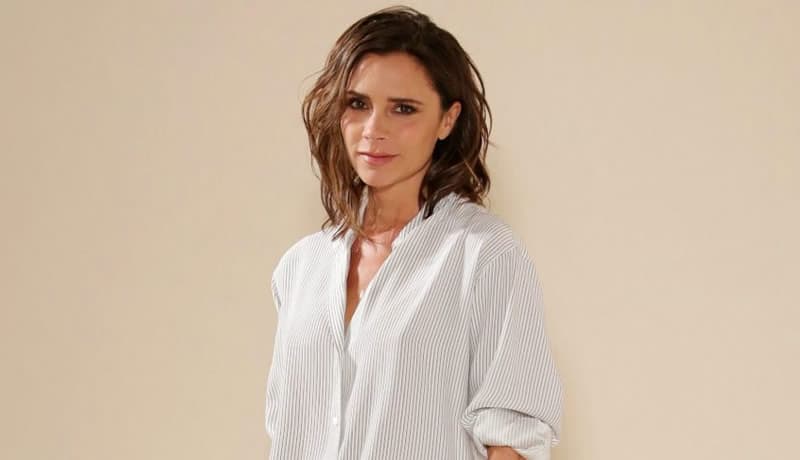 Victoria Beckham is most popularly known as Posh Spice from the girl band Spice Girls. She is also the better-half of soccer star David Beckham, whom she has been married to since 1999. I know…what a lucky girl, right?
After the Spice Girls disbanded, Victoria charted a career in fashion and was quite successful at it. Because of her persona and image in the public, however, people grew curious about her style and beauty.
As a mother of four children, Victoria managed to remain gorgeous, slim and pretty hot too. That's why people think that the former pop superstar had plastic surgery to improve her appearance. She doesn't seem to age and there appear to be some unnatural features on her face and body.
Victoria has been rumored to have gotten a nose job and fillers to improve her facial features. The shape of her rounded breasts, on the other hand, has also been scrutinized and even ridiculed because of how odd it looks against her body.
Posh Spice used to deny these cosmetic procedures but as she got older, she has been more open about the things she has done to transform her looks.
Before & After Photos
While there are a lot of before and after pictures of Victoria Beckham on the Internet that can detail her transformation, but I promise, you have seen nothing like these.
Allow me…
Did Victoria Beckham have botox?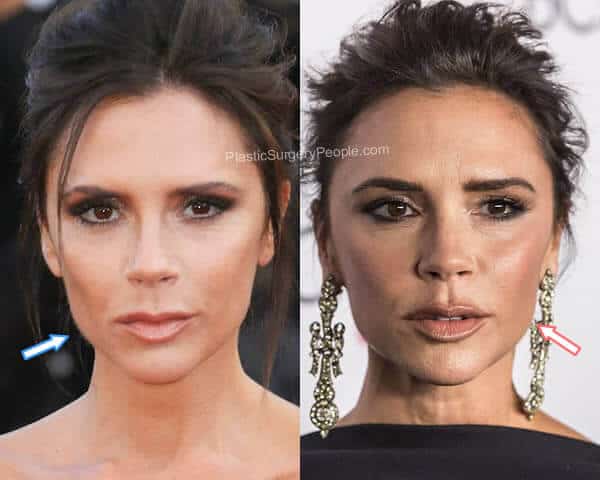 Victoria has such a rigid face and it might be because of all the botox she's getting. If you look closely at the "after" photo, her face cheeks look a little swollen.
There are hardly any lines or wrinkles around her forehead, her cheeks and mouth area. Also, she has this one expression on her face, which I believe is likely due to botox injections.
Has Victoria had a nose job?
Not sure if you noticed, but there is a dramatic difference in Victoria's nose in these photos. Posh had a bulbous nose when she was just starting out as a singer with the Spice Girls.
But now, her nose bridge is much thinner and the tip looks more refined. If this was the result of rhinoplasty, then I think her plastic surgeon has done a good job. The lovelier nose shape compliments her small face really well.
Did Victoria get lip fillers?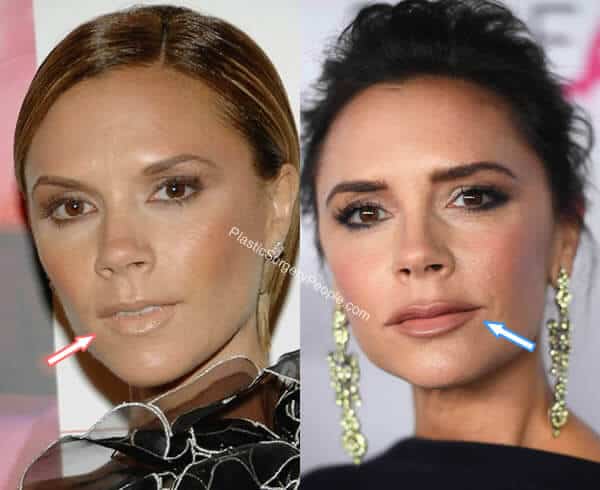 Something is definitely going on with Victoria's lips and I doubt it was just good lipstick or makeup application. Her top lip looks much bigger than her natural pluckers so yes, I think she might have tried lip injections here.
The good thing, however, is that she didn't get her lip fillers overdone. I think the size of her new lips fits her face shape quite well so good for her!
Yes, she had breast implants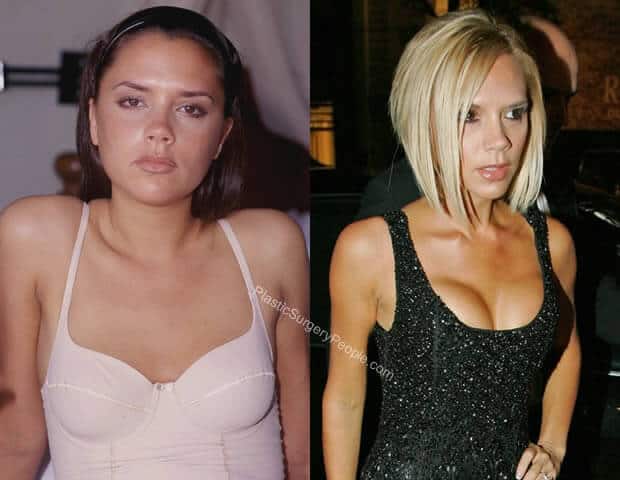 Until recently, Victoria was not open about getting breast implants in her youth. But you can clearly see that she was flat-chested in this "before" photo, in her younger years. Her breasts grew at least two times bigger in the "after" photo.
I remember Victoria used to get a lot of bad press for her augmentation procedure because her full and rounded boobs looked so odd against her thin body frame. I wasn't impressed with her boob job either because, to be honest, it looked like she had some built-in floaters on her chest.
She also got breast reduction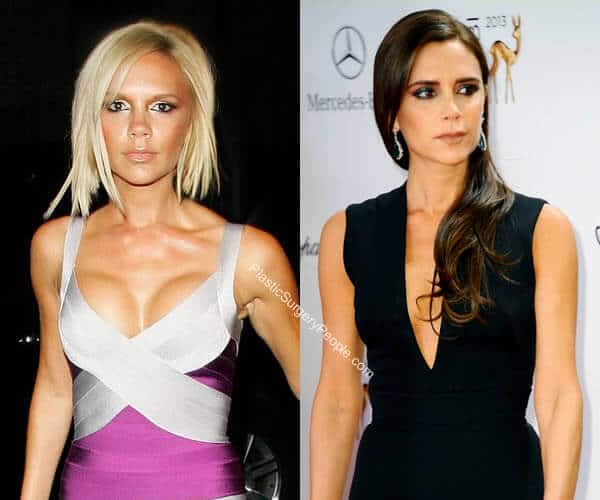 Years after getting her boobs lifted, Victoria decided to have a breast reduction surgery following the birth of her fourth child. She admitted that her earlier boob job was a mistake and she regretted messing it up.
Now, Victoria Beckham's breast size looks a lot more natural, as shown in this pic where she's wearing a plunging black dress. She's down to a 34A cup from the 34DD she used to have. I think she looks more sexy and attractive compared to those fake implants before.
Her teeth look better now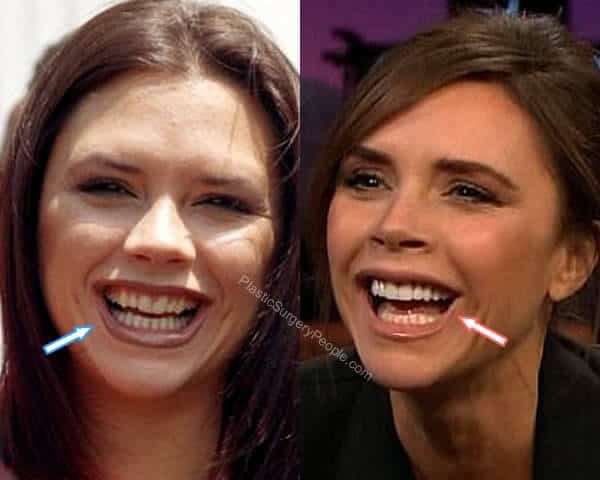 The thing is, Victoria's fans don't often see her teeth because Posh Spice has a trademark "bitch face," where she doesn't actually smile in her photos. One of the reasons could be because she had darker and crooked teeth before.
It's obvious she had those corrected now based on this "after" photo. Her front teeth look more even and it's a lot whiter too. So looks like teeth whitening and dental veneers were inevitable.
Conclusion
Victoria Beckham's earlier boob job didn't make her look attractive at all. It was a good thing she decided to remove those implants because I think it didn't do her any favors.
Posh Spice admitted she had to deny her plastic surgery procedures in her younger years because of her insecurity. I have to give her props for opening up about this because not a lot of celebrities would be upfront about the artificial changes they have done to their appearance.
While she hasn't fully embraced her natural beauty — she's still likely getting botox, after all — it's refreshing to see Victoria becoming more open about the flaws on her face and body. Vanity is part of being a public persona but I appreciate that Victoria is more honest about her procedures.
(Featured Credit Source: Facebook)
More Info about Victoria Beckham
Real Name: Victoria Caroline Beckham
Birthday: 17 April 1974
Star Sign: Aries
Birth Place: Harlow, United Kingdom
Nationality: British
Race / Ethnicity: English, German
Occupation: Businesswoman, Fashion Designer, Former Singer, Model
Net Worth: $128 Million
Relationship: Married to David Beckham
Children: Brooklyn Beckham, Romeo James Beckham, Harper Seven Beckham, Cruz Beckham
Height: 1.63 m (5 ft 4 in)
Weight: 49 kg (108 lb)
Body Measurement: 34-23-33 Inches
Bra Size: 34A
Dress Size: 2 (US)
Shoe Size: 7 (US)
Natural Hair Color: Dark Brown
Natural Eye Color: Dark Brown
Did Nicki Minaj Get Breast & Butt Implants?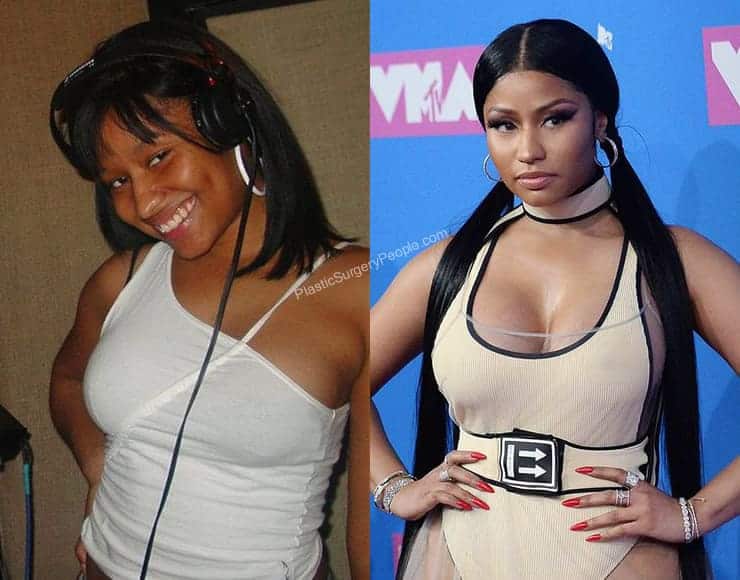 Isn't it amazing how curvy Nicki Minaj is with such a small frame?
She's not exactly tall by Hollywood standards, but her chest and rear ends are larger than life. Yes, they are almost unnatural.
So if you've ever thought that she might be a work of plastic surgery, me too!
But I prefer to let the pictures do the talking.
Anything else is pointless.
Teenage & Early Adult Years
There is only one way to do this.
We have to go way back to Nicki's earlier days, before she stepped onto the scene. This should give us a rough idea of how her face and body have changed.
Check these out.
High School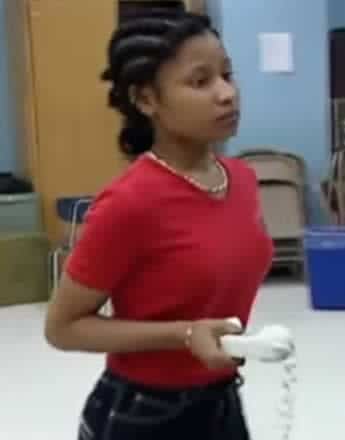 This was during her high school days. I'm guessing she's around 14-15?
18 Years Old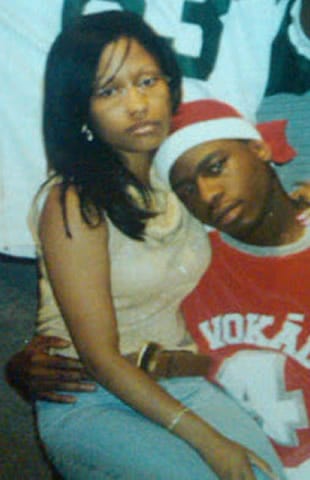 When Nicki turned 18, a full grown woman, she joined a group called "The Hoodstar". She still looks rather innocent here so I doubt she even thought about having breast implants. To be fair, it doesn't look like she needed it either.
Before signing with Young Money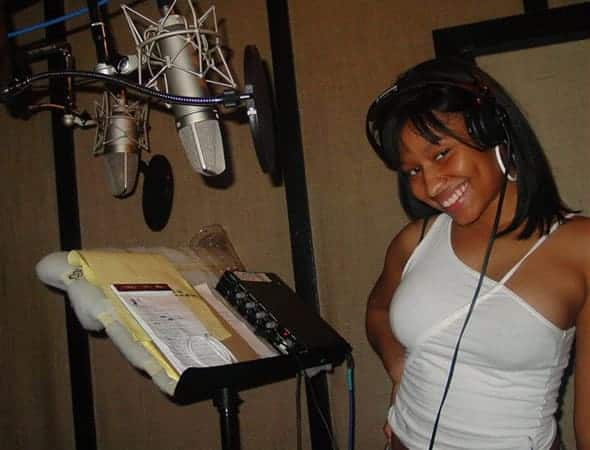 This picture further confirmed my assumption. The rapper looks around 19 or 20 years old here. It's clear that she already has large breasts and real too.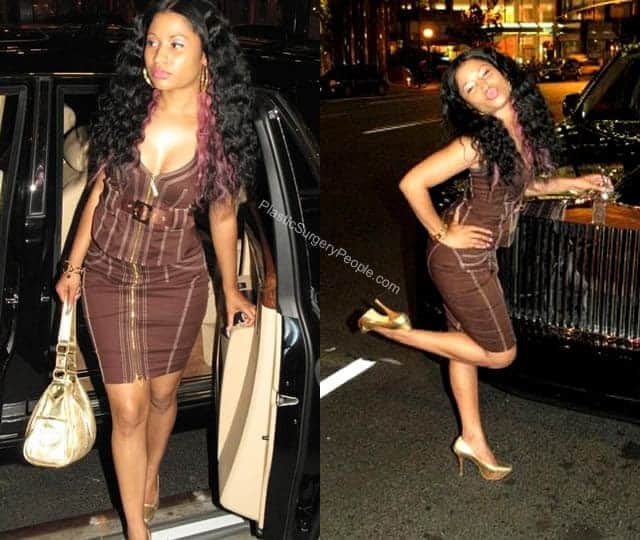 If you've never seen the skinny version of Nicki Minaj, you're not alone! I'm not sure when these photos were taken, but it was hard to ignore her "smaller" bum size.
Before and After Pictures
With these evidence, I started to piece together the puzzles by comparing them side by side. This should tell us whether the star has implants in her body.
Did Nicki Minaj have a boob job?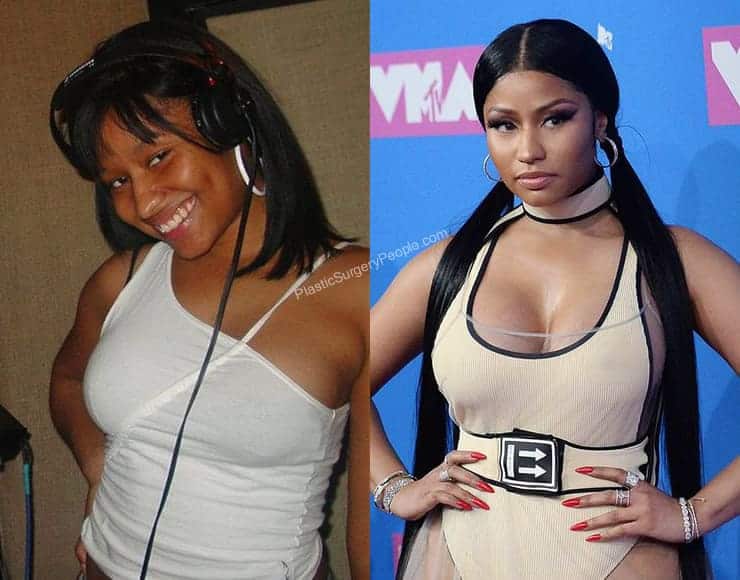 This one wasn't easy.
It's obvious the rapper has bigger boobs these days but her body size also seems bigger in general. The fact that she had a decent bust size to begin with makes it even harder to believe she had an augmentation.
While it's not unusual for breasts to grow larger with increased body mass, I believe Nicki enhances them with the way she dresses also. So no, I don't believe she did it.
Does Nicki have fake butt implants?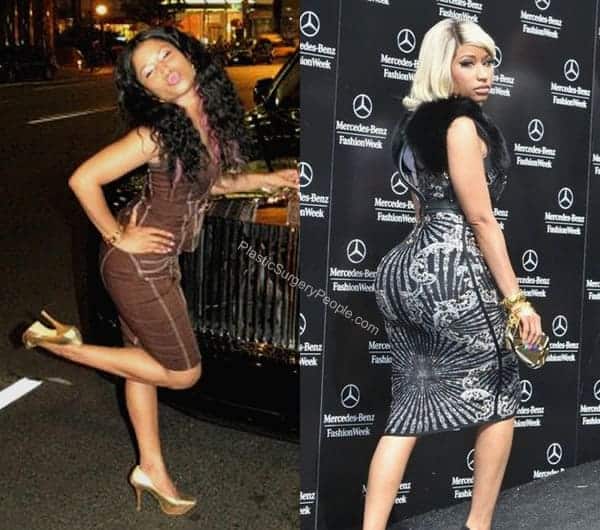 I guess we all had our answers.
But when I saw how small and flat her bottom used to be, it was quite a shock. I just didn't expect the difference to be this massive. Looks like her backside is likely to be fake and is enhanced by implants or fat injections.
What do you think?
After Thoughts
Let's be honest, we all kind of knew that there was something unusual about Minaj's body. Otherwise, you wouldn't be here, right?
Don't get me wrong. Nicki looks absolutely gorgeous and even if she does have a surgeon by her side, it doesn't take away the fact that she is a true talent.
Miley Cyrus: Before and After
Miley Cyrus has made a name for herself at an early age. Starring as the titular character in the Disney series "Hannah Montana," Cyrus had legions of fans composed of young girls who look up to her and idolize her as the coolest person to be.
But Miley's public persona changed when she got older. Following her infamous twerk at a music awards show, Miley today is known as the wild child who's in the spotlight because of her controversial behavior and views about life, which has overshadowed her talent as a singer and actress.
I remember how a big deal this lewd dance was with people saying that Miley ruined her wholesome Disney image. It was definitely a bold move and a shocking change as Miley made it known to the world she was no longer an innocent girl.
Growing up before the eyes of the public, people wondered if Miley had undergone plastic surgery to change her looks to go along with her sexy image. When the "Wrecking Ball" hitmaker started wearing revealing clothes, there were speculations that she had cosmetic augmentations to her breasts and perhaps also changed the shape of her nose through rhinoplasty.
Given the world she thrives in and growing up in a showbiz family, these speculations and talks about Miley's plastic surgery may have a basis. With the superstar seemingly open to trying anything, it doesn't look like Miley might be one to shun a procedure to enhance her appearance.
Before & After Photos
So, did Miley have any plastic surgery and what could those possibly be? We'll have to go through some of her before and after photos for the answers. What we'll find might just surprise us — in the classic Miley way!
Did Miley Cyrus have nose job?
Nose jobs in Hollywood are as common as breathing. While some fans claim she got her nose fixed it's hard to see how she had rhinoplasty when there are little changes to its size and shape. These before and after photos show that Miley has had the same nose shape all her life. Shocking, I know!
A slight or subtle nose change would have been a complete waste of money because it won't have any significant effect on her face. Although her nose isn't perfect, I don't see any indication that Miley had a nose job.
Has Miley had breast implants?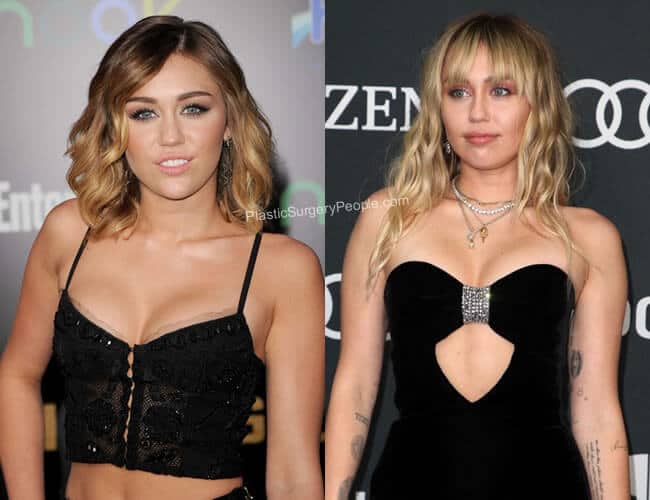 Miley has also been the subject of a boob job rumor especially when she dresses so provocatively. I believe her breast size and shape are all-natural though, which might be surprising for her critics. These photos don't show any evidence that she had breast augmentation.
I would say that "The Climb" singer's body changed because people saw her transform from an adolescent to an adult. Naturally, her boobs would have taken shape by the time she was old enough to wear sexy clothes. Her bust size, for me, isn't too large or too small. Lucky her!
Did Miley get botox on her face?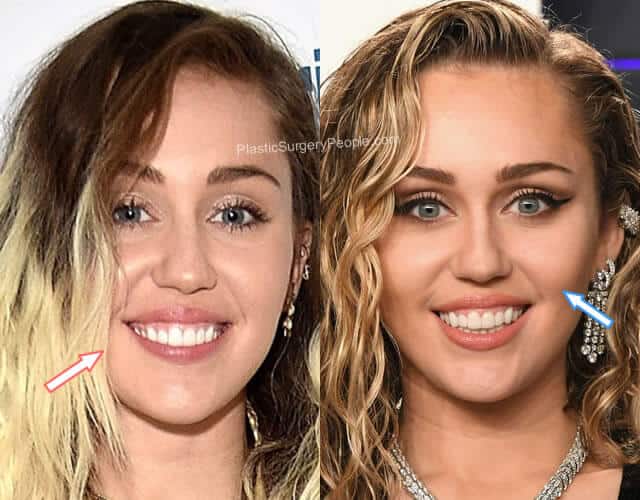 Miley is too young to get botox on her face. So, any rumors saying that she's getting botox injections are completely off the mark. She's in her mid-'20s and doesn't have to worry about lines and wrinkles for the next 10 years, I would think. The fact that she's a vegan might have helped her maintain a gorgeous and flawless skin, too.
Does Miley have lip injections?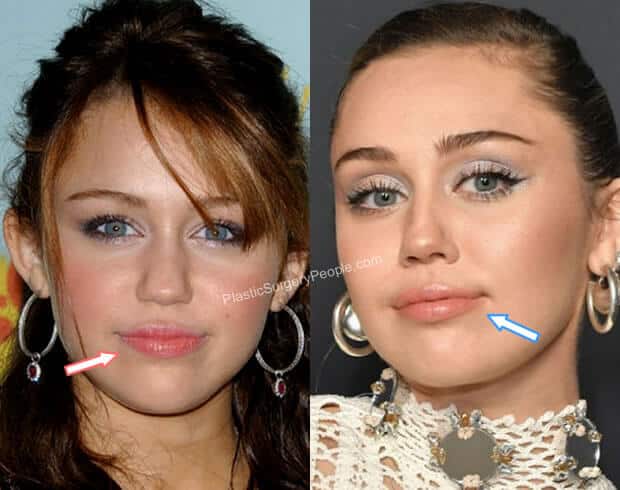 I actually watched Miley on "The Voice," where she was one of the singing mentors. The thing that I noticed about her most, aside from her big round eyes and crazy outfits, are her beautiful lips. I must admit that I have suspected her of getting lip injections.
However, after comparing these before and after pictures, Miley's lips look naturally puckered up even when she was young. This is particularly evident on the top lip so I don't think she needed fillers to enhance them.
What about teeth braces and veneers?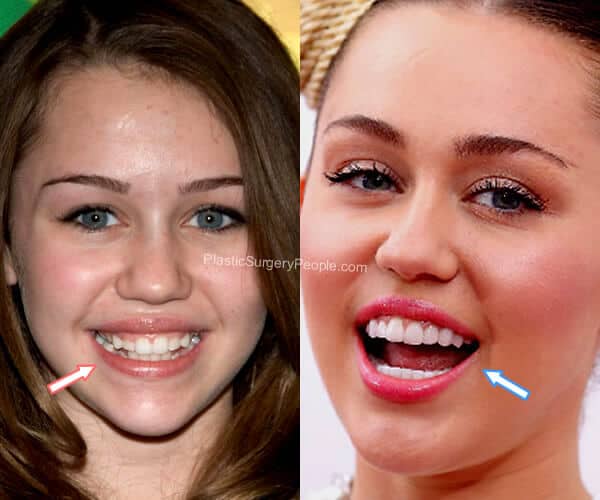 This girl definitely did undergo cosmetic dentistry. She has much better-looking teeth now than before. Her dental procedure looks extensive because of her prominent gums (see photo on the left) but that seems to have been fixed now (see photo on the right).
You can also see signs of braces by looking at her bottom row which has clearly been straightened. The singer wasn't shy about sharing her dental work on social media either when she was 22 years old. Miley even posted photos of the molars that the dentist took out and it seems like she has veneers for her upper teeth.
Miley Cyrus: Then and Now
Let's check out how different Miley looks before she became famous as we dive deeper into her transformation over the years.
Early childhood
An adorable Miley Cyrus was nicknamed "Smiley" by her parents because she smiled a lot. Thus, the nickname stuck and was shortened to Miley.
Miley in 2004
The actress was 11 when she auditioned to be Hannah Montana. She looks like a vibrant and spunky child and those eyes also smiled when she smiles.
Miley in 2006
Miley became a certified teen idol following the massive success of "Hannah Montana." She has maintained that adorable smile and spark on her face, which was why young girls continued to idolized her back at the height of her Disney popularity.
Miley in 2008
She's slowly growing up. Miley kept her dark long curly tresses the way it was for years because it was part of her "Hannah Montana" persona. I have to mention that Miley has sexy long legs and she modestly showed it off in this outfit with the gradient blue above-the-knee dress and half-boots.
Miley in 2010
Hannah Montana is now a woman at 18 years old, which was hard to digest for some parents with young girls. I think her makeup here was nicely done and she tamed her curly looks by straightening out some of the waves and changing her hair color, which made her look sexier.
Miley in 2013
The drastic change began with Miley chopping off her locks. This hairstyle made Miley go from "nice" to "naughty" and some people couldn't handle the change. Although she looked different, there were no signs of cosmetic surgeries anywhere on her face and body.
Miley in 2015
Miley was every-inch a grown-up in this black dress for the Grammys. The brushed up short hair and no jewelry were a nice touch because the focus was on her dress with the asymmetrical cut. It hugged her shapely figure perfectly.
Miley in 2017
For some reason, I see some resemblance to a young Madonna in this photo. What do you think? I'm not especially fond of her white off-shoulder top but I think she carried it well with the matching white pants, layered jewelry, and cowboy hat.
Miley in 2019
She looks quite odd in this photo from the Met Gala. It could be the over-styled hair. It looks too flat and straightened, and the photographer caught her with an odd pose. Still, her big round eyes draw all the attention. It's just so blue and bright.
While there were talks that the singer had her nose thinned, but I think it's simply the magic of makeup.
What does Miley Cyrus say about plastic surgery?
In 2011, Miley, who was then 19, addressed rumors that she had a breast augmentation. Posting on Twitter, the superstar said:
"Thank you for the compliment but these babies are all mine. I wish they'd realize you don't have to be fake to be beautiful!"
More Info about Miley Cyrus
Real Name: Miley Ray Cyrus
Birthday: 23 November 1992
Star Sign: Sagittarius
Birth Place: Franklin, Tennessee, United States
Nationality: American
Race / Ethnicity: English, German, French, Irish, Scottish, Dutch
Occupation: Singer, Songwriter, Actress, Voice Actor
Net Worth: $200 Million
Relationship: Married to Liam Hemsworth
Children: None
Height: 1.65 m (5 ft 5 in)
Weight: 48 kg (106 lb)
Body Measurement: 34-23-32 Inches
Bra Size: 32B
Dress Size: 2 (US)
Shoe Size: 7 (US)
Natural Hair Color: Brunette
Natural Eye Color: Blue
Conclusion
I'm part of the unpopular opinion that Miley Cyrus is an all-natural beauty. Apart from her dental fixes, I don't think she has had any other procedures done to her face or body just yet.
It doesn't look like Miley got a boob job nor a nose job. In fact, it will be a while before she'll even consider any anti-aging treatments because of her age. She doesn't need these for now.
In due time, I wouldn't be surprised if she did get cosmetic surgery. And only because I think she's a woman who will boldly try anything once. But for all her controversies, I appreciate that Miley lives her life by her rules, which is actually quite hard to do if you're a Hollywood celebrity and has to maintain an "image."