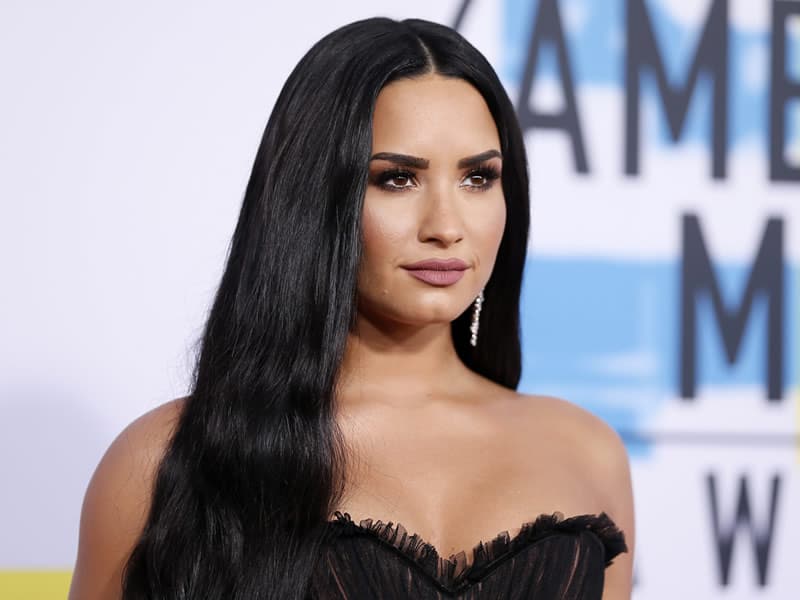 The gorgeous looking Demi Lovato is more than an award-winning pop music artist. Still in her '20s, the former Disney star has earned lots of accolades and even landed the 26th spot in Maxim's Hot 100 list.
Public visibility on TV, concerts and social media, however, makes Demi the subject of much observations and scrutiny. People often wonder if she got plastic surgery and if she did, what drastic changes has she done to her face and body to improve her looks?
While young girls look up to her for style ideas, Demi admitted that she has body image issues from as young as 3 years old. Growing up with a mother who suffered from bulimia certainly wasn't easy. It also made an impact when Disney asked her to fix the gap on her teeth when she was younger.
Demi also had insecurities about her body including her thighs, legs, and butt that she often criticizes herself in front of the mirror. She also said in an interview with Miami Y100 radio that she won't mind getting breast implants at all because her boobs are, apparently, the size of mosquitoes.
Although the star strived for perfection in her younger years, Demi has never admitted to cosmetic procedures such as nose job or lip fillers, other than the joke about her breasts. Instead, she discusses her battle with anorexia in public and shared really skinny pictures of herself on Instagram.
Before and After Photos
So has Demi Lovato ever had cosmetic surgery to look beautiful and conquer her insecurities? Let's examine photos before and after she became famous to find out.
See our "exclusive" comparison photos below:
Did She Have A Boob Job?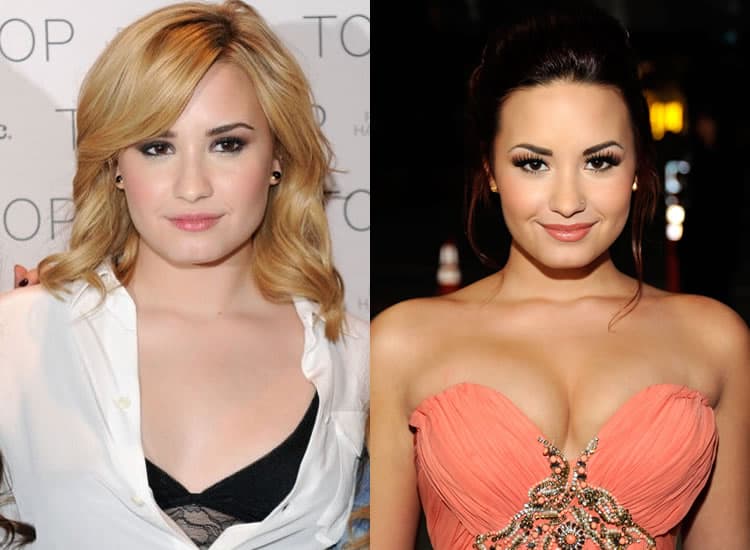 The "Skyscraper" hitmaker grew up in the limelight, hence her body was still developing when she burst at the scenes. But in recent years, Demi's boobs seemed to have gone up a bra size or two. She's also now proudly showing off her cleavage whenever she's on the red carpet.
If you look at the "before" picture above, Demi's chest used to be flatter but today her breasts appear rounder and much fuller, prompting rumors of an augmentation. After all, she said before that she's not opposed to a surgery, so she might have actually gone ahead with a boob job.
What do you think? Are those fake implants or just the magic of a push up bra?
Does Demi Lovato Have Butt Implant?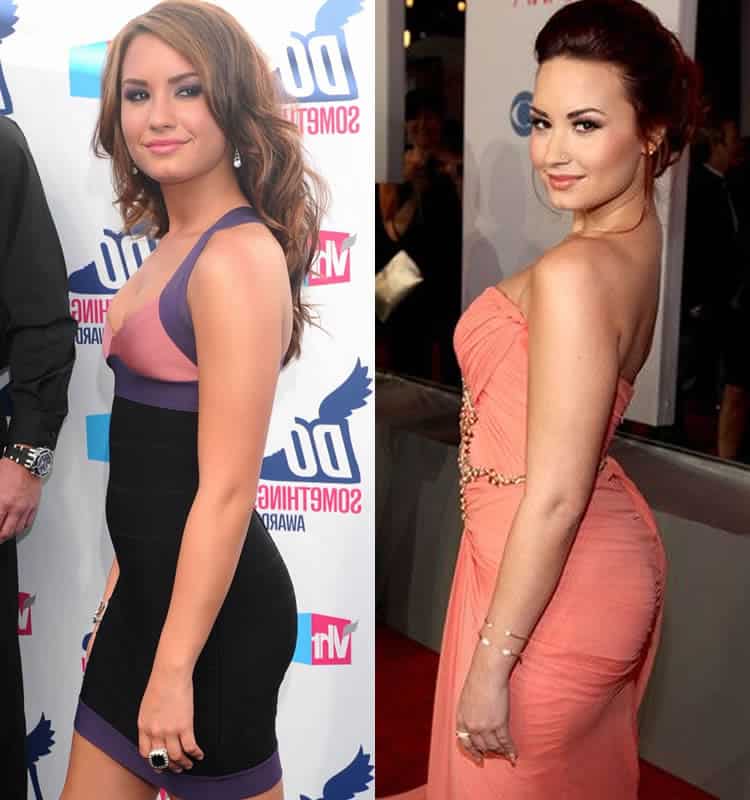 Demi's buttock is the star of her Instagram timeline. We've lost count of the number of times she has posted pictures of her sexy curves, although we don't mind it….at all! Her bottom is so rounded and fleshy these days that some fans think she might have gotten butt injections.
The "Sorry Not Sorry" singer, however, deny the butt implants rumors. The size and shape of her bum are actually because she has some butt-kicking workout routines. FYI, Demi even took up Brazilian Jiu Jitsu to keep fit.
Did Demi Get A Nose Job?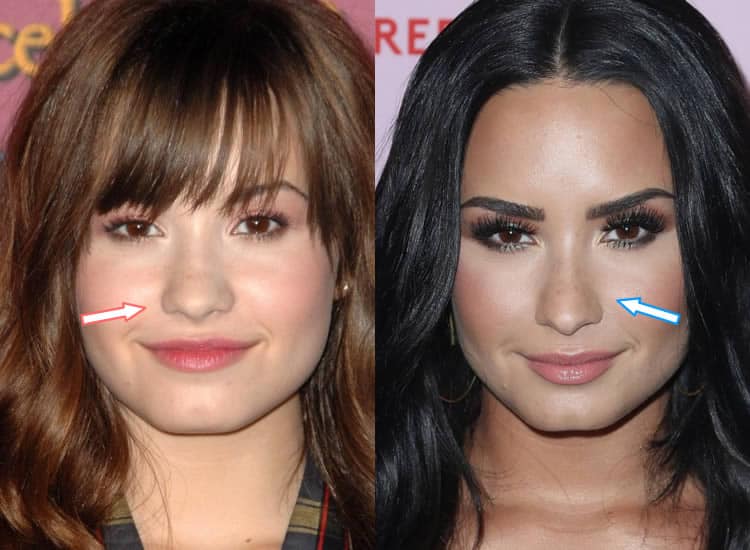 Not sure if weight had anything to do with it, but Demi's nose used to be rounder, wider and slightly flat. It looks like she might have turned to rhinoplasty to improve its shape and size.
If true, then the nose job was superbly done by her plastic surgeon as it wasn't overdone at all. Her nose's bridge looks sharper and the tip appears slightly downturned.
The actress and singer never admitted to the procedures on her nose though.
Has Demi Had Work On Her Teeth?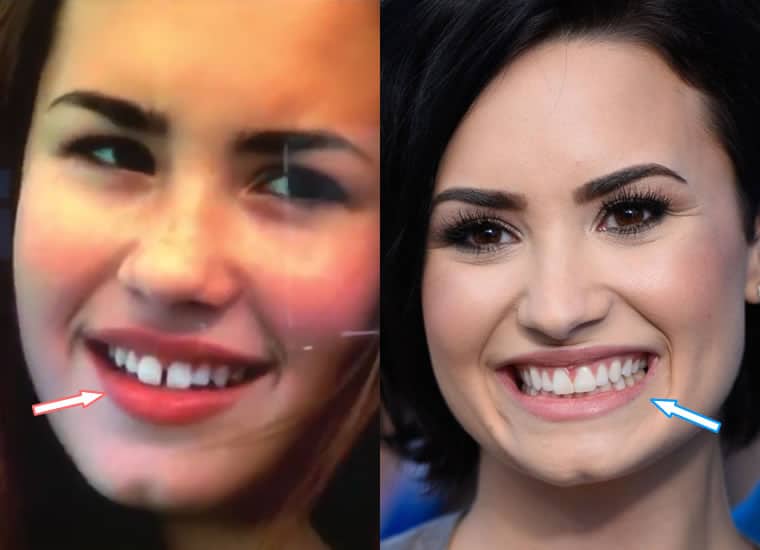 She had a large teeth gap as a kid and yes, a dentist fixed these by order of Disney. The star herself revealed this bit in interviews. She said that she had her teeth done before working on "Camp Rock."
Demi's teeth might have likely been fixed with braces first and later, she got veneers for a more cosmetic transformation. She can now smile for the cameras perfectly.
Disney is no doubt happy with her front tooth today but Demi thought her old teeth still looked cute anyway. She told Allure magazine that she should have kept her teeth gap.
Demi Lovato Transformation
Over the years, Demi would transform her appearance looking better and better. Let's see how her looks and styles have changed throughout the years and we may even pick up other plastic surgeries along the way.
Early Days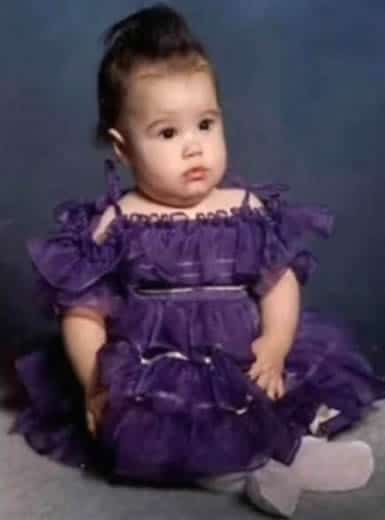 Source: Reddit
What a cute baby picture! Like most babies, Demi Lovato had fat arms and chubby cheeks. We bet many people came up to her mom to say she has an adorable-looking child.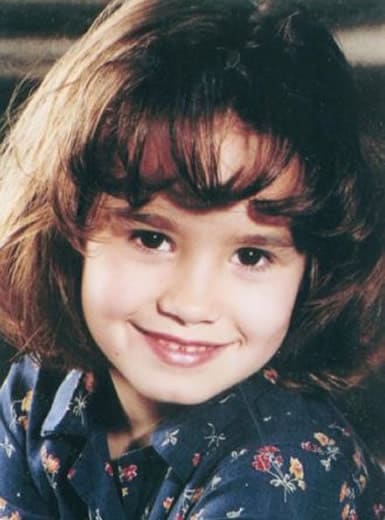 Source: Pinterest
Demi had beautiful eyes and eyebrows as a child. Doesn't her younger-self look so overly sweet in this photo, with that wisp on her hair and that shy smile?
Year 2002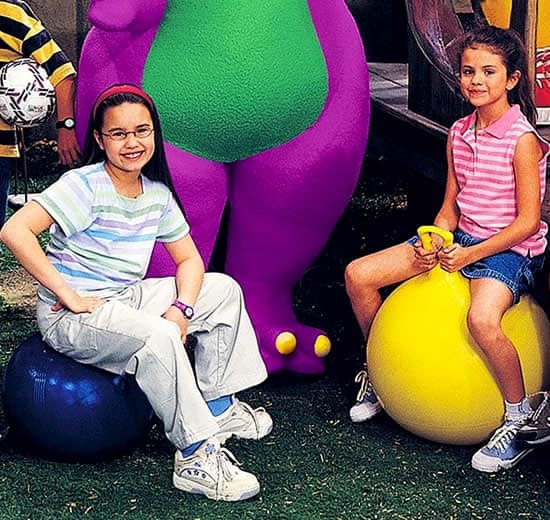 Source: Twitter
Demi started her Hollywood career by appearing in the famous children's TV show "Barney & Friends." She was wearing glasses then and had a rounder face shape. As a kid, Demi already had a lot of talent potential.
Guess what? She's in this photo with a young Selena Gomez. Cute, huh?
Year 2007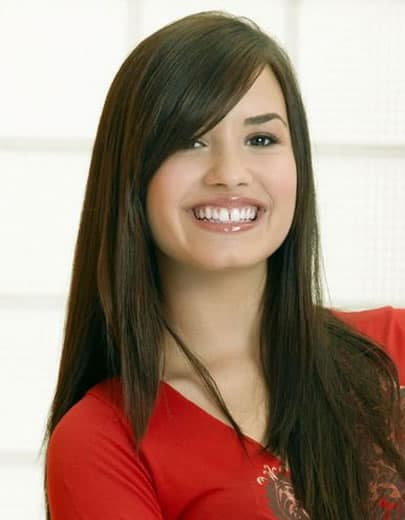 Source: Pinterest
Demi auditioned on "As the Bell Rings" with a prominent tooth gap and won the role of Charlotte Adams. Imperfect teeth aside, Demi had the markings of a pretty star with her straight hairstyle and perfectly shaped eyebrows and lips.
Year 2008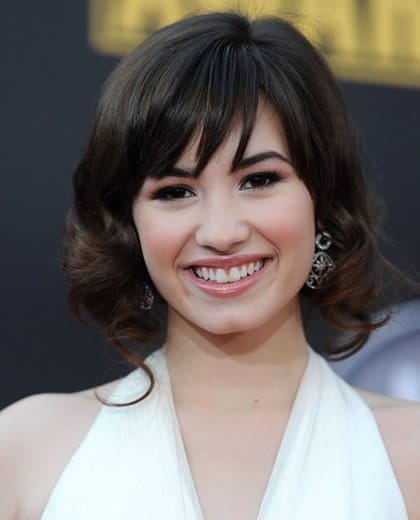 Photo Credit: Getty
This was the year that Demi debuted her first album "Don't Forget" and she also fixed her teeth. Yes! The front tooth gap is no longer there, can you see?
The young singer also started doing her hair and makeup more maturely. Her pretty face with the blushing cheeks shines through.
Year 2010
Credit: Getty Images
Miss Lovato graced the Kid's Choice Awards with a skinny body shape and thinner legs and thighs. No, she didn't have liposuction. In fact, this was one of the times she suffered from an eating disorder and had to be secretly checked into rehab to overcome her condition.
Year 2011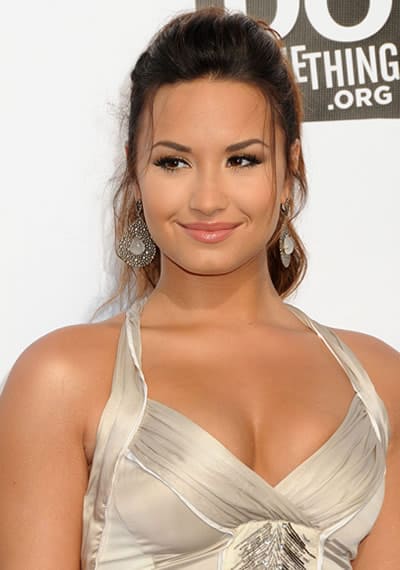 Photo Credit: Getty Images
At a VH1 event, Demi startled fans when she appeared with a fuller, healthy body and busty chest. Talks that she had a boob job sparked because her breast size changed almost overnight.
Rumors also buzzed about Demi's possible nose job. It's not clear how much her face has changed though because if she did get her nose done, it was subtle.
Year 2013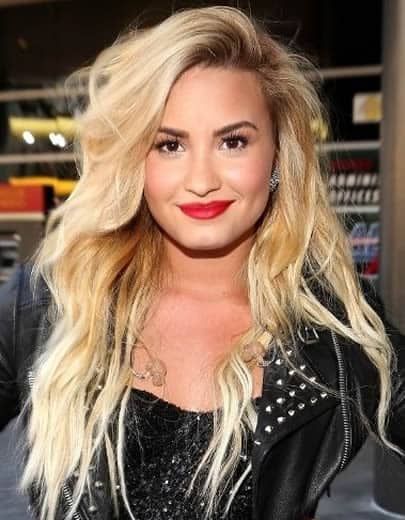 Source: Facebook
As a judge on "The X Factor" in the US, Demi sported long blonde hair. She was going for a glam look with bold red lipstick. The makeup and style suited her.
Year 2015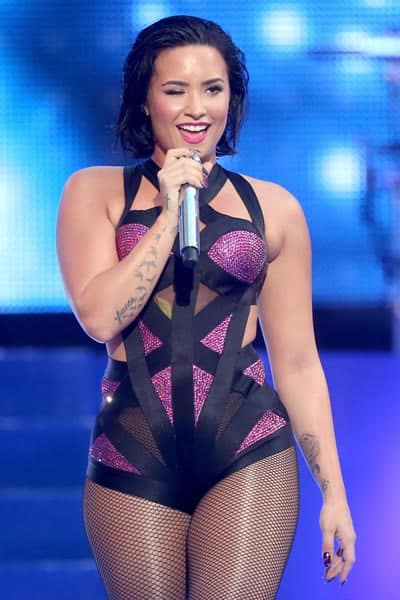 Image Credit: Getty
Demi went with a short hairstyle this time and went back to her black hair color, too. She showed off her tattoos and body art in this costume during a performance at the MTV Video Music Awards in Los Angeles.
She obviously gained weight and had big thighs, which would have been a problem for her before. But today, she's all about body positivity. Love her!
Year 2017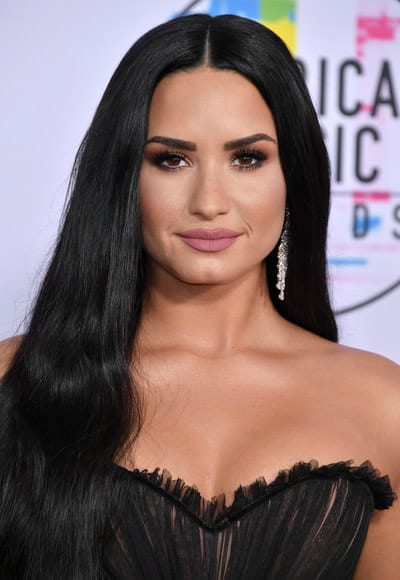 Picture Credit: Getty
Demi looked radiant at the American Music Awards event, with her bronze and flawless skin. Whatever her skincare routine is, she should stick with it. She looks really good with this simple makeup.
Her nude lipstick made her lips appear fuller, but could it be the effects of lip injections? Meanwhile, fans speculated Demi had a chin implant because of the slight change in her chin. But we doubt this was one of her cosmetic surgeries.
Year 2018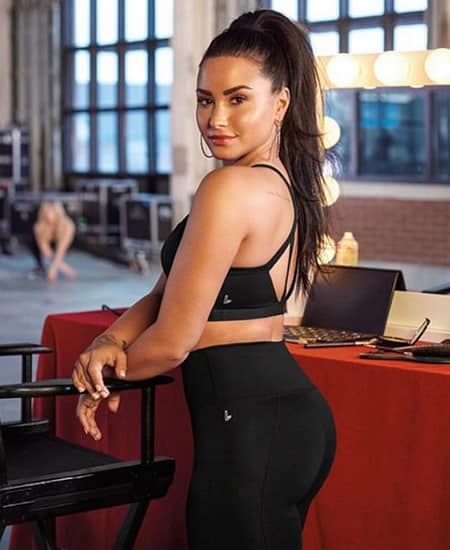 Source: Instagram @ ddlovato
Demi keeps in great shape with a regular gym workout. She said exercise rewards her with a toned body and denied the rumors of a butt augmentation.
The "Confident" singer works hard to keep fit and said she's feeling a lot healthier after her bout with an eating disorder.
More Information About Demi Lovato:
Real Name: Demetria Devonne Lovato
Birthday: 20th August 1992
Star Sign: Leo
Birth Place: Albuquerque, New Mexico, United States
Nationality: American
Race / Ethnicity: Mexican, Spanish, English, Irish
Occupation: Singer, Songwriter, Actress
Net Worth: $40 Million
Relationship: Unknown
Children: None
Height: 1.61 m (5 ft 3 in)
Weight: 58 kg (128 lb)
Body Measurement: 34-28-36 Inches
Bra Size: 34B
Dress Size: 8 (US)
Shoe Size: 7 (US)
Natural Hair Color: Dark Brown
Natural Eye Color: Brown
Conclusion
Since Demi Lovato used to have issues with her body, so we wouldn't be surprised if she had plastic surgery to achieve a more perfect appearance. If she did, however, then the beauty enhancements were very subtle and well done.
After analyzing many of her before and after photos, we think there's a chance that she might've had a boob job and a nose job. Although it's also possible that she could have achieved a fuller cup size with the help of a good push up bra.
Demi, however, said that she's embracing her imperfections now that she's older. Denying rumors of lip injections and butt implants, the former Disney baby said that an intensive body workout and good diet help tone her muscles.
Whether the singer possesses natural beauty or had help from docs, we think she's absolutely stunning inside out and there are absolutely no reasons why she needs to be insecure about her flaws.
(Featured Image Credit: Getty)