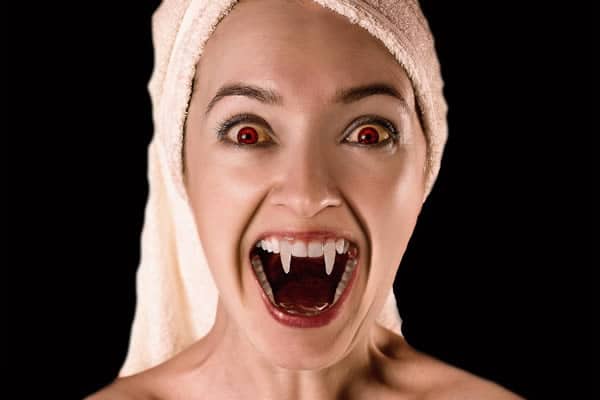 Ever wanted a subtle boob job that doesn't require surgery?
Perhaps you've heard about the uneven results associated with some fat transfer breast augmentation?
Well..a vampire is now offering to help and all it takes is just a few bites (needle pinches). Introducing a new way of returning your breasts to it's good old days, 'Vampire Breast Lift®'.
Many women experience sagginess and loss of volume when they reach a certain age. Mothers who have breastfed will often notice the top of their breast or cleavage losing firmness. The shape of the breasts tends to descend and as a result, skin starts to sag, wrinkles starts to appear and the nipple loses it's sensitivity.
What these women want may not necessarily be an increase in cup size, which is not what Vampire Breast Lift was designed to do in the first place. Instead, they're looking for a way to regain confidence, by rejuvenating the elasticity and volume of their boobs by giving it a little lift.
What Is Vampire Breast Lift?
If you can remember Kim Kardarshian's famous blood soaked selfie, then you would most definitely have heard of the Vampire facelift, which uses the person's own blood to rejuvenate the face skin.
The vampire concept was invented by MD, Charles Runels, who ulitized the idea of surgeons mixing fat with blood derived growth factors in fat grafting in order to improve the fat's survival chances. He would use the blood that's drawn from the patient's arm, spun it through a centrifuge in order to separate the platelet-rich plasma (PRP) from the blood.
The PRP is then reinserted into the patient's face and the blood derived growth factors stimulated the collagen of the skin, giving the patient a renewed and glowing face. This method was later tested onto patient's breasts and Charles found that the PRP helped patients achieve a fuller, perkier and plumper breasts.
What Does It Do For Me?
A vampire breast lift is NOT a substitute for breast implants or fat augmentation. It does NOT increase the actual cup size of the patient. However, it will provide the following benefits:
– Improve firmness
– Repair Inverted Nipples
– Perkier / Pinker Nipples
– Fuller and Rounder Cleavage
– Smoother Breast Skin
– Restore Sensitivity Of The Breasts
How Long Does The Procedure Take?
Depending on your end goal, the actual procedure will take approx. 15 mins to finish. About 60 minutes in total which includes consultation time, getting consent and the actual treatment.
So it's really just a walk in and walk out process.
How Long Do The Results Last?
According to cosmetic dermatologist, Charles Runels, the effects of the procedure will last for at least 1 to 2 years!
How Much Does it Cost?
Approx. US $1800 depending on what you're trying to achieve.
Where Can I Get Vampire Breast Lift?
The procedure is available in a number of countries and in most States in America. However, please note that only members of the Vampire Breast Lift ® Provider Group are licensed to perform the procedure.
So if you're interested, make sure you visit the official website to find a licensed provider.