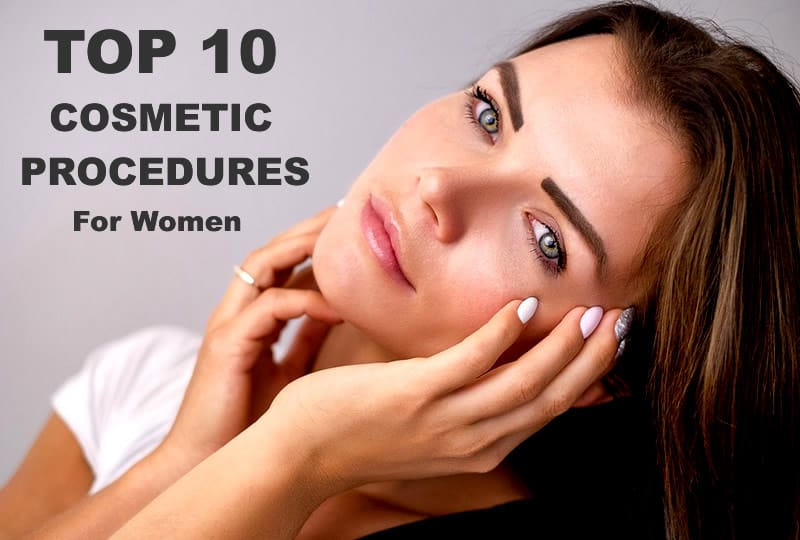 Society used to frown on plastic surgery procedures that didn't have a medical purpose. There was a time when women who were speculated to have gotten their face and body fixed dealt with so much stigma, especially among celebrities.
But the tides seem to be changing based on the latest trends in cosmetic surgery. It's clear now that while nobody can be perfect, more females are open to changing and improving their looks with the help of plastic surgeons.
Evidently, in a matter of five years, cosmetic surgery demands continued to rise. In fact, there have been a 57.5 percent increase among women who underwent breast lift and a whopping 98.1 percent increase in women who have gotten a buttock lift from 2012 to 2017, according to the statistics from the American Society of Aesthetic Plastic Surgery.
So, what else are women going for when it comes to improving their appearance? Listed below are the most popular surgical and non-surgical procedures that women have been asking from their cosmetic surgeons in 2017 to improve their self-image and confidence.
Top 10 Surgical Procedures
1) Breast Augmentation –

333,392
Breast augmentation involves either an increase in cup size or an enhancement of the breast shape with breast implants. As there are no perfect breasts, a good cosmetic surgeon should know to make the augmentation appear naturally full and symmetric.
Also known as a boob job, this procedure should fit a woman's body type, although celebs such as Nicki Minaj have been rumored to use implants to achieve her unique body shape.
Between 2016 to 2017,  there was 6.6 percent increase in women who asked for this procedure.
2) Liposuction –

273,829
Liposuction helps women get rid of the stubborn fat, especially around the lower body. While there's always diet and exercise to burn those fats, sometimes losing weight can result in a disproportionate figure.
You might have successfully lost 100 pounds but what will you do with those flabby arms and abdomen? Liposuction fixes those problems by contouring and reshaping your body.
3) Breast lift (Mastopexy) –

142,710
Breast lift, also called mastopexy, works to reshape and restore the firmness of sagging breasts. It helps women who are otherwise happy and comfortable with their breast size, but might still have issues with it following a pregnancy or breastfeeding.
Unlike breast augmentation, this procedure might not necessarily need implants or fat transfer, since women basically just want to restore their breasts' former youthful perk.
4) Tummy tuck (Abdominoplasty) –

132,258
A tummy tuck works for healthy women whose main problem area is a muffin top that won't go away no matter how much they diet and exercise. So, for women who have an ideal body weight but deal with a loose and sagging stomach, the answer to your body image issue could be abdominoplasty.
It is also one of the most effective ways to get rid of loose skin around the tummy area.
5) Eyelid surgery (Blepharoplasty) –

123,079
Eyes are perhaps one of the most important features on a woman's face, which is why it's not surprising that there's a substantial increase in demand for an eyelid surgery procedure among women, as its up from 33.5 percent in five years.
Blepharoplasty gets rid of those heavy bags on the lower eyelids, as well as trim the excess skin on the upper eyelids that could droop and make a woman look older.
You've heard the phase, "The eyes are the windows to the soul," right? Of course, you'd want your eyes to reflect your best self with this simple procedure. Stars like Renee Zellweger has been speculated to have undergone eye surgery to maintain her eye attractiveness.
6) Facelift (Rhytidectomy) –

74,236
A facelift, also called rhytidectomy, corrects the imperfections on the face and neck as a result of aging. It removes the visible lines and folds, and takes out the jowls, loose skin and excess fat.
While it's not meant to stop growing old or completely change the appearance, a facelift does give women confidence when they see their rejuvenated image on the mirror.
7) Breast Reduction –

71,422
Breast reduction surgery helps women who are agonizing over their large breasts. Yes, those can be problems too, as heavy breasts sometimes prevent women from doing regular physical tasks and can cause discomfort. Just ask Amber Rose and she'll tell you how happy she is to have reduced her breast size.
Women who aren't happy with a big cup size for aesthetics reasons can also opt for breast reduction. Whatever makes a woman feeling uncomfortable about themselves, plastic surgery almost certainly has a way to fix it!
8) Fat Transfer (Face) –

50,384
Fat transfer uses a woman's body fat to plump up or even out an area on her face to get the desired look. There's a liposuction involve to take a small amount of fat — usually from the abdomen, buttocks or thighs — to inject on the face, usually on the lips, chin or cheeks.
This procedure also helps diminish wrinkles, frown lines and depressions on the face, where a dermatologist's expertise won't be enough.
9) Breast Implant Removal –

45,024
Thousands of women are turning to breast implant removal for the very reason that they got an augmentation in the first place. It's to restore the "natural" fullness of their breasts.
Some women might have gotten bigger boobs before but want to change to a smaller size for their comfort and confidence. So, they have their previous boob job reversed. Ultimately, it's really about having the body you are contented with.
10) Nose Surgery (Rhinoplasty) –

32,294
Also termed as rhinoplasty or a nose job, nose surgery used to be undertaken to correct breathing problems or other birth defects. Today, however, women undergo this procedure to correct the size and shape of their nose for balance and symmetry on the face, and to make them look more attractive.
This is one of the most popular procedures in Hollywood and apparently, Jennifer Aniston's nose have been widely speculated to have undergone this very same procedure.
Top 10 Non-Surgical Procedures
1) Botulinum Toxin (Botox, Dysport, Xeomin) –

1,387,838
Botox remains the most popular non-surgical procedure in women because it's effective, pain-free, slightly permanent and is a quick fix for younger looking skin. A woman can come into her surgeon's clinic during her lunch hour and come out looking like she reversed her age by 5-10 years.
The procedure also doesn't require downtimes and women can put on makeup right away if they want to. In the last few years, botulinim toxin injections such as Botox, Dysport and Xeomin have also become more affordable, hence women are making a beeline for it.
2) Hyaluronic Acid –

675,829
Women like getting Juvaderm and other similar cosmetic fillers to address wrinkle problems as well. It also treats a myriad of dermatological problems like scars from acne, burns or wounds, smoker's lines, crow's feet and frown lines on the forehead and lips.
3) Hair Removal (laser or pulsed light) –

159,862
Laser hair removal is actually an FDA approved cosmetic procedure. This perhaps answers why it's still a top pick for women who wants hairless skins because it's deemed safe to undergo. The procedure is also quite affordable and takes a short period to perform.
Intense pulsed light (IPL) hair removal, on the other hand, makes use of a spectrum of lights to penetrate to the skin and hair follicles. It's a much more affordable procedure than laser.
Achieving smooth skin and beauty satisfaction has never been so easy with these two options!
4) Nonsurgical Fat Reduction –

157,383
Removing stubborn fats without surgery is the perfect procedure for women who have doubts about liposuction but still want to reshape and contour their body. It's performed without the need for anesthesia and there are no visible scars as well.
Women also don't have to undergo downtimes or a recovery period in a nonsurgical fat reduction procedure. Popular names for this treatment include CoolSculpting, Vaser Shape, Liposonix.
5) Chemical Peel –

112,024
Chemical peel is perhaps one of the oldest cosmetic procedures but doctors saw a rebirth in the demand for this treatment in the last few years because it's really effective. This procedure treats acne problems, skin discoloration, age spots, freckles, sun damage and other skin problems. It's a relatively light treatment that brings great results and helps women look refreshed.
6) Photorejuvenation (IPL) –

104,118
Photorejuvenation uses intense pulsed light (IPL) to treat dark spots, stretch marks, sun damage, spider veins, wrinkles and uneven skin texture. It offers women a more radiant and younger-looking skin without worrying about the side effects. Who can say no to this?
7) Microdermabrasion –

103,381
Microdermabrasion helps women with mild acne scars, skin discoloration and dull-looking skin. Women can choose to get treatments every week or every other month, depending on their tolerance.
Think of microdermabrasion like as similar to removing plaque on the teeth but in this case, it's clearing out the skin debris to give women clearer, healthier and radiant-looking skin. We suspect Kim Kardashian is a long term client for this type of beauty treatment.
8) Nonsurgical Skin Tightening –

61,238
Nonsurgical skin tightening procedures are more popularly known by their names — Ulthera, Thermage or Pelleve. This treatment targets the skin's deep layers to improve collagen production that helps with sagging skin.
Women normally go through several sessions and notice their skin's texture and tone gradually improving with each treatment. The end result? A firmer, smoother and younger-looking skin!
9) Micro-Ablative Resurfacing (fractional resurfacing) –

55,409
If pore size and deep wrinkles are your problems then this is the fix. Skin resurfacing dissolves the damaged skin cells one layer after another to rejuvenate a smoother and clearer skin. It's great for women looking for anti-aging skin solutions.
10) Calcium Hydroxylapatite (Radiesse) –

38,123
Calcium hydroxylapatite is more popularly known by its brand name, Radiesse. It works to add volume to the cheeks, jaws or hands, where there's fat loss. It also smoothens out the wrinkles and the folds around the nose and mouth.
Compared to other fillers, Radiesse works best for deeper folds and lines. Calcium hydroxylapatite is made from natural substance, hence there's little risks of allergic reactions.
Cosmetic Surgery Is Still On The Rise!
The numbers speak for itself. Women plastic surgery saw an 11 percent rise in demand between 2016 and 2017 and a 27.6 percent rise since 2012. Non-surgical cosmetic procedures, on the other hand, saw 4.2 percent rise between 2016 and 2017, and a 37.6 percent rise since 2012.
In these years, however, women have become more aware and educated about cosmetic surgeries and there's a shift around the stigma. Women from their early 20s or late 50s are now more open to discussing about going under the knife or getting treatments done to make themselves self-assured, confident and prettier.