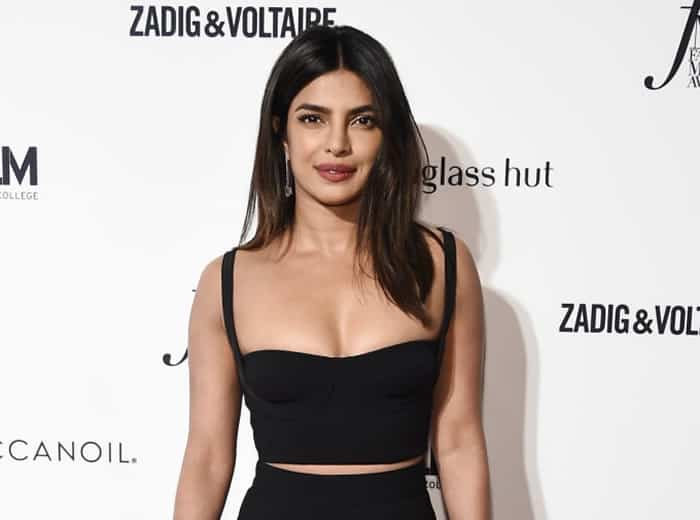 Priyanka Chopra is one of the highest-paid actresses in India. Being the child of an army doctor and a gynecologist, she originally wanted to become an aeronautical engineer but her career plans changed after winning Miss World in 2000, when movie offers started pouring in.
As a famous Bollywood star and an international beauty queen, Priyanka is a shoo-in for Hollywood stardom. But it took her at least a decade to break the barriers overseas. However, being in the public eye has made this hot "Baywatch" babe the subject of plastic surgery rumors.
On the screen, Priyanka has such a commanding presence that viewers and critics alike can't help but be in awe of her beauty. Her busty body shape has constantly been under scrutiny with some claiming that the actress had a boob job to increase her breast size. Unfortunately, she's also been accused, bullied and trolled on social media for allegedly getting several other plastic surgeries and then denying about it in public.
Some critics say that Priyanka is not a natural beauty suggesting that her face was artificially enhanced. Among the facial procedures includes a rhinoplasty, lip fillers, facelift, and even botox injections.
The truth is, she has easy access to these procedures because apparently, she knows plenty of cosmetic surgeons. Her parents actually manage a successful cosmetic clinic in India called Studio Aesthetique.
But then, did Priyanka ever taken advantage of her "connections"?
Well…let's find out!
Before & After Photos
So how much did Priyanka's beauty change and is it because of cosmetic procedures? Let's go over this series of photos before and after she became famous to find out.
Did Priyanka have nose job?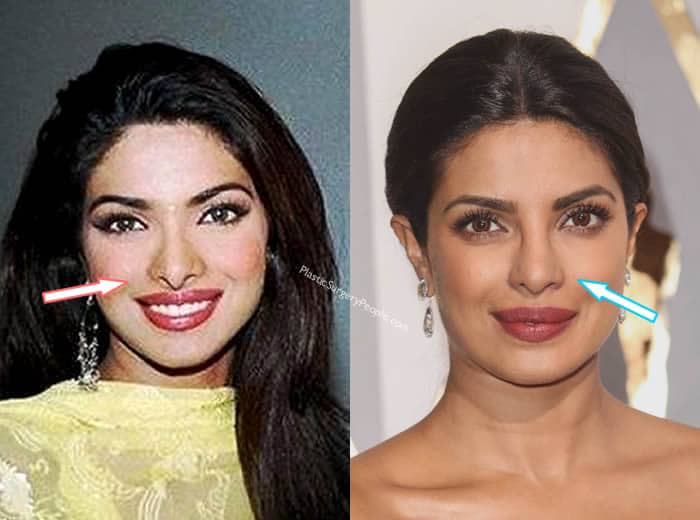 There appears to be a big difference with Priyanka's nose shape in these before and after comparison pictures. Her nasal bridge was clearly thinner but more elongated in the earlier photo, while the size of her nose tip was quite prominent almost touching her lips. Some people would probably call it an "eagle nose".
So, is the difference due to makeup or did she really get a nose job? Our money is on the latter and if this is true, then her surgeon has done an amazing job as her post-surgery nose looks cute. You can also see that the gap between the tip and her upper lip has greatly reduced.
Rumors also swirled that Priyanka lost several chances to star in eight movies early in her career because of a botched rhinoplasty. The actress, however, has never acknowledged the stories that came out in her unauthorized biography.
Has she had breast augmentation?
When she was just starting to compete in the pageant circuit, Priyanka's boobs were small and some may even say flat. To be fair, she did have a slimmer body back then. Years later, however, her bust size seemed to be much rounder and fuller, and she may have gained 2kg to 5kg max.
Talks about her having breast implants began to surface among her followers. Based on these photos, it's difficult to conclude if her boobs are real or fake — there's actual change right there, but could this be the result of push up bras? Her bra size today is an ample 35B when it used to look a lot smaller. What do you think?
Does Priyanka chopra have lip injections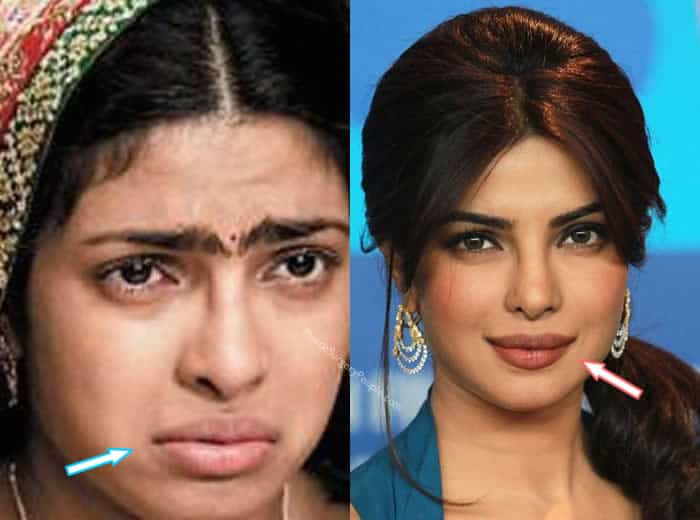 Chopra's lips have a natural fullness, especially in the lower part. It's already thick and plump, and the kind of lips that most women would be envious about. So it really did puzzle us when we heard rumors that the actress wasn't completely satisfied with it and that she wanted Julia Roberts' lips.
After doing numerous analysis and comparisons just like we have done many times with our before and afters, we have only been able to spot a slight difference with her earlier pictures.
So, we are inclined to believe that the Quantico star has never had lip injection. She doesn't need it!
See also:
Did Priyanka get her teeth done?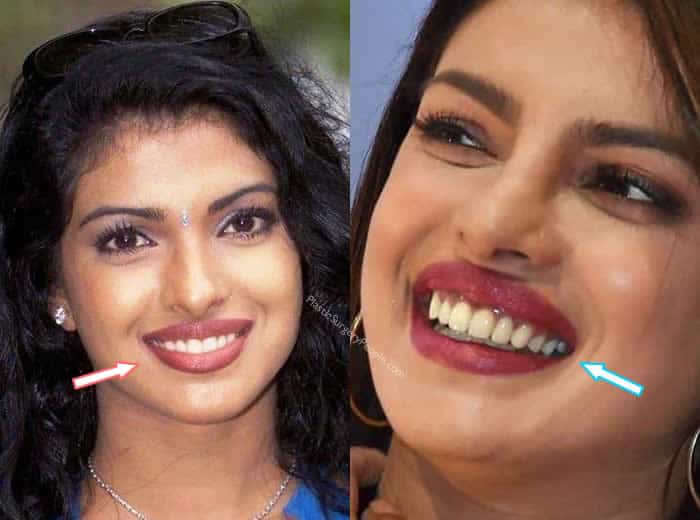 As an Indian celebrity with one of the most gorgeous smiles in the business, Priyanka's teeth needed just a few dental treatments, especially on the backside of her mouth. It's unclear if the actress wore braces as a child and it doesn't look like she needed veneers from a dentist either.
While she does show her gumline at times during her laughter, but we doubt that a gum reduction surgery has ever crossed her mind.
Priyanka Chopra's Transformation
There's no denying this Bollywood actress is a beauty, you might still be surprised at her transformation. Let's go over some pictures of hers back then and now to see if there are any cosmetic surgeries we've missed.
Baby Priyanka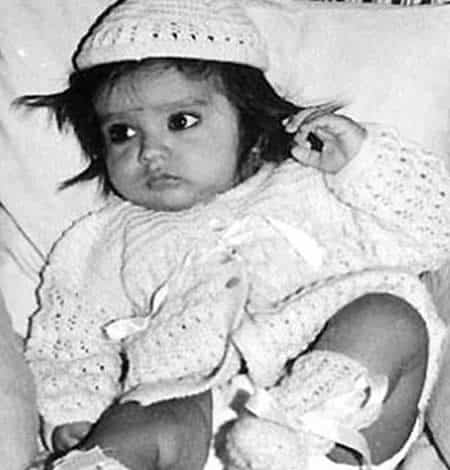 Source: Twitter
Priyanka Chopra's cute baby photo proves she was born with big doll-like eyes. She had such chubby legs and those cheeks are irresistible!
Childhood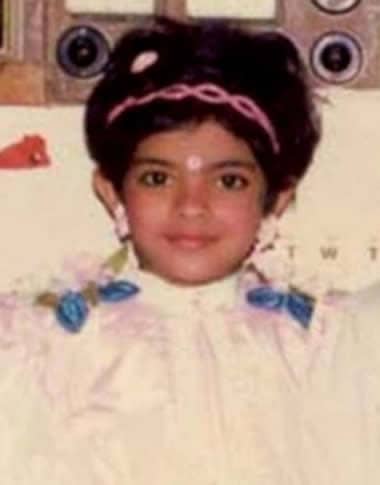 Source: Twitter
Priyanka had a sweet face as a child. She was already a pretty girl even then, despite this wild hairstyle. She had a traditional bindi on her forehead, which symbolizes a lot of things in Hindu culture.
Teenager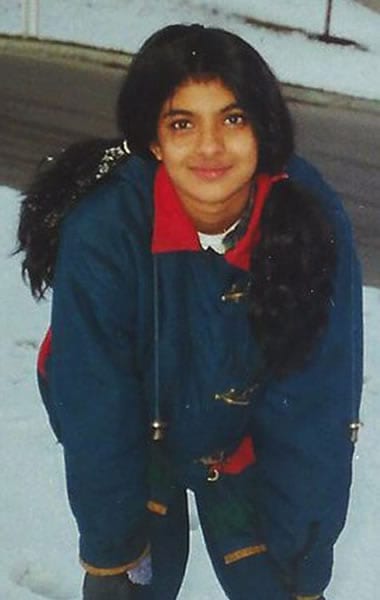 Source: Facebook
Here's Priyanka playing in the snow. Although she was born in India, she spent part of her growing up years in the U.S. As a teen, Priyanka had long hair that would become one of her valuable assets as a Bollywood beauty. She had a rounded face shape then but with a slightly pointy chin.
So, if anyone questions whether she has a chin implant, this is perhaps your answer!
Year 2000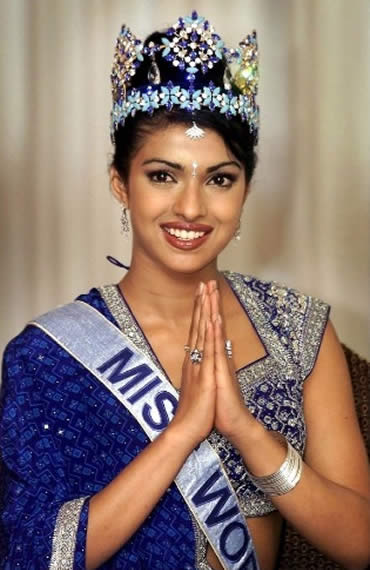 Source: Pinterest
At 18 years old, Priyanka bagged a major international beauty pageant title as Miss World 2000. Her beautiful face and plumped cheekbones made her stood out in the contest. This is her official photo as the winner. Her crown is magnificent, isn't it? But notice her cup size here. It could be proof that she had her breast augmented later on.
Year 2003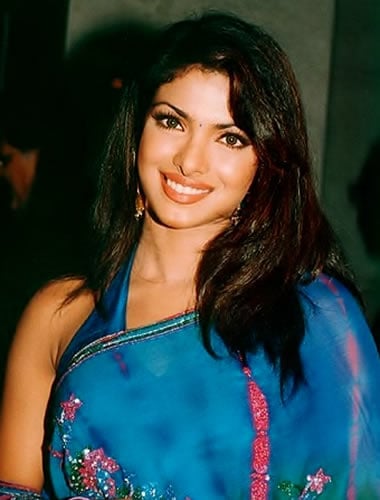 Credit: Bollywood Hungama
A few years later, Priyanka marked her Bollywood debut with the film "The Hero: Love Story of a Spy." She looks stunning in this photo with her expressive eyes, full lips and simple makeup. But look at the tip of her nose. That's its original shape before the alleged nose surgery.
Year 2008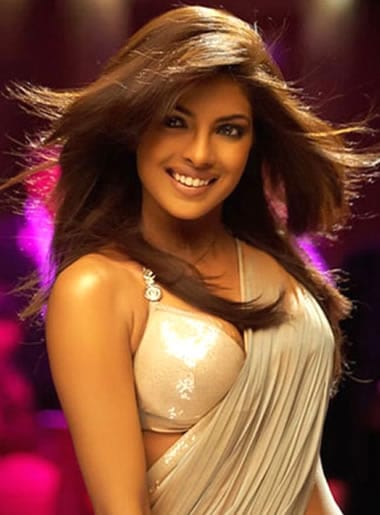 Source: Dostana / IMDb
At 26 years old, Priyanka earned a Best Actress trophy from the National Film Award in India. As her career flourished to greater heights, the changes in her body became more evident. For one thing, her busty chest hinted of a boob job that she has neither confirmed nor denied.
Year 2012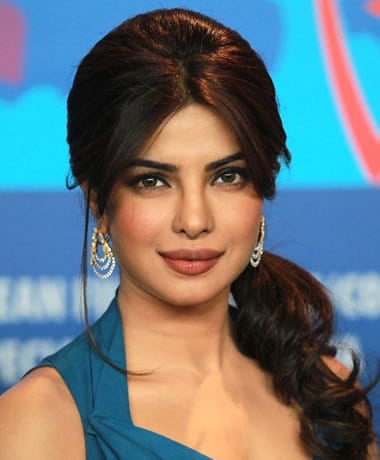 Source: boxofficeindia.com
Now a 30 year old top actress, Priyanka once again surprised the crowd with a new look. She gained weight but her face changed as well. In particular, her nose looks different, which suggested she might have had a rhinoplasty procedure before 2012. If anything, the nose tip is a real dead giveaway.
Year 2015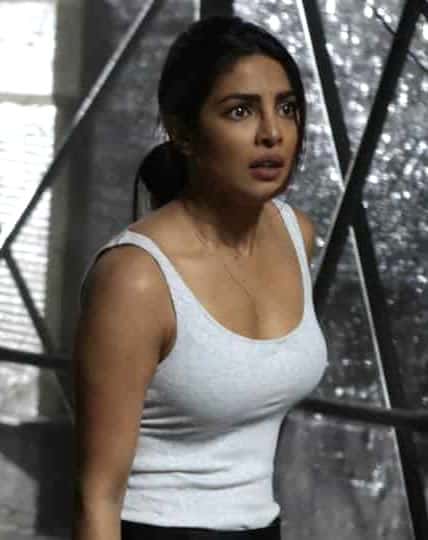 Source: Quantico
Priyanka nabbed the lead role for "Quantico" in America. She was on her way to make a mark in Hollywood and achieve fame in the international entertainment scene. The new bust size might have also helped her win the part because her upper body did improve with her bigger boobs.
Year 2017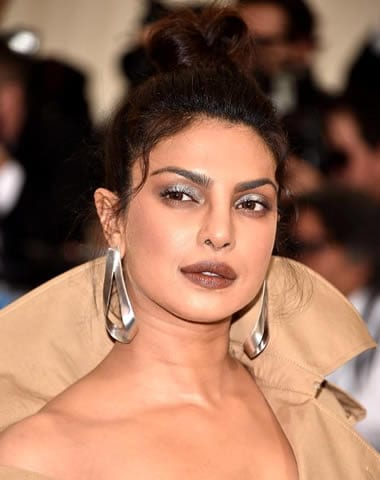 Photo Credit: Pascal Le Segretain/Getty Images
Priyanka turned heads at the Met Gala in New York. Her makeup, lipstick and eyeshadows were on point for the theme. We don't think she had something done to her face as she's too young for a facelift or botox. But her makeup artist has done wonders to contour her face and nose.
The earrings she wore for this event was smashing. This girl most definitely has style.
Year 2018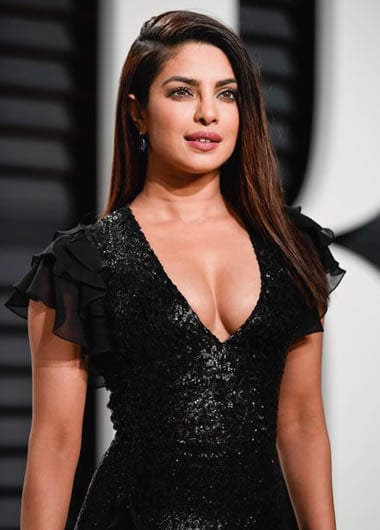 Photo Credit: Getty
Priyanka looked ravishing on the red carpet with this cleavage baring dress. It had people talking about her alleged breast implants again. Does this look like the real deal to you?
The Bollywood star has maintained a slim waistline by following a rigid workout. She's disciplined at this despite the need to gain weight for some of her roles.
What Did Priyanka Say About Plastic Surgery?
In 2017, Priyanka sat with the ladies of "The View" to talk about getting criticized and rejected for her looks before she started acting:
Before I became an actor, I met a producer about the possibility of acting. I was a beauty pageant winner at that time, Miss World. And he said that everything was wrong about me. He said my nose was not proportionate, the shape of my body was not proportionate."
When asked by host Joy Behar about her nose, Priyanka said:
"Yes, this is my original nose. There is such a false perception about what women should look like and what our bodies should look like. Especially when you are in the business, you put on a couple of pounds and people are like..body shaming you. It happens. Christmas happens to all of us. I am an Indian. I have Holi, I have Diwali, I have hundred holidays and my body fluctuates and you know what I am fine with it."
You can watch the video below:
The actress also said via Hindustan Times  that she does not think she needs plastic surgery:
"So far, I have never felt the need for any enhancement surgery. What I have is what I have been blessed with. People had a lot of issues about the fact that I was dusky and not a conventional-looking actress. But I still got the opportunities I did."
But she's not against the procedures:
"I am not against plastic surgery. If it helps build self-esteem, I don't think there is anything wrong with it."
"I'm not judgmental about anybody's individual choices. But if you can make yourself look better to feel better, I don't think there's anything bad in it. Cosmetic surgery only becomes wrong when it becomes a disease."
More Information about Priyanka Chopra
Real Name: Priyanka Chopra
Birthday: 18 July 1982
Star Sign: Cancer
Birth Place: Jamshedpur, Bihar, India
Nationality: Indian
Race / Ethnicity: Indian, Malayali, Bihari, Punjabi
Occupation: Actress, Model, Film Producer, Featured Singer,
Net Worth: $28 Million
Relationship: Dating with Nick Jonas
Children: None
Height: 1.65 m (5 ft 5 in)
Weight: 55 kg (121 lb)
Body Measurement: 35-24-34 Inches
Bra Size: 35B
Dress Size: 6 (US)
Shoe Size: 7.5 (US)
Natural Hair Color: Black
Natural Eye Color: Dark Brown
Conclusion
While Priyanka Chopra might never admit to getting plastic surgery, there appears to be some proof that her Indian beauty isn't entirely natural. After analyzing many of her photos, it seems that the changes to her nose and breasts are quite pronounced.
In terms of her lips, we haven't seen any drastic changes so we don't think she's had any lip fillers. The same can be said to her teeth and facial skin. She simply isn't at the age for a facelift. Plus, Indian women are known to have great skin so it'll be a long time before we'll hear any botox rumors…if any. Unlike Mindy Kaling, there are no signs of skin bleaching either.
Although we may never know the truth about her speculated beauty enhancements, there is no denying that this fashionable babe was born with a pretty face and sizzling body. Fake or real, she can still wear the crown as one of the stars with the most remarkable beauty in the international entertainment scene.
(Featured Image Credit: Getty)
See also: