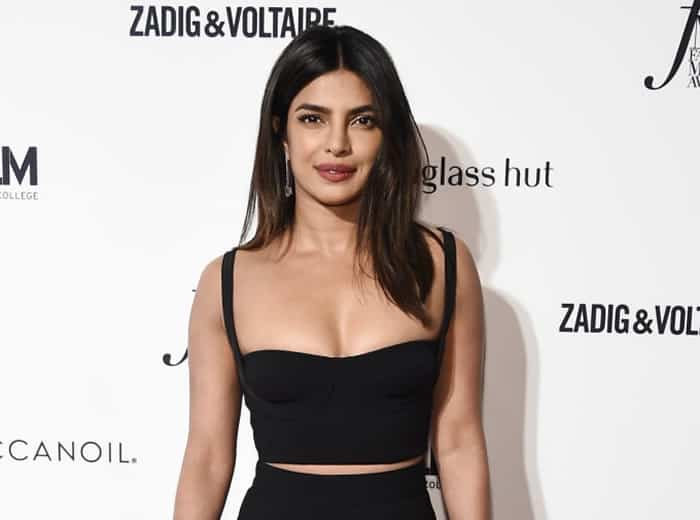 As a famous Bollywood star and an international beauty queen, Priyanka Chopra is one of the highest-paid actresses in India. She originally wanted to become an aeronautical engineer but her career plans changed after winning Miss World in 2000.
While it took her at least a decade to break the barriers overseas, it didn't take long for the public to make this hot "Baywatch" babe the target of plastic surgery.
Can you really blame them though?
On the screen, Priyanka has such a commanding presence that often leaves viewers in awe of her beauty. Her busty body frame, on the other hand, is often dominating movie trailers and headlines.
So, I guess it's reasonable to question her natural beauty.
Before & After Photos
There is something unique about Priyanka and perhaps these comparison pictures will help me to explain why.
Did Priyanka have nose job?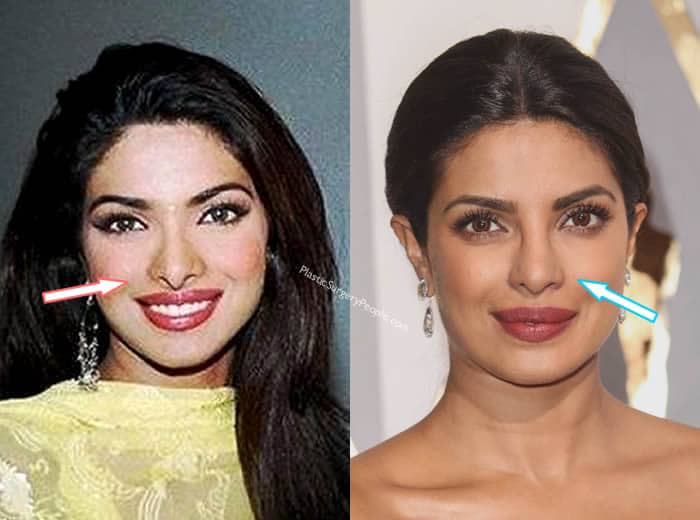 Okay, there is a big difference in Priyanka's nose shape and for a second, I almost thought we had 2 completely different people here.
She used to have what I'd called an "eagle nose" with a hooked tip and narrow bridge but this all changed afterward. The only possible explanation is a nose job and the result is amazing!
Has she had breast implants?
When Priyanka first started competing in the pageant circuit, her boobs were small and some may even say flat. To be fair, she did have a slimmer body back then.
Years later, however, her breast size is much bigger. While she may have gained around 2kg to 4kg here, I'm still leaning towards breast implants.
What do you think?
Does Priyanka chopra have lip injections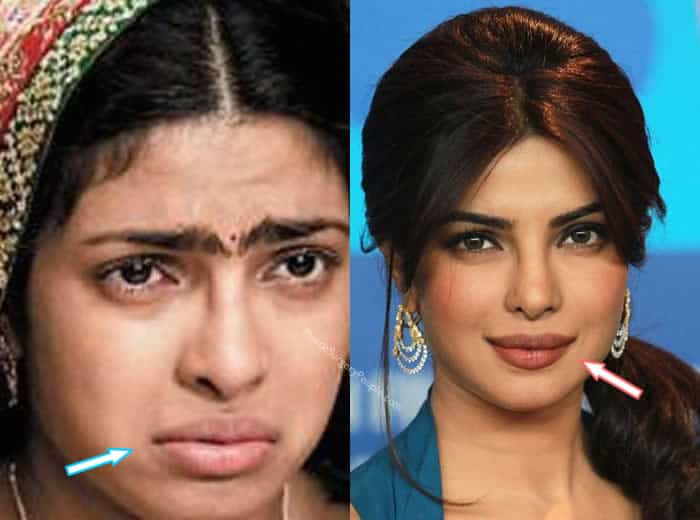 Priyanka's lips have a natural fullness to them, especially the lower part.
They are already quite thick and plump at a young age so there's no reason for her to get lip fillers. She doesn't need it.
Did Priyanka get her teeth done?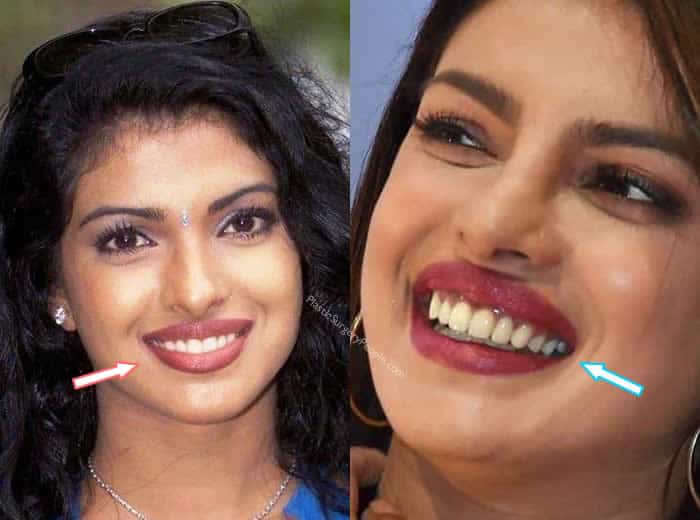 As an Indian celebrity with one of the best smiles in the business, Priyanka's teeth don't need any dental treatments.
It's unlikely that the actress wore braces as a child and the only procedure I think she may have gotten is teeth whitening. That's it.
Priyanka Chopra: Then and Now
Want to see how Priyanka has changed over the years? I hope you're ready for it.
Priyanka as a baby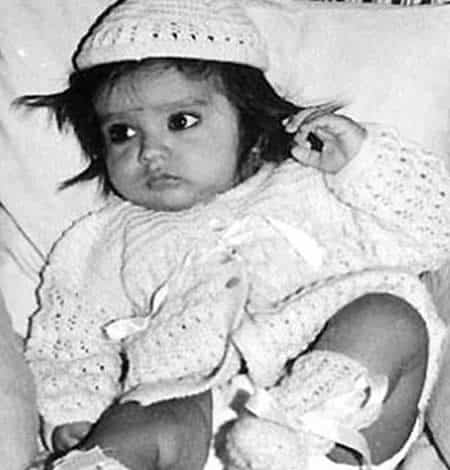 Baby Priyanka proves that she was born with big doll-like eyes. She also had such chubby legs and those cheeks are too cute!
Priyanka in her childhood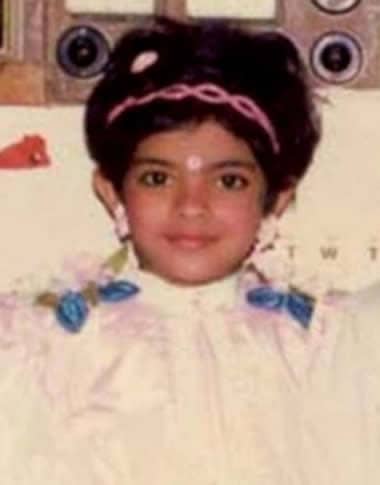 With such a sweet face as a child, Priyanka was already a pretty girl even then. Despite the hairstyle, she had a traditional bindi on her forehead, which symbolizes the Hindu culture.
Priyanka as a teenager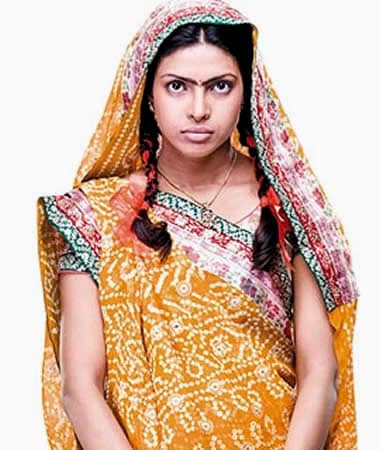 Although she was born in India, the Bollywood actress spent part of her teen growing up in the US and often enjoys playing in the snow.
Priyanka in 2000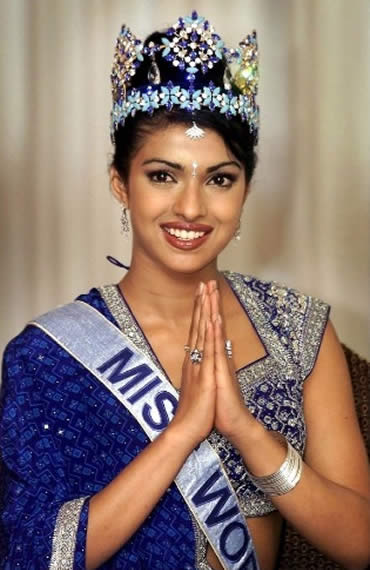 At 18 years old, Priyanka bagged a major international beauty pageant title as Miss World 2000. This contest changed her life, forever.
Priyanka in 2003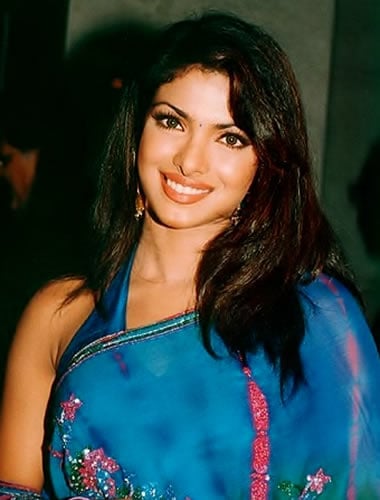 Priyanka marked her Bollywood debut with the film "The Hero: Love Story of a Spy."
She looks so gorgeous in this photo with her expressive eyes and simple makeup. But look at the tip of her nose and can you tell me that she's never had her nose done?
I didn't think so either.
Priyanka in 2008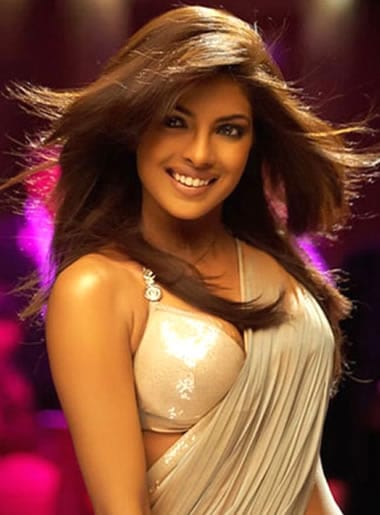 At 26 years old, Priyanka earned the Best Actress trophy from the National Film Award in India. As her career flourished to greater heights, her body changes also became more evident.
For one thing, her busty chest hinted at a boob job although she has neither confirmed nor denied it.
Priyanka in 2012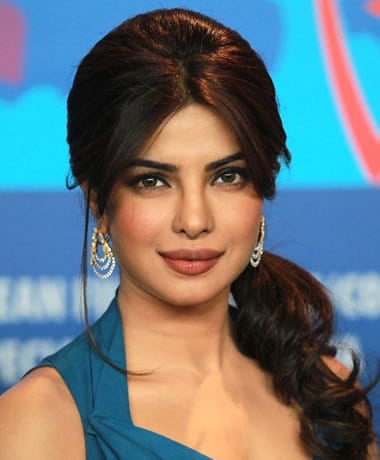 Now, a 30-year-old top actress, Priyanka once again surprised the crowd with a new look.
We suspect that the rhinoplasty took place before 2012. That nose tip is a dead giveaway.
Priyanka in 2015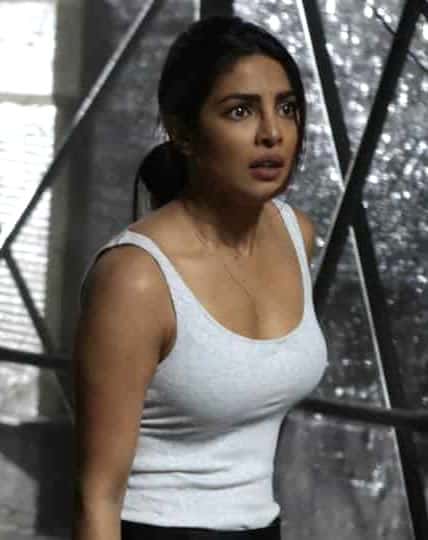 Priyanka nabbed the lead role for "Quantico" in America as she made her way to Hollywood. Her bust size might have helped her win the part.
Priyanka in 2017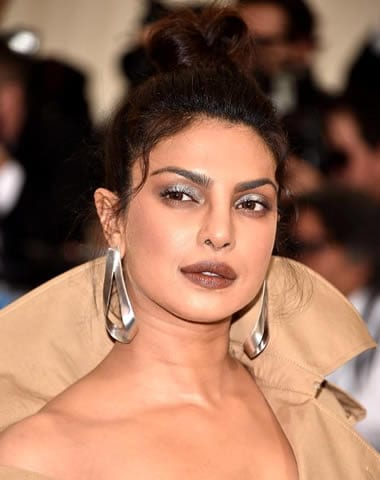 Priyanka turned heads at the Met Gala. Her overall makeup, lipstick, and eyeshadow were on point for the theme.
The earrings she wore for this event were also smashing.
This girl knows her style.
Priyanka in 2018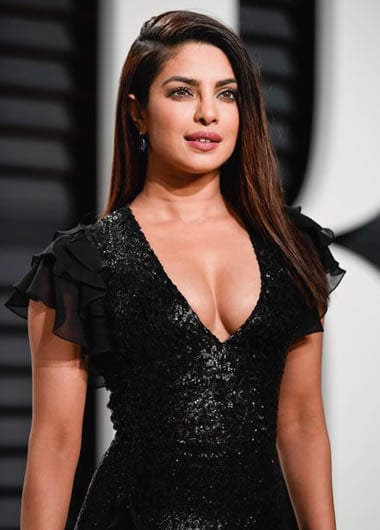 Priyanka looked ravishing on the red carpet with this cleavage-baring dress. It had people talking about her alleged implants again. Does this look like the real deal to you?
Priyanka in 2020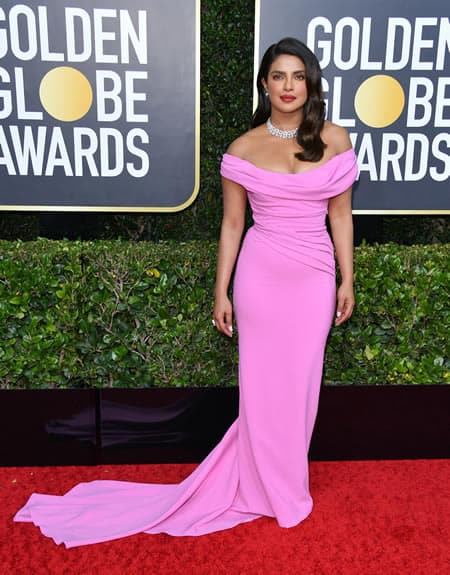 Sometimes, a plain purple dress is enough to turn heads at the Golden Globes. The color goes really well with her dark skin too.
More Infomation about Priyanka Chopra (Bio)
Real Name: Priyanka Chopra
Birthday: 18 July 1982
Star Sign: Cancer
Birth Place: Jamshedpur, Bihar, India
Nationality: Indian
Race / Ethnicity: Indian, Malayali, Bihari, Punjabi
Occupation: Actress, Model, Film Producer, Featured Singer,
Height: 1.65 m (5 ft 5 in)
Weight: 55 kg (121 lb)
Body Measurement: 35-24-34 Inches
Bra Size: 35B
Dress Size: 6 (US)
Shoe Size: 7.5 (US)
Natural Hair Color: Black
Natural Eye Color: Dark Brown
Conclusion
I'll keep this short.
Despite the actress's denial, she has easy access to any procedures she wants because apparently, she knows plenty of cosmetic surgeons. Her parents manage a successful cosmetic clinic in India called Studio Aesthetique.
Now the question is, has she used these connections?
Maybe.
(Featured Image Credit: Getty)