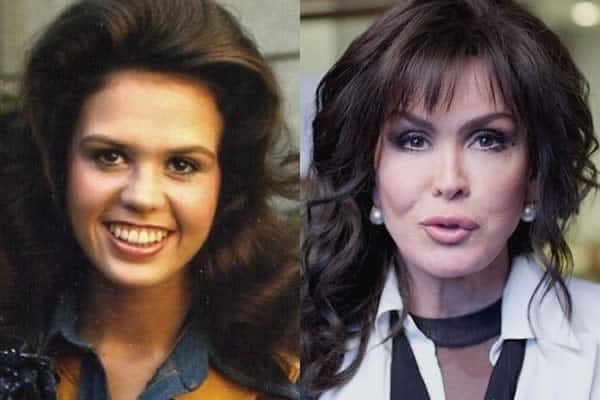 If you've watched bulky television and listened to music cassette tapes from the early 1970s, then you'd definitely have heard of Marie Osmond. She's a successful celebrity not only because of her singing talents, but also her beautiful looks.
That's why speculations have been circling around as to whether Marie has had any plastic surgeries during any stage of her career.
Apart from being an amazing country solo music artist, Marie has also hosted a number of successful TV shows such as "Donnie & Marie", "The Osmond Family Hour" and "Ripley's Believe It or Not". She's also performed in a number of Broadway hits including 'The King and I' and 'The Sound Of Music'.
People just can't seem to get enough of her voice, her face and her incredible body.
Yes, she has one of the best upper body that any woman can ask for and that's why many people questioned whether her breasts are real or fake. In order to see if Marie Osmond has, in fact, had any cosmetic procedures done, we'll need to go through her past photos to see what she looked like before and after she became a Hollywood success.
Before & After Photos
To find evidence that will help us prove or debunk some of these rumors, it's always best to compare how certain parts of her face and body look at different years. We'll go through each section such as her eyes, nose, lips, mouth, chest, tummy etc and this should give us an idea on the type of surgeries she might have done.
Changes In Her Upper Teeth & Gum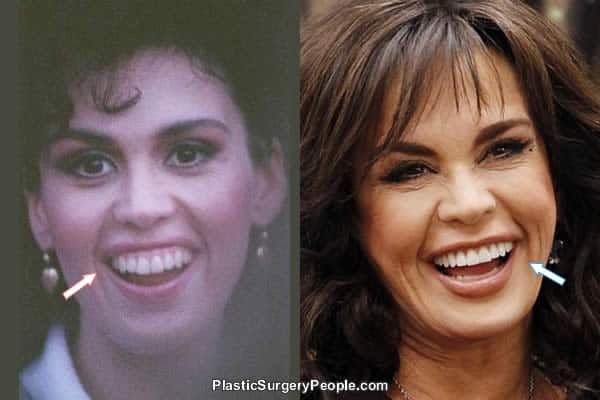 When Marie smiles, her upper teeth and gum shows clearly and if you compare her more recent photos. Her mouth shape has completely changed when she laughs. This indicates that she may have had a gum contouring or reduction surgery to reduce that area as traditional braces may not have worked.
Whoever was her dental surgeon at the time has done a very good job because her smile looks very pretty afterward.
Has Marie Had Breast Implants??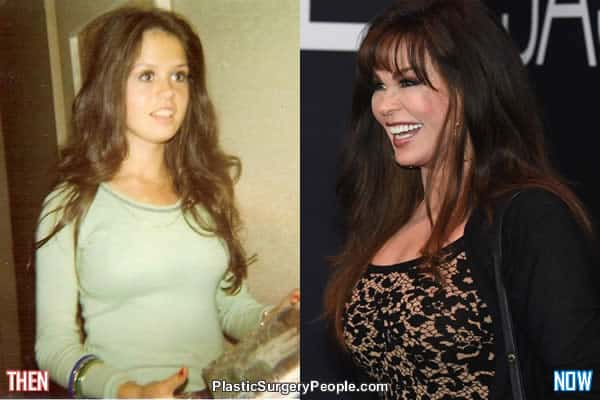 On the top left, you'll see a photo of Marie when she was young. This would have been taken before her body was matured and fully developed. You can clearly see that she already had large breasts at her youth.
Although her boobs appear to be even bigger on the right photo, but remember she wasn't fully developed yet, so there was still room for growth. This is good enough for us to reject the fact that she might have had a boob job during her career. Honestly, why would she need it?
Possible Nose Job?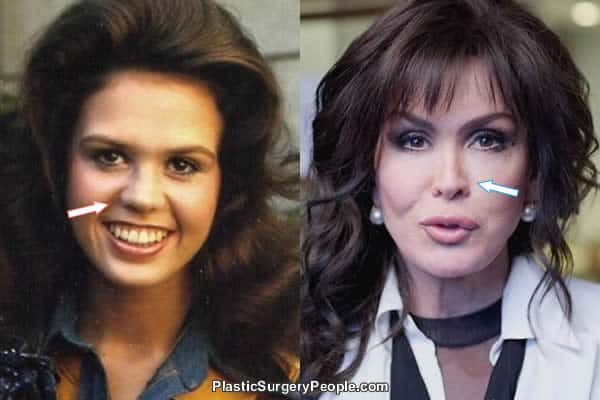 Marie Osmond's nose shape looks very different compared to before. It used to be more round and the nose bridge wasn't as narrow as it is now. Her nasal tip also appears to be much wider before. All these traces seems to be evidence to suggest that she could have done some form of rhinoplasty during a certain stage in her life.
The possible nose surgery she might have done here is weir excision which is used to reduce the size of her nostrils. A reduction rhino surgery is also not out of the question since her nasal bridge is much thinner these days.
Let's See Her Aesthetic Changes Throughout The Years
While we've found some possible evidence to suggest that Marie Osmond might've had some aesthetic procedures done to enhance her overall beauty. Sometimes, we feel that it is best to see her face and body changes by looking at her images on a year to year basis.
Year 1977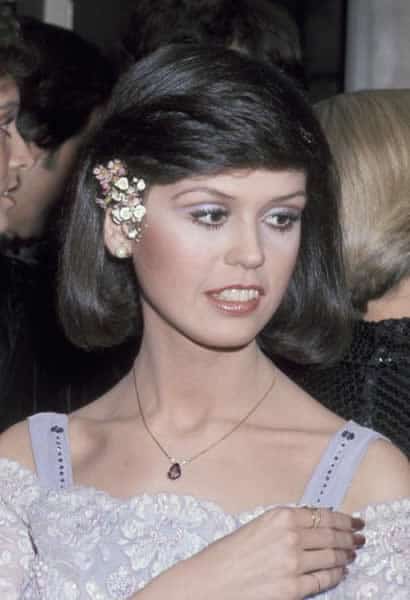 Photo Credit: Getty Image
Here's a rare picture of Marie in the 70s. She was young, fresh and absolutely beautiful in this lavender dress. She had lovely smooth white skin, big eyes and was rather thin too. This is when she appeared in the American Music Awards after she first released her country album, Paper Roses, which became a success in 1973.
Year 1980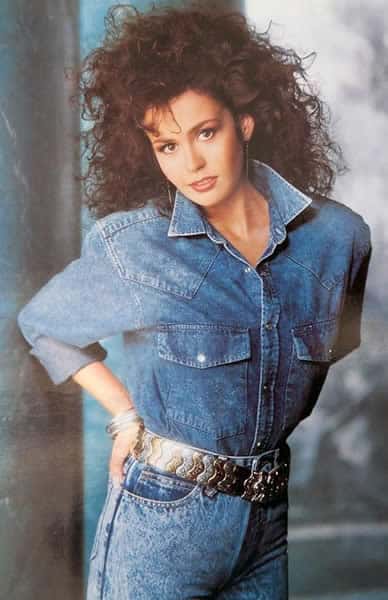 After parting with The Osmond Family Hour show, she then went on to co-star in the movie, The Gift Of Love. Marie also starred in other variety show with NBC and was enjoying a rather successful TV career before she decided to focus back on country music in 1984.
As you can see from the pic, her body was still very slender and skinny in this old fashion blue jeans. Her fuzzy long hairstyle was considered to be very trendy back in the 80s and one thing we know for sure is that she definitely didn't need any liposuction back then.
Year 1992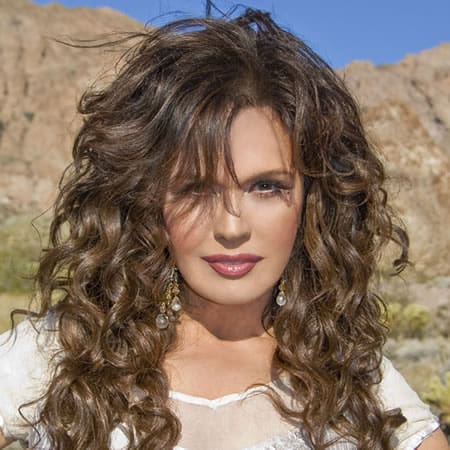 At 33 years of age, Marie Osmond looked stunning with her natural curl hair and sexy makeup. Even though she has matured into a fully grown woman, there were still no signs of aging because you couldn't find any lines or wrinkles near her eyes and cheek area. She also had gorgeous lips back then, although the lipstick she wore helped greatly.
Year 1999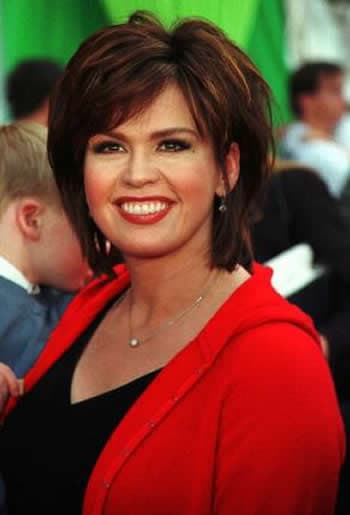 She's now a mother of several kids, so it makes sense to look like a 'mom'. You can almost tell that time is finally not on her side, but unless you have a picture of Marie without makeup, otherwise it's hard to confirm those signs. Anyhow, she is still looking fantastic here, especially with that straight haircut which is very refreshing.
Year 2006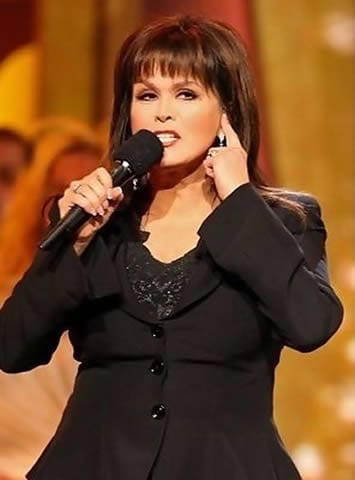 2006 has got to be the worst year for Marie in terms of her body size. Here she's attending the TV Lands Award in Santa Monica, California, United States. She looks absolutely bloated and while we're unsure how much weight she actually put on, but using the word "fat" would have done her justice.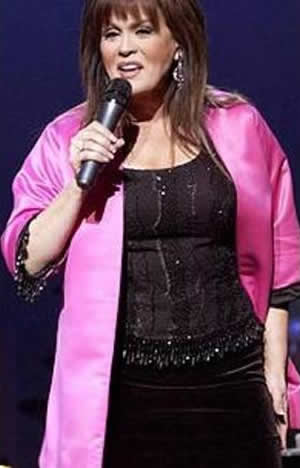 Here's another picture showing her big tummy and even though the pixel quality isn't that great, you can pretty much say that all the foundation, powder and eye shadows are no longer covering her age. She was 47 years old when this was taken, so yes…she was officially getting old…er!
Year 2007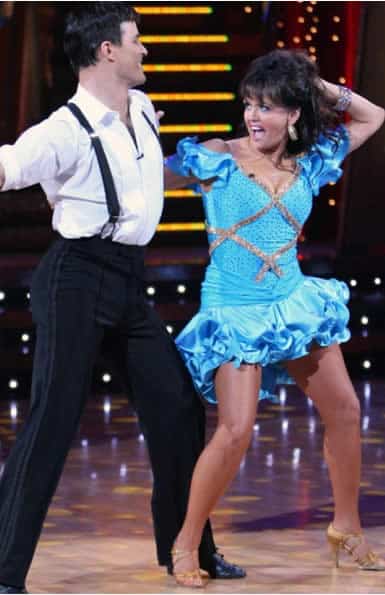 In just one year time, Marie had dropped a number of dress sizes and appeared on the TV hit show, Dancing With The Stars. Many people were shocked by the sudden weight loss. Just look how comfortable she was shaking that butt!
While she claimed it was simply exercising and a good diet, there was, however, a lot of noise of her getting a tummy tuck and possible liposuction to get rid of the body fat, especially around her stomach area.
Nice legs too by the way…
Year 2010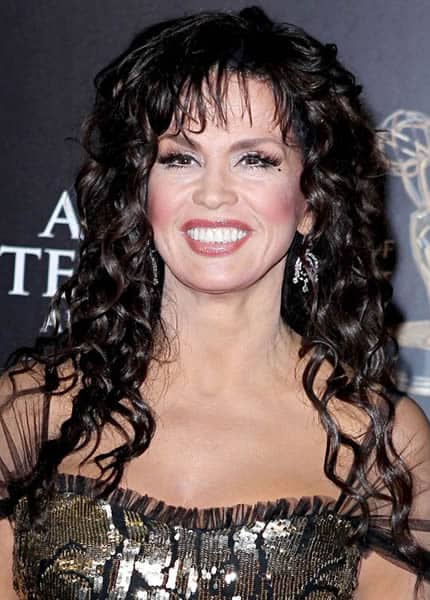 Credit: Getty Image
At the 37th Annual Daytime Entertainment Emmy Awards held in Nevada at the Las Vegas Hilton. Marie can be seen here with enormous signs of aging where her fine lines, eye bags and laugh lines are clearly showing. Perhaps no cosmetics and skin care can do much for a woman at 51 years of age, let alone reverse it!
Year 2013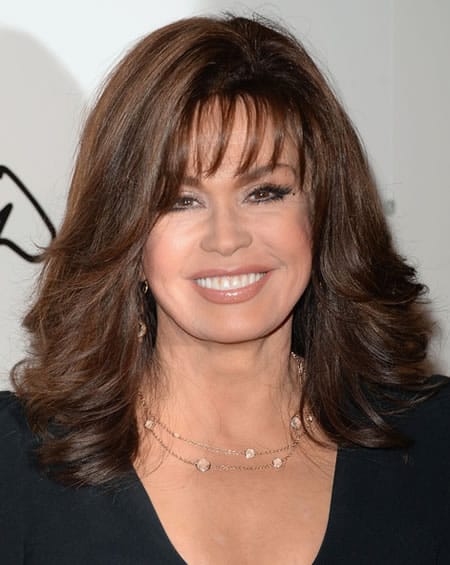 Photo Credit: Getty
Here she is attending the BTJA Critics Choice Television Award in Beverly Hills. Something doesn't quite add up here because if you look closely, her facial lines appear to be gone. This leads us to question whether she's had a facelift during the 3 years since we last saw her.
And what about her lips? Can you see any signs of injectable fillers?
Year 2015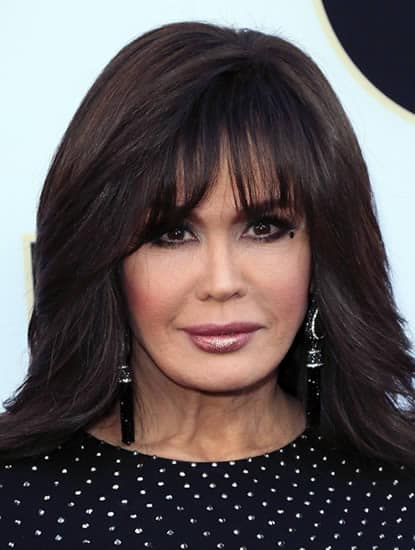 Okay, there is definitely something weird here and if we had to make an educated guess, we'll have no choice but to scream…Botox! Seriously, she kind of reminded us of Sharon Osbourne and how she called herself a plastic face during a period when she admitted to over-botoxed. So the question is…did she?
Year 2016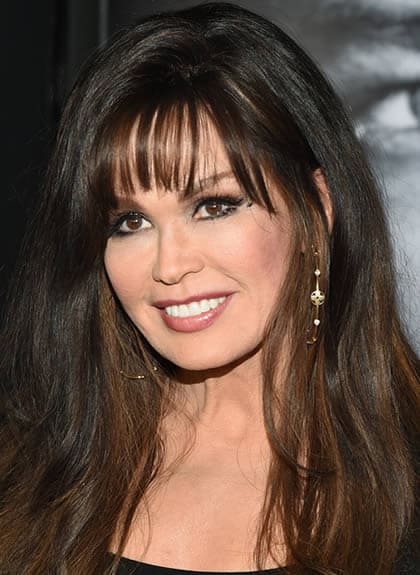 Image Credit: Getty
This was when Marie attended the movie premiere of 'Jason Bourne' at The Colosseum at Caesars Palace with her husband, Steve Craig. Now tell us….does this look like a lady who is 57 years old?
Year 2017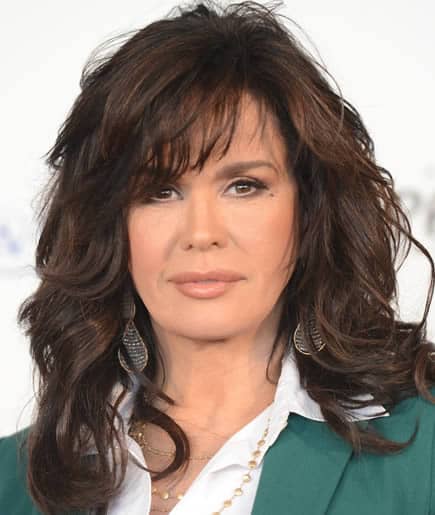 If you were to ask someone about the secret of youth, then Marie's name is definitely on that list. While all this may have been achieved through a plastic surgeon by artificially means, but you still have to give her the nod for looking so good at her current age. Simply amazing!
Year 2018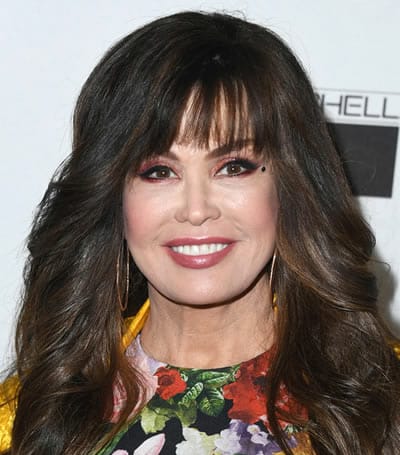 Here she attends the Paul Mitchell School's 15th Annual FUNraising Gala in Beverly Hills. Remember, you're talking about a woman who's turning 60. Not bad looking we must say…
And if you need a reminder again that she's not all about looks. Here's a video that might bring back some memories.
Yup, she was definitely talented.
More information about Marie Osmond:
Real Name: Olive Marie Osmond
Birthday 13th of October 1959
Star Sign: Libra
Birth Place: Ogden, Utah, United States
Nationality: American
Occupation: Singer, Actress, Screenwriter, TV Presenter, TV Producer, Designer, Business Person
Net Worth: 17 Million
Relationship: Married to Steve Craig
Children: Stephen Blosil, Rachael Lauren Blosil, Jessica Marie Blosil, Brianna Patricia Blosil, Brandon Warren Blosil, Michael Bryan Blosil, Matthew Richard Blosil, Abigail Michelle Blosil
Height: 1.65 m or 5′ 5″
Weight: 54 kg or 120 lbs.
Body Measurement: 39-27-37 inches
Bra Size: 36C
Shoe Size: 7 (US)
Natural Hair Color: Dark Brown
Natural Eye Color: Dark Brown
What Does Marie Have To Say About Cosmetic Surgery?
According to her interview with Prevention Magazine back in 2011, Marie weighed in on her thoughts about using cosmetic procedures. Here's what she said at the time…
We cherish youth more than we do wisdom. Will I do it? I'm sure. Nobody wants to have a saggy jowl. Is it bad to do? I don't think anything is bad if it makes you feel better.
However, she has neither admitted or denied using any such procedures. Instead, she's admitted to using a non-invasive type of skin peel technology…
I've had HydraFacial, which is a non-laser skin resurfacing. I had a second procedure, which was done with infrared light; it tightens the skin and stimulates collagen to make your face look more toned. And I use a lot of sunscreen.
In 2013, she suddenly came out and admitted going under the knife as reported by E News. While most people might have thought that she had a breast augmentation surgery, it was actually the opposite…
I had very large breasts, I had a breast reduction. I was my mother's daughter. I was in like, twenty something. When I did Sound of Music, all they did was talk about the hills were alive! That's all they saw…were my boobs. I was like an E cup.
She then continued…
Seriously, women can get so big and you look like human zippers," she continued. "And honestly, I did it too because my back hurt. I don't get the big boob thing.
Conclusion
Besides her breast reduction surgery, Marie has never come out and openly admitted to doing any other types of surgical or non-surgical procedures such as browlift, dermal fillers, eyelid surgery etc. But to look this good at her current age without any help just doesn't make much sense.
According to a Closerweekly's exclusive interview with several surgeons, many of them believed that Marie has had work done to her face. In one instance, Dr. Andrew Miller believed that she's likely had fillers to her cheeks and lips.
What do you think?