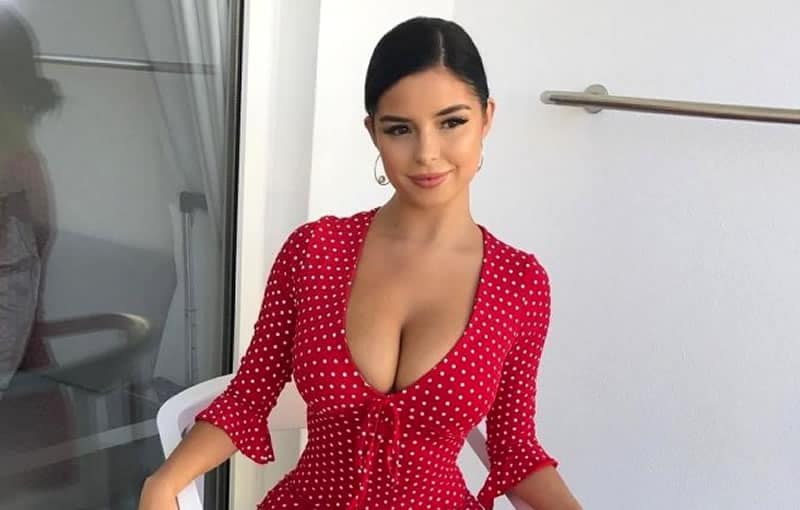 Demi Rose Mawby is a British model and an internet sensation. With millions of followers on Instagram, the busty star shot to fame when she began dating rapper Tyga, Kylie Jenner's ex-boyfriend, in 2016.
The model with the sensual face and shapely body was also part of Taz Angels, a group of women who have been picked on Instagram for their alluring selfies. They make public appearances at clubs frequented by socialites and it's safe to say that Demi Rose led a life in the fast lane because she was hounded by controversies when she was with this Miami-based modeling agency.
One controversy that keeps buzzing about Demi is her plastic surgery procedures. People couldn't help but wonder — are her breasts real or fake? Is her butt enhanced?
Though Demi addressed these rumors before, her transformation has been so evident because she often shared photos of herself on social media. The model, however, denied the cosmetic enhancements and shunned talks about her appearance.
In one interview, Demi claimed she had no breast augmentation at all as her boobs grew bigger after she gained weight. She also said that she works out to contour her butt.
Before & After Photos
Though Demi Rose insisted she has never undergone any cosmetic surgery, some of her social media followers aren't convinced. The truth is, as she puts herself in the limelight, people will keep scrutinizing her appearance and question what's real or not.
So, let's look at her photos before and after she became famous to find the answers, shall we?
Did Demi Rose Have A Boob Job?
Demi's boobs grew a few cup size bigger in the sexy photos she shared on Instagram. Though the model is already busty, the difference in her chest sparked talks that she had breast implants.
An angry Demi Rose, however, said in an interview that those before and after photos shared online which compared her boob size have been unfair. She said that she used to have an eating disorder so her breasts were smaller. She also denied getting a boob job and claimed that her breasts are all natural.
Has Demi Mawby Had Butt Implants?
Followers of the millennial social media star also noticed her bum size has increased, especially after she started dating Tyga. But the celebrity denied any butt implants or injections, and instead alluded to her genes and her workouts as the secret to her shapely derriere.
Demi's butt used to be flatter and did not complement the curves or her then 24-inch waist and 26-inch hips. Her trainer Dean Delandro confirmed she has been working out a lot and achieved the shape she wanted for her bottom in just two months. Now she has a 36-inch hip according to several sources.
So whether there's any augmentation there…we'll let you decide!
Does She Use Lip Fillers?
People have compared Demi's lips and face to Kylie Jenner's. They speculated that like Kylie, Demi also had lip fillers to improve its shape, but she hasn't addressed any rumors about her plucked mouth.
Demi also has no interest to hear comparisons with Tyga's ex because she said she has always respected Kylie despite what people assumed. Now that she's also Tyga's ex-girlfriend, Demi said that she doesn't give credibility to the rumors because she doesn't want negativity in her life.
After comparing both her earlier and recent photos, however, we have good reasons to believe that the gorgeous model has NOT had lip injections. Yes, she simply has flawless lips!
Did Demi Rose Mawby Get A Nose Job?
Demi Rose is miffed by questions asking how much surgery she's had. On Twitter, the rising celebrity said that she's still young so her body is still changing, but her followers chided her for not telling the truth, not even for her nose job.
At first glance, Demi's nose presumably underwent a subtle change. The rhinoplasty appeared to have fixed her slightly flatter nose tip and also defined the bridge. However, after a thorough analysis, we believe that's not the case.
In other words, we don't think she's had a nose job to improve her face.
Demi's Transformation
Early Days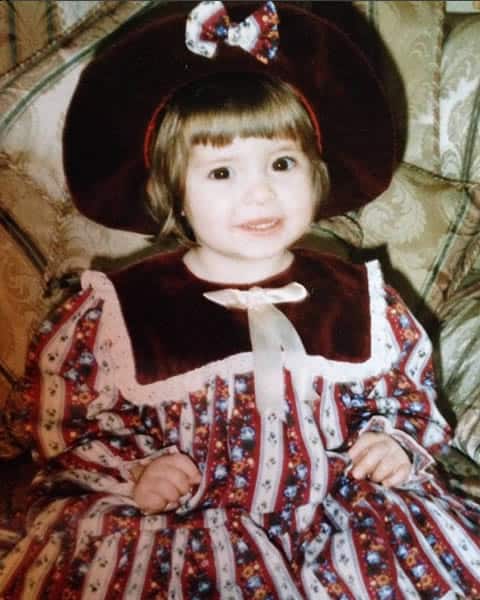 Source: Instagram / demirosemawby
When she was young, Demi Rose looked as cute as a button in this charming outfit! Little Demi already knew how to pose in front of the cameras even as a child who's barely at school age.
Year 2012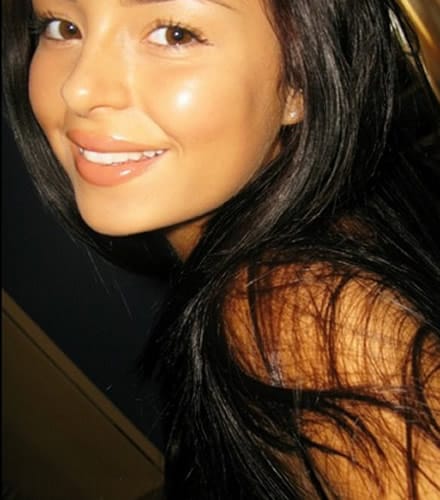 Source: Instagram / demirosemawby
Demi Rose shared this image as her first photo on Instagram. She still had quite a chubbier face shape and a less defined jawline. Her nose and lips were also not model-perfect but she was already a beauty.
First Instagram Body Shot
Source: Instagram / demirosemawby
Demi Rose's first Instagram body shot showed off her busty body shape. Fans wondered if she either wore a push-up bra or had a boob job to increase her bust size. Her big boobs just don't look natural for her tiny waist, but if they say Ivanka Trump had no plastic surgery, then anything can happen too, right?
Year 2013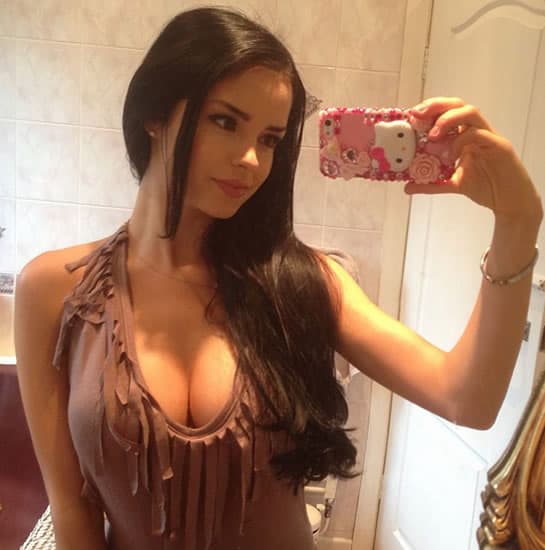 Source: Instagram / demirosemawby
After supposedly battling an eating disorder in her younger years, Demi Rose's body takes on a better shape. Though she's still a bit on the skinny side with her thin arms, her breasts appear to be bigger in this selfie.
Year 2014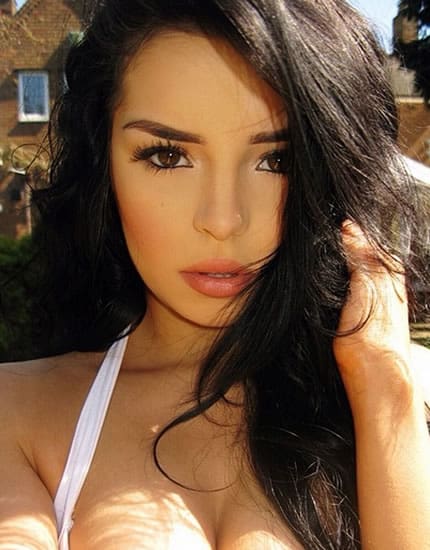 Source: Instagram / demirosemawby
A sultry Demi shared a photo to highlight her gorgeous eyes and perfect eyebrows. She gave the Kardashian-Jenner sisters competition with this look, with her tussled hair. The simple makeup is divine!
Year 2015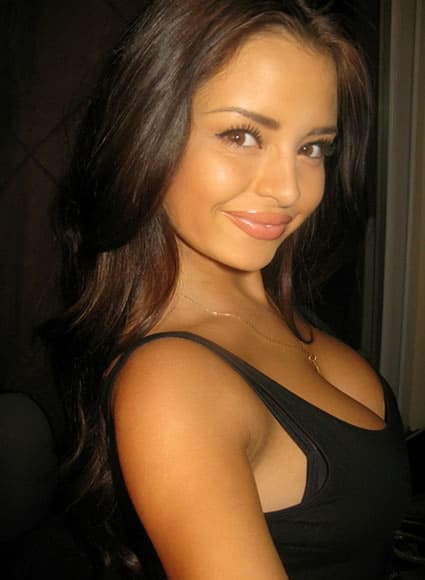 Source: Twitter @ DemiRoseMawby
Demi Rose landed more modeling jobs and magazine shoots this year including FHM. Her face suddenly looked different, however, leading her social media followers to wonder if she had cheek implants to plump up her cheeks or if she had her chin done as well. She looks too sweet!
Year 2016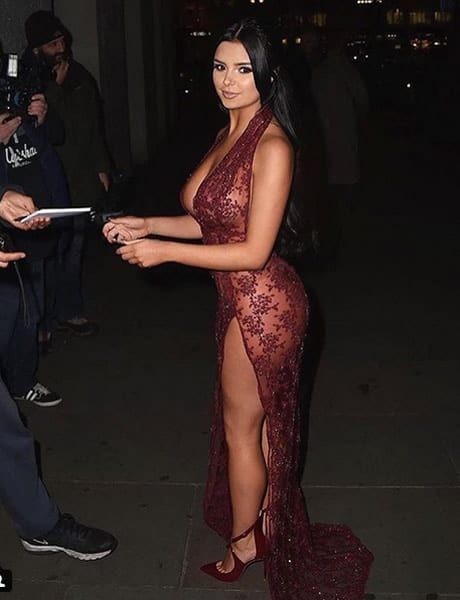 Source: Instagram / demirosemawby
The rumors about Tyga surfaced and the comparison to Kyle Jenner began. People scrutinized her butt size and body when she appeared in a revealing dress for the Sixty6 Magazine party.
As Demi Rose and Tyga became a constant twosome at other events, she had to keep shooting down rumors about her butt implants. The speculations just won't go away!
Year 2017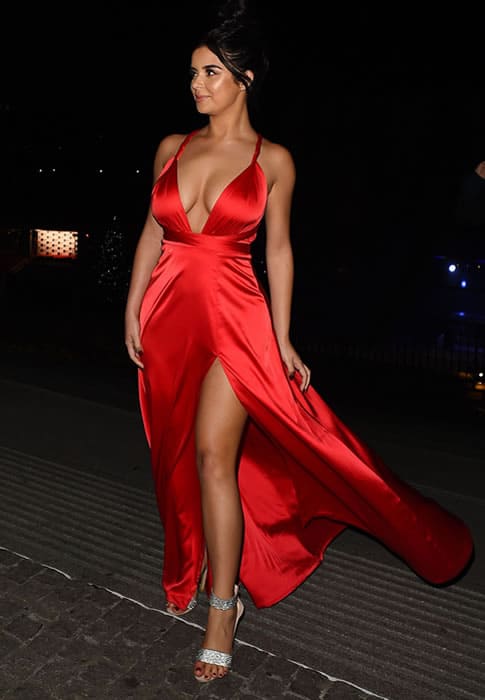 Photo Credit: Getty
Appearing in the glamorous sexy red dress for The Beauty Awards, Demi wowed spectators as she showed off her hot body, legs, and sexy feet. She was breathtaking at this event!
Year 2018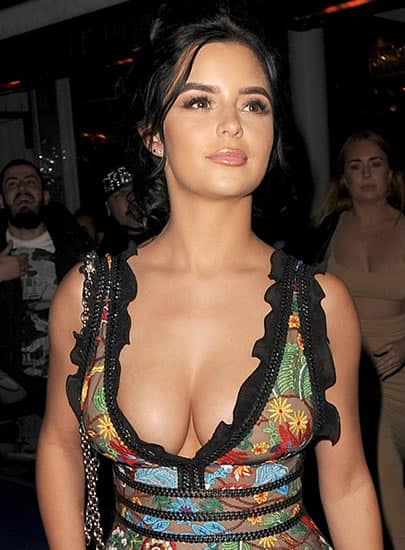 Credit: Getty Images
Demi Rose turned 23 with a birthday party among her friends in Knightsbridge, London. She wore a cleavage bearing dress that really highlighted her sexy profile.
Now a year older, the model has had some weight gain too, which gave her boobs an extra boost. She said she's keeping it healthy with the diet and exercise.
More Information About Demi Rose (Bio):
Real Name: Demi Rose Mawby
Birthday: 27th March 1995
Star Sign: Aries
Birth Place: Birmingham, England, UK
Nationality: British
Race / Ethnicity: English, Columbian
Occupation: Model, Social Media Influencer
Net Worth: $300,000
Relationship: Unknown
Children: None
Height: 1.57 m (5 ft 2 in)
Weight: 58 kg (128 lb)
Body Measurement: 37-24-36 Inches
Bra Size: 32DD
Dress Size: 8 (US)
Shoe Size: 7 (US)
Natural Hair Color: Brown
Natural Eye Color: Dark Brown
Social Media: Instagram, Facebook, Twitter
What Did Demi Rose Say About Plastic Surgery?
The glamorous model took it up to Twitter last year and slammed her critics:
Stop with the surgery s**t, it's boring.
There was also another time where she explained why she used to be skinnier, suggesting the reason behind her smaller chest size. Here's what she wrote:
I'd like to say any "before & after" pics that circle online of me & I look skinner, yes of course I look different I had an eating disorder

— Demi Rose (@DemiRoseMawby) March 9, 2017
You've got to give her credit for admitting that there was a problem and that she actually sought help for it.
There was a time I weighed 37 kg…. I'm happy and healthy now, with curves.

— Demi Rose (@DemiRoseMawby) March 9, 2017
Well done girl!
Conclusion
Despite denying that she had plastic surgery, many of her followers on Instagram find it hard to believe that Demi Rose Mawby had no enhancements done. She looks too perfect and too much like a Barbie doll to not have science help her appearance.
Any breasts cosmetic surgeon would agree that Demi Rose most likely had a boob job to increase her breast size. She also might've had a butt augmentation to achieve an hourglass figure. Her hips seemed to have grown from a 26-inch to an estimated 36-inch in just two months.
In regards to her face, Demi's imperfect lips and nose might have been enhanced with just the right makeup, but if she did get cosmetic augmentations for these, the procedures were subtle and nicely done.
What Do You Think?
(Featured Image Source: Facebook)