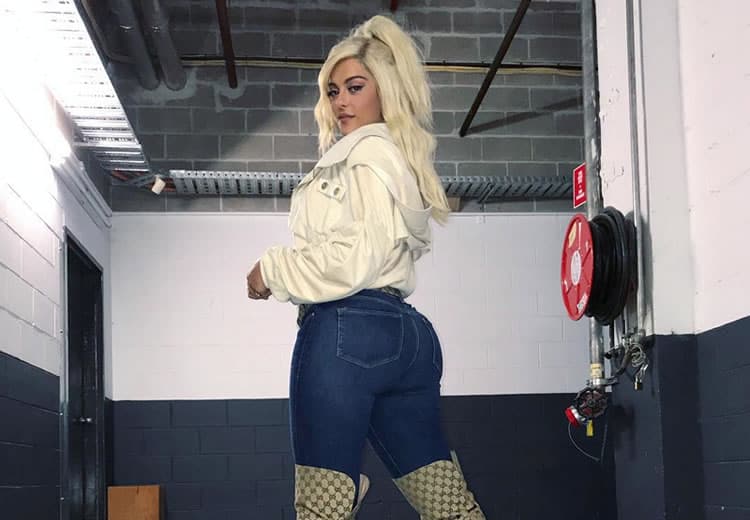 The Grammy is just a few weeks away and with 2 nominations up her sleeve, Bebe Rexha was dying to find the best outfit for the event.
So, she got her team to reach out to some of the top designers hoping for a custom made gown that'll allow her to shine in the evening. Unfortunately, most didn't want to dress her because she was too big.
Bebe took it up to Instagram and her response had many clapping.
If size 6/8 is too big, then I don't know what to tell you. Then I don't want to wear your f**king dresses coz that's crazy.
Without naming any names, she then said…
All you're saying is that all the women in the world who are size 8 and up are not beautiful and they cannot wear your dresses.
We can obviously see where this was going and she did not disappoint.
So to all the people who said I'm thick and I can't wear your dresses. F**k You! I don't want to wear your F**king dresses!
In the caption, she wrote:
Im sorry, I had to get this off my chest. If you don't like my fashion style or my music that's one thing. But don't say you can't dress someone that isn't a runway size. Empower women to love their bodies instead of making girls and women feel less then by their size. We are beautiful any size! Small or large! Anddddd My size 8 ass is still going to the Grammys. #LOVEYOURBODY
As expected, the singer's account was flooded with support messages from fans.
But a couple really caught our attention.
Let's just say they weren't totally convinced suggesting this could be a publicity stunt or something to do with Bebe's status as an artist.
iamstephylaguerra
"Love her for this but what I don't get is how other artists thicker do get those fashions. Artists like Nicki, Adele, Etc… not sure if it's fully just about the weight. Either way, still wrong."
klassic._kenn
"I find this weird since artist like nicki, cardi, Beyoncé, and Rihanna that are actually bigger (in size) than her, and designers won't dress her🤔. Pick more inclusive designers I guess, stop supporting brands that are not diverse!"
blessed0611
"That f**kin bullshittt smfh when will it end!! You are beautiful just the way you are! My question is….they cant design a dress for your ass but they can dress Kim's big o' fat ass?? Come on man!! I smell bull 💩💩💩"
youdontknowmegrin
"Size 8 ass? Are you kidding? 😂 Listen: If you feel good about yourself, just relax. I can tell you one thing though: There will be a time when you are going to have health issues and you are going to regret that you didn't take better care of your body. If you are happy with yourself, what does it matter what designers think? The truth is: Your feelings were hurt for a reason and deep down there, you know why you're upset."
abc5gh789
"Any proofs? Sorry I don't believe you. They dress even bigger women than you(Kim Kardashian, Beyonce, Rihanna). It looks like you just look for attention 😉 @beberexha"
One particular user even suggested that her butt was fake.
rock_national
"love your body? You didn't love your original butt. Besides, it's your track record that isn't big enough for the big designers, not your shape. Just find a designer who is as semi-known as you are"
Of course, our team has covered that already since Bebe is someone who we considered to be totally gorgeous.
We just couldn't let her go.
Not like these stupid designers.