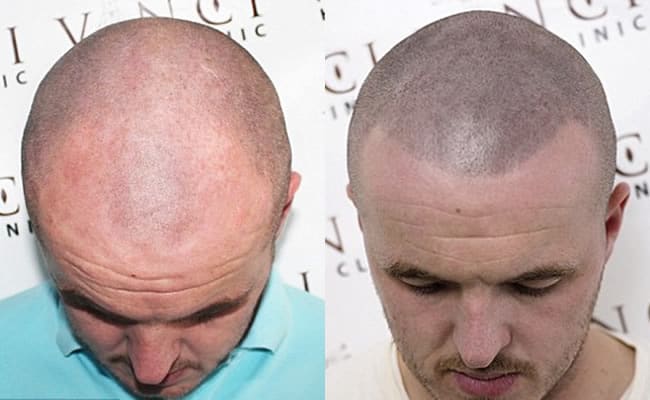 Ever wonder if there's a new and less expensive way to deal with hair loss problems? It's called hair tattoo or Scalp Micropigmentation (SMP) and it's suitable for both men and women.
This latest cosmetic procedure is fast becoming a popular choice especially among male baldness, and may even overtake the more common hair transplant or replacement process.
It is estimated that at least 66 percent of men above the age of 35 years old deal with hair loss issues due to common conditions like male pattern baldness. Other factors include hormones and genetics, lifestyle choices, stress management, personal hygiene to diet.
In the old days, men counteract thinning hair and baldness with a variety of tactics. They either invest in hats, or wear fake hair like wigs and hairpieces, or drink treatments and even use shampoos that promise to make the scalp healthier while inducing hair regrowth in a short amount of time.
Eventually, hair technology has made both male or female hair transplant possible. But while this procedure helped with hair loss, boosted appearance and confidence, a transplant surgery is both expensive and invasive.
Fortunately, there have been plenty of breakthroughs to address hair loss, including bald scalp tattoos, also known as scalp micropigmentation. While this is not a magic solution, it is showing promising results.
What Is Scalp Micropigmentation?
Scalp micropigmentation procedure entails drawing thousands of tiny dot-like pigments on the scalp to resemble hair follicle. It provides balding man with a visible hairline and a simple shaved-head hairstyle.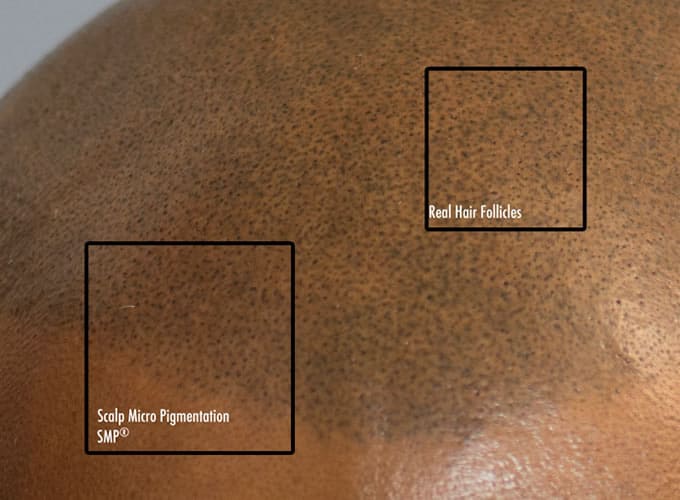 Source: HisHairClinic.com
The clean-looking hair tattoo also helps cover scars, blemishes, imperfections, bald patches and hair problems like alopecia. The results are subtle and natural, but the impact on one's appearance is huge.
Check out the before and after photo below: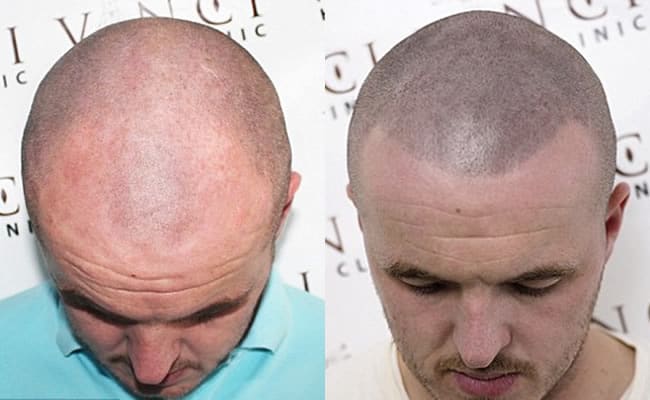 Bald hair tattoo – Before & After comparison. (Source: vincihairclinic.com)
How Does Hair Tattoo Work & Does It Hurt?
A professional scalp micropigmentation requires at least two to three sessions and each session takes about two to five hours, depending on what the person needs.
Technicians use a tattoo machine and microneedle with a natural-based pigment that matches the client's hair color. The needle works differently than traditional tattoos because it doesn't poke deeply on the scalp.
Clients at a clinic servicing hair pigmentation procedures in London attest that the process is usually pain-free. In most cases, a person might feel a slight tingling sensation on the scalp during the procedure.
In extreme cases, however, a client could develop allergies to the pigment used. Hence, it's best to consult with medical professionals and also the clinic, carefully asking and discussing every details, before proceeding with the tattoo.
Hair Tattoo vs. Hair Transplant
Hair tattoo cost can run from $2,000 to $3,500, according to Matt Iulo, a tattoo technician and founder of Scalp Micro USA. Compared, however, to the cost of a hair transplant in New York, which can rake up to $16,000, the price of hair tattoos seems the more practical and cost effective solution for many. Clients can also opt to have their tattoo re-pigmented every five to seven years, should the ink starts fading.
The procedure offers no limitations compared to a hair transplant, which still requires the scraping of hair follicles from the back of the head to be implanted onto the bald spot.
Other Details You NEED To Know!
It's important to know that undergoing hair tattoo doesn't necessarily stop hair growth. Some men who are prone to fast regrowth actually have to shave quite regularly to keep their renewed hairstyle clean.
Scalp tattoo is not only limited to men. This procedure also applies to women who are experiencing female hair loss, which commonly occurs on the top of the skull. In fact, at least 50 percent of women who are in the menopausal age could develop thinning hair but hair tattoo can help with this problem.
SMP comes with both permanent and semi-permanent solution. Each has it's own advantages and disadvantages. With temporary pigmentation, clients are able to try out different styles but touch ups are needed often.
With permanent tattoos, costs will be cheaper since you don't need to repeat the procedure for at least several years. However, these pigments really do last so if there's any change of heart, then you'll need to get laser removal treatments to have them removed.